The top freshmen in the division.
Ultiworld's 2019 Women's College Awards are presented in part by VC Ultimate, a leading supporter of women in ultimate. They are also presented in part by the National Ultimate Training Camp, who can help prepare you to be an All-Star. All opinions are those of the authors. Thanks for supporting the brands that make Ultiworld possible!
Ultiworld is pleased to announced our sixth annual D-I College Awards. The criteria for each award can be found here — we consider both regular season and postseason performance in our selection of awards. As the overall top performers of the year, players selected as top three in Player of the Year voting are removed from consideration for other individual awards.
Links to all of the 2019 D-I Women's Division awards will be added as awards are announced:
Player of the Year Award
Offensive Player of the Year Award
Defensive Player of the Year Award
Breakout Player of the Year Award
Rookie of the Year Award
Coach of the Year Award (will be announced later this week!)
All American 1st Team (will be announced later this week!)
All American 2nd Team (will be announced later this week!)
D-I Women's 2019 Rookie Of The Year
Kate Lanier (Carleton)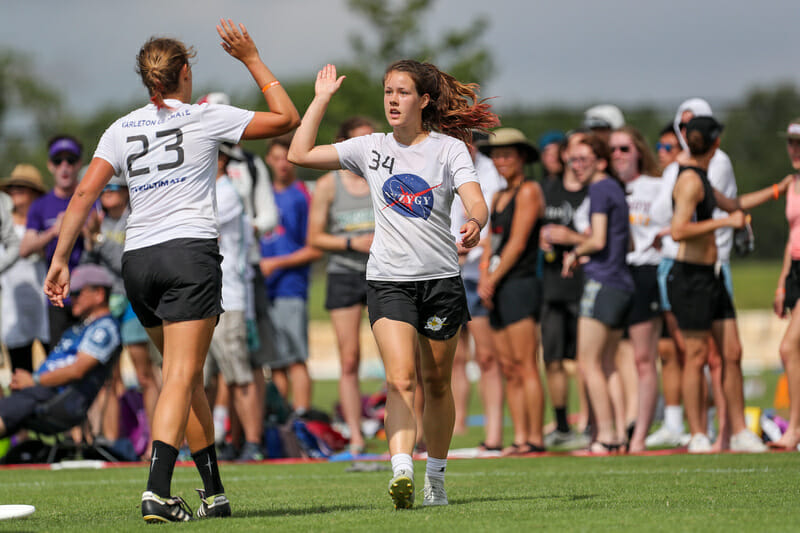 Rookie of the year was one of the most exciting and wide open award categories this year. Despite heavy competition from the most impressive rookie class the women's division has ever seen, Kate Lanier steadily made her way to the top.
Lanier was strong all season, anchoring Carleton's offense with her patient, methodical style. She continued this trend at Nationals, where she racked up 20 assists, doubling the next highest total on the team. Most first years — even those who come in with experience — do not have the composure and decision-making to immediately lead a college O-line. Lanier is different. She brings a level of poise that is rarely seen in the college game, especially from someone so young. She has powerful and crafty throws. She can unleash near full field flick and backhand hucks while barely batting an eye. Her calm presence will lull you into a false sense of security on defense and before you know it, she's roasted you up line, ready to distribute the disc.
While most people think of hucks and broken marks when they think of Lanier on the field, she also puts on an impressive show on the defensive side of the game. Throughout the season, she consistently played excellent defense if the offense ever turned it and when she was crossed over to the D-line. She recorded seven blocks in Round Rock, good for second in the category on Carleton. She can shut down a player with intelligent positioning and will hit the turf to ensure a block.
The North Carolina youth product is an extremely well rounded player that will only continue to grow over the course of her career. Though there were many other high caliber candidates, Lanier's seemingly veteran presence and consistently excellent performance at Nationals and throughout the season definitively earned her the top spot.
1st Runner up: Ella Juengst (North Carolina)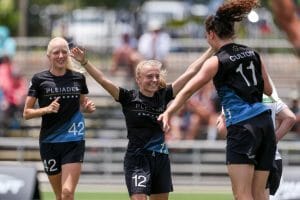 Juengst was one of the crown jewels of the vaunted 2019 rookie class and she did not disappoint. So many times she looked like the best player on the field for North Carolina, and considering the strength of her own teammates, that's really saying something.
She was a goal-scoring fiend, and often stepped up in the biggest moments, like when the Pleiades were down to Western Washington at Northwest Challenge, or when they needed to come back against South Carolina at Atlantic Coast Regionals, or in the national quarterfinals against UC Santa Barbara.
Juengst, despite her age, never shied away from the big moments; she played her best in them. She fit in seamlessly with a talented and experienced North Carolina team and very quickly became one of their most important players.
Her 12 goals, 7 assists, and 7 blocks at the College Championships came with just 5 turnovers. That kind of stat line, and her performance all season long, would have earned her rookie of the year in just about any other season, but this year, she has to settle for a very memorable, and supremely impressive second place.
2nd Runner up: Marie Perivier (Georgia)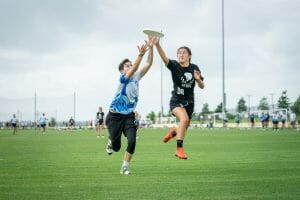 Perivier's talents have been known since her high school days, and yet somehow she was still underrated for most of the college season. That all changed at Nationals. The plays that Perivier made in the wind and her defensive ability through that weekend shattered any preconceived notions about Georgia's legitimacy at the tournament. Every throw that Perivier made was a statement. Allowing her to throw a flick was a mistake, but applying a backhand force was somehow even worse. If this is what Perivier looks like now, expect Georgia to rule the Southeast for the next three years.