Brown finish the fall exactly where they finished last spring: on top.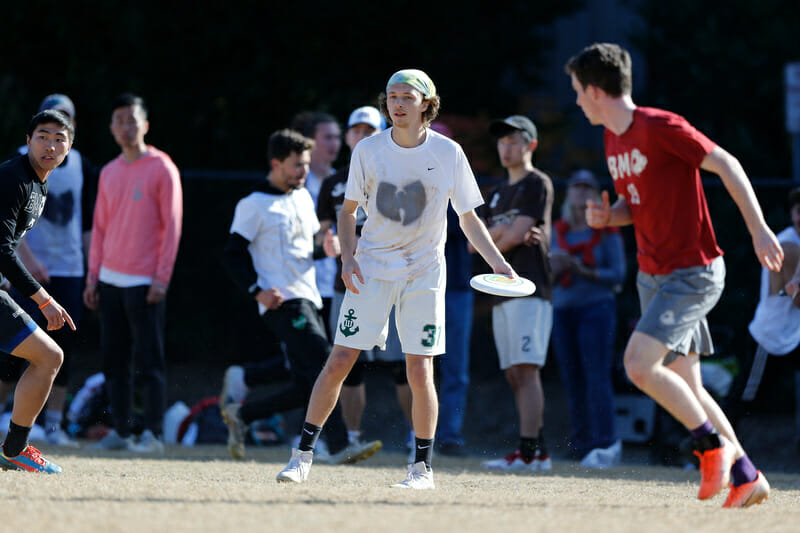 Ultiworld's college fall coverage is presented by Spin Ultimate; all opinions are those of the author. Gear up for your big games, your tournament parties, and everything in between at Spin Ultimate!
ATHENS, GA — Brown declared that they are ready to defend their 2019 title, avenging a pool play loss to UNC Wilmington to win a wild Classic City Classic final. For their part, Wilmington showed that they might return to national prominence this spring. Elsewhere, BYU (who only played Saturday) and Pittsburgh also impressed on the weekend.
Contrasting Finalists
The final between Brown Brownian Motion and UNC Wilmington Seamen — in which Brown eventually prevailed 13-11 — was kind of a wonderful mess. Stoppages ran long and tensions ran high; both sides made dubious calls and contested clearly correct ones; the teams even incorrectly applied the new halftime cap rule.1
The pool play rematch — Wilmington beat Brown early on Saturday — could not have pitted two teams more opposite in playing style and energy. Brown plainly approached the tournament with the intention of acclimating returners to new roles and pushing lots of playing time to their freshman class. John Randolph found himself in the backfield for much of the weekend alongside Ken Noh and freshman Leo Gordon. The trio performed well enough; so well, in fact, that Brown seemed perfectly comfortable advancing the disc the length of the field without using downfield cutters at all.
While Brown danced the tika-taka, Wilmington simply owned the deep space. They have throwers in Connor Russell and Ethan Ylizarde who can drop perfect shots from any distance. Russell, on top of that, was the single most problematic downfield matchup of the tournament. A pure hucker when he has the disc, defenses often played him a step under. Russell's height and experience already give him a decided edge on contested plays: with any kind of advantage before the throw went up, he was a lock to haul in the throw.
Perhaps more impressive than Wilmington's individual talent in the deep game — Ylizarde and Russell were their most dangerous options, but far from the only ones — was the way entire lines collaborated to facilitate it. The Wilmington offense routinely positioned themselves to maximize isolation space 30+ yards away from the throwers. They threw a lot of long passes early in possessions, and a remarkable number of them were completed without any serious threat of a block.
The Seamen's attitude was at least as conspicuous as their assertive offense. In stark contrast to the more reserved character of a Brown team who were treating the tournament as an opportunity for reps, Wilmington tore through the weekend with the fire of a team intent on making a statement. "Wilmington is back, baby, that's all you need to know," was the only response Seamen coach Charlie Lian gave when I began to ask him questions on Saturday about the direction of the team. His team brought an unruly confidence to the final, storming the field and heckling Brown after scores.
The fact that each of Wilmington's two opening breaks in the game came after scoring passes were brought back on Brown calls only fed the energy. The sidelines were only too happy to spill onto the field in celebration, wander off when they learned the score wouldn't count, regroup, and do it again.
Although they were trailing by two breaks after two points and trying to withstand the twin menaces of Wilmington's deep game and rambunctiousness, B-Mo managed to right the ship. They got their first break back after a long goal-line stand by Wilmington: even through the excellent defense, Brown were able to complete pass after pass after pass and punch in the score. It was that quality of composure under fire, even more than their characteristic weave offense, that defined Brown's weekend: they broke UNC on double-game point in the quarters, and then strung together back-to-back breaks to overcome Pitt on double game point in the semifinals. The team's ability to play through pressure bodes well for a spring season in which they will have a target on their backs.
The final "settled" into a seesaw of lead changes in which neither team could pull more than one goal ahead. Randolph carried the offensive load for Brown, more through persistence, consistency, and leadership than outright dominance. Stopped frequently on his first move, he kept cutting until he was open, and he regularly managed to get off tricky reset passes. The offensive highlights came from Wilmington: a gutsy straight-on hammer to an under cut in the red zone, a perfect forehand huck from Ylizarde to Russell from the brick to the backhand sideline for a score. They even ran an effective full-field weave for a point — as much to get under B-Mo's skin as because they ran it well.
But Wilmington missed two hucks late in the game, and Brown's hard-headed approach paid off. They just kept grinding through resets until Randolph hit fellow backfield stalwart Solomon Rueschemeyer-Bailey to put the tight game away.
It remains to be seen whether either team's main offensive look will prove sustainable for the long haul. Wilmington will face defenses in the regular season much better equipped to slow down the long game both at the mark and with downfield coverage. For now, though, they look as likely as anyone to earn a bid in the Atlantic Coast.
And small-ball-heavy offense is already starting to become a liability. The current vogue for the full-field dominator, fueled in large part by the success of Brown and their women's division counterparts UC San Diego at Nationals last May, has had the predictable effect that defenses are now much better at game planning how to defend it. Even though it was only a fall tournament, Brown encountered more good, coordinated resistance than they did during their title run last year.
It's a question of balance. On one hand, B-Mo can (and, mostly, did) complete a dozen tiny resets in the red zone under pressure when necessary — and a nifty look that has their four cutters standing on the back line of the goal box usually means they have an available scoring option before too long. On the other, Brown's better opponents this weekend (Wilmington, Pittsburgh, and UNC) often had the short plays read and covered well. Brown's overall levels of chemistry and disc skill are apparent, but their lack of any kind of systematic deep game raises at least questions if not alarms. Randolph is still a force on the receiving end of hucks, but the team rarely used him that way at CCC.
Regardless, Brown's virtues counted for more this weekend than their vices, if only by a little. They finish the fall exactly where they finished last spring: on top.
BYU Makes Early Case
Before we move unanimously to award Brown with tournament's best showing, it's worth taking a glance at the only squad to finish the weekend undefeated: Brigham Young CHI. The team does not play on Sundays per a university-wide policy, but they ran the table on Saturday, including a complete win over North Carolina Darkside.
While it is a shame they had no opportunity this weekend to compete against the likes of Brown, Wilmington, or Pittsburgh, BYU have shown nothing less than that they are one of the strongest units in the country heading into the spring. Jordan Kerr and Braden Eberhard are the motors behind a stunning offense. Kerr's almost impossibly successful array of blading forehands in particular has a kind of unanswerable quality to them. What can you really do to defend a lanky, flexible thrower who can hit any spot he wants along a vertical axis?
The defense is as big and athletic as anybody could ask for. And they have an elite playmaker in Taylor Barton. Who is Taylor Barton, you ask? This is Taylor Barton.
When BYU forced a turn, they struck very quickly for breaks. "These guys have practiced a lot of chemistry, a lot of transition offense on that turn," said coach Bryce Merrill. The time spent is paying dividends already.
CHI did have some trouble containing Darkside's handlers once they got moving, and Merrill agreed that the team will have to do more to prevent so many easy scores on short handler cuts. "It's going to take a system. We only rolled flick and sag-flick today, and that's not going to stop a [handler scheme like UNC's]."
All in all, while BYU's future after the regular season is in question, there is no doubt that they'll continue to rack up major wins in 2020 until then.
Rapid-Fire First Impressions
All-Tournament Line
Aaron Coble (South Carolina)
Will Hoffenkamp (Pittsburgh)
Anders Juengst (UNC)
Jordan Kerr (BYU)
John Randolph (Brown)
Connor Russell (UNC Wilmington)
Ethan Ylizarde (UNC Wilmington)
---
The new rule is designed to ensure each team receives at least once at the start of a half and works like a soft cap, guaranteeing that one team will have a higher score than the other. Brown and UNCW took half at 6-6. ↩

With the exception of Pittsburgh, who smoked them in the quarterfinals ↩