Upside-down throws are a heckler's dream, but they are more than just a crowd-pleasing throw.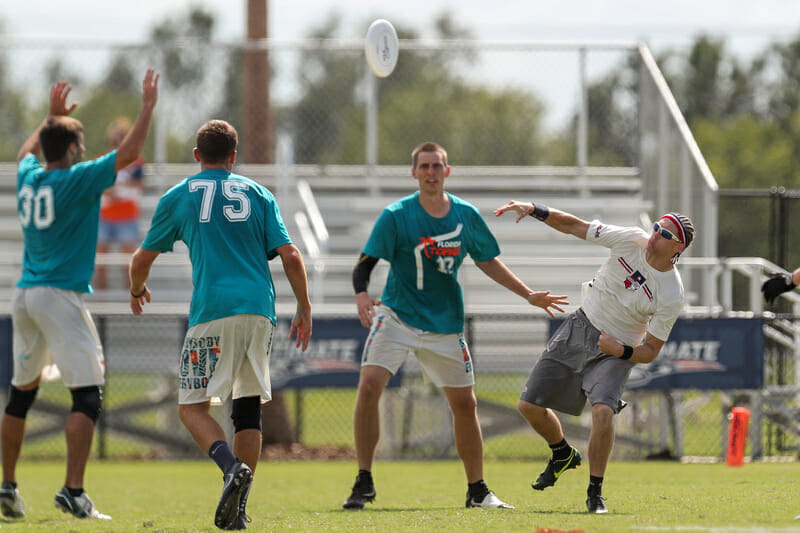 Tuesday Tips are presented by Spin Ultimate; all opinions are those of the author. Please support the brands that make Ultiworld possible and shop at Spin Ultimate! 
Upside-down throws are a heckler's dream. They are useful weapons in a thrower's arsenal, but also border on being "trick throws." If you're on the field and happen to hear that obnoxious kid whose team lost the 13th place consolation game shout, "Hammer or you're nothing" from the sideline, remember that it is more than just a crowd-pleasing throw.
A hammer or scoober can completely change your throwing options and exploit different spaces on the field that are tougher to hit with a traditional backhand or flick. Here are a few scenarios where upside throws can have the biggest impact.
Use 1: Breaking a Zone Over the Top
There are three ways you can attack a zone: around, through, or over the top. In the first two options, you are probing to find ways past the front wall of the zone — either laterally or vertically — often increasing the number of throws to gain yards and thus increasing the odds you turn over a simple pass. The counter to both of those solutions, as pointed out by legendary coach Lou Burrus in describing how his Oregon Fugue squad attacked Stanford's vaunted zone offense, is that the defense can also stick more people around the disc and cause even more chaos in a very small space. Throwing more contested passes in a small space is "not a good plan," and an easy trap to be pigeonholed into if you are only willing to throw standard backhands and flicks.
Throwers who have an upside-down throw in their pocket force a zone defense to respect threats downfield, and that can have an added effect of releasing pressure around the throwers. Early in the first half of the 2019 D-I College Championships men's final between UNC and Brown, Brown's Mac Hecht showed how dangerous he could be attacking spaces over the top of UNC's zone. Hecht was able to bust open UNC's zone with a well-executed hammer over the first two layers of the zone.
Five UNC defenders were within Hecht's vicinity, leaving the far sideline wing wide open for a cross-field hammer. Later UNC's Marc Rovner later clamped down on the wing to get a block on another hammer from Hecht, but UNC had to respect Brown's ability to make that throw and throughout the game, Brown had a much easier time moving the disc between their handlers with fewer defenders compressing into the backfield. 
Another great example of attacking crossfield against a zone is this little segment captured by South Carolina Scorch in their heart-stopping semifinal game against UNC Pleiades at Atlantic Coast Regionals. 
UNC forced Scorch to the sideline and had set their sideline trap. Most teams who can't rely on a crossfield look will try to either break the mark to get the disc back to the center of the field or crash into the first layer of defenders. Both options are risky and give the defense more time to reset. The downside to being committed to the trap, however, is that it can draw defenders away from the far side wing and open up a good half to third of the field. The South Carolina handler sees this and immediately shoots a hammer over the top of the zone to a completely unguarded player.
UNC's Anne Worth's commitment to guarding a crashing Scorch player opens up the break side for a hammer and Dawn Culton is too far away to pressure the ensuing pass. The hammer opened up a huge throwing window for an upfield look and USC scores quickly on a backhand huck.
Use 2: Attacking the Break Side
Probably the most common and useful way to utilize a good hammer is with a shot to the break side in the end zone. Against a flick force this can set up a very quick and easy score, especially if the offense and defense have shifted too close to the force side lane. Ohio State Fever used this move against Texas in the 2018 Centex final and it's a pretty common move you'll see teams use against unsuspecting or overcommitted defenders.
Emily Barrett dumps off the disc to Sadie Jezierski and clears upfield before slashing to the break side for a hammer from Jezierski. Barrett's cut is well-spaced and she avoids running her defender into a pick which can be tricky when the rest of the offense is moving deeper into the end zone.
The previous examples show throwers using a hammer when they're close to a sideline, but the shape of a hammer or scoober can be helpful for a player offset from midfield on the break side.
With a rising stall count, Minneapolis Drag'n Trust Sarah Meckstroth spaced this hammer perfectly to a spot where only Sarah Anciaux could chase it down in the US Open semifinal against Seattle. Anciaux's cut was well-timed and Meckstroth's height advantage on her defender meant that the throw was almost unguardable.
Whereas hammers are generally more rangy throws, scoobers have an added benefit of being useful in small spaces and tighter throwing windows. They can be as effective as a standard inside or around break throw and add a totally different dimension to an offense. In his college years, Jon Nethercutt developed a lefty scoober that he could pop over the inside shoulder of a mark. He used this tactic multiple times to hit a receiver coming under on the break side.
The shape and flight path of Nethercutt's off-hand scoobers made them a safe option for moving the disc into the break lane.
Much like a hammer, a scoober can attack the break side, especially in the tighter spaces of an endzone set.
Against a backhand force, Valeria Cardenas launched this scoober laterally to the break side of the field. Claire Chastain isn't in a position to make a play on the throw at all because she's trying to protect the force side lane and stop any pass going upfield. This is the dilemma that all defenses are dealing with in the red zone; how do you stop cuts to the force side while also protecting the break side. Throwers in Valeria's position would usually try to break the mark on a swing back to midfield but a well-placed scoober means that Valeria can hit an area of the field that Molly Brown isn't close to being in a position to protect.
One of the reasons defenses can struggle against upside-down throws is that downfield defenders don't always know when they need to be fully engaged on their matchup. Having a skill set that allows you to hit spaces on the field that the defense normally wouldn't need to account for is extremely useful especially if those spaces are on the break side of the field.
I often wonder how many of Brendan McCann's assists at D-III Nationals were scoobers. He was one of the most unorthodox throwers and a truly complete handler with all the crafty ways he could break down a defense. Draft him in fantasy, folks.
Use 3: Pleasing the Hecklers
Now that we've dealt with how useful upside-down throws can be it's time to celebrate some of the more… eccentric ones that have been documented over the years.
Hammers can be tricky to execute and a poor grip can send a hammer blading into the sky or wobbling towards the grass at high speed. These throws would make any heckler proud.
In their matchup with Carleton GoP at Carolina kickoff last spring, you can hear Richmond's Xavier McCormick swear quite audibly off-screen as his hammer sails into the lower atmosphere… and then plops right into the hands of his teammate. This is a hammer truly worthy of D-III ultimate.
I don't know what UNC's coaching staff told Kai Marcus that compelled him to uncork this beauty.
Zeus would chuckle at most of what we mere mortals produce in this sport but I like to think Cam Bailey's lefty off-hand hammer from 2018 Club Nationals would make the Thunder God applaud.