Our picks for the top mixed division performers of the year across Asia and Oceania.
As Ultiworld continues to expand our coverage around the globe, we are learning more and more about the top players from regions we haven't covered much in the past. For the first time, Ultiworld has put together awards honoring the top performers from Asia and Oceania (AO). The main goal of this project is to recognize the achievements of some of the top players in the region and showcase them to the rest of the world.
In compiling these awards, a wide range of opinions was sought from across the AO region, but most of the input for this article comes from Ultiworld roving reporter Liam Grant, who worked on the broadcast team for both the grass and beach AO championships this year. As such, it was mostly performances at large international events that were taken into account when putting together this team. With several players switching between divisions from event to event, in most cases, AOUGC was the determinating factor on which division to consider a player.
Without further ado, here are our votes on the eight best AO Mixed players in 2019. The profiles are presented alphabetically by last name within gender — it is not representing any ranked order of skill or performance.
2019 Asia-Oceanic Mixed Team Of The Year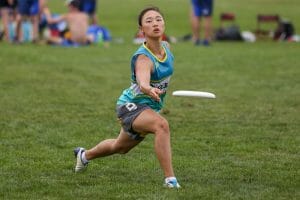 Haeri Kim – BOOM! (South Korea)
Haeri Kim is better known in Korea by her nickname TOP, because she is without a doubt the best player in Korea. In fact, she even has a patented celebration where she spells out TOP cheerleader style.
Kim began playing ultimate at Ulsan University but has since gone on to play club for LGW and now BOOM!. Those paying close attention may have caught her tearing it up in North America at WUCC and then the Asia-Oceanic All Star Tour last summer. Kim was the clear standout on her club side who participated at the AOBUC in Shirahama, Japan this summer, as well as on the Tokyo Chaos squad that made an appearance at this year's U.S. Open. She has tremendous speed and great hucks which make her lethal on both offense and defense. She is also one of the few women you will see consistently pulling in the mixed division.
Korean ultimate is famous for its great spirit and KIm along with her friends on BOOM! are great examples of this — even if they don't win the tournament, you can count on them showing up for the party, and Kim is famous for her moves both on and off the field.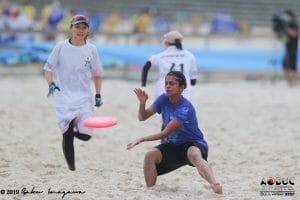 Sneha Patil – Disc-O-Deewane (India)
Sneha Patil is a software engineer that hails from the ultimate hub of Bangalore, where she has spent the majority of her ultimate career playing for club side Disc-O-Deewane. She represented India at WCBU in 2015 and WUGC in 2016, picking up the spirit award at both events. In 2018, she was one of three Indian players to be selected for the Asia Oceanic All-Star Tour that traveled the U.S. after WUCC.
Patil is best known for her speed and competed in other athletics at an elite level before finding ultimate. She often wears the number 02 on her jersey which was her favorite lane when she was a top hurdler competing for national titles on the track. Her agility makes Patil one of the best defenders in the division.
She was on a very talented India Mixed team that attended the AOBUC in Shirahama, Japan this year. Patil featured alongside other top female talent like offensive mystro Sangeetha Manoharan and rising star Amaani Desai. India looked like one of the favorites to win the tournament but fell to the host nation in the semifinals in very tough weather conditions. Patil is just one of the many talented players grasping our attention from the growing ultimate hotbed of India, but this year she stood above the rest.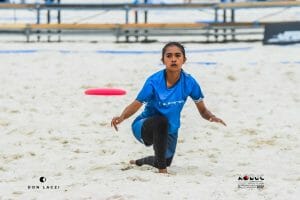 Eileen "Len" Piquero – Amazons (Philippines)
Len Piquero was one of the few players on the Philippines Mixed team for AOUGC that doesn't play for Sunken Pleasure out of Manila. She comes from the city of Iligan and plays for the Iligan Amazons, a club she captained to their third consecutive women's national title this year. Needless to say, Piquero was massive for them securing the threepeat.
The Philippines retained their AOUGC grass mixed title in China thanks to a great team performance. Piquero was second on the stats leaderboard for the squad, just behind captain Kristian Guerrero. She also played for the first-ever Philippines women's beach team at AOBUC in Japan along with Iligan teammate April Ivane Adalim. Piquero played out of this world, to the point where the team developed this very fitting catchphrase: "In Len we trust."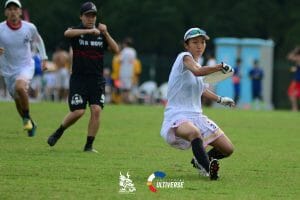 Minori Yahata – Swampy Barg (Japan)
Minori Yahata is a star player from club team Swampy Barg. Along with her teammate Akari Haruma, she featured on the AO All-Star tour in the U.S. last year.
This summer, Yahata was the spirit captain of the Japan Mixed squad that won silver at AOUGC in China. She played a vital role for the national team, serving as a focal point on the offensive line, alongside other female standouts like Kana Iijima. Yahata was heavily involved in the AOUGC final against the Philippines — her second goal earned Japan their first break of the game, closing the gap to 12-7 and threatening to kickstart a comeback. Unfortunately for Japan, it would be the last goal of the game, which was cut short due to a lightning delay.1
You will often see the Keio University alum taking photographs at ultimate events in Japan as well.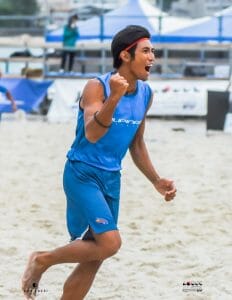 Kristian "Xtian" Guerrero – Sunken Pleasure (Philippines)
Kristian "Xtian" Guerrero was a superstar this year. He captained the Philippines mixed team to a gold medal finish at AOUGC in Shanghai, leading the team in stats by throwing 16 assists and scoring four goals. For that effort, he earned MVP of the tournament honors alongside Lala Cruz. The AOUGC squad was predominantly made up of his club team Sunken Pleasure, who just won their sixth national title on grass. The club are also men's national champions and reigning champions of Manila Spirits in mixed. Not only did Guerrero captain the mixed national team to success in China, he also captained the men's beach team that came in first place at AOBUC in Japan. Let's just say he had a good year.
Guerrero is also well known for being a fantastic climber, just like his teammate and cousin Popoy Pascua who comes from Palawan. Both players climb competitively and Pascua is competing in December to represent the Philippines in the Obstacle Course Racing (OCR) event at the 2019 Southeast Asian Games.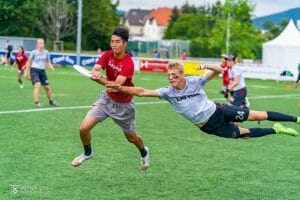 Jun Xiang Daryl Ho – Singapore
Daryl Ho was unbelievable at the World U24 Ultimate Championships in Heidelberg this summer. He picked up a well-deserved bronze medal with a fantastic and surprising Singapore mixed team. Ho was the stats leader for the team scoring 21 goals and assisting 19, good enough for the sixth-highest total score contribution in the division.
The whole Singapore team deserves some praise, as they were a well-balanced roster that got some memorable wins against Australia, Latvia and Canada. Other notable standouts were Cynthia Chia, Chin Ye Chew and Raphael Soh. Singapore were probably the best team at the tournament for maintaining possession and playing small ball. It was mentioned on the broadcast that they would occasionally complete 90 or more passes in a single possession. For his contributions on the team, Ho was named The Straits Times' Star of the Month for July this year, an award given out by a local publication.
Up until recently, Ho competed at a high level in Badminton before deciding to give ultimate a try. "I wanted to try a team sport and frisbee seemed like something my height might give me an advantage in," said the 6'1″ Ho in a recent interview. His height adds another dimension to the already talented player who is likely to be in the headlines again sometime soon as ultimate in Singapore continues to be on the rise.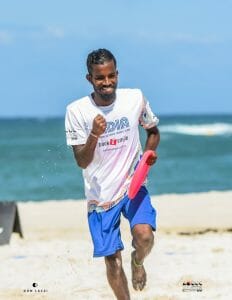 Praveen Kumar "Rocket" Muthu – Airborne (India)
PraveenKumar Muthu is better known as "Rocket" and you don't have to be a rocket scientist to deduce the origin of his nickname. For those of you that have had the privilege of watching him play, you know that the man is lightning quick. Back in 2015, he won an unofficial half time sprint competition over some well-known speedsters at the U23 World Championships in London.
Muthu plays with club team Airborne in Chennai, where beach ultimate is king. Not only is he one of the fastest men on sand, he has the throws and ultimate IQ to destroy any matchup. India takes beach ultimate very seriously and they won a bronze medal at the AOBUC in Japan thanks to great players like Rocket. They finished fifth at WCBU in 2017 — expect them to challenge for medals at future world beach events, likely with Muthu helping blaze the way.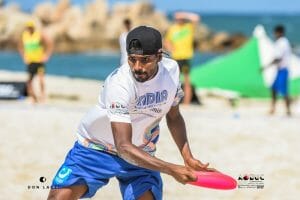 Sivaraman Venkatesan – Flywild (India)
Sivaraman Venkatesan first exploded onto the international scene with breakout performances at WCBU and the World U23 Ultimate Championships in 2015. He was also a key player for India Mixed when they placed fifth at WCBU 2017 in France.
Venkatesan's blistering pace and his spring-like vertical jump make him one of the top athletes in the division. He is potentially the most dangerous player on sand. The man hails from Chennai where the famous beach tournament Chennai Heat takes place every year. He plays for club team Flywild who are arch-rivals of Muthu's Airborne. Although they may be rivals domestically, the two men have incredible chemistry on the international stage. While at times India have received some criticism for not playing through their women enough, the mixed beach team at AOBUC was far better at including all players.
---
Although the mixed final had to be cut short, WFDF strangely still found enough time to squeeze in the guts awards ceremony. ↩