Defense and leadership.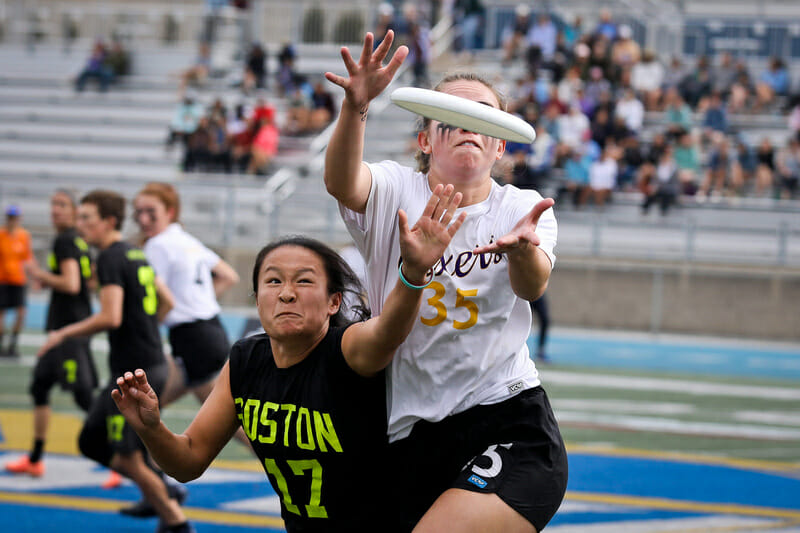 It's mid-afternoon on Sunday, October 27th, in San Diego. Unusually muggy weather hangs over the USAU Championship stadium but it does little to dampen the spirits of Boston Brute Squad — they've just won their third national title in five years. At the media tent, Brute Squad's leadership fields questions from reporters, and with the adrenaline of the final having worn off, they're still excited but also contemplative. Enough so that when coach Ari Jackson is asked a question about the rising tide of talent in women's ultimate, he doesn't waffle or mince words: "If it was ever true that there was a Top Four, it's not now."
That certainly was the narrative of the women's division at the end of the club season. With one or two notable exceptions, the same four or five teams have made semis almost every year for half a decade. 2019 put a wrench in the spokes of that narrative — or may have broken the wheel completely. Thanks to the emerging talents in other metropolitan areas and the assured commitment of travel players, there are now plenty of challengers for those coveted four semifinal spots. Winning a club title is not easy, particularly in ultimate where — unlike many professional sports leagues — there's no chance at redemption if you have a bad game in the playoffs. USAU's postseason is a set of three weekend-long tournaments that culminate in three to four single-elimination games to determine it all. Having a bad game, or making a careless error in bracket play, could ruin a season. Well-established programs may have to go back to the drawing board to find the inches they need to get an advantage back over the rest of the field. If you're an elite team, there's plenty of cause for concern. Unless you're Brute Squad.
There really aren't that many teams in the modern era that can claim to have as good a five year stretch as Boston. To say that their sustained success on the national stage is monumental is both a fact and an understatement. As good as three championships may be, it undersells exactly how special this half-decade has been for Brute Squad, a team that has risen since their founding in 2002. This is a program that has made the final in each of the past five years and is only two points shy of ending this decade with five consecutive titles.
It's hard to tell whether Jackson knew what lay ahead when he joined the team in 2015. The young coach was coming off a successful stint coaching the now-defunct MLU's San Francisco Dogfish but was relatively untested coaching women's ultimate. Five years and five national finals later, there isn't much debate that he's one of the best in the division. The defensive-focused mindset that Jackson brought to the team guided them to their first title over Seattle Riot in 2015 and was once again responsible for the team's win over the Toronto 6ixers this year.
Implicit in Jackson's leadership style is the trust between team and coach. Not only is the team sure of their ability to make the necessary in-game adjustments to win in tight games, they're also sure that the practices Jackson ran throughout the season prepared them to take over on the biggest stage. For the team, their side of the deal was to treat the practices with the same intensity that they would for a tournament.
"The practices we've had since Regionals have been some of the best I've been a part of in terms of everyone pushing each other," said Jackson. "Everyone committed to holding themselves and their teammates to a high standard."
"We create a really special environment for everyone to work harder," said Brute player Tulsa Douglas. "When things get hard and when we don't have the outcome we want, we use all of that to build and grow together…always pushing for more together."
Jackson's schemes and pre-tournament practices have certainly been integral to the team since he joined it, but they're by no means the sole source of Boston's ascendancy. There are many players who have been with Brute Squad since 2015, and even a few before then, who are now the archetypes for continued success. It would be impossible to talk about Brute Squad without mentioning Kami Groom and Lien Hoffmann. Before Boston had ever won a championship, those two became the pieces that Brute Squad could build around, and they've set the tone for the team ever since. Since 2015, they have been on every All-Club 1st team except for one, and they have a Player of the Year, Defensive POTY, and two POTY runner-up awards between them. It's impossible to untangle all the overlap between Brute Squad's prominence and that of Groom and Hoffmann. They're the Magnetic North of Brute Squad – not the exact indicator of the team's success, but a very strong estimator.
Other players that have been with Brute Squad since 2015 remain as legends in their own right. The Brute Squad of 2019 looks very different from the team that won the first title for the program, but there are many players that have stayed the course and have been integral to the team's success: Claudia Tajima, Becky Malinowski, and Amber Sinicrope have grown into their roles as offensive stalwarts.
On defense, it's been Cassie Wong and Angela Zhu that have stood the test of time. While they were initially brought in as role players, both have flourished on the defensive end and now feature heavily on a defensive unit that was one of the best in the nation this year – just like it has been for the entirety of their tenure. Handing the reigns of Brute Squad's D-line offense to Zhu has paid off for the Brute leadership team – which can't be mentioned without noting the effect that Courtney Verhaalen has had on the team while she's been on the roster all this time. She has the full trust of her teammates as a player-leader and has been just as instrumental in Brute Squad's success as any of their starters.
Much like their cross-coast rivals, San Francisco Fury, so much of Brute Squad's prolonged reign at the top of the sport comes from their veterans buying into the culture and work ethic of the team. No championship is won in a single tournament. It's the effort and commitment that the players provide all season long that bring them to a point where they can head into a single tournament and dominate. Veterans like Groom, Malinowski, or Tajima help set the tone for each and every season. They know how hard to push each other and also what it takes to compete at the highest level. No matter what changes on the team, the presence of elite veterans who have carried the torch this entire time remains constant.
Success doesn't come from just returning the same players year after year, though. The lessons to be learned from any dynasty team across all sports is the importance of bringing in new talent.
"We've seen these [younger] teammates perform at practices," said Groom. "The level that they bring every day has always been there, and this [tournament] is no different. This is the type of environment that we try to build at practice. This high pressure."
Without saying it directly, Groom touched upon perhaps the greatest outlier for their success. It's easy to point to their rare combination of star players, youth talent, defensive schemes, and excellent coaching during a game, but that isn't the full story. Brute Squad continues to produce undeniable talent, but it does so with a system that is more akin to a professional sports team than otherwise. Just like redshirting young players or doing a draft & stash, Boston allows their younger players to grow into larger roles over time. When they add fresh talent, those players start on defense in smaller roles, learning the system and how to mark the best players in the sport. Despite often being among the best youth players in the world, Boston's rookies aren't given the reins of the offense or an immediate pressure-filled role. With time to learn, they grow into the success that we see on the field, though we miss the maturing of their game that is evident at every practice.
When their rookies storm out the gate and have an oversized impact on any given game at Nationals, we're not just seeing raw talent put to good use, we're seeing a finished product that is only possible because of the hours put in behind the scenes.
While this has been true of past iterations of the team, this season was especially telling when looking at the necessity of a revitalized roster. Some of Brute Squad's most impactful players were rookies or second-year players, not veterans. Jessie Grignon Tomas and Claire Trop had an oversized impact on their team in the regular season and at Nationals. Grignon Tomas took over on offense multiple times throughout the regular season, willing her team to victory, and Trop did much of the same for their defense. Assuming those two, and others like them, stay with the team, their roles will continue to grow much in the same way that Zhu, Groom, and Hoffmann's roles have developed over their tenures with the team.
The youth revolution is here to stay, and Brute Squad is not the only team that has been developing their young talent. Their opponents in the national final were perhaps an even better example of the importance of investing in young players, and the promise of what that could be for the team's future. As their roster matures, Toronto will have their shot at making five straight finals – this year was a good start— but Brute Squad's success is an outlier and may remain so. After all, the division is only getting stronger. This year was an emphatic statement that the old Rule of Four in elite women's ultimate is coming to an end, and teams will have to adapt to remain at the top.
Luckily for Brute Squad, they've shown that their winning culture is not only sustainable but adaptable. The beauty of Boston's defensive brand is that it doesn't require a focal point or a single player to force a turnover. Each player on their line has the potential to win their matchup, and it's common for any number of their defensive talents to have a big game.
"Our game, what we do to other teams, is to play really close and really tight," said Jackson. "The throw has to be that much more perfect, and when you know that your throw has to be so close to perfect, it's even harder to make a good throw."
By honing in on their capabilities as defenders, Brute gives themselves a safety valve in every game they play. They're not going to play a perfect game on offense, but they don't have to, either. When a turn happens, they're so confident in their ability to get the disc back that the pressure is not as high on the offensive line to play error-free. That's why players like Zhu and Douglas have the green light to fire off dangerous throws. If they convert, it's a crushing blow for their opponents; if they don't, it's back to defensive business as usual.
Unlike the process of adding new pieces to an offensive unit, finding new players to take defensive assignments is a much easier task, and one that Brute Squad has routinely excelled at. This year alone, the average amount of recorded blocks per player was four, and that was only from games that were recorded. Everyone contributes to their defensive effort as a team, and it's been the difference-maker for them this season, just as it has many times in the past.
The blueprint that Brute Squad has created is not just replicable year after year, it's close to bulletproof. As the past half-decade has shown, they're a dynasty that shows no sign of slowing. And even if their defensive schemes start to fail them, they have another secret to their success, too.
"Every time we get new shoes, our team wins a national championship!" joked the Brute Squad captains as they flashed their golden sneakers.
A bold choice, but one worthy of a team that has become the gold standard in women's ultimate.