It's not about ring-chasing.
The existence of commuter players — players who play for club teams based in cities or areas other than the one they call home — isn't new to the sport. Players have always had the freedom to play with whichever club they so choose. It's part of the beauty of the player-driven nature of club ultimate. 
But it has felt like there's been an increase in such players over the last few seasons, with more and more high profile athletes opting to leave their local clubs behind and play with another, almost always more competitive, team. We even highlighted the commuter player trend as one of our primary stories to follow ahead of this season.
The attention on commuter players hit its boiling point when 2018 Ultiworld Offensive Player of the Year Robyn Fennig made the choice to play with Washington DC Scandal, rather than her hometown Madison Heist. Fennig stole the offseason headlines and has been one of the top performers of the season so far, but she's just one of many traveling players who have made an impact on the season. 
In fact, her own team is the hotbed of the traveling player, with a good portion of their roster made up of players plying their trade away from the confines of their home state. But, in truth, the majority of teams at Nationals will have at least one player who hits the road for practices and team weekends.
We decided to speak to some of those players, the ones who haven't received as much coverage as Fennig this season, to learn what the commuter experience is really like. With so many opting for increased travel demands and seasons costs, there must be something behind it all, right?
Meet The Players
Lane Siedor, Boston Brute Squad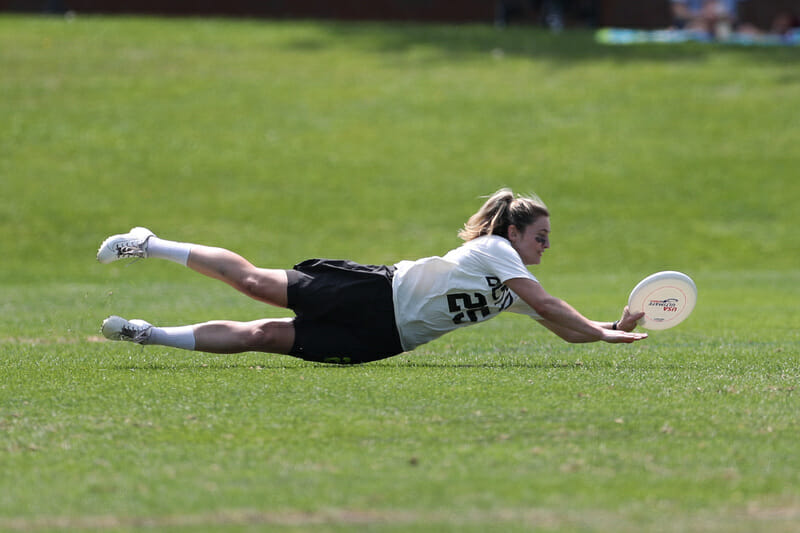 City of Residence: New York City (4.5 hour drive to Boston, 5.5-6 hour drive back)
Years on the Team: 1
Reasons for joining the team: "The bottom line is that I have spent my entire career playing for a wonderful team [Atlanta Ozone] – a team that is truly a family, a competitive team with a ton of really, really talented people – but nonetheless a team that wasn't quite at the same level as a team like Brute. I was ready to challenge myself and see what I was capable of at that next level and to see what would happen when I got myself out of my comfort zone."
Negatives: "There aren't a lot of cons to playing with Brute. Brute is a great team full of great people. But there are plenty of cons to not playing with BENT. The womxn on BENT – especially, I'm told, this year – have a really special connection. I am close enough with some of them to see the magic of their team and inner community. And because I am not on the field building relationships with them in that way, I can't truly be a part of that."
Impact: "Lane has been a great addition to Brute. Her number of games has been unfortunately a bit limited by injury, but when she's been healthy, she brings a great presence. She's got great field sense and timing, and solid throws that keep the disc moving downfield, and she's one of the best at using her body to box out when a huck floats too much. Off the field, she brings a lot of fun to team hangouts." – Brute Squad head coach Ariel Jackson
Manuela Cardenas, Denver Molly Brown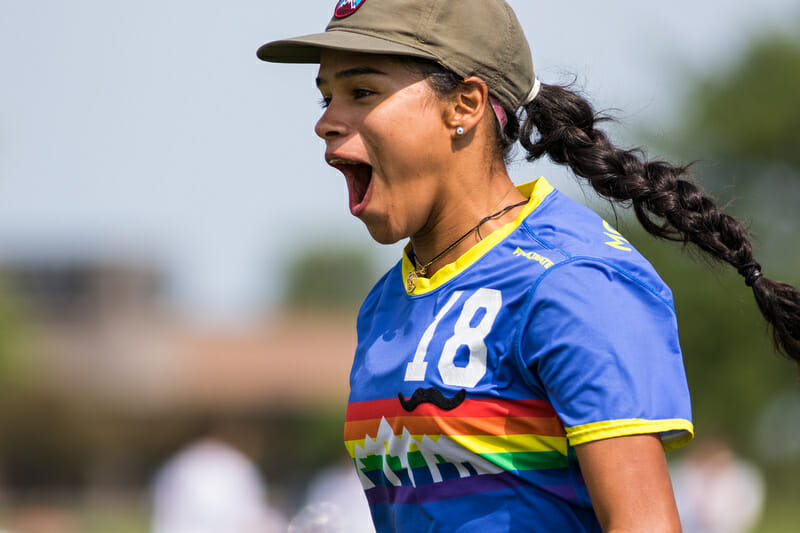 City of Residence: Medellin, Colombia
Years on the Team: 3
Reasons for joining the team: 'After we played against [Molly Brown] at US Open, I just knew that I wanted to play with this team. Their energy just caught me, just seeing them making jokes during the game and being really good at frisbee was the first reason. After the US Open, I remember that I wrote to Claire [Chastain] being a fan girl and saying 'thanks for the game' and saying that I would love to play with Molly Brown one day."
Negatives: "I would love to spend more time with the team, but I really have to understand that I have to finish school…And maybe the hardest part is about the money. They're making a big, big effort to help me with all of the financial stuff."
Impact: "In my mind, the most valuable addition that travel players bring to a team is that they emphasize the points we already make—in their own way. For example: Manu loves to run down and cover the pull, and then not allow handlers to strike up line into power position. It's a bit of 'Duh,' right? But she says it with that slightly different flair and panache that makes it sound new!" – Molly Brown coach Joe Durst
Carolyn Normile, Washington DC Scandal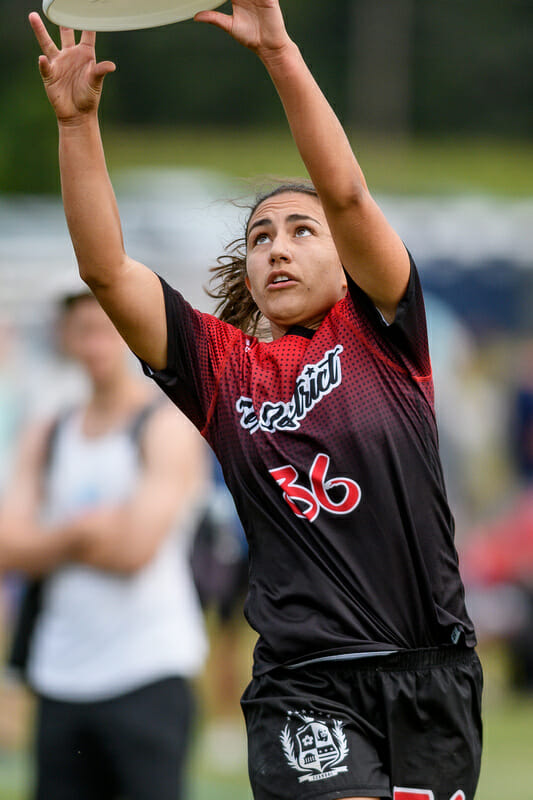 City of Residence: Pittsburgh
Years on the Team: 1 
Reasons for joining the team: "I wanted to continue to play elite. This is my first year living in Pittsburgh full time, so I kinda commuted for AMP before, but I was always in Philly for some portion of the summer, so I wasn't really a travel player for AMP. I had some friends on [Scandal], and other commuters from Pittsburgh to travel with. I wanted to play with the great people on the team and learn from Dutchy as well."
Negatives: "No regrets. A negative is the amount of driving." 
Impact: "Carolyn is a great player with a lot of versatility. She's been a hugely impactful and easy integration into the Scandal offensive system." – Scandal captain Nada Tramonte
Amy Zhou, Washington DC Scandal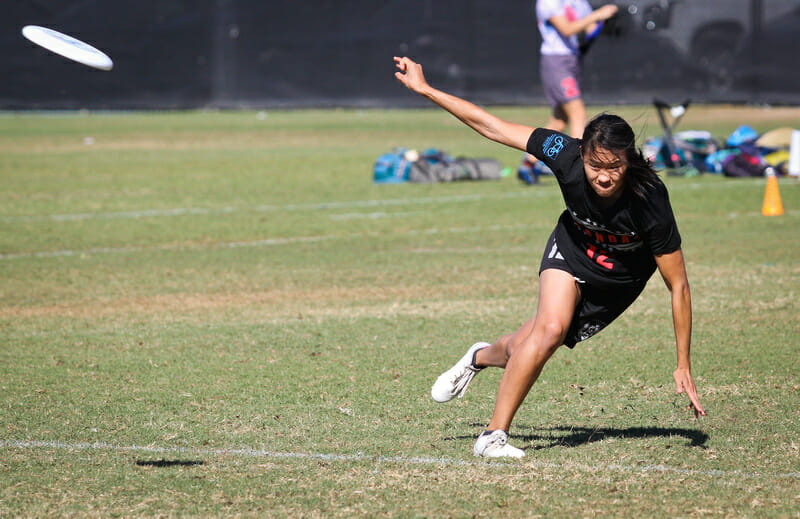 City of Residence: Livingston, NJ
Years on the Team: 4
Reasons for joining the team: "I felt ready to take the next step in my ultimate career and desperately wanted to play for a Nationals-level team…I knew very little about elite women's ultimate at the time, but I knew of Kristin Franke (the Princeton coach) from our countless Rutgers-Princeton matchups. She had been commuting to Scandal from South Jersey, so I knew I would have a carpool buddy and at least one familiar face at tryouts."
Negatives: "The cost of gas and tolls from driving between NJ and DC is crazy expensive!…Being so physically far apart from teammates is also difficult and occasionally isolating. It's pretty lonely being the only Scandal player at the Newark airport on every flight. Every time I feel bad for myself, though, I remember that I have teammates who are sacrificing even more than I am, and that I'm insanely lucky to be able to play at this level."
Impact: "Does it count as being a commuting player if they attend all the practices? [Amy] has the best attendance record of any Scandal player for the last few years…For me, Carolyn and [Amy] are almost indistinguishable from local players." – Scandal head coach Alexander "Dutchy" Ghesquiere
Kaela Helton, San Francisco Fury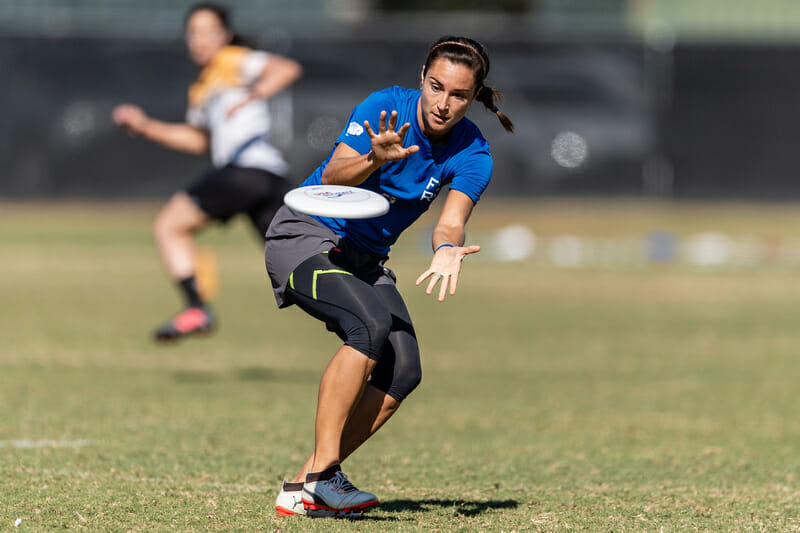 City of Residence: San Diego, CA
Years on the Team: 10, first full season as a commuter
Reasons for staying with the team: "First, all of my friends on the team and knowing that if I didn't play I wouldn't see them very often. Second, I am a very competitive person and I always want to play at the highest level that I can. I always want to get better and grow as a player, and being coached by Matty and playing against my Fury teammates at practice is hard to match elsewhere."
Negatives: "I commuted to play with Fury for half of the season last year as well.  I was living in North Carolina with my now-husband for the offseason and the first half of the season, and moved back to the Bay in mid-June for the remainder of the season. Last season was very hard for me; I hate missing practices and have always made Fury a priority so it was very difficult missing practices.  The cost of commuting was a concern last season, and because of that, I was buying the cheapest flights I could find, even if they were inconvenient. I learned from that mistake, and this season I bought flights that made sense for my schedule."
Impact: "We are lucky that she decided to play with us this year. She is the perfect commuter player since she has a high level of individual motivation and accountability. She is obviously a phenomenal player that can be plugged into any situation that we need. But even more, it is lucky to have a player who has been on our team for a decade and understands the work and focus it takes to perform at the highest level. Her leadership is indispensable to our team." – Fury head coach Matty Tsang
Erynn Schroeder, Atlanta Ozone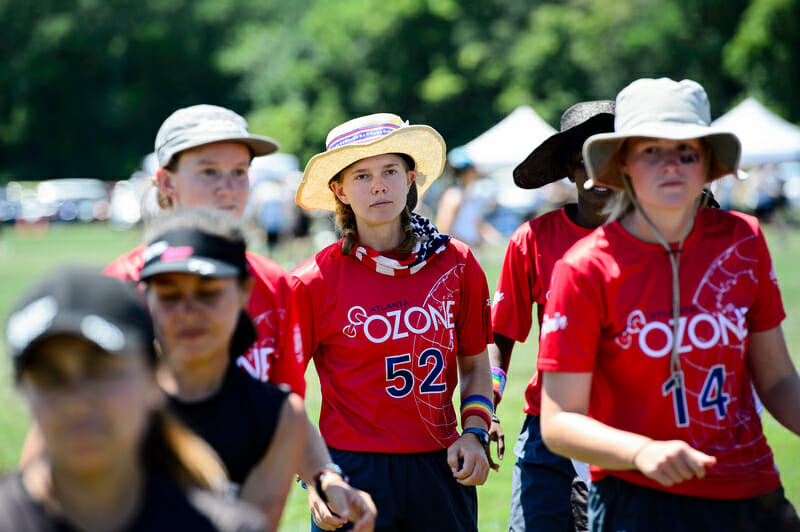 City of Residence: Charleston, SC
Years on the Team: 2
Reasons for joining the team: "The level of play on the teams in/around Charleston, especially women's, is low to non-existent. Competitive women's ultimate is my favorite pastime, and this group of women (Ozone) makes it especially worth it to travel. [The] team is very inviting and accommodating with places to stay. There is a pretty long history of people commuting in from other cities (Nashville, Chattanooga, even DC) on Ozone, so they know how to help lessen that burden! It's sort of like having a sleepover with friends every weekend. Definitely helps to have that extra time with teammates since I'm missing it during the week."
Negatives: "Driving takes a toll on the body; it is much harder to drive the day of, before practice (leaving early, feeling tight from the drive, not being in the best mental space) so I avoid that. I tend to eat out more frequently when I'm not at home, which is sometimes less healthy and definitely costs more. (Eating teammates' food with them at home, which I typically do for at least breakfast, is awesome when provided, but also makes me feel a little guilty for not contributing)."
Impact:"Even as a commuting player, she has some of our highest attendance. We honestly take it for granted because she is always at practice. Erynn has less time to build and develop relationships with teammates but she makes the most of practice weekends. She is always a part of team social events. Last season she tried to stay with a new teammate every weekend. From a leadership standpoint, it's nice to have a strong example of commitment and buy in. As a teammate, her dedication makes me want to work harder." – Ozone captain Anraya Palmer
Clare Frantz, Chicago Nemesis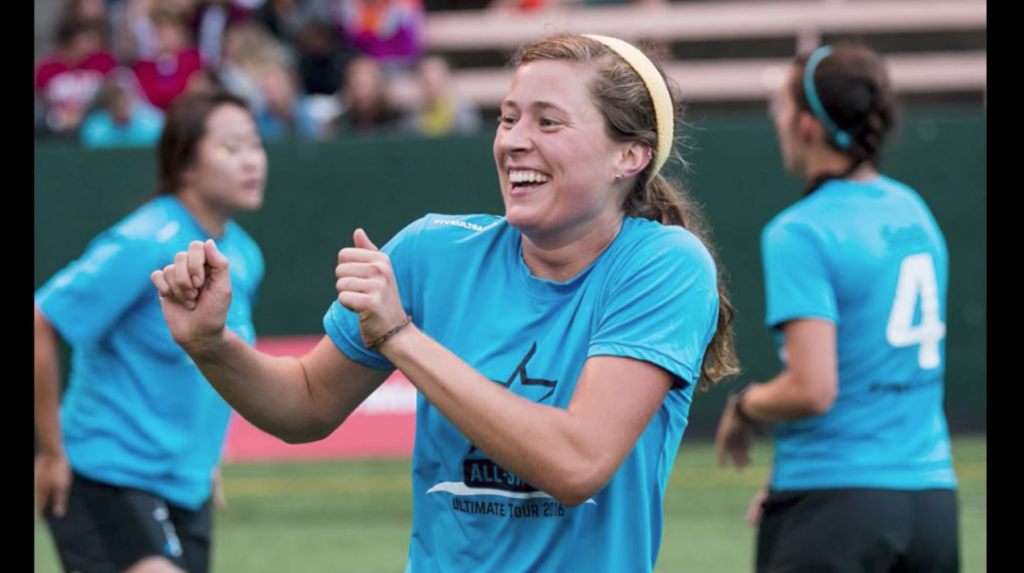 City of Residence: Kansas City metro area (three hours of travel time to Chicago by plane)
Years on the team: 1
Reasons for joining the team: "There were a ton more on both lists, but over time, the pros just outweighed the cons and ultimately I decided that I wanted to give it a shot because I could always go back to Wicked, but I owed myself this opportunity while I still have it."
Negatives: "The number one hardest thing was just straight up seeing my friends less because our schedules don't line up as nicely."
Impact: "I am thrilled that Clare decided to commute to play on Nemesis this year. Not only because her skill set and experiences at an international level of play give us an additional boost on the field, but also because she is an amazing person and pushes us all to be better on and off the field." – Nemesis coach Lindsey Hack
Audrey Brown, San Diego Wildfire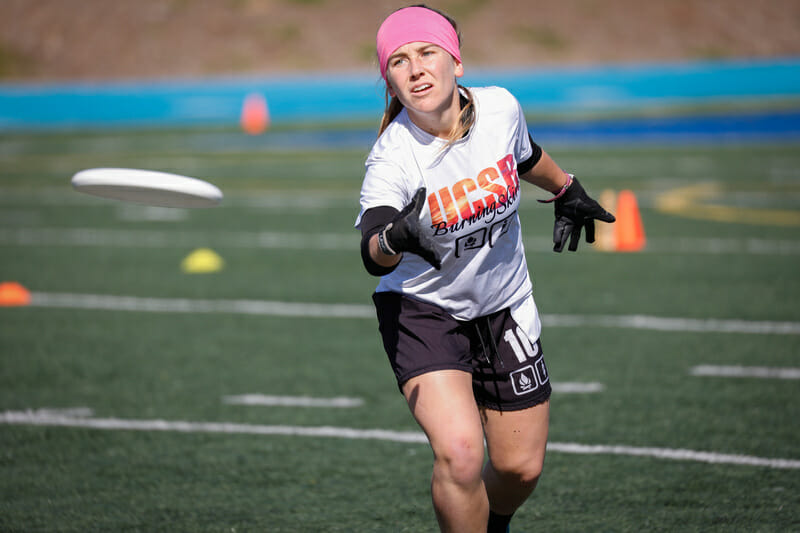 City of Residence: Goleta, CA (3-6 hour drive to San Diego, depending on traffic)
Years on the team: 2
Reasons for joining the team: "My [UCSB] coach at the time, Ronnie Eder, encouraged me to attend Wildfire tryouts with her and my other coach, Hani Pajela, since Wildfire is the most competitive women's club team in SoCal. All three of us made the team, and since we were able to carpool to practices and tournaments every weekend, I agreed to make the commitment. I love all of my teammates on Wildfire and they are the reason I commute to play club. Last season, they encouraged me to grow and trusted me as a younger player to compete with some of the top talent in ultimate."
Negatives: "I went into the season battling a hamstring injury that I played through for the college series, and spent most of the regular season just trying to make it through practices and tournaments…It was difficult to spend a lot of money to commute so far and often to not be playing very much. I think if I could do it again, I would have played for a team with less commitment to heal and still get ample play time at tournaments. I also think the amount of travel lead to much quicker burnout this season after four back to back seasons of college and club."
Impact: "Audrey Brown's impact on Wildfire cannot be overstated. Her game-changing contributions on defense are only rivaled by her ability to play any position on offense. On and off the field, Audrey's passion, intensity, and love for our sport and our team is contagious." – Wildfire coach Angela Wells 
Alisha Zhao, Quebec Iris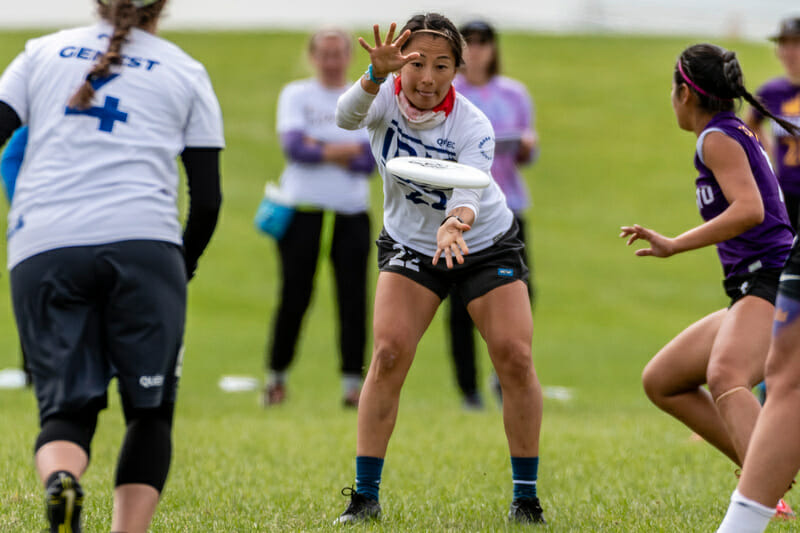 City of Residence: Ottawa, ON (2-5 hour drive to various practice locations around Quebec)
Years on the Team: 1
Reasons for joining the team: "I wanted to challenge myself this season by playing with new faces, learning new styles of play, and being coached in a different environment. I've been playing more or less the same style of frisbee in Ottawa for the past nine years, and I was eager to step out of my comfort zone, where I could push myself to try out new roles as a player."
Negatives: "There were obvious cons that I thought of, including the added commitment and costs, the unfamiliarity, and the risk of impacting relationships in my local community, but it was all worth it at the end of the day, and I felt a lot of support regarding my choice."
Impact: "Alisha has been an impact player right from the first practice. Her leadership, experience, commitment to the team and her incredible work ethic helped push our team to be better every day. Because we are a team of players from several cities, all of our players travel to practice at some point during the season. But Alisha had to travel to every one of our weekend practices. We are so grateful she wanted to play with Iris for 2019." – Iris coach Alison Fischer
Rena Kawabata, Denver Molly Brown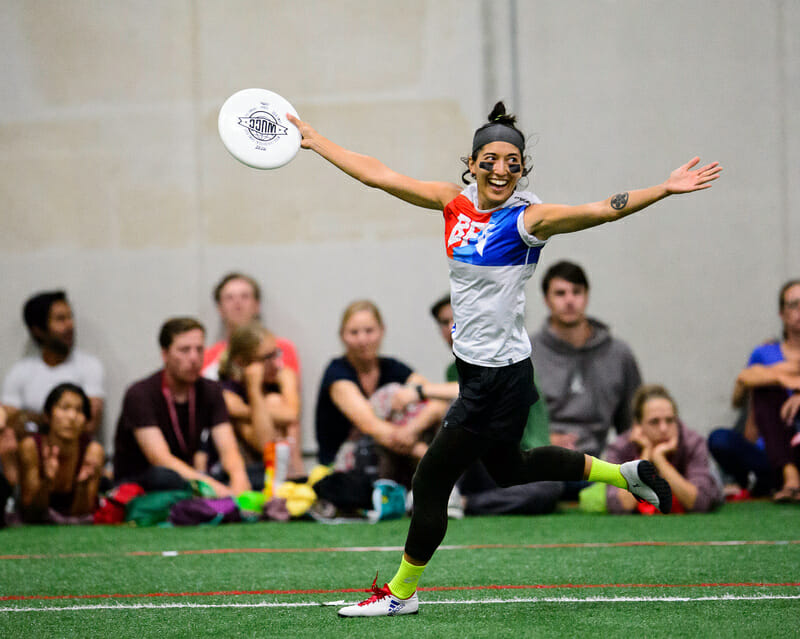 City of Residence: Seattle, WA (2.5 hour flight to Denver)
Years on the team: 1
Reasons for joining the team: "When considering Molly Brown, I had always loved their team culture and had become friends with many players over the years, including Claire [Chastain], Hannah [Leathers], Liza [Minor], Jesse [Shofner], [Lisa Pitcaithley], Nhi [Nguyen], [Megan] Ives, and others. Additionally, a few of my close friends from other parts of the country were considering trying out this season too, so there were several of us in the same position. Chip [Chang] and Ronnie [Eder] both ended up moving to Colorado and Steph [Pritchard] and I are still commuting. When I arrived at the first tryout, I felt completely at home."
Negatives: "None."
Impact: "Rena quickly integrated into the team, both on the field and off. Although her absence on the field is noticeable, she is a strong presence on Molly Brown. As a member of our equity committee, she facilitated team-wide conversations about equity and identity. Culturally, she's been a great fit and we look forward to when she can take the field with Molly Brown again." -Molly Brown leadership
Paula Wong, Vancouver Traffic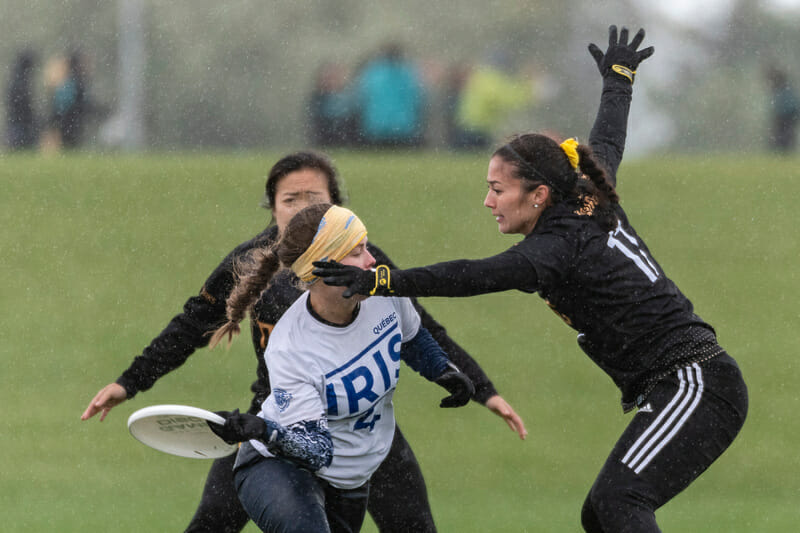 City of Residence: Calgary, AB (3 hour travel time by plane)
Years on the Team: 1
Reasons for joining the team: "Over the last couple of seasons, I knew that I wanted to push myself as a player and learn and develop as much as I could. Last year, I had the opportunity to play with Vancouver Shhippos and got a taste of what competing against more elite women's ultimate teams is like and I loved it! Playing at a higher level for that season, as well as learning from experienced and talented coaches and players, made me want to challenge myself further."
Negatives: "The biggest challenges that come with commuting from Calgary to Vancouver are the financial and time commitments to fly to practice, and the difficulty of trying to learn new systems and concepts from afar and quickly implement them with limited practice reps."
Impact: "Paula has been a very positive addition to Traffic this year. Her buy-in of our team's core values has helped foster the team environment we believe is necessary to return Traffic to a top-tier team. She has been contributing on our D-line all season, with her fitness, height, and athletic ability. On top of the on-field contributions, she has also been very helpful in the team culture…I'm very excited to see what Paula (and the rest of Traffic) can achieve in San Diego." – Traffic head coach Matt Doyle
The Decision Making Process
So why do players decide to pay so much extra money, spend so many extra hours, and weather the general grind of the commuting process?
Bonus Content for Going Long Distance: An Inside Look at the Commuter Player Experience is only available to Ultiworld Subscribers
Already have a subscription? Log in
Whether you visit Ultiworld for our reporting, our podcasts, or our video coverage, you can help us continue to provide high quality content with a subscription. By becoming a subscriber, not only do you receive benefits like bonus content and full article RSS feeds, you also help fund all of Ultiworld's coverage in general. We appreciate your support!