Your guide to the biggest players, teams, and stories of the 2020 D-III college season.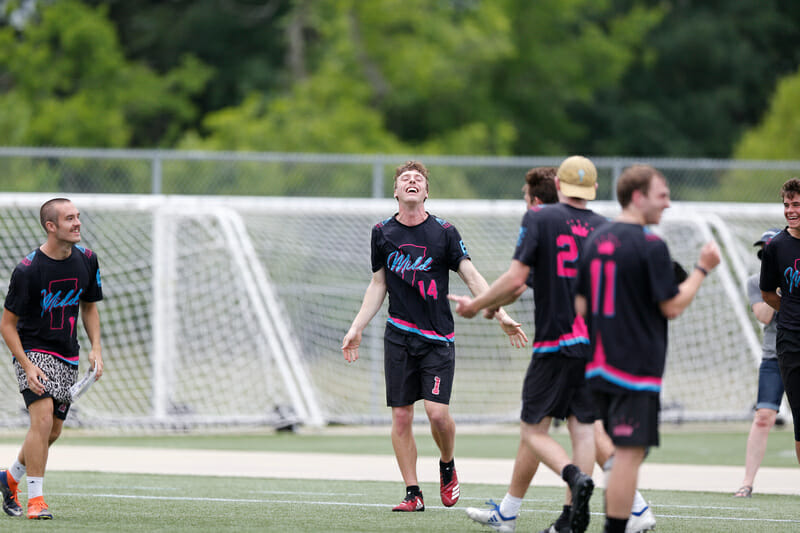 Ultiworld's 2020 college coverage is presented by Spin Ultimate; all opinions are those of the author(s). Find out how Spin can get you, and your team, looking your best this season.
The spring college season is upon us, with regular season events already underway and results starting to matter. From the title chase to regional rivalries, new stars to unexpected storylines, we've gathered up the names and narratives you need to know as you follow along with D-III this spring. Time to dive into the 2020 season!
Stories To Watch
Will Middlebury Be the First Repeat Champions?
Defending a championship in any sport is an incredibly difficult task. The margin of error for a title is razor-thin. Double game point outcomes could go a different way, results of other teams change what one's path to a title looks like, and a decent amount of luck is required for things like injuries. There's also the additional pressure of being known as the champs; every opponent will give you their absolute best effort in a bid to dethrone the titleholders.
In the USAU era of Division III men's ultimate, defending a championship has thus far been impossible. Not only has a team never defended their title, but no team has even returned to the national final to try. There are three instances of teams finishing as runners-up in back-to-back seasons — Puget Sound 2012 and 2013, Brandeis 2015 and 2016, and Air Force 2018 and 2019 — so it isn't unheard of for teams to make the final in consecutive years, but the motivation of avenging a loss can't be compared to the pressure of repeating success.
Perhaps no team has been better positioned to buck this trend than the 2020 #1 Middlebury Pranksters. The 2019 champions begin the season as the definitive number one in our rankings and return more talent than any other team in the division. The Pranksters have depth at every position and top-end talent capable of taking over any game.
Middlebury is led by the versatile talents of Kai DeLorenzo. Coming off a 2019 season that saw DeLorenzo finish as runner-up for Player of the Year en route to a national championship, the 6'2″ cutter enters 2020 as the favorite to win the award. His throwing ability paired with his incredible motor means that DeLorenzo not only gains chunks of yardage with his legs but also punishes the defense with his arm once he gets the disc. It will be interesting to see how teams choose to approach defending him this season, especially considering his strong supporting cast.
2019 Rookie of the Year Leo Sovell-Fernandez is coming off a summer with Minneapolis Drag'N Thrust that gave him meaningful reps playing in high-pressure moments. His fellow sophomore Walker Frankenberg plays with a dynamism and aggression that can take over a game, and, with another year of maturing in decision-making, we should see Frankenberg assert himself more consistently. Ian Hanson, Kevin Strenski, and Zach Levitt are the kind of consistent role players that assure that even when the Pranksters' stars are misfiring, no game will get out of hand.
Middlebury went 22-0 against D-III competition in 2019, and a similar outcome in 2020 is well within reach.
Who Will Be the Division's New Stars?
To state an obvious truth, there is turnover in college ultimate every year. The set up of the division means that, best-case scenario, we get five years with a player before they move on in their career. Teams are forced to tinker and reload every season, with underclassmen stepping up to replace the production of their departed teammates from the season prior.
This year more than most, the void left by the class of 2019 feels particularly large. Twelve of the fourteen players on our All-American teams graduated, and the two that remain in the division are both on Middlebury. Nine of the top ten goal scorers and seven of the top ten goal throwers from Nationals won't be returning, and again, two of the four that are returning are Pranksters. No matter how you choose to look at it, the fact is that if you're any team other than Middlebury, there are major holes on your roster that need to be filled.
Fortunately, there's a lot of talent in the division ready to step into the spotlight, even if it might look a little different than last year's group. Five of last year's All-American First Team members were handlers, and this year's crop of elite players skews more towards cutting and defense. While last year's Carleton GoP team was led by the smooth handling of Noah Robiner and all-around offensive excellence of Saul Wildavsky, this year's team will be led by the pulling and defensive superiority of Alex Rafkin. The 2019 version of Michigan Tech ran through the virtuoso throwing of Brendan McCann, but the 2020 iteration of DiscoTech will be led by the versatility of Frank Uganski. The Richmond Spidermonkeys leaned on the quick handler movement of Chris Selwood and Graydon Cowan last year; this year's team will be led by perhaps the best cutter defender in the division in Harris Cannon and the big-play ability of guys like Xavier McCormick and Chris Cassella. The top teams from last year still have plenty of talent, but the way that talent is best utilized looks a bit different.
Oklahoma Christian's New Model for College Ultimate
Around this time last year, a post surfaced on Reddit titled "Get Paid to Play College Ultimate!" The post was filled with all sorts of promises that any potential college ultimate player would love to read. Receive money to play instead of paying your own! Come play with players with international and elite club experience! It all sounded too good to be true.
Fast forward to today, and the Oklahoma Christian University Eagles are exactly what their coach Gabe Cabrera promised they would be. A roster of 20 players, comprising talent from all over the world and displayed on the OCU website alongside the school's varsity sports, will be competing in sanctioned play and the D-III series this spring. The whole program has the feel of a collegiate varsity sport. Their Twitter and Instagram accounts contain player announcement graphics and box scores. Their website has press releases about player signings and tournament recaps that read like newspaper articles. The whole program has a look and feel of professionalism not seen anywhere else in the division.
While the Eagles have everything together off the field, they still have quite a bit of work to do on the field. The fall season was rough for OCU; they finished last at Just Plain Nasty and lost all of their games. However, the Eagles are adding some heavy artillery for the spring semester, integrating Ugandan international Jamil Kusabi and the accomplished Elliott Moore to a roster that already contains Netherlands international Kevin van Roosmalen. Moore, in particular, is a massive addition. A 2018 WJUC U20 gold medalist, three-time member of the AUDL's Austin Sol, and member of Austin Doublewide, Moore will immediately be a top ten player in the division.
Regardless of how the season plays out on the field for the Eagles this year, it will be interesting to see their impact on college ultimate as a whole. We talk all the time about what ultimate would look like as a varsity collegiate sport, and Oklahoma Christian is the closest thing we've seen to that dream. Can they turn their off-field advantages into on-field success?
Crowded New England, Once Again
One of these years, the New England region won't actually be the strongest in the division. Unfortunately for the rest of the country, it doesn't look like it will be in 2020. Seven teams of the top 25 in our first power rankings come from New England, including four of our top nine. Last year, the NE landed three strength bids, and if our forecast is correct, they'll get the same in 2020. But which teams will take those bids, and in what order?
We already discussed #1 Middlebury in great detail above, and it will be shocking if they don't win the region. The order of the six teams below them could shake out in a number of ways. The next team in line is #6 Bowdoin Stoned Clown. The 2019 Nationals quarterfinalists only graduated four players, and while the loss of Conor Belfield can't be overstated, Clown has plenty of talent to fill that void. Tenzin Choezin and Nate Blum will be Bowdoin's primary handlers, and Tom Jones is one of the best deep threats in the division.
Colby CUT and Bryant Craze met in prequarters in College Station last year, with Bryant winning in resounding fashion. However, #8 Colby has the brighter outlook for the 2020 season. CUT returns one of the more solid handler duos in the country in Matthew Sabin and Bennett Allen. Paired with cutters Ben Retik and Matthew Johnson, and with 23 players returning with Nationals experience, Colby is set to build on their surprising success last season. #9 Bryant, on the other hand, loses an incredible amount of production with the graduation of Justin Kunkel and Zach Tuxbury. Seniors Billy Gordenstein, Jake Fontes, and Ryan O'Connor will attempt to fill that void, and coach Jim Bishop always gets the most out of his team, but Bryant has a lot of growing to do with this year's team.
The final three teams from New England in our rankings are led by special individual talents that have the ability to completely takeover any given game. #22 Brandeis's Connor Chin, #23 Bates's Max Rein, and #24 Williams's Kees Humes are all three handlers capable of throwing in any conditions. If they can elevate the rest of their roster around them, then any of these teams are more than capable of stealing a bid to Columbus in May.
Ohio Valley In The One-Bid Trap
The harsh reality of competing in a division with a sixteen team Nationals and ten regions is that only six strength bids are up for grabs. While we can talk about the logic behind Division I allocating 50% of their Nationals spots to strength bids and D-III allocating just 38% on another occasion (and we will), what this means for now is that several regions that deserve multiple bids every year are instead left with one. The Ohio Valley is in danger of being such a region again this season, with top teams and a handful of contenders battling over what could very well be just one ticket to Columbus.
This was supposed to be the year that #7 Franciscan Fatal relinquished their hold on the Ohio Valley. Fatal has won the region four of the last five years, but with Dom Schuster finally out of eligibility and Louis Heisler stepping away from the team, this should have been the year Franciscan finally faded from contention. Instead, Mark Schuster transferred in from Cincinnati as a junior, Mike Schuster joined as a highly-touted freshman, senior Jared Stommes showed promise in College Station last year, and all of a sudden Fatal are the favorites in the region again. Their biggest challenger will be the #10 Oberlin Flying Horsecows. Led by Julian Bregstone and Noah Zobel, Oberlin are one of the biggest and most athletic teams in the country. After winning the region in 2018, the Horsecows were hampered by injuries in 2019; expect them to return to relevance this year.
The rest of the region's depth makes Regionals a nightmare for the favorites. Shippensburg is a deep and well-coached team that will be looking to make a run in Zack Hunsberger's final season. Cedarville's height and athleticism enable them to play multiple zone looks that lead to upsets, as we saw on their run to the region final last year. Under the leadership of Nate Harnish and a strong coaching staff, Messiah will be prepared to make a statement in games that matter the most. Haverford, Xavier, and Swarthmore are always more than capable opposition. With an awkward twelve-team format and lots of talent, Ohio Valley Regionals is always chaos; don't expect that to change this season.
Players To Watch
Some of the players we think will define the 2020 college season.
Atlantic Coast
Xavier McCormick (Richmond)
Dean Merritt (UNC Asheville)
Dusty Smith (Davidson)
Great Lakes
Scott Stonis (Valparaiso)
Cory Wallace (North Park)
Erik Stewart (Butler)
Metro East
Noah Fey (Marist)
Oliver Fay (Marist)
Jack Kwon (Wesleyan)
New England
Kai DeLorenzo (Middlebury)
Connor Chin (Brandeis)
Kees Humes (Williams)
North Central
Alex Rafkin (Carleton GoP)
Chad Messerich (Luther)
Joe Lagorio (St. Thomas)
Northwest
CJ Hermosura (Portland)
Bryant Stone (Pacific Lutheran)
Destin Newfont (Puget Sound)
Ohio Valley
Mike Schuster (Franciscan)
Julian Bregstone (Oberlin)
Zack Hunsberger (Shippensburg)
South Central
Brendan Carriel (Missouri S&T)
Elliott Moore (Oklahoma Christian)
Garritt Headley (John Brown)
Southeast
Jacques Perivier (Georgia College)
Jordan Chambliss (Samford)
BJ Barrett (Florida Tech)
Southwest
Leo Kitchell (Claremont)
Samin Zachariah (Claremont)
Greg Kleinman (Occidental)
Preseason Power Rankings
2019 Finish: #1 in Power Rankings, 1st in USAU, National Champions, 31-3 record
The defending national champions begin the season at the top of our rankings, and it doesn't look like they'll relinquish that spot any time soon. We've discussed their player talent, but for the first time in program history, the Pranksters will have a coach in Lily Barter. Beyond the obvious strategic benefits that come with having a coach, relieving the captains from those duties will allow them to focus solely on their playing and be their best as players. If Barter proves to be an exceptional strategist as well, the Pranksters will march to a title.
2019 Finish: #7 in Power Rankings, 7th in USAU, T5th at Nationals, 20-9 record
Any team can play the "what if" game, but Missouri S&T has to look back on their Nationals last year with a particular sense of regret. Up two breaks at half against Carleton GoP, Miner Threat went from being up 8-6 to losing 10-11 and finishing second in the pool. S&T bring back a tremendous amount of firepower, particularly in the handler space. Carl Eastman and Nate Clancy will anchor the O-line after a summer of experience playing club with CaSTLe, and Brendan Carriel (CaSTLe) and Jared McKay (Black Lung) will steady the D-line. If sophomore Ryan Hays and junior transfer Seth Guderman can replace the cutting production of the departed Will Imming and Mitchell Zimmermann, expect to see Miner Threat take the leap into the semifinals of Nationals.
2019 Finish: #3 in Power Rankings, 3rd in USAU, T3rd at Nationals, 24-8 record
While every team suffers turnover each season, GoP will be dealing with more than most. With the loss of 8 seniors, including offensive mainstays Saul Wildavsky and Noah Robiner, Carleton have a lot to figure out for the 2020 season. That said, there's no team better equipped to figure these things out than GoP. A program that has always prided itself on depth, every single player on the roster notched either a goal or assist at Nationals, with all but one player accomplishing that before the end of pool play. It'll be particularly interesting to see how GoP utilizes Alex Rafkin; a star on the defensive side of the disc that set up multiple breaks for the D-line with his pulls, Rafkin is also the best handler returning for GoP. Figuring out how to best utilize his skills will go a long way towards getting GoP to a third straight national semifinal.
4. Richmond Spidermonkeys
2019 Finish: #4 in Power Rankings, 4th in USAU, T3rd at Nationals, 30-9 record
Prior to this past weekend, the Spidermonkeys were at number two in our rankings, but a tough showing at Carolina Kickoff forced us to reconsider just a bit. The performance is explainable: Richmond has a staggering 42 players on their roster and used the early tournament to get sanctioned reps for their rookies. The Spidermonkeys took a similar approach last year, and it paid off in the series. Richmond's senior class might be the strongest in the nation. Led by Chris Cassella, Harris Cannon, Xavier McCormick, and Ben Weinstein, this might be the Spidermonkeys' last real shot at a title for a while. Expect defending COTY Matt Graves and his assistant Justin Keller to have Richmond peaking at the right time.
2019 Finish: #6 in Power Rankings, 8th in USAU, T7th at Nationals, 24-8 record
This season's early top four are easy to distinguish, but arguments could be made for the next tier to be arranged in a number of ways. We have Luther as the next team up due to the potential of the top end of their roster. The losses of Peter Murry and Jonathan Lovagnini are tough, but Chad Messerich, Blake Krapfl, and Jamison Schuh are one of the most talented trios in the division. It'll be crucial for LUFDA to develop some depth if they want to threaten making semis at Nationals, but the talent of their top three give this team a chance in any matchup.
6. Bowdoin Stoned Clown
2019 Finish: #5 in Power Rankings, 5th in USAU, T5th at Nationals, 21-8 record
Similar to Luther, Bowdoin enters this season with the daunting task of replacing the production of a couple of prolific graduates in Conor Belfield and Conor McManamy. However, while LUFDA will be replacing their departures with new stars, Bowdoin will be using their depth to maintain the team's high level. Bringing back 17 players and coming off two straight trips to Nationals, Stoned Clown has become a staple of Nationals, and don't expect that to change this season. Tenzin Choezin is the most likely to break out as a star; after missing Nationals last year due to a concussion, welcoming him back this season will almost feel like a new pick up.
2019 Finish: #12 in Power Rankings, 18th in USAU, T9th at Nationals, 19-7 record
The only thing better than having one Schuster brother on your team is having two. While Dom Schuster is finally out of eligibility after what feels like 15 seasons, Franciscan has added his two younger brothers Mark and Mike and don't appear to be going away as a contender any time soon. Since 2014, coach Ian Gill has led Fatal to an incredible 144-26 record, and in his final season coaching the team, Gill will hope to add one more championship to his resume at a Nationals being held in the team's backyard.
2019 Finish: #10 in Power Rankings, 13th in USAU, T13th at Nationals, 13-9 record
One of the biggest surprises of the 2019 season, Colby will be firmly on the nation's radar this year. CDC bring back more players than maybe other team in the division, with 23 players returning from last year's upstart group. Led by the handler duo of Matthew Sabin and Bennett Allen, the biggest challenge for Colby will be getting in a regular season that allows them to secure a bid for their region. Before moving on to the next team, please take a moment of silence in remembrance of Colby's former name, the Dazzlin' Asses, that fell victim to the team's success last season.
2019 Finish: #8 in Power Rankings, 6th in USAU, T7th at Nationals, 20-6 record
Three things are certain in this world: death, taxes, and Bryant making Nationals. Despite the losses of talents like Justin Kunkel and Zach Tuxbury, Bryant has shown year after year an ability to find new players to step up, and expect the likes of Billy Gordonstein, Jake Fontes, and Ryan Donovan to play much bigger roles this season. As long as coach Jim Bishop is still around to institute his renowned zone defense, expect to see Bryant to remain in contention for a spot at Nationals.
10. Oberlin Flying Horsecows
2019 Finish: Unranked in Power Rankings, 36th in USAU, T3rd in Ohio Valley, 15-12 record
The first team in our rankings that wasn't at Nationals in 2019, Oberlin will be aiming to make a return to the big dance after injuries marred their attempt to defend their region championship last season. Julian Bregstone is still one of the most versatile players in the division, and Noah Zobel is dominant in the deep space. Once Oberlin got healthy, they still made a run in the series, going undefeated at Conferences before losing to Franciscan in the semifinals of Regionals. A healthy regular season should see the Horsecows contend for a strength bid for the Ohio Valley.
2019 Finish: Unranked in Power Rankings, 39th in USAU, T11th at Nationals, 20-9 record
Not since 2013 has there been a repeat champion from the Great Lakes, but Valparaiso has a great chance of breaking that streak this year. Vult only loses four seniors from last year's team, and although players like Tanner Gesell will be missed, the likes of Scott Stonis, Brian Barrett, and Isaac Jauch should be more than up to the task of replacing his production. There will always be a degree of uncertainty in the Great Lakes, but Vult will be the favorites to represent the region at Nationals once again.
2019 Finish: #16 in Power Rankings, 20th in USAU, 2nd in Metro East, 16-2 record
After playing in two of the most exciting games of Regionals weekend last year, Marist fell just one point short of making Nationals, losing to Hamilton on double game point. Foxu return most of their roster from last year, and that, combined with the experience playing in high pressure moments gained from 2019's disappointment, make them our preseason pick to win the Metro East. Noah and Oliver Fay form one of the best duos in the division, and cutter Andrew Muscadin gives them an athletic target downfield.
2019 Finish: #18 in Power Rankings, 12th in USAU, T9th at Nationals, 20-9 record
To call a spade a spade, Portland was one of the more disappointing teams at Nationals last year. After a strong regular season and a dominant performance at Northwest Confregionals, expectations were high for Uprise heading into College Station, but two blowout losses to Air Force and Bryant were followed by a 12-11 loss to Claremont in a game where Uprise led 10-5. We're choosing to believe in the team we saw all season rather than the team we saw in College Station. Expect to see Gavin Bullis, Sam Warrick, CJ Hermousa and the rest of the Portland crew back at Nationals again this year.
2019 Finish: Unranked in Power Rankings, 43rd in USAU, 7th in Southeast, 8-11 record
A team that wasn't originally on our list, Georgia College jumped on to our radar after a tournament win last weekend at Clutch Classic. We learned that Jacques Perivier, Parker Rhinehart, and Rylan Gordon are returning for 5th years, and although Disco has a small roster, that trio is enough to make them favorites in the Southeast. If GC can develop some depth over the course of the spring, it's easy to picture them making a run to the bracket in Columbus this spring.
2019 Finish: #24 in Power Rankings, 41st in USAU, T15th at Nationals, 7-8 record
Despite missing all but one of their seniors at Nationals last year, Claremont exceeded expectations and made it out of pool play in College Station. While disappointing for them to play shorthanded last year, the silver lining is that they return a team of players who got reps on the biggest stage, preparing them to defend their region championship in 2020. Leo Kitchell and Samin Zachariah were high usage handlers last year that filled the stat sheet for worse or for better, leading the team in assists but racking up ridiculous turnover numbers. If the two of them can continue their production while protecting the disc, Claremont could advance even further at Nationals should they return this season.
2019 Finish: #9 in Power Rankings, 9th in USAU, T13th at Nationals, 23-5 record
Perhaps no player meant more to their team last year than Brendan McCann did to Michigan Tech. The combined losses of McCann and Kevin Anthony will be difficult for DiscoTech to overcome, but thirteen players return with Nationals experience and lessons learned from McCann's leadership. Frank Uganski leads the group; an overqualified role player on last year's team, Uganski will be the star of DiscoTech's offense this season. If Michigan Tech returns to Nationals, it will be due to a POTY-worthy season from Uganski.
2019 Finish: #22 in Power Rankings, 29th in USAU, 2nd in Atlantic Coast, 18-9 record
A team that was already on our radar, the Bulldogs solidified their place on our rankings with an impressive showing at Carolina Kickoff that saw them pick up wins over Richmond and Air Force. UNCA is a top-heavy team led by the versatile talents of Dean Merritt and Wilson Matthews. It's not a coincidence that their two wins at Kickoff came in their first game each day. The top-end talent is there, but the Bulldogs need to develop more help if they want to earn the consistent wins required to be in the bid picture.
2019 Finish: #20 in Power Rankings, 10th in USAU, 3rd in Atlantic Coast, 20-7 record
Closely following UNCA is their friendly Atlantic Coast rivals Davidson DUFF, and the two teams are opposites of each other. While Davidson certainly has talented players like Dusty Smith and Matt Singleton, DUFF's strength comes from their depth and ability to put seven players on every line who know their role and execute the game plan. Davidson's coaching staff is one of the best, and if there are multiple bids for the Atlantic Coast, expect DUFF to be in contention to take one.
19. North Georgia Summit
2019 Finish: Unranked in Power Rankings, 46th in USAU, 3rd in Southeast, 17-6 record
A team that has been knocking on the door of Nationals for the last few years, including a double game point loss in the semifinals of regionals last year, Summit will once again be in contention for the Southeast's bid in 2020. Multiple players on Summit played club together this summer on a local mixed team called Monster, and that chemistry resulted in an early season upset over Georgia College. If Summit can continue to build off their early season success, expect to see them pushing Georgia College again on Sunday of regionals with a spot to Nationals on the line.
20. Navy Poseidon
2019 Finish: Unranked in Power Rankings, 58th in USAU, T5th in Atlantic Coast, 8-18 record
An athletic team that is traditionally on the cusp of competing in the Atlantic Coast but lacks the refinement and tactical nuance to threaten for a spot at Nationals, this season looks like it could be a step forward for Poseidon. Navy kicked off their season with a 4-3 performance at Mid-Atlantic Warmup last weekend, highlighted by an 11-7 win over Mary Washington in ninals. Poseidon is buoyed by the transfer addition of Max Benedetti from Washington, and if this past weekend is a sign of things to come, we could be hearing from Navy in big moments this season.
2019 Finish: Unranked in Power Rankings, 23rd in USAU, 7th in New England, 21-9 record
A perennially relevant team on the national scene, Brandeis Tron will once again be competitive in 2020. Fresh off a summer as a practice player with New York PoNY and a Danish club nationals title with Ragnarok while studying abroad this fall, Connor Chin is primed for a breakout junior year. With the help of senior captain Ethan Sternberg and standout freshman Noam Gummerman, it wouldn't be shocking to see Chin and Tron make a run at regionals and earn a trip to Columbus.
22. Bates Orange Whip
2019 Finish: #25 in Power Rankings, 22nd in USAU, 6th in New England, 17-9 record
After a strong regular season in 2019, Bates fizzled out in the series, going winless in the most talented Conference tournament in the division and losing in an upset to Williams early on Sunday. Orange Whip return the handling prowess of Max Rein, but it will take much more than that to be competitive in a loaded New England region. Still, Bates has created a sustainable program that's proven to be competitive each year, and with Rein leading the way, a strong showing at Regionals can't be ruled out of the question.
2019 Finish: #23 in Power Rankings, 14th in USAU, 4th in Atlantic Coast, 23-7 record
Two years removed from a trip to Nationals, Mary Washington looks almost completely different from the team that went to Rockford in 2018. Players like Landrum Beard and Beau De Koninck who were role players on that 2018 team are now being asked to carry the team, and a 3-4 showing at Mid-Atlantic Warmup suggests some growing pains as they step into these new roles. The team is bolstered by the addition of freshman Marcelo Ruggiero, who just made the 2020 WJUC U-20 team, and his integration could be what takes Mother of George to another level.
2019 Finish: #21 in Power Rankings, 17th in USAU, 5th in New England, 17-12 record
It's eerie how similar WUFO's outlook looks when compared to Bates. Williams is also led by a game-changing handler in Kees Humes, and the team is counting on the development of thirteen rookies over the course of the semester to put them in contention by the time the series rolls around. A tough showing at Mid-Atlantic Warmup last weekend is a slight cause for concern, but the team's leadership says their focus last weekend was on development, so we're not pressing the panic button just yet.
25. Oklahoma Christian University Eagles
2019 Finish: 2020 is this team's first season
Our first rankings of the year are a combination of being predictive and reactive, and those two things couldn't paint more different pictures for OCU. If we're being reactive, the Eagles had a disappointing fall season that included a loss to Air Force's B team, and they should be nowhere near our top 25. If we're being predictive, OCU is adding Elliott Moore, a top ten talent in the division, and Jamil Kusabi, a Ugandan international-level player to the roster for the spring, and those two additions should be enough to vault them into contention. We've split the two by ranking them 25th until we see some results from the division's newest and most interesting team.
Tournaments To Watch
While it may not be as packed week to week at D-I, the landscape of events relevant to the national D-III picture is vastly improved from even just a couple years ago. Several tournaments around the country have become staples in the D-III circuit and now draw top programs, sometimes even from far corners of the country. Here are the events we'll be watching this spring — along with known D-III attendees — to see how teams and regions stack up. We'll be updating this section as we learn more this season.
FCS D-III Tune Up – Feb 29-Mar 1 (Advance, NC)
#2 Missouri S&T (SC)
#4 Richmond (AC)
#7 Franciscan (OV)
#10 Oberlin (OV)
#13 Portland (NW)
#17 UNC Asheville (AC)
#18 Davidson (AC)
#21 Brandeis (NE)
Layout Pigout – March 21-22 (Haverford, PA)
College Southerns – March 21-22 (Statesboro, GA)
#1 Middlebury (NE)
#14 Georgia College (SE)
#18 Davidson (AC)
Florida Tech (SE)
Atlantic Coast Open – March 28-29 (Fredericksburg, VA)
#1 Middlebury (NE)
#4 Richmond (AC)
#25 Mary Washington (AC)
Shippensburg (OV)
D-III Midwestern Invite – March 28-29 (Fair Oaks, IN)
#5 Luther (NC)
#11 Valparaiso (GL)
#15 Claremont (SW)
#16 Michigan Tech (GL)
#19 North Georgia (SE)
Cedarville (OV)
If you know of additional D-III teams attending these tournaments or other events you think we should keep an eye on, please let us know in the comments!