Only four blocks remain!
Ultiworld's 2019 Block of the Year bracket is presented by BE Ultimate; all opinions are those of the author. Please support the brands that make Ultiworld possible and shop at BE!
One of our most popular series each year, it's time to look back at last year and let our readers decide some of the top plays of the year.
First up this year is our Block of the Year bracket. We watched many hours of game footage and highlight reels to hunt down the best defensive plays we could find; believe us, there were more than enough options to fill up this bracket, so even some worthy nominees were left on the cutting room floor. Now we're inviting you, the Ultiworld readers, to vote for your favorite of the finalists selected.
Check out all of the nominees and vote below, then check back to see which clips advance for another opportunity to participate. The semifinal round of voting starts now and closes on Thursday, February 20 at 12 PM Eastern.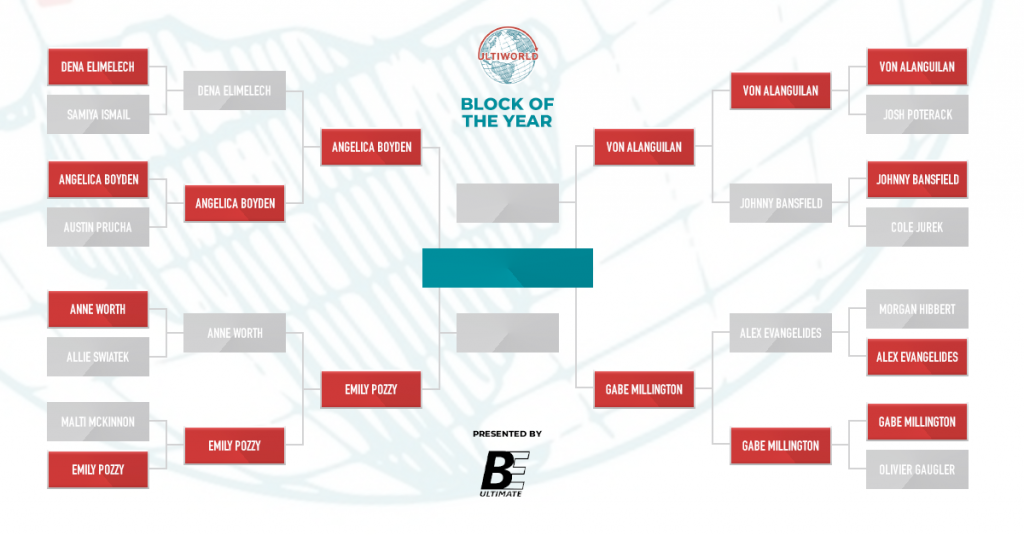 Women's
Cross-Coast Clash: Boyden vs. Pozzy
The women's side of the bracket brings together two very different players with similar plays. On the one side, an experienced club contributor representing Portland, a West Coast stalwart. On the other side, an up-and-coming wizkid from Maine, a name you may hear much more about in years to come. Both plays are wild full-extension interceptions. Only one can advance.
Angelica Boyden – Portland Schwa (Club Women's)
Emily Pozzy – Forest City (High School Girls)
Men's
Superhero Semifinal: Alanguilan vs. Millington
"Von Alanguilan: flying across your screen!"
"My man Gabe is like Spider-man!"
These two lines of commentary explain pretty clearly these two blocks. Evan Lepler, the ESPN voice of ultimate, captures the excitement of Alanguilan's improbable championship game interception, which sent the crowd into a frenzy. Millington's voiceover comes from a more anonymous source, at a random tournament, playing a game that few will recall, but making an unforgettable play. The commentary tells you all you need know.
Von Alanguilan – Chicago Machine (Men's Club)
Gabe Millington – Middle Tennessee (D-I Men's)