Some big names and some big surprises!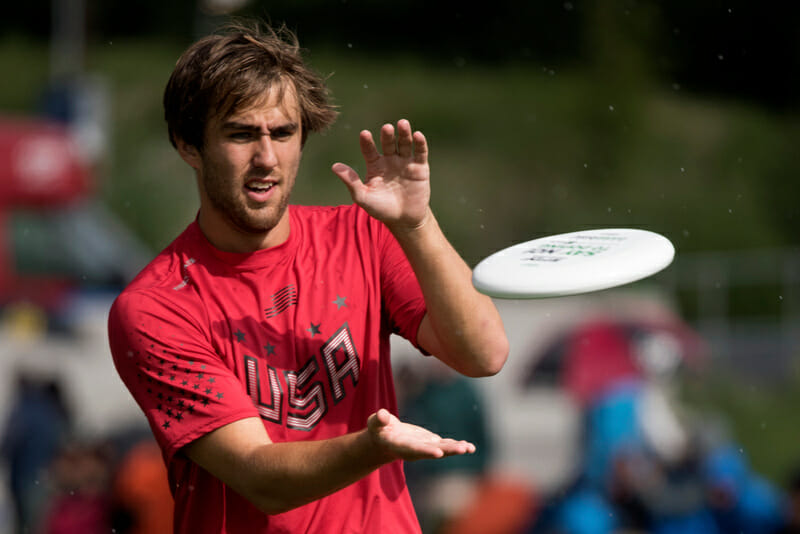 USA Ultimate has announced the 72 players selected to compete on the 2020 USA National Team that will compete across three divisions at the 2020 World Ultimate and Guts Championships in Leeuwarden, Netherlands.
Approximately one third of the players invited to tryout were picked to the three teams; 29 of the 72 players return from the 2016 National Team.
Here are the rosters for the men's, mixed, and women's divisions.
Men's Division
| Name | City, ST | College | Club |
| --- | --- | --- | --- |
| Johnny Bansfield | Ypsilanti, MI | Eastern Michigan | Chicago Machine |
| Trent Dillon | Seattle, WA | Pittsburgh | Seattle Sockeye |
| Dylan Freechild | Eugene , OR | Oregon | Seattle Sockeye |
| Kurt Gibson | Chicago, IL | Florida | Chicago Machine |
| Nate Goff | Chicago, IL | South Carolina | Chicago Machine |
| Raphael Hayes | Portland, OR | | Portland RhinoSlam! |
| Jonathan Helton | Coronado, CA | Wheaton | SoCal Condors |
| Benjamin Jagt | White Plains, NY | Minnesota | New York PoNY |
| Pawel Janas | Evanston, IL | Colorado | Chicago Machine |
| Tannor Johnson | Lexington, MA | Massachusetts | Boston Slow White |
| Sean Keegan | Brooklyn, NY | Delaware | New York PoNY |
| Chris Kocher | Brooklyn, NY | George Washington | New York PoNY |
| Allan Laviolette | Raleigh, NC | Western Washington | Raleigh Ring of Fire |
| Grant Lindsley | Brooklyn, NY | Carleton College | New York PoNY |
| Leandro Marx | Portland, OR | Oregon | Portland RhinoSlam! |
| Rowan McDonnell | Washington, DC | Tidewater CC | DC Truck Stop |
| Jimmy Mickle | Brooklyn, NY | Colorado | New York PoNY |
| Christian Olsen | Atlanta, GA | Emory | Atlanta Chain Lightning |
| Ryan Osgar | Brooklyn, NY | Minnesota | Minneapolis Sub Zero |
| Matthew Rehder | St. Louis, MO | La Verne | Seattle Sockeye |
| Andrew Roney | Tampa, FL | Florida State | Tampa Bay UpRoar |
| Max Sheppard | Pittsburgh, PA | Edinboro | Pittsburgh Temper |
| Nicky Spiva | Chicago, IL | Colorado College | D.C. Truck Stop |
| John Stubbs | Atlanta, GA | Harvard | Atlanta Chain Lightning |
Mixed Division
| Name | City, ST | College | Club |
| --- | --- | --- | --- |
| Marika Austin | San Francisco, CA | Dartmouth | San Francisco Fury |
| Georgia Bosscher Shriwise | Chicago, IL | Wisconsin | D.C. Space Heater |
| Tyler Chan | Cambridge, MA | Tufts | Boston DiG |
| Caleb Denecour | St. Paul, MN | Colorado, Colorado State, Cañada College | Minneapolis Drag'n Thrust |
| Charlie Eide | Seattle, WA | Humboldt State | Seattle Riot |
| Khalif El-salaam | La Jolla, CA | Washington | Seattle Mixtape |
| Jenny Fey | Arlington, VA | Mary Washington | D.C. Space Heater |
| Carolyn Finney | San Francisco, CA | UC-Santa Barbara | San Francisco Fury |
| Jack Hatchett | Arlington, MA | Tufts | New York PoNY |
| Kaela Helton | Coronado, CA | UC-Santa Barbara | San Francisco Fury |
| Michael Ing | Pittsburgh, PA | Pittsburgh | Philadelphia AMP |
| Eli Kerns | Alameda, CA | UC-Davis | San Francisco Revolver |
| Sarah Meckstroth | St. Paul, MN | Minnesota | Minneapolis Drag'n Thrust |
| Jibran Mieser | Brooklyn, NY | Rutgers | New York PoNY |
| Raha Mozaffari | Philadelphia, PA | Pennsylvania | Philadelphia AMP |
| Brian Schoenrock | Ames, IA | Minnesota State-Mankato | Minneapolis Drag'n Thrust |
| Jacob Smith | Menlo Park, CA | Penn State | San Francisco Mischief |
| Eric Taylor | Durham, NC | Carleton College | Raleigh Ring of Fire |
| Anna Thompson | San Francisco, CA | Pennsylvania | Philadelphia AMP |
| Julianna Werffeli | Somerville, MA | Dartmouth | Boston Brute Squad |
| Jack Williams | New York, NY | North Carolina-Wilmington | Raleigh Ring of Fire |
| Sol Yanuck | Durham, NC | Carleton College | Raleigh Ring of Fire |
| Amy Zhou | Livingston, NJ | Rutgers | D.C. Scandal |
| Angela Zhu | Somerville, MA | Dartmouth | Boston Brute Squad |
Women's Division
| Name | City, ST | College | Club |
| --- | --- | --- | --- |
| Claire Chastain | Denver, CO | North Carolina-Wilmington | Denver Molly Brown |
| Claire Desmond | Oakland, CA | UC-Berkeley | San Francisco Fury |
| Sarah Griffith | Berkeley, CA | Michigan | San Francisco Fury |
| Kami Groom | Ann Arbor, MI | Washington University | Boston Brute Squad |
| Mariel Hammond | Portland, OR | Central Florida | Portland Schwa |
| Liên Hoffmann | Somerville, MA | Northwestern | Boston Brute Squad |
| Sadie Jezierski | Nashville, TN | Ohio State | Nashville Shine |
| Kelly Johnson | Seattle, WA | North Park | Seattle Riot |
| Alika Johnston | Denver, CO | Virginia | Denver Molly Brown |
| Stephanie Lim | Los Altos Hills, CA | Stanford | Seattle Riot |
| Linda Morse | Havertown, PA | Pittsburgh | Philadelphia AMP |
| Anna Nazarov | Berkeley, CA | UCLA | San Francisco Fury |
| Carolyn Normile | Pittsburgh, PA | Pittsburgh | D.C. Scandal |
| Octavia Payne | Oakland, CA | Pennsylvania | San Francisco Fury |
| Kristen Pojunis | San Diego, CA | UCLA | San Diego Wildfire |
| Eva Popp | Corvallis, OR | Wisconsin-Eau Claire | Portland Schwa |
| Erynn Schroeder | Plymouth, MN | St. Benedict | Atlanta Ozone |
| Jesse Shofner | Boulder, CO | Oregon | Denver Molly Brown |
| Amber Sinicrope | Somerville, MA | Smith | Boston Brute Squad |
| Emily Smith-Wilson | Bozeman, MT | N/A | Seattle Mixtape |
| Alex Snyder | San Francisco, CA | Colorado | San Francisco LOL |
| Qxhna Titcomb | Seattle, WA | Tufts | Seattle Riot |
| Claire Trop | Seattle, WA | Dartmouth | Boston Brute Squad |
| Anne Worth | Chapel Hill, NC | North Carolina | Raleigh Phoenix |