Round two features multiple teammate matchups and survivors of close calls.
Ultiworld's 2019 Throw of the Year bracket is presented by Friction Gloves; all opinions are those of the author. Want to make highlights of your own? Try Friction Gloves!
One of our most popular series to begin each year, the Throw of the Year bracket is here!
We watched many hours of game footage and highlight reels to hunt down the hucks, breaks, bombs, dimes, and everything else; believe us, there were more than enough options to fill up this bracket, so even some worthy nominees were left on the cutting room floor. Over the next week, we're inviting you, Ultiworld readers, to vote for your favorite of the finalists selected.
Check out all of the nominees and vote below, then check back to see which clips advance for another opportunity to participate. The second round of voting starts now and closes on Wednesday, April 1 at 12 PM ET.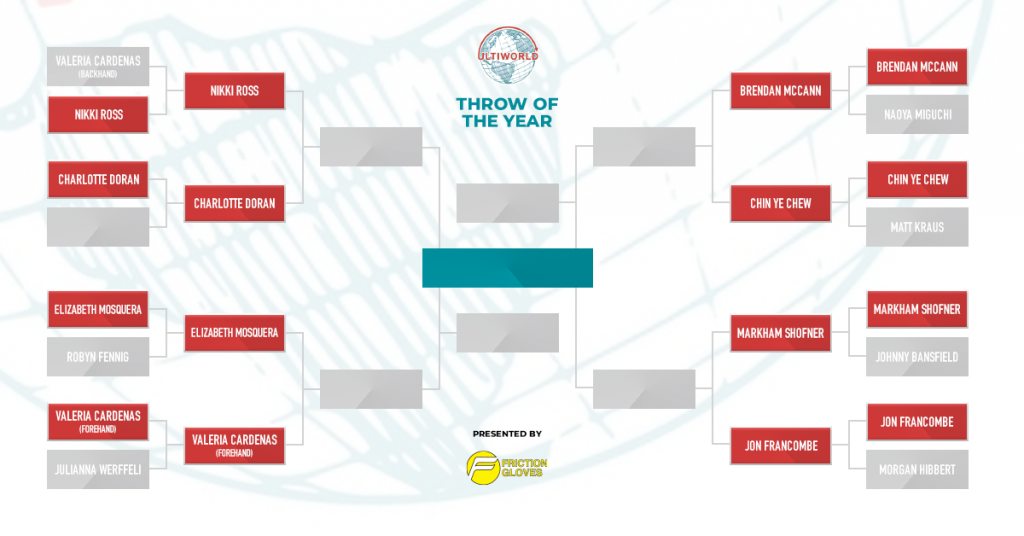 Women's
Siege Sisters: Doran vs. Ross
We have two teammates tangling in both of our women's matchups, including first-time Nationals qualifiers, Boston Siege. Ross was in a close contest, taking about 55% of the vote over Valeria Cardenas. One member of Siege will move on to the semifinals! How will the vote be split?
Charlotte Doran – Boston Siege (Club Women's)
Nikki Ross – Boston Siege (Club Women's)
Revolutionary: Mosquera vs. Cardenas
Our second comrade competition is between frequent Colombian teammates, Elizabeth Mosquera and Valeria Cardenas. While these plays come from different teams, these two are extremely familiar with one another from their years on Revolution. Mosquera scored round one's narrowest win on the women's side, with about 54% of the votes over Robyn Fennig; Cardenas earned 60% of the votes against Julianna Werffeli. Can the world-class pull outperform the sharp forehand huck?
Elizabeth Mosquera – Medellin Revolution (PUL)
Valeria Cardenas – Seattle Riot (Club Women's)
Men's
Championship Pedigree: McCann vs. Chew
Both of these throws came during championship competition, a pressure-cooker environment against elite opposition. For McCann, he was the leader of Michigan Tech at the D-III College Championships. Chew was representing his country on the international stage during his team's breakout performance. Chew's over 71% of votes earned in his round one matchup led the entire bracket, so McCann has his work cut out for him.
Brendan McCann – Michigan Tech DiscoTech (D-III Men's)
Chin Ye Chew – Team Singapore (U24 Mixed)
Rule-Breakers: Shofner vs. Francombe
Perhaps you've heard the idea that nearly every offense has someone who has license to break the structural rules that allow the offense to operate. Markham Shofner is at his best operating with the freedom to take a challenge like riding the wind with a deep OI forehand. As for Francombe's rule-breaking: is there really much more to say about it?
Markham Shofner – Washington DC Truck Stop (Club Men's)
Jon Francombe – Disco Inferno (UK Indoor Social)