Voters are to consider full college careers, not just 2020 season.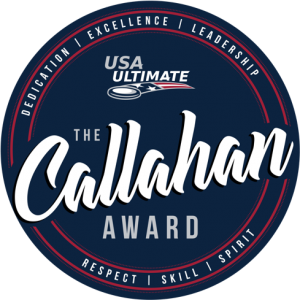 USA Ultimate announced the opening of nominations for the 2020 Callahan Award today, despite the shortened season due to the COVID-19 pandemic.
Nominations are open immediately and close on April 30th. Voting begins on May 1st and closes on May 13th.
The Callahan Award is named in honor of Henry Callahan, an important early player and organizer, and recognizes top college players every season.
RELATED: Hear more about Henry Callahan in part one of our documentary short series on the University of Oregon program.
This year, USA Ultimate has changed the award criteria to remove the requirement that voters should only consider nominees' current college season. "An athlete's entire college career can be taken into account when evaluating a candidate," read the rules.
USA Ultimate Director of College Competition Tom Manewitz says the rules change is for this year only, due to the extenuating circumstances, and will revert to the past criteria in the 2021 season.
You can submit nominations at CallahanAward.com and see all of the released Callahan videos on our live-updated page.