We plugged the teams into our simulation model and wrote fictional recaps for the regionals results it spit out.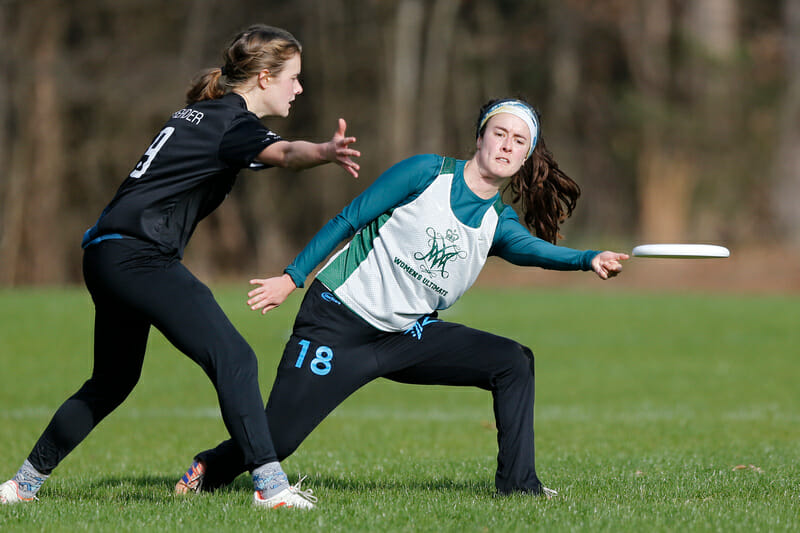 The simulation engine used for this article was built by guest contributors Alex Trahey and Daniel Walton. This article would not have been possible without their effort and expertise. Recaps and writing in this article were contributed by Ultiworld staff members Keith Raynor, Lindsay Soo, Daniel Prentice, Kelly Rusin, Ben Murphy, and Graham Gerhart.
The college postseason is perhaps the most exciting set of events in ultimate. A plethora of teams come together with equal opportunity to reach the same championship. While favorites make up the primary ingredient of the dish, the upsets, double game points, and comebacks add the seasoning that makes for a flavorful and satisfying meal. There's not quite another event like it in our sport.
We didn't want to live in a world with no college postseason, so we sat down and asked, "How could the 2020 College Series have gone down?" We took the rankings algorithm, adjusted slightly to reflect our staff's opinion of teams, and added a pinch of randomness that comes with life, and simulated how each and every regional championship game could play out. There were some creative liberties and constraints applied (see "Methodology") before we sent our writers to imagine the sets of events that could have led to our simulation's results.
Join us for a journey into what one timeline's version of the 2020 D-I college postseason could have been.
Methodology
To simulate an ultimate game, we determined the outcome of successive points by flipping a weighted coin. One coin is used for when Team A starts the point on offense and a second coin (with a different weight) is used for when Team B starts the point on offense. If the coin comes up heads, Team A scores the point; if it comes up tails, Team B scores.
For simplicity, games were played hard to 15 points — no timed round constraints, no win by two, no halftime.1 The probability of heads for each coin is determined by the power rating difference between the two teams. Based on results from the 2019 college postseason — and some minor human input from our staff at the start of the process — we assume how likely a team is to win a game and what the expected score is based on their power rating differential with their opponent. We use this empirical relationship to translate power rating differential into probabilities for the weighted coins. This approach was used previously to simulate the outcome of the 2019 College Championships. For more background on how games are simulated, check out this article.
There are some additional elements to note:
We used a random number generator and probabilistic-based bid odds to simulate bid movement that might have occurred in the final weekends of the season, though the result was that bid allocation remained the same as it stood when the regular season was suspended.
We looked at the size of regionals over the past few years to determine the number of teams to include. We took the corresponding qualifying teams based our human-modified rankings, including adding a couple of typical regionals attendees who had not yet played enough games to be ranked.
BYU is included because we thought that'd be more interesting.
Teams with high ratings differentials tended towards blowouts, with winning teams allowing fewer than three goals. The simulation did not capture that teams tend to dial back after going up by large leads.
Writers did not influence the simulation's results.
Power Rankings are from our final update of the regular season and do not reflect any simulated results that could have impacted bid movement.
Atlantic Coast
North Carolina
William & Mary
South Carolina
Duke
NC State
It was a shockingly perfect weekend in Axton, Virginia with lightly overcast skies, comfortable temperatures, and picture-perfect calm conditions, almost as if a higher power had designed it that way. To the surprise of no one, #2 North Carolina Pleiades swept the competition to take first in the Atlantic Coast, without showing a hint of the 'almost-upset' hiccup that nearly overcame them last season against South Carolina. However, the bigger surprise than the weather conditions was no. 4 seed William & Mary Cypress, who managed two upsets in the backdoor bracket to secure a spot at Nationals for the first time in program history.
Saturday was almost all chalk. All pool winners emerged unscathed, with No.5 seed NC State managing a double game point upset of William & Mary — making Cypress's success later in the weekend all the more surprising. The rest of games were fairly uneventful, with few close results or upsets, except for no.13 seed Clemson, whose victory over no.12 UNC Wilmington on knocked Seaweed out of Sunday's brackets.
Sunday told a different story. UNC cruised through their two bracket games to an easy tournament victory, led by impressive D-line performances from Sydney Rehder, Dawn Culton, and freshman Theresa Yu. Fifth-year Anne Worth showed up in force, demonstrating her takeover abilities for the first time this season, despite the fact that the Pleiades rarely needed to put on their O-line, conceding only 16 goals on the weekend. If anyone doubted North Carolina's dominance of the region, it was thoroughly squashed with their commanding Sunday showing, stomping out NC State in the semis before finishing with six straight breaks over #25 South Carolina Scorch to win the final 15-4.
In the race for the second bid, both semifinal losers suffered a second straight defeat in the backdoor bracket, upset by teams seeded three spots below them. NC State and Duke were closely matched, with Duke led by Peyton Schafer's powerful throws and a deep, strong bench. In the end, they proved just too much for NC State — who got strong play out of the versatile Rowan Jaynes and talented young handlers like Ellie Cubrilovich and Jennifer Wang — and Jaga were upended by Swerve on double game point. In the other backdoor quarterfinal, although #15 Virginia Hydra started out with a break, William & Mary regained their footing and, through the heroic defensive efforts of Emma Glass, earned a few pairs of breaks to take half. UVA was persistent, scratching back breaks throughout, keeping the game tight until 12-10, when Cypress broke twice more to finalize the upset 15-10.
As UNC dominated the final on the next field over, Duke and William & Mary fought for the chance at a game-to-go. Swerve were clearly fatigued from their barnburner versus NC State and their energy was lacking. Meanwhile, Cypress was heating up and riding high after their big win over Virginia. Cypress felt in control throughout the first half, slowly stacking breaks and going into halftime up 8-5. Swerve finally found their legs and managed a three-point run early in the second half to pull within one at 10-9, but just as quickly gave it right back and saw their season come to a close as William & Mary advanced with a 15-12 victory.
At last came the most exciting game that can happen on regionals weekend: a backdoor game-to-go. Unlike the round prior, Cypress was off to a rocky start, unaccustomed to Scorch's omnipresent and suffocating zone. South Carolina put away two early breaks through some long, grinding points and led 4-1 before Cypress called a timeout to regroup. Coming out of the stoppage, it was clear William & Mary were committed to playing more patiently, as handlers Kirsten Knisley and Maggie Pendleton worked calmly to relieve some pressure, able to execute cleanly in the windless conditions. Even the Cypress' D-line offense was stingy on a turn, throwing dozens of throws to march down the field to breaks, helping William & Mary take half after scoring seven of the next nine points.
That momentum carried into the second frame as things went from bad to worse for South Carolina. Scorch's O-line, who had found success all weekend with their run-and-gun offense powered by big throwers and talented receivers like Deanna DeLuca and Kayla McClary, started to sputter.  Now brimming with confidence, the Cypress D-line's calm under pressure earned them a spot at the big show, pulling away for a famous 15-9 victory.
Great Lakes
Northwestern
Michigan
Purdue
Chicago
Indiana
On a day with uncharacteristically perfect weather, in an intense finish, Northwestern GungHo won the Great Lakes region over rival Michigan Flywheel by the narrowest of margins, 15-14. This was the match-up that seemed to be coming all season, as both teams posted strong regular season performances, and leadership from both teams acknowledged the other as their biggest competition for the region's lone bid to Nationals.
Both GungHo and Flywheel won their pools, although both had to survive close games. After taking care of business against Kentucky and Indiana, Northwestern looked shaky in the first few points of their pool-deciding match against Purdue, but once they found their footing were able to regain control of the game and win by two, taking Pool A. Michigan had two tough games, pulling away in the second half against Chicago to win 15-11, and beating Notre Dame on double game point to win Pool B. Both teams won comfortably in quarters and semis, setting up the expected showdown in the final.
The regional title game featured a lot of back and forth as the two teams traded for a few points before Michigan broke to take their first lead, 3-2. Northwestern broke back to get it on serve, 6-5. Tied at 7-7, Riely Kuznicki got a leaping block for Flywheel, setting up a possession that ended when Marguerite Harris hit Megan Gordon streaking for the break to take half. Early in the second half, the teams traded two-point runs, as Northwestern scored two in a row to make it 9-8, then Michigan held and broke to go up 10-9, and GungHo held and converted the last break of the game, taking the lead 11-10. The teams traded to close the game, with Sara Gnolek finding Talia Willmert and clinching a 15-14 Northwestern victory, in the highest-scoring final in Great Lakes women's history.
GungHo was able to prevail as the favorites behind the leadership of Gnolek, the Great Lakes Player of the Year, who played nearly every point for GungHo and was involved in some way in eight of their 15 final goals (2 G, 6 A, 2 D). Also coming up big for Northwestern was lefty Rey Tang, who capably helped move the disc downfield, complementing Gnolek well. Despite having lost a few key players from the team that won the region in 2019, Northwestern was able to capture back-to-back regional titles thanks to solid contributions throughout their roster.
Michigan Flywheel was nearly able to avenge a double game point loss to Northwestern in semifinals of Regionals in 2019, but again fell short by just a single point. Flywheel was led by cutters Megan Gordon (5 G, 1 A, 2 D) and Kat McGuire (3 G, 1 D), as both were piling up touches on offense, and Gordon was a key defender crossing over to play defense at times. For their defense, Nicole Kleinsorge stood out as the most potent and strongest thrower all weekend, bombing both flicks and backhands.
Other standouts at Regionals included Cassie Brown from Chicago, Katarina Jamsek from Notre Dame, and Purdue's defense, led by Emily Antes, Lauren Kitten, and Stephanie Nobbe.
Metro East
Columbia
Connecticut
Ottawa
NYU
Syracuse
For the first time since 1995, Columbia Pandemic will be sending a team to the College Championships. A year after being on the wrong end of a pool play upset and double game point loss in semifinals, having entered as a favorite, Columbia protected their no. 1 seed during an undefeated run to their first modern Metro East title. The path to the title was filled with the parity that's become synonymous with ME Regionals, ending with a 15-12 win over surprise finalist Connecticut.
Pandemic's ability to create and convert turnovers consistently separated them from a sea of teams with wavering effectiveness. Aviva Weinbaum's handling prowess and Melanie Sawyer's expansive play, along with the duo's on-field chemistry and intelligence, powered Columbia on both sides of the disc. Julia Simmons and Liz Thomas provided critical plays — a fantastic bookends from Thomas ignited the three-goal run that gave Columbia the upper hand in their semifinal against NYU — but the roster in general seemed more confident down the line than most of the region's other competitors.
The tone for the weekend was set on Saturday. No. 2 seed Cornell suffered a tournament-opening upset, falling to Connecticut. After a very strong Conference Championship performance, no. 4 seed NYU seemed prime for a breakout weekend but needed a second-half recovery to avoid being the on the wrong end of a round one upset against Syracuse. The low-seed success continued in round two, with Rutgers sending Cornell to a shocking 0-2, Yale catching a rattled NYU unprepared, and Ottawa fending off UConn on double game point.
When the dust settled, Cornell completed their Saturday collapse, going 0-3 with a 15-11 loss to Ottawa. Meanwhile, UConn displayed grit in a tough 15-11 victory against Rutgers that gave them to the tiebreak advantage to win Pool B. Only five of the 12 pool play games were decided by more than three goals. Everything was earned.
Sunday's bracket played out in the same fashion. Cornell's Saturday foibles pit them against Columbia in quarterfinals, where Pandemic dealt the final blow to the Roses, avenging last year's double game point loss with a 15-12 win. Ottawa and UConn narrowly edged Yale and Syracuse, respectively.
That set up the game of the tournament between Ottawa and Connecticut. After playing each other in a 15-14 rock fight in pool play, the duo proved equally matched again in the semifinals. First it was the GeeGees that asserted themselves, with a skying block by Gwyneth Ross that set up the first of two breaks to give them a 6-4 lead. Ross's matchup with UConn sophomore Caroline Eldridge often defined points, with a strong correlation between success between the two and the scoring team. Ottawa's offense conceded zero breaks in the first half.
But the second half momentum belonged to Rise. A toe-tapping upline score from Cait Fitzmorris and saving layout from Steph Sommers featured prominently in a three-goal run that gave Rise a 13-10 advantage. Ottawa's deep game — triggered by Cassandra Jaffray and newcomer Emily Kavanagh — yanked things back to even, targeting Ross and Abby Millar. But Connecticut held quickly on double game point, missing on a huck, but getting a turn on a swing that set up a short field goal that made them unlikely finalists.
The shocking run seemed like it might continue in the final, as Columbia strained on offense and UConn played as if they had nothing to lose. Early Pandemic mistakes helped the upstart land two early breaks that amounted to a 4-1 lead for Connecticut. Despite conceding a break of their own, Rise didn't let Columbia get comfortable, mixing up defenses as they controlled nearly the entire first half, adding more breaks to take a 7-3 advantage. The UConn deep game pounded the top seed's defense, with Toby Sznaj and Nadya Ponthempilly connecting with their numerous speedy and tall targets frequently.
But Columbia's leadership and coaching staff kept the team together and focused, calming down their charges that were rattled for the first time all weekend. Out of a timeout, with renewed resolve, Pandemic's offense began to sparkle, while UConn's reliance on hucks hurt them. Columbia had just one turnover in the rest of the first half as they regained the lead with a run to take half, 8-7. While Connecticut never quit on the game, they ran out of steam as the well of unforced errors dried up and flat marks and last back help hindered their long shots. Columbia started the second half expanding their lead, and held onto it throughout, closing the game 15-12.
New England
Tufts
Northeastern
Vermont
Massachusetts
Dartmouth
In one of the biggest shocks of regionals weekend, Dartmouth Daybreak fell short of a Nationals trip, ending a five-year streak that included two National titles, while Tufts, Northeastern, and Vermont took the region's three bids.
The weekend started well for #14 Dartmouth, as they breezed past all of the lower-seeded teams in their pool and knocked off Northeastern on double game point to upset the top seed of the Pool B. That set up a theoretically easier semifinal matchup with #18 Vermont, with the winner not only advancing to the final but locking up one of three Nationals bids, as well.
Dartmouth's strong run continued into a hot start against Vermont, as they broke on the first point of the game and then again for 3-1. But after holding onto that advantage to 5-3 lead, Vermont rebounded with three straight goals thanks to a first-throw huck to Kennedy McCarthy, and Dartmouth dropping a pull and a centering pass on successive points. In a span that barely lasted longer than the time between pulls, Vermont had flipped the deficit into a 6-5 lead.
Daybreak began to rely more heavily on Claire Trop and Caroline Tornquist to start the second half, asking the top duo to play every point the rest of the way. They retook the lead at 11-10 thanks to a cluster of Trop blocks and a couple of big Tornquist hucks, but Vermont went on another run, sparked by a massive McCarthy layout goal to break for the lead back at 12-11. Vermont closed the game out on a 5-1 run, snatching their first Nationals bid since 1987 and sending a shocked Dartmouth into the backdoor bracket.
In the other semifinal, #3 Tufts defeated #10 Northeastern in an absolute classic. Breaks were traded furiously in the first half, with six of the half's 13 points being scored by the defense. Northeastern struck first in the break battle on the very first point, before immediately surrendering three straight goals to go down 3-1. They broke back to level the game at 3-3 before five straight holds were traded back and forth to a 6-5, on serve Tufts lead. A huck turn from Clara Stewart set up a Margo Urheim huck the other way to Jordan Bricknell to bring the breaks back to even, and an impressive pair of bookends from April Weintraub gave Tufts another break and an 8-5 halftime lead.
The game completely flipped on its head at the start of the second half. Stewart hit Ari Nelson with a frozen rope of a forehand for a quick Northeastern hold to start, and then the Tufts offense simply could do nothing right. Northeastern switched to a 3-3-1 zone and Ewo simply could not figure it out. They were forced into errant punts; they missed resets and dropped easy gainers. They looked like a totally different team, and Northeastern blitzed past them on an 8-1 run to take a 13-9 lead.
Finally able to get another hold for 13-10, Tufts quickly gave up another Stewart huck for 14-10. In a heroic effort fit for a documentary, Urheim completely took over the game, refusing to let the opportunity to lock up a Nationals spot slip away. She grabbed several skies defensively and got a point block on Nelson, and she scored or assisted every goal for Tufts each of the next four points to somehow get to double game point. Urheim got one last interception, poaching off to steal a pass from Brianna Considine intended for Duschia Bodet, and then quickly ran a give-and-go with Hazel Ostrowski to get the game-winner.
Tufts had one last comeback in them in the final rallying from a 13-11 deficit to beat Vermont on double game point 15-14, but with both teams already guaranteed a Nationals bid, the drama was relatively low.
Where the real post-semis drama lay was in the second place quarterfinals, where Dartmouth and Northeastern both fell after their defeats. Northeastern had no problem in defeating Boston University 15-9 to reach the game-to-go, but a Tess Johnson led Massachusetts was ready to shock the program that has appeared in each of the last three national championships.
Dartmouth initially rebounded well from the tough semifinal loss as they jumped out to a 4-0 lead. But then Trop suffered a calf cramp. She was able to play again after sitting out a few points, but she was clearly not at her best, and unable to play every point as she had down the stretch against Vermont. Dartmouth didn't fall apart entirely when Trop went down. Tornquist still played exceptionally well, and she got some timely contributions from Grace Alston and Hannah Marr, as well as one of the team's rookies in Chloe Fugle. In fact, they still held an 8-6 advantage at the break.
But with Trop hampered, Dartmouth had no real answer for Johnson. The star sophomore had one of the best individual performances of the season, scoring or assisting on 12 of UMass' goals. It was her goal that gave UMass their first lead at 12-11, and she assisted on each of their last three scores as they pulled away to win 15-12. Adrena Seferian and Elise Gaudette played key receiving and defensive roles for Lady Zoo, supporting Johnson in sending Dartmouth home packing, one of the biggest upsets the region has seen in a long time.
UMass kept the Cinderella story rolling, too, as Johnson continued to look like the best player at the tournament outside of Tufts' Urheim. They scored the first five points of the game-to-go against a tired-looking Northeastern and held an 8-4 advantage at the half. They extended that lead to 10-4 with a hold and a break to start the second half and seemed destined to continue their run all the way to Nationals.
But as fatigue set in, Johnson's hucks stopped connecting and Nelson filled the void as the game's dominant star. One layout block on the goal line from Nelson to save another break seemed to light a fire under Northeastern. They steadily fought their way back and finally took their first lead at 14-13, courtesy of an impressive diving save from Ellen Harsha. UMass was able to scrap together the hold to force double game point, but they were so gassed they were able to offer little resistance to Nelson and Stewart's dominator attack. Northeastern held clean to finish off the unbelievable comeback and clinch a second straight trip to Nationals.
Neither Northeastern nor Vermont seemed too invested in the second-place game, having both already locked up their Nationals berths. Both sides played mostly open lines after several exhausting battles in the earlier rounds of the weekend, but it was Northeastern that pulled out the 15-13 win for second place.
North Central
Carleton
Wisconsin
Minnesota
Iowa State
Iowa
After finally breaking the streak of five straight one-bid North Central Regionals by securing a trio in 2019, the region returned to the painful winner-take-all format. Eight teams entered the tournament with a chance to take the singular prize, but there was one team heavily favored to win it: #1 Carleton Syzygy. The team's aspirations and potential reached far beyond the region, but if these are among the first steps to a national championship, Carleton's took them at full sprint.
Carleton's march began by conceding just five goals in their three pool play games. Teams were simply not built to contend with the skill and completeness of Syzygy's game. If there were any reason to doubt the Carleton coronation, it was the similar success of no. 2 seed Wisconsin Bella Donna and no. 3 seed Minnesota Ninjas. Had they not faced off with each other, the duo would have been only slightly less dominant through pool play. But they did, and Wisconsin earned the 15-11 win, shoving the loser to Carleton's side of the bracket.
But neither #21 Minnesota nor #19 Wisconsin proved to be in the same league as Syzygy. The Ninjas were energetic and optimistic entering their semifinal, and remained so, even as, following a floaty turnover, they watched Carleton's Maya Powell connect with Nora Mertz for a quick break to make it 3-1. But they began to fade as the lead grew — 4-1, 5-1, and so on — and had little left as the heavyweights secured their 15-4 win. Bella Donna looked fearsome, blasting Iowa State in their semifinal, 15-2, but the shoe was on the other foot as they failed to register a single first-half goal in the final. Carleton's total victory was achieved with a 15-2 drubbing.
The results should inspire fear in the division and give Carleton a mental edge, if they didn't have one already. Wisconsin was certainly a good enough team to be at Nationals, but they looked completely out of their depth against the bevy of talent Syzygy possessed. Whether it was big names like Nariah Sims, Carly Campana, and Karen Ehrhardt, or lesser-known players like Mertz, Emma Chin, and Anna Stubbs, Carleton's cohesion and confidence looked maxed out. Their win in the final is the most dominant since the redraw.2
Northwest
Washington
Western Washington
British Columbia
Utah
Brigham Young
Without many surprises during pool play, the Northwest bid race played out almost exactly as expected in the closely contested region. While Washington, UBC, and Western Washington had been the favorites heading into the tournament, there were very little assurances as to how any of the games between the three of them would play out. In pool play, the game between #17 British Columbia and #9 Western Washington started out neck and neck, only for WWU to punch in a break right before the half thanks to heroics from Ruby Cassidy and Tova Breen. UBC fired right back to start the second half with a break of their own, but they couldn't build up any velocity and eventually fell 15-10.
In bracket play, UBC walked over Whitman on their way to a semifinal game against #6 Washington, only to hit the same pitfalls that trapped them in their game against Western Washington. UBC's capable offense was able to hang with Element for most of the game, but every time they made a mistake, UW quickly capitalized and put the point away. For Washington, the key was allowing Abby Hecko to play both ways, as she was a vital cog on every point she played, and offered the necessary firepower to shut out the Thunderbirds. She wasn't alone, though. Washington's capable handlers kept the disc flowing, and made very few mistakes in the process. Amy Nguyen, Penny Nguyen, and Steph Phillips all had a tremendous game in their 15-10 win over UBC.
On the other side of the bracket, Western Washington faced off against Utah, a team that had narrowly made it into the bracket by the skin of their teeth. On Friday, Utah made the mistake of exhausting their stars in an unwinnable game against Washington early on, leaving them open for attack from Victoria, who happily stole a game from them in their pool. From there, nothing was easy for Spiral Jetty, as they had to claw for maximum point differential in each of their wins so as to retain their shot at making the bracket. They earned their way in, but at the cost of their reserve energy.
By the time they faced Western Washington, Utah was already spent. Chaos was happy to take advantage of the situation, throwing out a number of zone and junk defenses to tire out Utah's handlers, and then switching to person and hounding the cutters. Utah held their own for a while before fatigue set in, but in the second half simply could not keep it going. Anna Cassell, Kyra Khoroujnikova, and Lauren Radke were relentless, but the depth around them couldn't keep up with WWU's depth of production.
In the final, Western Washington came out hot, hoping to crush Washington early. The hustle of Eleanor Joselyn, Vail Dark, and Eleanor Heberlein helped them take an early lead, and Washington looked a step behind for the first handful of points. Eventually, a timeout saved UW from sinking into a hole, and they returned to the field much more confident, able to tie the game and return it to serve by half.
Once halftime was finished, the game swung firmly in favor of Washington. Grace Young, in particular, proved too tough a matchup for WWU's line, and they struggled to find a mark that could match her height or speed. With Young and Alexa Yadama wreaking havoc downfield, it took some of the pressure off of Washington's handlers, allowing Ikran Elmi and Stephanie Phillips to get more dangerous with their throws. With a renewed sense of confidence protecting them, there was no hole in UW's armor for Western Washington to exploit, and Element held onto a two-point lead to finish 15-13.
While the battle for first place captured most of the attention from spectators, Utah was in the fight of their life against UBC for the third bid to Nationals. After both teams saw their chances of a shot in the final evaporate, they put their heads down and marched their way straight to the third-place game. Utah had a rematch against Whitman that they won after Kyra Khoroujnikova and Jess Olsen willed their team to a number of late goals.
UBC, on the other hand, dealt with a plucky Brigham Young team that was simply delighted there was a schedule that could accommodate them. BYU was determined to make the most of their opportunity, and played tight with UBC right up until a turnover at 9-8 gave UBC a short field and an open Monica Hsu in the end zone to go up a break. That snapped BYU's concentration, and they soon let up another break, this time thanks to a connection between Samantha Roche and Delaney Ignatieff. UBC maintained that lead right through to a 15-12 victory, with the game even closer than the score indicated.
In the third-place game, Utah never really had a chance to get going. While Spiral Jetty had put in the hard work to get themselves to this point, UBC's experience was just too much in this situation. The Thunderbirds simply didn't give Utah the unforced errors that the team needed to earn a break, and it put a lot more pressure on Utah's short-handed offensive line to produce. While Jess Olsen and Anna Cassell fought hard all game, there wasn't enough in the tank for Utah and they dropped a few early breaks to allow UBC to take half 8-5. UBC's three distinct lines allowed their core plenty of rest, and it showed with how fresh many of their players were in their final game of the weekend. Julia Zhang didn't show any wear at all, and Catie Akune had a number of breakout moments that would have made a highlight reel on their own. Denise Su helped put it all together with careful throws and precisely timed cuts, leaving Utah on the back foot. There wasn't a moment in the second half where Utah had a chance to work back into the game, and UBC went on to win 15-9, securing the spot at Nationals that they couldn't hold onto in 2019.
Ohio Valley
Ohio State
Pittsburgh
Ohio
UPenn
Penn State
In a weekend full of tight games, #13 Ohio State climbed out on top, once again asserting their dominance in the Ohio Valley region. #12 Pittsburgh managed to shake off their double game point loss to Fever in the final, and snatched the second bid to Nationals in their backdoor game against Ohio, making this their sixth3 Nationals appearance in a row.
The final game was assumed to be a Fever vs. Danger battle basically ever since the season began, and the crowd was given a show. Both teams were stern on the field but wild on sidelines. Cheers were heard from across the park as the Danger fans gave the hometown Ohio State contingent a real run to be the loudest force in Columbus, OH. Pitt started off with the first goal on a clean offensive point, setting the tone for the level of play. The first several points were patient, offensive goals.
It looked like we were in for a slow and steady race to the finish line. Ohio State was the first team to score on defense. Fever's Whitney Schott had a huge run through block that was quickly picked up by Funing Zhang and converted to a goal by Emily Barrett. Pittsburgh's stumble did not keep them down. During the second half, a phenomenal layout block by Jessie Sun put Danger back in the lead. Danger led the charge as both teams alternated goals until double game point. Ohio State pulled to Pitt, sidelines screaming for patience, smart throws, and hard defense. Pittsburgh worked the disc to the red zone, when Annelise Peters sent a crossfield hammer to the end zone, which was eaten up by a waiting Barrett. Ohio State opted for a more aggressive offensive approach, boosting a deep throw to Cara Sieber to almost immediately get into the red zone the other way. Fever completed the push into the end zone and to the throne of the Ohio Valley.
Fever and Danger were the obvious favorites to go on to Nationals, but that didn't mean that their routes to Milwaukee would be easy. Pool play on Saturday was a long day in the sun for these Midwestern teams, most of which hadn't worked this hard in ideal ultimate conditions since last summer. Sunscreen was a hot commodity on the sidelines, as clouds were few and far between during the games even though temperatures were in a comfortable range. OSU blew through their pool competition, but Pittsburgh met resistance against Ohio University, whose Stacked Cats gave them a tough first half before the higher seed pulled away in the second, a preview of the eventual second-place match.
With a chance to go to Nationals on the line, Pittsburgh had to again hold off an Ohio team with impressive resolve. This time, Danger jumped all over the opposition, applying a ton of backfield pressure and forcing tight window turns. Pittsburgh established a four-goal lead that they held through the midpoint break. It lasted until 11-7 when Ohio capitalized on a break opportunity to close the gap to two. While they could never get any closer, and Pittsburgh won 15-12, the game felt closer.
Ohio and Case Western have had a rigorous season of close games, but this weekend went very differently for both teams. Case had a rough weekend: their only win was in fact an upset over West Chester, however, almost every other game was an upset against them. The team just could not seem to get their handler resets clicking, and once they got flustered it was game over. OU had a phenomenal weekend. They made the backdoor game-to-go by grinding hard in their pool play and bracket games. It's no doubt that Stacked Cats has depth. The team utilizes a loud sideline to fuel their in-game players during long points (of which there were plenty to cheer for this weekend). Ohio put up 12 points on Ohio State in the semifinals and Pitt in the backdoor game.
Pennsylvania, Penn State, and West Chester all held together in the middle of the region and competed in hot games against each other jockeying for placement. Games were very similar between these teams with scores coming close on similar opponents and it will be exciting to watch in 2021 as the Ohio Valley only continues to develop. If any of them can take another step forward, the region could land a third bid in the next season or two.
South Central
Colorado
Texas
Kansas
Colorado College
UT Dallas
For the fourth time in the last five years, #16 Colorado and #20 Texas went head-to-head for the South Central regional title. With a suspenseful 15-13 win, Colorado took the region's lone Nationals bid and won the region for the first time since 2017.
These programs have dominated the region for the last five seasons and their matchup in the final this year was a pretty safe bet. Both cruised through pool play and quarters, but Colorado buoyed their status as regional favorites in the semifinal round with a blowout 15-5 win over an upstart Kansas group that ultimately finished third. Texas was never truly threatened by Colorado College in their own semifinal, but they weren't able to hit the same dominant stride as their chief rivals in their 15-11 victory.
That left the two regional elites, neither of which had missed Nationals since 2014, to duke it out for the region's one entry slip to the exclusive event. Colorado seized the upper hand in a mostly even first half when Quandary's Stacy Gaskill intercepted a high stall punt from Caroline' O'Connell, and Colorado was able to work it the other way for a rare clean D-line possession to make it 4-2. It was the only break of the first half. Each side had a few cracks at getting additional breaks, but neither could quite find the redzone efficiency needed to capitalize beyond the one Colorado break early in the half.
Offensive sloppiness really hit Texas hard early in the second half, though. Colorado struck for successive breaks for 10-7 and then 11-7, and when they effortlessly held for 12-8 on a Bailey Shigley huck, it looked as though they would be able to coast for a relatively routine victory.
Instead, the wheels fell off for the Colorado offense and Texas countered with some newfound D-line efficiency to the tune of a 5-1 run to tie the game up at 13-13. The Texas trio of O'Connell, Ivy Harrison, and Mindy Radike was instrumental in the comeback for Texas, each getting one block during the stretch and some combination of the two of them combining for four of the five goals.
Colorado righted the ship to make it 14-13 on another huck from Shigley, this time hitting Gaskill with a big forehand. Rachel Wilmoth and Emma Capra each got big blocks deep on the ensuing defensive point, and when Skye Fernandez dinked it to Capra to end their second possession of the point with the goal to break, Colorado's celebrations began.
It was a furious comeback from Texas to get back in the game late, but it wasn't a long enough stretch to overcome their missed opportunities in the first half and sloppiness to start the second. As such, Colorado held onto their top spot in what will go down as another true classic in the sport's best rivalry. They'll get to celebrate at Nationals for a seventh straight season a result, the longest such streak in the history of the region.4
Southeast
Florida
Georgia Tech
Georgia
Vanderbilt
Mississippi
#23 Florida locked up regional dynasty status with their third Southeast title in four seasons and #11 Georgia Tech earned their first Nationals appearance since 1992 in a tournament that lacked much in-game drama.
The closest game Florida played all weekend was their 15-10 pool play win over a surprising Mississippi team when they suffered a bit of a midday lull. What was supposed to be the marquee matchup of pool play between Florida and Georgia ended up being a comfortable 15-9 victory for the title winners. Georgia's defense could simply never find a way of slowing down Gabby Krajniak, and Marie Perivier and Josie Veal weren't able to play cleanly enough on offense to keep pace with the Florida star.
Georgia Tech earned their place in the final with similar ease, though Florida State did give them some trouble behind strong play from Courtney Read and Natalie Wilson. Tech derailed the upset bid with their superior depth and outscored the rest of their pool play opponents 60-28.
In the final, again Krajniak proved to be the brightest star of the region, leading Florida to another comfortable 15-9 victory. She took the toughest matchups on both sides of the disc and still ended the game with two goals, seven assists, and three blocks. Rookie CeCe Collinson had an impressive game, as well, for Florida with zero turnovers, while Katie Huettel chipped in with a game-high four goals.
Georgia Tech wisely let the foot off the gas after trailing 8-3 at the half, not playing their stars as many points as they likely would have in a closer game. Georgia got to the game-to-go pretty easily with a 15-9 win over Vanderbilt, but Georgia Tech had played far fewer points going into the final game of the weekend and looked far fresher for it. No one individual took over the stat sheet for Tech, but Chupzi Lema, Ollie Peterson, Dana Rose, and Sam Loop all stood out for their assured performances.
Georgia's stars looked depleted early, and Tech cleanly worked their way to an 8-4 halftime advantage that Georgia was never able to chip into. Without a single decisive game being decided by fewer than six goals, the championship tournament felt less dramatic than you expect this time of year. But that didn't stop Georgia Tech from celebrating their first Nationals appearance in modern history as if they'd just broken to win on double game point when Peterson wriggled free to get the game-winner from Jenny Choi.
The Southeast has been regarded as one of the weaker regions in the divisions for the last several years, and this is the first time there will be two Southeast teams at Nationals since 2015. Based on how assertive they were through most of their play on the weekend, particularly against last year's regional representative Georgia, there are two strong teams headed to Milwaukee to challenge that narrative.
Southwest
Stanford
UCLA
UC San Diego
UC Santa Barbara
UC Davis
It really didn't take much time at all for #4 Stanford to retake their spot as the top women's team in the Southwest. Despite a few hard-fought matches, including a harrowing final against UCSD that pitted two equally disciplined teams against each other, an exuberant Superfly squad closed out the weekend on top, finishing with a perfect record.
It helped that the wind was a larger factor than expected throughout most of Sunday and bits of Saturday. Every year, we forget how much of a role the wind plays at Regionals, and every year it sneaks up on us. 2020 was no different. The one team that was clearly prepared for the weather, beyond all others, was Stanford. Their infamous zone remained unflinchingly tight no matter the opponent, and it was the deciding factor in almost every game they played against bid-earning opponents.
No greater example of this was in the final against #5 UC San Diego, where the two teams traded blows, only for Stanford's array of zones to eventually wear out UCSD's young handler core in the final few points. While the scoreline was close, the easy goals Stanford occasionally produced made them feel in control. Credit to Hallie Dunham, who was instrumental in all of Stanford's upwind holds, and a number of their upwind breaks, too. Her ever-active and seemingly omnipotent corps of downfield cutters allowed her to bully throws through the wind and over UCSD's defenders, who were rightfully taking away undercuts all game. Without injuries plaguing them, Stanford's receivers put the game away, with Bridget Connor, Sarah Kratzer, and Sidney Stevens outplaying the circumstances to help Stanford earn the 15-14 victory that wasn't quite the intense affair the score might suggest.
After their heartbreaking loss, UCSD had almost no time at all before facing #7 UCLA in the battle for second place, both teams having already clinched their nationals bid. Dragon Coalition were caught flat-footed against the legion of BLU throwers that never allowed UCSD's defenders to establish themselves. The women of San Diego simply didn't have the energy to stay with UCLA the entire game, allowing the Bruins to take the second bid by a score of 15-10.
That's in no way an indictment of UCSD's talented roster, who had marched with relative ease right through the tournament all the way to the final before dropping their last two games. It was truly a team effort from D-Co, although they benefited highly from the return of Madison Tenney, who gave them another D-line handler to compliment Sara Zhang and allowed Catherine Trevino to spend more time going downfield. Charlotte Sue and Rachelle Buske also had strong weekends for the squad, showing the depth of the team as a whole.
For UCLA, their single loss to Stanford in pool play proved to be a momentary setback. Outside of that game, BLU rolled the competition, without another team coming close to beating them. UCLA used the width of the field to their advantage, giving their throwers plenty of room to hit open receivers despite the gusting wind threatening to cause problems. UCLA's zone also put them well ahead of their opponents and gave the team a frequent advantage with resting stars like Erin Doyle and Malia Smith in the deep space. UCLA was quick off the turn, battering their opponents until they wilted and taking every advantage given to them.
#8 UC Santa Barbara's path to qualifying proved to be entirely different. After losing to UC Davis in a perplexing game where multiple Santa Barbara players went down with injury, the Burning Skirts had a hard time motivating themselves throughout the rest of Saturday, losing to UCSD in a game that was entirely winnable and struggling to put teams away when it mattered most down the stretch. UCSB's desire to close out games too quickly cost them on day one, especially with Jasmine Childress playing gingerly and resting more often than the team would have hoped. A few too many turnovers dropped them to the backdoor bracket having to fight to earn the fourth bid.
The team rallied hard on Sunday. The captains credited coaches Sam Fontaine and Hani Pajela for inspiring the team, and their squad started playing like their skirts were actually on fire. Sunday saw the return of the mean defense that had earned UCSB a bid in the first place, and they soundly put away all opponents on their way to the game-to-go for a rematch with #24 UC Davis. This time, without any need for reservations, UCSB's full roster showed up to bat, with notable performances from Yu Ishii and Hannah Stepanek to help power them past a Davis team that couldn't find any answers until it was too late. Much like it had been all year, the connection between Kaitlyn Weaver and Elsa Winslow remained strong, and the pair earned almost half of the team's goals and assists between the two of them. A late push from UC Davis tightened the game, but the Skirts prevailed, 15-14.
Davis deserves some credit for their weekend, as they pulled off an upset no one saw coming to make it to the fourth-place game in the first place. Julianna Madigan, Margo Donahue, and Allyn Suzuki played beyond expectations for all of Saturday, and the team deserved the recognition they received for making it that far into the bracket. If the season had played out differently, this was definitely a team that would have held their own at Nationals, without a doubt.
The Simulated Nationals Field
North Carolina Pleiades
William & Mary Cypress
Northwestern GungHo
Columbia Pandemic
Tufts Ewo
Northeastern Valkyries
Vermont Ruckus
Carleton Syzygy
Washington Element
Western Washington Chaos
British Columbia Thunderbirds
Ohio State Fever
Pittsburgh Danger
Colorado Quandary
Florida Fuel
Georgia Tech Wreck
Stanford Superfly
UCLA BLU
UC San Diego Dragon Coalition
UC Santa Barbara Burning Skirts
---