Dobyns was an earlier organizer in both New York and North Carolina in addition to finding success as a coach in five different divisions.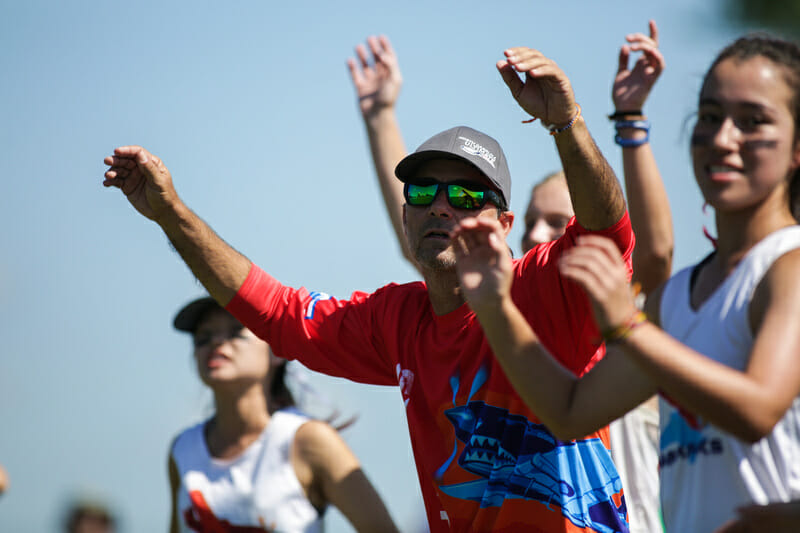 A coaching legend and USA Ultimate Hall of Fame Contributor is no longer with us. Brian Dobyns, a longtime coach in North Carolina and an early league organizer in New York and the Triangle, passed away on August 6th at the age of 61. Dobyns' roots in ultimate go back to the late 1970s and he leaves a legacy as one of the most impactful coaches and organizers during the five decades of his involvement in the sport.
From the beginning of his time in the game, Dobyns involved himself in organizing. He helped establish the first New York High School Ultimate League in 1977 with Andy Borinstein, as well as the New York Summer League in 1982 with his brother Ken Dobyns.1 These leagues were instrumental in fueling New York's ascendancy as an ultimate powerhouse in the 80s and 90s. Dobyns's experience as an organizer went with him when he moved to North Carolina in 1987, where he founded the North Carolina Winter Ultimate League, which continues to this day.
During his early stretch as a player and organizer, Dobyns also played a big role in the evolution of the rules of the game and how they were officiated. He was a member of the first Certified Observer Pool in 1990 and participated in the test of the original COP procedures manual. At a time when ultimate players were working out what Spirit of the Game meant and looked like in practice, Dobyns became part of the move towards creating what we recognize today with Observers adhering to player calls first and then making a ruling if there was no agreement.
As Dobyns's coaching career began with North Carolina State from 1996-2001, State stood apart from ECU and UNC Wilmington in not adopting the style that was imported to Eastern North Carolina from Brian's brother's New York, New York team. Noted ultimate historian Tony Leonardo related that Dobyns was a driving factor in this adherence to playing the game differently.
"NC State under Brian Dobyns wouldn't cross the line," Leonardo said.
Dobyns ultimately coached the NC State men's club to its first and only College Championship in 1999; as one of the few coaches in the division at the time, his success with NC State inspired many other programs to bring in dedicated coaches. Dobyns then moved on to coach North Carolina's elite women's club, Backhoe, from 2001-2006, going to Club Nationals six times and finishing second in 2004. In 2007, he returned to the college division with four years at the helm of the UNC Pleiades before coaching Elon's Women's team in Division III from 2011-16. UNC attended nationals three times with Brian coaching, Elon four.
Dobyns's most recent and perhaps most impactful coaching position began in 2015 with Triangle Ultimate' U20 Girl's club team, Warhawks. Dobyns coached the program to back-to-back YCC titles in 2017 and 2018 — the first ever won by a girls team outside of Seattle. Even beyond the YCC seasons, Dobyns helped out with Triangle Tourists, a joint high school team that competed successfully against college programs in North Carolina and beyond.
"Talking with Brian and learning from him, the main thing I noticed was that he liked to challenge people," recalled Tourist co-coach Michael Shyu. "He liked to stimulate your thoughts and your problem-solving as a player. I think that's the exact point of a coach. He was always keen to noticing the skill sets of players and figuring out what youth players were good at and how they could master those strengths. He was great at bringing out the best in players and building confidence in them, even when he may have had doubts in himself to meet the moment."
Tom Munoz, a longtime player and organizer with Triangle Ultimate, spoke highly of Brian's affable and easygoing nature as a player and coach.
"Brian was not the win-at-all costs kind of player. He was very cerebral and very thoughtful about how to use players and work together with them. He was an easygoing guy but very direct. As a coach he was an authority figure, but entirely approachable."
Munoz and Dobyns were teammates on the Triangle's Great Grand Masters Team, Triage. Munoz related that Brian was initially hesitant to get involved given his coaching commitments but eventually got on board with the team in 2015.
"We went to a tournament in Princeton. There was this one play — you think of Brian as a pretty laid back, mellow guy — but someone threw a pass and all of a sudden Brian was laying out full-extension three feet off the ground on a deep block in a tournament that had no stakes at all. He was 56 years old and still had that athleticism. Most guys that age understandably don't want to put their body through that."
For all of his success, Brian was universally praised by the people he coached and mentored as unassuming and humble. He was kind with his teammates and players but direct and decisive when games needed to be won. He instilled confidence in younger players and conveyed that there was more than just a "right" or "wrong" way to play the game.
Bridget Johnson, who coached the Warhawks with Dobyns, related how much Brian's approach and mentorship was — and still is — appreciated by the players they coached through YCC.
"Something that stood out to me was the number of young women that said they appreciated how much he always believed in them — even and especially when they didn't believe in themselves," she said. "Brian could be brutally honest, but because he was, the players knew that when he told them they could do something, they could do it."
Johnson also competed with UNC Pleiades at the same time that many of the championship-winning Warhawks players were aging out of the youth division and starting their college careers. It's hard to overstate how many of those players are now budding college stars — Dawn Culton (UNC), Sydney Rehder (UNC), Kate Lanier (Carleton), and Karen Ehrhardt (Carleton) are just a few of the many, many players who benefitted from Dobyns' coaching and mentorship on Warhawks and Tourists.
"Something else I told the girls on our call [after Brian's death] that I think resonated with a lot of them — Brian's induction into the 2019 USA Ultimate Hall of Fame as a 'Contributor' is both tremendously accurate as well as a tremendous understatement," said Johnson. Brian not only contributed to ultimate, he changed ultimate — and with it, the people and communities he touched."
To read more from the people who knew Brian best, Triangle Ultimate has been collecting memories and tributes from the North Carolina ultimate community.
Correction: A previous version of this article incorrectly associated Dobyns with the formation of the Callahan rules and observer system. These were the brainchild of a previous NC State coach, Charles Kerr, and Will Deaver.
---
Both of whom are also in the Hall of Fame. ↩