After a summer without ultimate, it was a joy to play.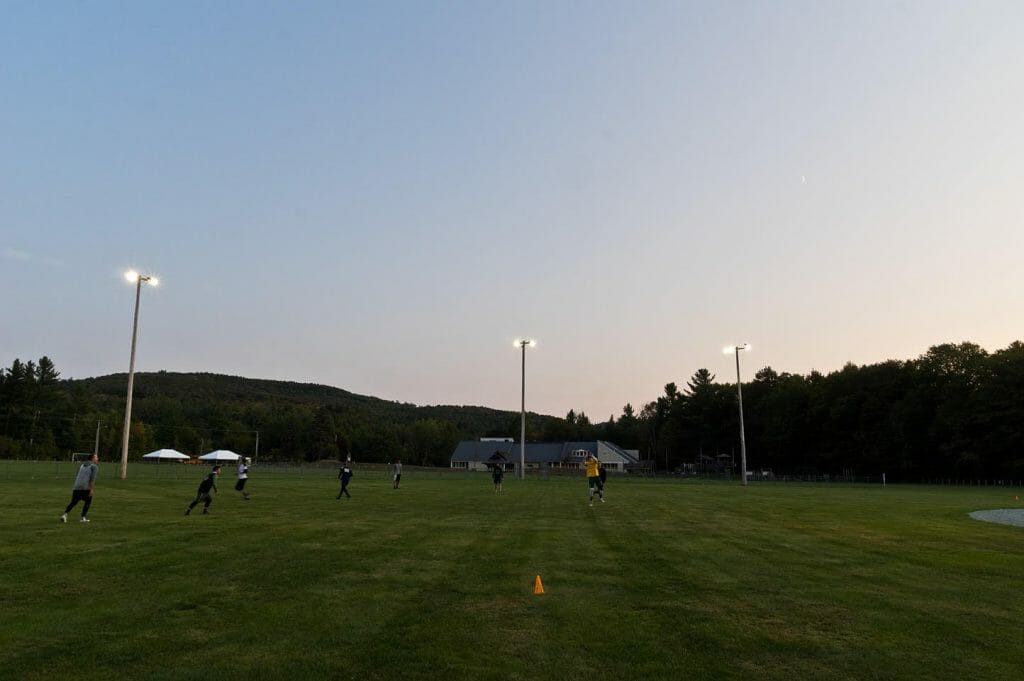 On Monday, September 21, 2020, I played ultimate.
It had been over six months since I had last picked up a disc, and while that isn't an unusually long absence from the sport I've played for three-quarters of my life, it was a frustrating gap. (Before I started playing winter league, it wasn't unusual to play my last game in September and not throw a disc again until May—such is how the weather dictates play in New England). This was the first summer since I was in my teens that I did not play any ultimate at all—whether as part of a team or just disorganized pick-up. And it felt weird to be looking outside and thinking "today would be a great day to play" while knowing that I wouldn't be.
I was invited to play on this particular fall evening by a friend who'd been part of a clandestine ultimate game every week. They'd kept the news about their game limited and the numbers low, but they'd lost a few regulars to the fact that the summer was over and a few folks had to move back to college, in whatever form that would be. I and another local were let in on this secret to fill the numbers back in for the fall, where they had the luxury of playing on a town field with access to lights. I'd been out of state for a few weeks at the beginning of September, so this particular Monday was my first opportunity to join in on the fun. Fortunately, the county I was visiting in Pennsylvania was listed as "green," which meant that I could return home without a mandatory fourteen-day quarantine.
My local friend was busy with farming that day, so I headed to the elementary school fields by myself (well, with my dog along for his first-ever ultimate game). I estimated about an hour-long drive, but it took an hour and a half and I arrived at around 6:30 to find a game of five-on-five underway. I was welcomed, put on my cleats, stretched a little bit, and, in short order, subbed in. On the first point, I caught the second pass and promptly threw a meager forehand directly into the ground fifteen feet in front of my intended receiver.
Soon, the muscle-memory came back, I found that I could actually run, and I played the rest of the evening in a sloppy, terrible, joyous game of ultimate. Nobody was wearing a mask, but the marks were done from a far distance and generally there was little jostling for position—as it should be in a casual and fun game. My throwing improved, and I was mostly connecting, even throwing a goal or two. My second or third throw of the night was just a bit behind a crossing cutter and he, not wearing cleats, was unable to stop in time to snag it. Oh well, next time I'd hit it.
The last serious game of ultimate I played in—where people were actually hustling and trying to play smart and well—was an indoor winter league game at the beginning of March, just before the world shut down. I have a short list of goals for each session of winter league and feel that the eight games have been successful if I've completed them all. Keep in mind that i'm a certified Old Guy™, so I keep my goals low and realistic. They are — Catch a goal; Get a block; Throw a hammer; Throw a push-pass. (Throwing a score is a an unofficial fifth goal, but that usually happens on a fairly regular basis as I play PermaDump™ a lot.) On that fateful last game before pandemic, I managed to complete all four goals in one game, which was a nice way to cap the foreshortened league, even if I didn't know it at the time.
But back to September. I might've thrown a hammer, but no push-pass. I both threw and caught goals, and I managed to wrangle up a block on a much younger opponent, although I must admit that it wasn't the most stellar pass. But so what? Nobody cared on the turnovers, nobody cared if we played a game to five and the score was 5-1, nobody cared if someone tried a no-look scoober to the far corner of the end zone where it settled to the grass twenty feet away from the nearest receiver.
We were there—eleven men and one woman, ranging in age from low twenties to high fifties—to have fun. It was exciting to play again—to run, to jump, to calculate angles, to hustle when I got beat, even to hit the ground, which I did twice, catching the disc both times.
In the absence of ultimate during the summer of 2020, I, like many others, played disc golf. I have been disc golfing for many years and enjoy it. It's challenging in a different way from ultimate, and it's a great way to get a hike in, do a little socializing, and give my dog an afternoon of running around in the woods.
But I have to say that the people who disc golf are just not the same as the people who live and breathe ultimate. In ultimate, there's a joy of athleticism. There's a community that recognizes not just the pursuit of a disc in the air but the healthy lifestyle that goes with running around like a nut after a piece of plastic. I can't say the same for the folks that I disc golf with. A small goal of a disc golf outing is not to be stuck in the group of smokers.
So there I was, sitting on the grass as someone set up a lighted Kan-Jam, watching my dog play with one of the other player's dogs, soaking in the feeling of being part of something good. Ultimate, for many, can be said to be a way of life, and sometimes it takes an absence from it to realize, when walking out onto a field—whether four-on-four barefoot pickup or Regionals in Devens—what a special community ultimate players have. I'll think about all of you who haven't been able to play as the nights here in the north grow colder and the throwing fingers get stiffer. I know that I'm privileged to be able to play.
I set off from the field with an orange crescent moon hanging low, leading me home. It was an hour-and-a-half drive each way, my whole body was stiff and sore, and the ultimate was loose and, at times, silly. Was it worth it? Absolutely.