Darryl Stanley grew from an out-of-shape AUDL tryout to one of the most respected coaches in the country seemingly overnight. While he might be new to the spotlight, the foundation for his success was laid over twenty years ago.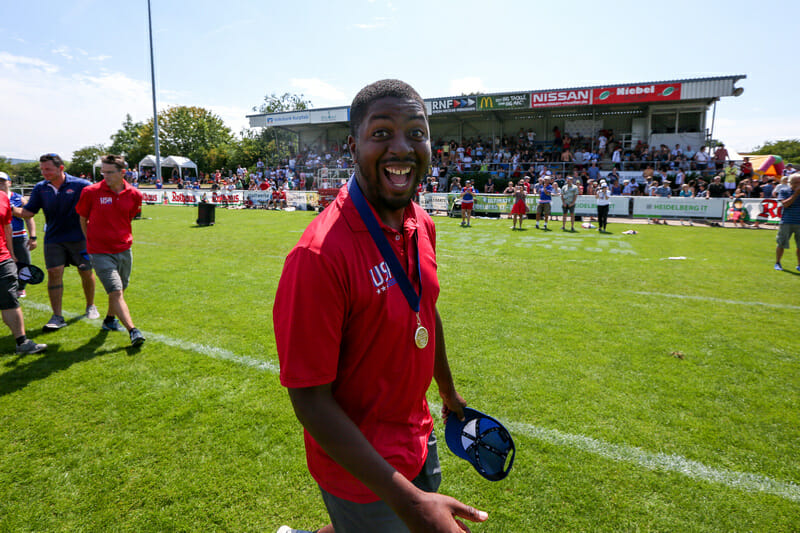 Darryl Stanley is one of the hottest names in ultimate right now, with a recent turn on the coaching staff for the U.S. U-24 men's national team. He currently leads Washington DC Truck Stop in USA Ultimate's club men's division, the DC Breeze in the AUDL, and the University of Maryland in USA Ultimate's D-I college men's division. He hasn't won a title of note since 2016 and has been coaching for less than a decade, but still remains one of the brightest names in the ultimate coaching sphere. From his beginnings as a relatively unknown player in the pre-video era, Stanley quickly became a revered and successful coach, and he is still innovating and growing his own game.
Coaching ultimate was not initially on Stanley's radar, though the role is a natural fit for him. Without knowing it, Stanley had been preparing to be a coach for much of his life: Years of team organizing and data-driven development as a leader, plus a few video games, helped Stanley grow into the respected coach he is now.
Stanley started playing in the early 2000s as a sophomore at Cheltenham High School just outside Philadelphia. After playing three years in high school, including captaining the team his senior season, Stanley moved up to the club division. Initially, he joined his former high school teammates at club sectionals, where he was noticed by veteran players on Philadelphia Rage. He rode the bench with Rage and started a new club team, Philly Love, when he was cut from a merged Philadelphia-New Jersey Pike team. Following a respectable Regionals finish, Stanley tried to organize a few veteran players to provide leadership for his new team, which he wanted to become a bracket threat at the regional level. But when they backed out and the team was left with little leadership, Stanley took a break from club ultimate and became simply a league player.
Billy Maroon, then Philadelphia Spinners assistant coach, brought Stanley back into the game in 2012 by encouraging him to check out the newly formed AUDL. In the years that he had stepped away, ultimate had grown into a sport that had some national acclaim and, more importantly, available video that made analysis available to everyone.
With the background of the sport's advancement in streaming capabilities, Stanley began working into shape with the hopes of playing again at the elite level. He crafted a two-year plan to become a top-fifty player in the city, which would likely earn him a spot on either Major League Ultimate's Spinners or the AUDL's Phoenix. Stanley went to Philadelphia Phoenix tryouts in 2013. While his play didn't turn heads at the tryouts, he was approached by Phoenix captain David Brandolph, who had played club with Stanley years earlier, to be the team's assistant coach.
Brandolph had been tasked by head coach Brandon Redden to find an assistant for the first-year Phoenix and thought of Stanley, who he played against in high school, too, for the job.
"He would have been a good coach regardless of how good a player he was," Brandolph said. The Phoenix leader approached Stanley at a pickup game following tryouts with the assistant coaching offer.
Stanley's move to a coaching role turned out to be a blessing for Philadelphia men's ultimate. Players could feel the contrast between Stanley's player-centric approach and emphasis on developing disc skills to the tough minded, physical approach taken by previous leaders in the Philadelphia scene. On the Phoenix, Stanley brought newer offensive tactics and a flowing style of play to a player base that had embraced athleticism and a 'grind it out' philosophy.
"He had a different outlook on what it would take to compete against some of the-at the time-powerhouse cities that we saw on the east coast," Brandolph said. "He was a really good coach, even though he was just an assistant coach, from a strategic standpoint." His influence is still felt in the Philadelphia men's scene today. "He forced us to have to learn the game better," said Brandolph, who later became a coach himself.
With a newfound need to quickly understand the modern game in his first year as a coach, Stanley began catching up on what elite ultimate looked like by perusing YouTube archives. Diving into the online world of ultimate streaming, Stanley was amazed by the amount of footage available, at the time mostly from the NexGen Network and Skyd Magazine. He credits the RISE UP collection of instructional videos as something instrumental in his growth and development as a coach. In turn, Stanley became one of the first video-era coaches, early on relying almost exclusively on film to improve his skills.
He also credits years of playing Football Manager video games for helping to build his understanding of how to manage a team and incorporate statistics and data into his leadership. "That gave so much of an edge because I'm always thinking tactically and strategically," he said. Stanley was also a stat keeper for the Phoenix in his first year as a coach.
"Trying to find the sabermetrics of frisbee was really helpful to me, so all of that conspired to give me a quick education on what I missed," said Stanley.
Stanley's newness to the coaching role was matched by the AUDL's nascency. Though Stanley was a first-time coach, he was not a first time leader, and many other coaches in the league were in the same boat. With a level playing field, seeing as barely anyone had played at the AUDL level or with the new ruleset before, Stanley could incorporate some of his own ideas into his team's play. As an assistant coach there are some things, he says, that you might want to try or that you pass along to the head coach that do not make their way into the game plan. One of those tips helped Stanley make a splash early in his career.
During a game which his head coach missed, Stanley got to be the stand-in decision-maker in a game against the New York Empire. The Phoenix lost by just one against their rival after Stanley was able to test out some of his ideas. Most notably, he shifted cutter Matt Esser from a defensive stopper role to a goal scoring threat, and Esser finished with an abundance of goals. The Phoenix got swept by New York that season, but Stanley showed that his data-driven adjustments could be successful.
With his coaching bona fides established, Stanley was invited to coach the Philadelphia area club team, Citywide. Charlie Hoppes, then the head coach of Philadelphia Patrol, coached with Stanley in the AUDL and brought him on to the developmental team for Patrol. In those early days, Citywide was essentially a college all-star team filled with players from the East Penn section; it affiliated with Patrol's Philadelphia area men's ultimate unification project in 2014.
"I was committed to giving them the best possible experience…I wanted them to get the feel of how hard or the kind of strategy that I would push a semi-pro team," Stanley said on Chris McGlynn's The Ultimate Podcast episode in July 2019, "and I will bring that and help you grow and get you to the next level the best that I can. That level of seriousness is often not applied to a developmental team."
Stanley also started coaching the UPenn men's team, Void, at the time. Through his preparation and buy-in, Stanley brought Void a level of success it hadn't had in recent times, and prepared himself to coach multiple teams at once. Coaching Penn gave him room to experiment. "He's come up with several different offenses that are completely different, but adapt to the changing times of ultimate, and he keeps innovating," said David Shields, who played for Stanley at UPenn, and on Citywide, Truck Stop, and the Breeze.
Stanley's tactical mind continues to develop. "He did not have as many innovative ideas on the defensive side," Shields said, speaking of Stanley's time coaching UPenn. "Through the last several years, and I know with Maryland too, he has expanded his thinking to the defensive side to be able to come up with schemes and ways to teach defense that I haven't seen other coaches do." Just as his notoriety has grown, Stanley's capabilities as a coach have grown too.
"The thing that I really appreciate about Darryl, for better or for worse…is he wanted to innovate in ultimate," said John Walden, who has played for Stanley on Truck Stop, Maryland, and the Breeze. "So many people follow the status quo that everyone does: everyone runs a ho stack and does this and that, but Darryl was always trying. There was one winter when we spent a whole month trying to create a new offense that would work for our group of players. The offense sucked and it didn't end up working out for us, but Darryl was not unwilling to try."
Stanley caught some attention at the Pro Championships in 2018 when he debuted another innovation on the coaching front. As he got more involved in setting defensive match-ups, Stanley brought a pair of binoculars to the sideline to help him see the opposing line.
His ideas and innovations do not come out of thin air; Stanley is well prepared as a coach and as a leader. Whether he is coaching a developmental club team, a semi-pro team, a club semi-final contender, or a college team, Stanley's sense of buy-in, preparation, and self-reflection remains the same, and the work he puts into his teams sets him apart from other coaches.
"I'm still comfortable with the iterative feelings and process that I'm getting of just doing every season better than the one I did before," he said. "For me, that's a very serious thing and I write it down and I'm pretty rigorous about writing down my processes so I can repeat them consistently. When I say that, I literally mean I'm making sure that every aspect of my preparation – my in game coaching, my drills, all of it – is better than before. If that happens, if I'm like five percent better at each little thing, that's a pretty big jump."
RELATED: Coach Speak: In-Game Adjustments with Darryl Stanley
From his first coaching job to the present day, and as his fame has grown with him, Stanley has earned his self-confidence from his preparation. "That's one of the things that makes me confident before most big matches," Stanley said. "I know that I am going to be prepped. I know that. I know I'm going to do the same level of prep that I do for this game as I do for any other game. And my process is iterative so it should keep getting better… I don't need to prepare extra because people have more expectations of me; I got to where I am because I am preparing so much, and I am going to continue to do that."
All of that preparation should eventually lead to even more success, and there are still goals to look forward to: Stanley mentioned being named head coach for the US National Team, winning the Club Championships with Truck Stop, and reaching AUDL's Championship Weekend with the Breeze as achievements that could be down the road. Those tangible goals are not keeping Stanley up at night, though.
"After I proved myself right a couple times, [achievement] was no longer a decent motivation for me," he said. "I happen to be in a situation with talented players and the momentum I have going behind me and the experience I have been able to develop, if I sacrifice enough, I will often get whatever achievement outcome I am looking for…but there's sacrifice involved."
Stanley does not say this to brag, and it comes off pragmatic. There is a cost involved in stretching oneself to achieve lofty goals; they may be attainable, but they need to come at a price Stanley is willing to pay.
Instead of reaching upwards towards the pinnacles of the sport, Stanley broadens his reach as far as possible, coaching three teams simultaneously, dedicating so much time and energy to the pursuit that Stanley said it takes a toll professionally. Coaching three teams (in addition to the time he dedicated to the U24 National Team last summer) is tough, to say the least. "It's really difficult, and I only recommend it for someone who is young and they need to be willing to sacrifice some of the things you're supposed to be doing as a young adult," he said. Certainly, Stanley's buy-in is unquestioned. Shields recalls Stanley sending messages to team leadership as late as 3 AM — just as much a product of his tight schedule as it is how often he is thinking about ultimate and how to make his teams better.
Even though his reach spans differences in division and player experience, Stanley approaches each team in the same fashion. He will analyze the team's roster at the beginning to see what the team is good at and what they need to work on, and that will inform him about how to set the team's goals and how to place his role with the team, which will change year to year and team to team. On a team like Maryland that has a lot of roster turnover, Stanley has to adjust to a changing culture and identity. A team with a roster full of returners, like Truck Stop, requires less of what Stanley calls sweat equity but might need more help in developing tactics.
There are, of course, some benefits to coaching as much as Stanley does. "It was really great for getting the different perspectives on the sport," he said. "You go from one minute trying to coach how we take down Revolver with some people who made the World Games team to thinking about 'how do we retain freshmen and teach them to throw a flick?' That's my very next practice sometimes. It's awesome and fun to me because that challenge is different. What's carried me through is having an enthusiasm for the game."
Though the work he puts to so many teams in is plentiful and time consuming, the relationships he's built and the joy he gets from coaching makes it worth the cost. As he said on The Ultimate Podcast: "I just enjoy my iterative growth. I enjoy finding a challenge and overcoming it. I like working with blank slates or even better if you get the same people it's not a blank slate…you don't have to reinvent it, you can add little pieces. Along with the relationships I've started to develop with my players is the reason why I come back."
These relationships are fruitful on their own and have also helped Stanley advance his coaching career. His players were the ones who convinced him to coach the Phoenix and the teams at UPenn and Maryland. Even his most material success — coaching the Philadelphia Spinners to an MLU championship in 2016 — came out of relationship building. Stanley convinced a number of Philadelphia's top players to switch teams from the AUDL's Phoenix and consolidated the city's best talent for the championship run. That title added a crucial piece of winning to his resume that set him on the path to success that he's had since. "If I don't get that Spinners job, I'm never Truck Stop's coach, and I'm never Maryland's coach," he said.
Stanley received a lot of attention for leading Maryland's men's team to Nationals in 2018 by winning five straight elimination games at Atlantic Coast Regionals, including upsets over the no. 2, 3, and 5 seeds. "It's not that uncommon for a worse team, which a few people would have called us, to pick up a few points early, but usually the better team straps its boots on and gets it done," said Walden, a captain on that Maryland team. "But, we were scoring a few points and you could hear Darryl barking at everyone to chill out and get another block. He kept us grounded which helped us pull off some of the games we shouldn't have taken."
Stanley will not be sneaking up on anybody anymore. Maryland actually finished higher at Regionals in 2019 than it did during its storybook 2018 series run, but the Space Bastards missed Nationals with only two bids in the region and therefore received less national attention. For most teams, improving and finishing third in the region would be a cause for celebration and increased coverage. But the bar is rising.
The heightened performance expectations on Stanley's teams have built some pressure. Despite his insistence that he is coaching to build relationships without grand outcome goals at stake, players simply feel the stakes of playing for someone with a reputation for success. "Totally there was pressure," Walden said. "There wasn't like a big explicit conversation where we all got together and said we had to perform for Darryl, but people understood it and people wouldn't be shy to bring it up with one another."
Stanley remembers some players apologizing to him after a poor performance, but he doesn't expect his players to be perfect. "I didn't get where I am because I cherry-picked my opportunities," he said. "You get the coaching opportunities that you get and you make the most of it."
The flip side of Stanley's impressive reputation is that it brings confidence. Opponents likewise feel the pressure of playing against him. "Other teams were scared of Darryl," Walden said. "I think that is a big part of why we made it [in 2018]… teams just see Darryl Stanley on the other side… they knew who he was and the NC State guys and the UNC Wilmington guys, they knew it was a big advantage for us."
Stanley overcomes the pressure on himself through preparation and he leads his team to do the same. Walden could see the difference Stanley made when he joined Maryland's team in 2017. Compared to previous years, more players became invested because they saw the investment from their coach. "Something about Darryl, and the fact that he was the coach of the local pro team — suddenly everyone started trying," Walden said. "Nobody was going to not try since we had Darryl as our coach… It legitimized our program in the eyes of people who normally wouldn't give a shit. That's what Darryl brought to the table best."
Stanley may have won an MLU championship and helped to orchestrate one of the best college ultimate success stories in recent years, but he says one of his most successful coaching stints was a class he taught to gym teachers. Rowan McDonnell, a Truck Stop and Breeze player, was hired to run a clinic for gym teachers, and McDonnell brought on Stanley to lead the lesson. He felt the responsibility of being their first entry point to ultimate and worked to build both their passion for the game and their skills.
"I decided to use the format of working them through my system — how I divide up a practice, what the drills look like, what the fun games and various stages of growth in the sport," he recalled. Stanley found challenge in finding ways for novice players to be successful and modeling for teachers how to modify rules to games to build that success. While he was not coaching a group of players he has known for years or who saw his late-night dedication, it was just as important for Stanley to come prepared and help these gym teachers improve. "That was the moment of pure coaching excitement for me," Stanley said. "I came out of that session feeling pumped."
When I asked what he is looking forward to next in his coaching career, he reiterated that idea of helping others become better people. "The reasons for doing coaching have shifted," he said. "I don't need to prove that I'm right as much. That doesn't have as much appeal anymore. I honestly do it for the groups or the individual people associated there. That's where I get the most value now. Doing my best to help these people be better humans and better teammates to each other."
For as much as he is a great tactician, motivator, and leader, he is best as a designer who is constantly looking for ways to improve. During the COVID-19 pandemic, Stanley is still connecting with his teams remotely and has gotten back into the Football Manager video games to rethink how he plans practices and designs growth for his teams.
"He's a players' coach," Walden added. "Everybody has his number, everybody feels confident calling Darryl or texting him if they have a problem with the team or honestly even not with the team. I know plenty of people have relationships with him, myself included, talking about mental health and stuff like that, which I think in turn made people trust him even more on the field because they knew they could trust him off of the field."