The memorable moments of day one.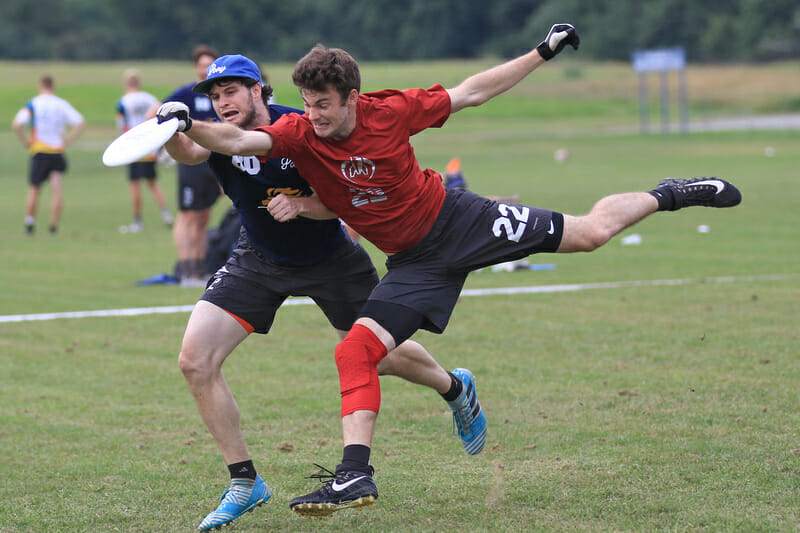 The first day of a major tournament is always hectic. The games are happening in every direction, narratives writing and rewriting themselves in 360 degrees. Taking it all in is an indulgent act. But despite the cacophony, there are moments that stand out and crystalize both the instance itself and the longer arcs of the day. Here are the moments we remember from the Men's division on Saturday of the Pro Championships.
Revolver Pulls Away
After taking down High Five on double game point in round one, #8 Boston DiG were on the verge of a much bigger win. They had given #1 San Francisco Revolver their best shot and came out of halftime with a two goal lead. The second half wore on, and while DiG's lead remained, the tide began to turn. Pull plays that had gone off without a hitch for Boston were getting swamped by aggressive defense. Early-stall continuations were replaced with high-count bailouts.
Finally, it happened. Byron Liu went horizontal and notched a block on a dump through traffic. By the time the disc hit the turf, John Stubbs was already streaking away downfield. Stubbs's defender Mac Hecht was in pursuit, but everyone on the sidelines could see what was happening. Huffing, puffing, and straining with all his might, there was nothing Hecht could do but watch Stubbs disappear into the endzone and reel in the break.
The game was still close — in fact it would go to double game point — but in that moment it was clear that Revolver would win. It was clear that at full sprint, literally and figuratively, no team can catch them. It was clear, whether it was their 16-15 win over DiG or pair of 15-11 victories over Truck Stop and Sub Zero, that Revolver is still unquestionably the team to beat.
Truck Stop v. High Five: Rowan Goes Deep On Bansfield
The Truck Stop cutters did their job. A few hard cuts cleared out the deep space and suddenly it was all up to each team's best player. #14 Michigan High Five had just broken to tie the game at 12-12, so this was Truck's best shot. This was the moment when they called the number they trusted the most, the one you call when you really need a hold.
As the primary cutter, trickiest thrower, and top goal scorer, Matthew "Rowan" McDonnell carries quite the burden for Truck's offense. It is only magnified by the general pressure on #16 Washington DC Truck Stop this weekend (in case you missed it, they need to win a lot of games or miss out on a strength bid). McDonnell handled that responsibility with aplomb on Saturday, answering the bell every time his team needed him to make a play.
So when Truck really needed a hold, they sent Rowan deep. He was matched up with Johnny Bansfield, a ferociously athletic defender with a knack for making big plays. The throw went up, and both players tore after it. McDonnell went up early, and then seemed to just…hang in the air. He caught the disc and for a moment the noise went out of the game. It came thundering back as Truck's sideline exploded in incredulous yelps of amazement.
DC got their hold and won the game 15-13, en route to a 3-1 day that has them in a good position to make semifinals — and to secure a strength bid.
Dig v. Truck Stop: Cricket Misses His Shot
After a flawless game in which he hit virtually every conceivable throw, Boston DiG's Josh "Cricket" Markette finally came up empty. With DiG trailing 14-13 to Truck Stop, Boston was looking to force their third straight double game point finish. Their handling core had been good all day, but against Truck Stop, it was Cricket's show. He had dropped in hammers, scoobers, and blades over helpless Truck defenders. He had made strike cuts for goals that embarrassed defenders half his age.
But in a critical moment he missed, putting too much zip on an away shot hammer to the back of the stack. It was an audacious throw — one that shouldn't have worked in a million years — but Markette's touch had been so magical that for a moment it seemed like it could.
The incompletion broke Cricket's spell and soon DiG were broken as well. The 15-13 loss dropped them to 1-2 on a day that could have ended much differently if a few points had gone the other way.
Ring of Fire v. Machine: Twitter Explained A Lot
https://twitter.com/being_ulti/status/1035916486555131904
A moment that really captures all that needs to be said about both #4 Raleigh Ring of Fire and #7 Chicago Machine's Saturday.
Darryl Stanley Innovates Coaching
During the Truck/DiG game in the last round, the internet became aware that Truck Stop coach Darryl Stanley was using binoculars to inspect the DiG O-line before pulls. It looked simultaneously ludacris and totally reasonable.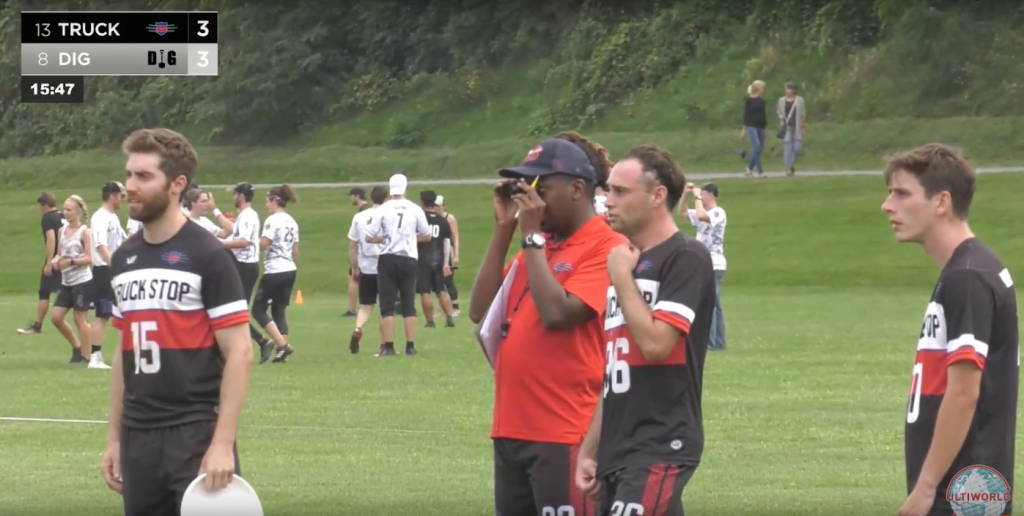 According to Stanley, he has been resisting getting glasses for as long as he can, and the binoculars are a "$10 solution to a $100 problem."
Oh, and he's got a Twitter account: