When the thing that saved you starts to kill you.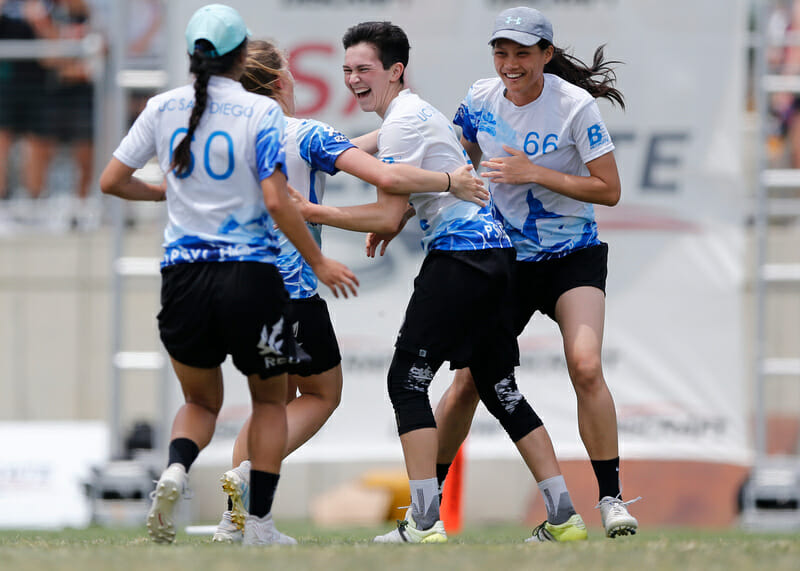 In August, Ari Nelson wrote an article for our Clear Cut series, "You Think You Know Me But You Don't," sharing openly about her struggles with mental health and how they have impacted her relationship with ultimate and the ultimate community. That essay spurred a few other elite players to write in with similar stories, opening up about their own experiences. We share these stories to present different perspectives on the ways mental health struggles can affect those playing this sport and what it might take to create a safe, inclusive space for everyone.
If you've played with or against me, you've almost certainly only met one version of me. There is a very specific me that I present on the field that might not always align with who I am that day. I am always excited on the sideline, joking with the other team, and cheering on my teammates, with some brash but friendly constructive criticism mixed in.
To be clear, that is the normal me. I love being that friendly person and interacting with new people.
However, some days I feel as though I have to force myself to put on that persona, and that takes its toll on me, mentally and emotionally. I am someone who is lucky enough to often be able to manage the visible manifestations of my mental health issues. But that does have its downsides. These downsides are how expectations of Spirit managed to slowly destroy ultimate for me in a way you might not imagine.
***
This story centers around this last 2020 college ultimate season. Although it was brief, I would categorize it as the most difficult time in my life. The most important thing to know is that I have Bipolar II disorder. It is similar to standard Bipolar I disorder, in that it consists of manic episodes (highs) and depressive episodes (lows) intermixed with periods of normalcy. However, Bipolar II is characterized by fewer and less extreme manic episodes than Bipolar I. I personally rarely have manic episodes and they are relatively minor.
In a personal explanation of what living with Bipolar II is like for me, I would describe each type of episode in terms of how it affects my emotions. Manic feels as if I'm experiencing every emotion at once. It can make me simultaneously excited, motivated, irritable, and anxious. Those feelings make me do things I wouldn't normally do and cloud my judgment. Depressive is the opposite. Depressive episodes suck the emotion out of me until I feel nothing and end up in a dark place where it feels as though nothing matters. The symptoms of Bipolar II first started my sophomore year of college, and while cycling through various medications, I have been living with its episodes ever since.
Fast forward to the start of 2020. It's my senior year — my third and final year of college ultimate. After a national championship last spring, a lot of veteran players leaving the team, and me becoming a senior, I felt a lot of eyes on me.
I felt the eyes of my team on me. They weren't necessarily looking to me for a great player, just looking for the constant talking, cheering, and supportive (granted, slightly aggressive) yelling that characterized our team last year. We lost so many of those voices and leaders from the year before that the feeling of needing to be a presence all the time and lead the hype and sideline advice felt heavy on me.
I also felt the eyes of other teams on me. I had improved a lot over the last summer and now was one of the main veteran faces on my team. This outside recognition of skill made me even more cognizant of the attitudes I displayed. I felt as though I had to be overly friendly and cheerful all the time so I wouldn't be seen as cocky or unspirited.
So that's where I was. I played in two tournaments this spring: Santa Barbara Invite and Presidents' Day Invite. I went into each of them with the usual anxious and excited pre-tournament jitters, but I also felt off. For almost all of this spring, I was in a depressive episode. There were some good days where I felt almost normal and had hopes I was out of it and some bad days where I laid in bed and cried and just couldn't motivate myself to go to class or practice. For each tournament, I ignored it and pushed through because I felt those eyes.
The team played well at both SBI and Pres Day, and I played almost exactly how I had hoped I would. I had fun, cheered, helped with sideline talk, joked with the other teams, and resolved in-game conflicts with pep. However, there are unseen moments of these tournaments that very few people know I went through.
After a good first day of Santa Barbara Invite, when we went back to the house we were staying at, I went upstairs, entered a dark, unoccupied room, closed the door, and sobbed on the floor for four hours. I had so little emotion left from that day that I was physically hurting. After four hours of crying, I got up, went on a walk in the dark, and got back a couple of hours later.
The next day, we played three more games. I put on the face I thought I needed to — the one that would take all the emotions I didn't have. I cheered and yelled and supported and played. After the tournament, I laid in bed for 24 hours straight and did nothing.
Three weeks later, on Sunday of Pres Day Invite — our home tournament — I walked away from the team warmup. I went behind some buildings, laid down, and cried. I came back 20 minutes later with my sun hoodie up, put some sunglasses on, and said I had a migraine. Since I also get occasional migraines, it was a convenient excuse. At game time, I took my sunglasses off, put my face on, and cheered.
The next day, I played and cheered just like normal, but by the end, I had used it all. Every last piece of me was spent on that sideline and I didn't save anything for myself. After what ended up being the last day of my senior season, I walked back to my car alone, sat down in the hot air of the driver's seat, and sobbed. I cried for about an hour then booked a flight back home to my parents. I dropped out of my classes and because I had studied abroad during the fall, I immediately lost eligibility for frisbee. I decided I was done with school for the year and especially done with college ultimate, possibly forever.
I gave up frisbee even though it had often been the only thing keeping me alive. I loved it so much, it felt like the only tangible thing that I could look forward to when nothing else mattered. But at some point, I had crossed a line where I was giving it so much of my depression-sapped emotional energy that there was none left I could live off of. I felt like frisbee was asking too much of me.
***
In her essay, Ari Nelson wrote about how her actions and reactions because of her trauma, even if unconscious, often make people think of her as aggressive, as being less spirited. She admitted that she felt she sometimes could not regulate her mental health struggles in order to be a model teammate or opponent. I, on the other hand, foolishly used every ounce of my happiness to support my team in an ill-fated attempt to always be a model teammate and opponent. These two results, her being seen as unspirited and me overspending my emotions, come about from the same fundamental problem: strict expectations of Spirit without the consideration and conversation of mental health.
I tell people I have migraines when I'm depressed. That's a problem. I don't know how to tell them that sometimes they're asking too much of me. I don't know how to tell them that I'm trying to be a team player, but that I'm part of the team too and I sometimes just need to help myself. This is no fault of my team — they did everything right for what they knew and for what the expectations were. But sometimes the general expectations are too much. Sometimes I just can't be excited and I can't cheer. I physically could, but it would ruin me later.
To be clear, I'm writing my story because I love the ideals of Spirit of the Game. I originally started playing ultimate in college because I loved how friendly, supportive, and excited the whole community is. I don't think the problem lies in the Spirit of the Game itself, but in the lack of team and community discussions about mental health in relation to it.
Struggles with mental health aren't always obvious. I suppose now people know more of my story, but that doesn't mean it was as easy to share with my teammates as a simple diagnosis of chronic migraines. I want it to be, but it's hard. I mostly don't share just because I don't want to make a big deal out of it. Some people also might never want to share for their own reasons and that's okay.
This creates a necessity for consideration of circumstances. We need to understand that everyone is coming from different places on different days. As humans, we tend to not validate a person's odd action or reaction until we have an explanation. But I don't want to have to tell my teammates or opponents that I'm in a depressive state any time I don't participate in cheers or am short with them or don't make eye contact. So sometimes it's necessary to accept a lack of explanation and just assume that they are trying their best. If everyone does this, people can have bad days and not feel like their entire personality is limited to or defined by their mental health or trauma.
So don't ask too much of your teammates. Don't ask too much of your opponents. Don't ask too much of yourself. Assume the best of intentions. Consider that maybe someone's speaking defensively because their trauma causes them to expect to not be listened to. Or maybe they can't cheer hard or contest nicely because they barely managed to get themselves to the field that day.
Ultimate is great because of the ideals of friendliness that are built right into the spirit of the game. But in the end, they are just ideals and they are going to be impossible to meet by everyone at all times.
RELATED: Mental Health In Ultimate: How Ultimate Figuratively Then Literally Saved My Life
RELATED: Mental Health In Ultimate: It's Not My Fault, But It Is My Responsibility