The island nation had a mostly normal National Championship.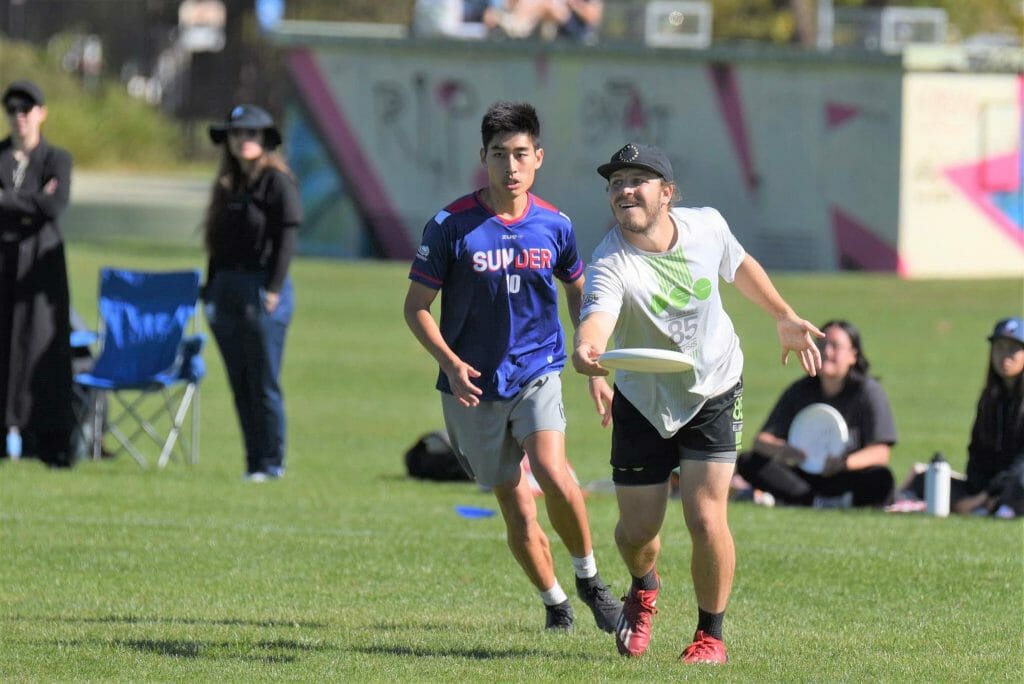 Ultimate Australia held their open and women's national championships this past weekend in the capital city of Canberra. While there is a slight asterisk to the tournament with teams from Queensland and Western Australia not able to attend because of COVID-19 restrictions, the majority of clubs from around the country made their way to have what appeared to be a pretty normal national championship. Melbourne's Ellipsis took the title in both divisions.
On the women's side, Ellipsis went undefeated throughout the tournament, making quick work of most of the opposition throughout round robin play. None of the other teams put up double digits against Ellipsis except for the finalist Manly Ripped from Sydney, whom they beat 13-11 in the early rounds. Manly Ripped, led by veteran Sarah Wentworth and young star Holly Reeve, had a challenge of their own to reach the final, as it took a universe point victory over fellow Sydney team Rogue to get there.
In the final, Manly started the game off strong as their D-line did an excellent job of limiting Ellipsis's game and capitalizing on early mistakes from the Melbourne side. Around 30 minutes into the game, Manly Ripped was up 6-3. However, Ellipsis has been to this show before, and their star power — featuring the likes of Cat Phillips, Georgia Egan-Griffiths, Alex Prentice, and Caroline Ma — led Ellipsis back to 6-6. They played a box and one against Manly Ripped's veteran handler Diana Worman, which, combined with tight downfield defense, forced Manly's other handers into a series of turnovers. Ellipsis took the lead at 7-6 and remained in control for the rest of the contest. Missing their best cutter and defender (Dani Alexander, present but not playing), they had no answer for Cat Phillips, who pulled down every 50-50 lofted in her direction and switched into the backfield whenever needed. Ellipsis won the game 15-9, as quick movement by the Ellipsis squad led to a shot from Ma to a wide open Phillips. This was Ellipsis's fifth straight Australian title in the women's division.
In the open division, Ellipsis had more of a challenge to get their title. In pool play, they had a number of close calls, including a universe win over Krank and a 13-10 loss to Sunder1 Slice. Sunder brought even split-squads, as they normally do to Australian Nationals. Ellipsis eventually found themselves facing the other side of Sydney — Sunder Dice — in the semifinal. Dice's star power in Mark Evans and Mike Neild played a great first 3/4 of the game on offense. Backed by a standout defensive performance from Gavin Moore, it seemed like Dice were going to easily punch their ticket into the final. However, late in the game, a few short field Dice turnovers late in the game and a huge layout block from Ellipsis's Pete Eley turned the tides of the game at the last possible second to give Ellipsis a universe point win and a place in the final against Sunder Slice.
In the final, Ellipsis took an early 2-0 lead, but Slice was able to come back and retake the lead at 4-3. The game stayed very tight up until 10-9. At this point, Slice started to make a lot of errors, and Ellipsis capitalized and completely controlled the rest of the game. Eventually, Ellipsis went up 14-12 and an overthrow by Sam McGuckin gave Slice a chance to stay alive. Ellipsis ratcheted up the defensive pressure, and McGuckin was fingertips away from getting a block back after his error. The pressure was too much and eventually Em Hodgson threw an errant throw of his own to give the disc back to Melbourne.
Tom Tulett slowly walked to the disc and a few throws later Tulett put up an absolute hero-maker of a throw. Rob Andrews skied two Sunder defenders to make the play and grab the win, 15-12, for Ellipsis's first ever open championship. Tulett had a standout throwing performance in the final. This win was an extra challenge for Tulett as his father, Vale Campbell Wratt, who was also very involved in the Australian ultimate community, had very recently passed away. Black arm bands were worn throughout the tournament in his memory.
Of note, the results of these championships do not qualify teams for WUCC next year. A separate qualifying event will be held later this year.
---
Sunder are the newly rebranded elite club from Sydney that used to be called Colony ↩