Getting comfortable in the gym is well worth the effort.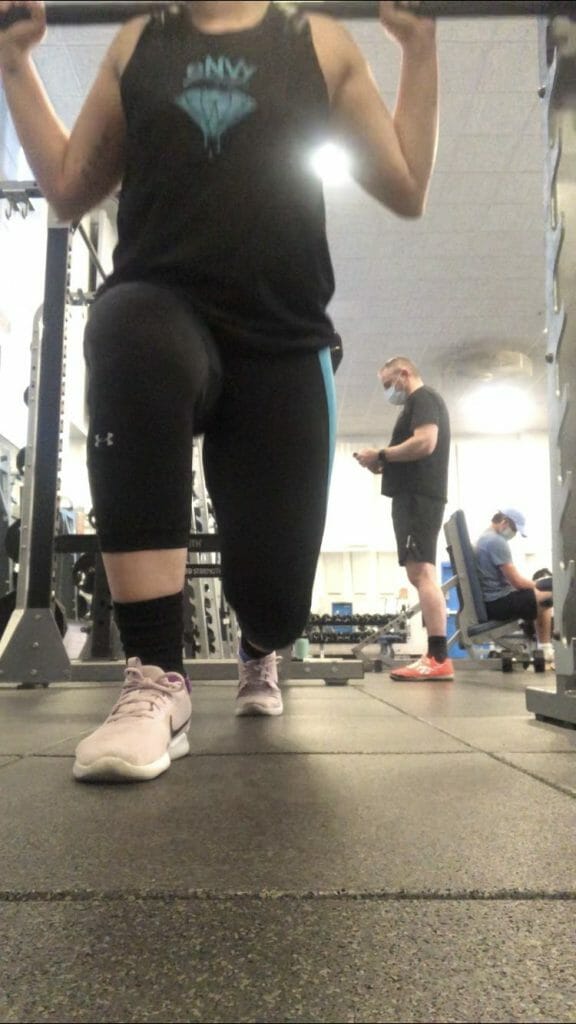 Tuesday Tips are presented by Spin Ultimate; all opinions are those of the author. Please support the brands that make Ultiworld possible and shop at Spin Ultimate!
Developing strength and conditioning is an important part of succeeding on the ultimate field. Sometimes, though, it can be difficult for women to feel at home in the weight room.
A study done at Cornell showed that women tend to underestimate their performance and abilities while men do not. Also, women tend to have "imposter syndrome," causing them to doubt their abilities and feel like a fraud. Lifting in a room full of testosterone bros can do that sometimes. But there are certain things that can help women become more confident in the gym and make them feel like they belong in a space that is typically dominated by men.
I played basketball at a powerhouse school and part of our workouts was lifting weights. It was easy with coaches there to guide us because it was our first time lifting. Outside of hoops, I lifted alone because I was confident in how I did my workouts and I lifted in a familiar place that my teammates went to. As a result, the positive energy was already there. But college was different.
College was different because, before rosters were set, the weight room at the main rec center was a free-for-all. It was dominated by frat guys who would grunt with every rep and have judging eyes when I went to lift alone. I had a job at a local YMCA, and there was a smaller rec center on campus — I rotated lifting at those alternate locations since the main gym felt intimidating.
I learned a few things about how to make the lifting experience better as a woman. Here's three tips that can help the uninitiated navigate the gym.
Get a Guide
If you are new to lifting, lift with someone with experience. I did my first lifting with the seniors, who were clearly more experienced and confident. They knew what to look out for when it came to my form. The women I lifted with were good guides for the exercises and gave good alternatives if one did not seem to be going well. Even though there was some exercises that I did not know how to do, they were supportive and helped me focus on what I was doing. Sometimes in the weight room, with all the mirrors and people, it can be easy to lose focus, so it helped to have someone there to help me refocus on what I was doing and ignore everyone else.
Understand the Body at Work
If you are a male coach, trainer, or friend working with women in a weight room, understand how the female body works. I was lifting in my gym a few weeks ago, and there was a man and woman working out together next to me on the squat rack. The male was teaching his partner how to do squats, and the one thing he forgot to mention to her was to make sure her knees do not track inwards because of the damage that can cause. After watching it a few times, I advised her to not put as much weight on or to make sure that her knees are aligned with her ankles and hips instead of caving in.
Lifting is not a "one size fits all" type of workout. Some people need to do things differently because of their abilities and their body's biomechanics. Do not skip the teaching form because women are more prone to traumatic knee injuries than men.
Lift as a Group
As the saying goes, there is strength in numbers. There were times when our group of 12 female-presenting lifters would walk into a weight room and claim a space for our workouts. When we came down the stairs, we turned heads because there were a lot of us, and I think it caught some others off guard.
Who are these women claiming this much space?
We are the ultimate team, and we are getting stronger because we want to win. Since I was lifting with my teammates and we support each other no matter what, that confidence in each other and support just carried into the weight room. We stuck together in our spaces and supported the rookies who may have been lifting for the first time. In a group, it is easier to do things because we had a plan and we were there supporting each other, especially in what can be an intimidating space. It was also another way for us to bond.
Don't be afraid to take on the weight room. Use these tips to build confidence as you lift and become stronger — not only as an ultimate player but as a person.