The AUDL is back!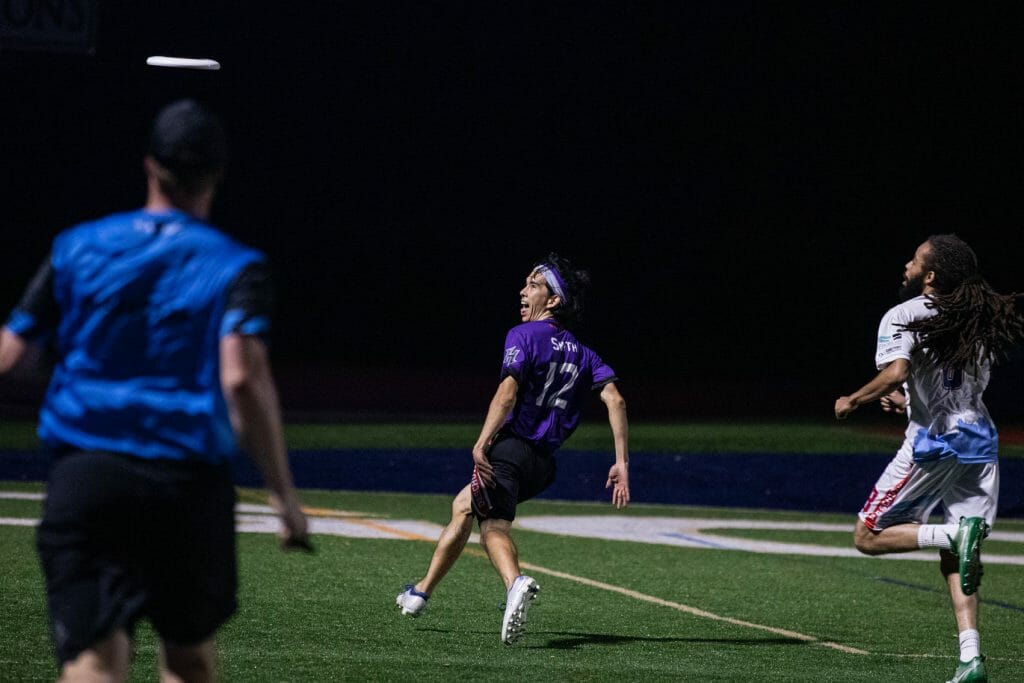 Our coverage of the 2021 AUDL season is presented by VII Apparel Co., who provides premium performance apparel for the active world, featuring their proprietary GreenLine fabric made from 100% recycled plastic bottles.
If you are familiar with the term conservation of greatness, it was on full display on Friday night as the AUDL returned with a bang! After 15 months without competitive ultimate, all of that conserved greatness came out in the form of two unbelievable games to kick off the 2021 season. Here is everything you might've missed from opening weekend.
Minnesota Chills the Madison Crowd 
If you watched the end of this game, you understand that it needs its own article. We took the liberty of breaking down one of the wildest games in AUDL history. Go check it out.
New Additions Shine as New York Avoids Upset

The win streak lives on! It wasn't always pretty or convincing, but the New York Empire won its 16th straight game, dating back to the 2019 season. DC pressed New York in a one-goal game again as the Empire hung on to win 19-18 at the buzzer. This one ranks among the most exciting in New York's unbeaten run, with Jack Williams skying a mess of defenders for the game-winning goal as the clock hit zeros.
🚨HIT THE ROAD JACK

Jack Williams pulls down the buzzer beater out of the crowd for the win at the end of regulation #AUDL2021 | #SCTop10 pic.twitter.com/0ktikmZXv3

— AUDL (@theAUDL) June 6, 2021
While some familiar faces made big plays for New York, it was the new ones that shone the brightest. Ryan Osgar reunited with his former teammates Ben Jagt and Conor Kline and hit the ground running. He had eight assists, completing 26-of-27 throws in the process.
Osgar's favorite target was not one of his old Minnesota buddies, but the Empire's new big-man, John Lithio. The Hope College product hauled in six goals in his AUDL debut. After hearing all offseason about the major departures from this New York squad and the big-name signings, it was only fitting for one of the more unheralded additions to step up. 
On the other hand, DC's biggest star seemed to be a step slow. Former AUDL MVP Rowan McDonnell had one of the worst games of his pro career, finishing with no goals and no assists. He did record a block, but with two turnovers, he posted a -1 for the night. McDonnell admitted to Evan Lepler before the season that he was not all the way back into peak playing shape. Credit the Empire for keying in on taking away McDonnell in the Breeze offense.
Thankfully, DC had plenty of other options to turn to. With Nate Prior not returning for 2021, Zach Norrbom stepped into a huge role for the offense, recording four goals and four assists. He only had one turnover and had a game-high 47 completions. Johnny Malks had a stellar performance as well, with three assists, a goal, and no turnovers. 
You can spin McDonnell's lack of involvement either way. Perhaps a bigger game from the 2019 All-Star would have been enough to upset the reigning champs. However, it is really encouraging to see the Breeze contend with one of the best teams in the league without much contribution from their best player. It speaks to the team's depth and the job done by coach Darryl Stanley.
Neither team was able to build a lead larger than three in the game. It was clear as the mist descended upon New Rochelle that cardio was still a bit of an issue. Tired legs and lack of focus definitely led to a handful of unforced errors. There is nothing to truly replicate the physical toll of a game. And tack on the added mental stress that comes from having a tight game in the fourth quarter. New York was also breaking in a new coach in Charlie Hoppes: Bryan Jones stepped aside following a dominant display in 2019. Hoppes and Anthony Nuñez, the latter of which was away coaching in the New Jersey high school boys state final, joined David Blau to lead the team in 2021. Drawing the Breeze to open the season was a tough first test, but one that this new coaching staff passed.
While neither team was perfect, both New York and DC flashed their top end potential that has many believing they will be right in the thick of the playoff chase and in contention for a spot at Championship Weekend.
Atlanta Grounds Raleigh in OT Thriller
A time-honored South Division rivalry crossed over to the new Atlantic Division in style Saturday night as the hometown Hustle outlasted a dangerous Flyers team in overtime, 19-18. Matt Smith led the charge for Atlanta's offense, finishing with a game-high four goals, including a few spectacular catches as well as an assist.
While the Raleigh-Atlanta rivalry is as old as the teams themselves, these clubs have undergone extensive off-season makeovers that gave the matchup a fresh look. The first two points underscored the changes, with scores coming via a Parker Bray-to-John Stubbs connection for Atlanta, and Matt Gouchoe-Hanas-to-Anders Juengst for Raleigh. That's three AUDL rookies and Bray, who hadn't played in the AUDL since 2018. 
Both offenses needed some time to heat up. Blame rust, nerves, or the late-day rain shower that wet the turf throughout warm-ups, but neither team got much going in the first quarter. Breadbasket drops that we aren't likely to see later in the season erased possessions for both teams, and a lot of the throw calibration that would typically play out over the course of a more active off-season seemed to occur in-game, with expected results. After twelve minutes, the score stood at an anemic 2-2.
Atlanta found their offensive footing first. It was Smith who broke the ice, leaping in traffic from just inside the back line to haul in a trust throw that looked to be heading well out of bounds. They tacked on a couple more breaks to roll into halftime with a 7-4 lead.
The halftime lead could have been a few points bigger if Raleigh's defense hadn't been so effective. Coordinated and active in ways that the offense could only dream about in the first half, the Raleigh D-line, led by Noah Saul, Josh Hartzog, and Elijah Long, mostly executed a tight gameplan. They did a fine job limiting Atlanta's splashiest signing, Antoine Davis, from doing much damage, systematically playing behind him and dropping help coverage to dissuade him from roaming the deep space. The backfield defenders clogged throwing lanes well, and the Flyers had a knack for bringing in a double-team just after Hustle throwers looked off first cuts, frustrating their progressions.
"We got plenty of turns," said Flyers coach Eric Martin.
It wasn't until the second half that the Flyers offense, largely riding the play of Juengst and star Eric Taylor, began to show signs of life. But they could only close the gap by one goal in the third quarter, as the Hustle stayed hot. Austin Taylor continued Atlanta's trust-throw trend by hitting Davis and Smith in tight coverage. "If they're going to catch those and make those plays, we're somewhat going to be okay living with that," said Martin, "but we need to be a little more aggressive to get there [earlier]."
Davis punctuated the quarter with a 60-yard crossfield hammer as time expired to maintain a two-goal lead for Atlanta heading into the final quarter.
The fourth picked up right where the third left off: both offenses were aggressive. Hustle rookie cutter Hayden Austin-Knab exhibited dynamism on the level of his more heralded teammates, and Bray, absorbing touches all game as the center handler, found seams to generate some additional motion in the offense. Meanwhile, Taylor continued to set the tone for Raleigh, slipping deep against single coverage and throwing hammers at every opportunity. Even Atlanta's diamond zone, which had significantly slowed Raleigh in the early going, seemed unable to slacken the pace, as Gouchoe-Hanas, Juengst, and Sol Yanuck easily pressed up the field.
Raleigh notched key late breaks with roller-pull trap plays to even the score. But it was the Hustle defense that shone brightest in crunch-time. The Flyers had an opportunity to take the lead with 20 seconds to go, calling a timeout with the disc centered about 15 yards from the attacking endzone. They called an iso play for Jacob Fairfax from the front of the stack. He curled his cut back toward the front cone as Yanuck put up a bladey forehand to his back shoulder. It looked like it was going to work — until Hustle defender Jakeem Polk launched himself for an improbable block up and away, his second huge one-on-one play against Fairfax in the game.
Smith and the rest of the Atlanta offense made Polk's big block stand up in overtime. Brett Hulsmeyer swooped in to poach an exploratory throw from Allan Laviolette on Raleigh's last attempt to re-tie the game, and the Hustle let the cheers of an unusually large and raucous home crowd wash over them as the last seconds ticked away.
Hustle head coach Miranda Knowles was exuberant. The win confirmed her vision of the team's trajectory.
"We've been saying, 'We're building, we're building, we're building' for three years, and, like, we're built," she said.
San Diego Survives
San Diego took care of business in its opening game against SoCal rival Los Angeles, but the game was tighter than the visitors would have liked. The Aviators opened the game with a hold, and on the ensuing pull the Growlers dropped the disc just ten yards downfield. A sideline trap led to a turnover and an early 2-0 lead. San Diego eventually settled in, but the junk looks from LA stifled their pull plays and held Travis Dunn to just three assists and one goal. Paul Lally looked impressive in the hub handler role in his Growlers debut, and Lior Givol, another newcomer to the team, led the game with six goals. 
While the Aviators led 5-4 at the end of the first quarter, San Diego stormed back in the second with a 6-3 run to take a two goal lead into the half.
Los Angeles pulled itself to within one with about eight minutes left in the game and worked the disc nearly the length of the field to score, but an untimely drop on a full field swing pass gave possession back to the Growlers, who scored an insurance break on their next possession to ice the game. 
Despite the loss, Los Angeles's offense stood up to a tough San Diego defense, helped by a series of dominator sets between Danny Landesman, Calvin Brown, and Sam Fontaine. Brown, the team's center handler, was just 42/50 for the game. If he's able to reel in a few of those execution errors, next week's rematch between these two teams might turn out even closer than this contest. 
After the game, Goose Helton said that the Aviators did a good job taking away the Growlers Plan A and forcing the team into their plans B and C earlier than expected. With three more meetings between these teams on the schedule, the chess match between the coaching staffs of each team will be one to follow.
After five years, Semi-Pro Ultimate Returns to Boston with a Bang

One of the biggest questions surrounding this 2021 season was what would the Boston Glory look like. 40 minutes into the season, they look like a title contender. The boys from Beantown put the league on notice, trouncing the Pittsburgh Thunderbirds 29-21.
Heading on the road for the franchise's inaugural game seemed to be a tough task. Pittsburgh was fresh off an 8-4 season and a playoff appearance, boasting an MVP-candidate in Max Sheppard. It looked like maybe Boston was not ready for the AUDL stage early on. Pittsburgh broke on its first opportunity to take the lead. 
However, it quickly became clear that the Glory were the class of this contest. Ben Sadok ran the show, much like he used to when he starred at UMass, tallying five goals and three assists in his first AUDL game. He completed 39-of-40 passes and added four hockey assists, which only highlights how crucial he was to the team's offensive attack. He spearheaded the assault that bridged the first and second quarters, building a massive 13-5 lead. Boston rode that lead the rest of the way.
Sadok was joined by Henry Babcock and Ian Engler in facilitating the offense. The three of them had just two throwaways on 101 attempts. Downfield, Tannor Johnson and Tanner Halkyard did much of the heavy lifting. Each finished with three goals and well over 200 receiving yards. Johnson added a ridiculous highlight play with whatever happened here:
Gustav Haflin specialized at finding separation in the end zone. He scored a team-high four goals and only threw two passes in the game.
Despite all the love I am giving to the Boston offense, the Glory's defense deserves some praise as well. As a team, they racked up 15 blocks and converted 11 of 15 break opportunities. Willie Stewart, Eugene L'Heureux, and Dean Bullock all came up with multiple blocks. They swarmed the Thunderbirds in a suffocating stretch in the first half to effectively lock up the game.
The Thunderbirds never threw in the towel, but it was clear this team could not come back. Pittsburgh converted on just three of its 11 break chances in the game. Offensively, CJ Colicchio was on fire. He finished with five goals while no other Thunderbirds player had more than two. Thomas Edmonds stepped up with Boston determined to limit Sheppard's role in the offense. He posted four assists, two goals, and 603 yards of total offense. He actually finished with more yards as a receiver than as a thrower, rare for a player who plays in the backfield as much as he does. 
What should be scary for the rest of the league is that I don't think the Glory played their best game. There were a few sloppy mistakes and careless mistakes on both sides of the disc. Boston still emerged with an eight-point win on the road.
Seattle Isn't Scared of Spiders
In strong, swirly winds, the Seattle Cascades defeated the San Jose Spiders 24-21 on the heels of a 5-2 second quarter run and a 16/17 (94%) red zone conversion rate. Mark Burton paced the home team with five assists, and Brad Houser scored five goals with one assist, but it was the newcomers who stood out for the team. Manny Eckert led the team in points played and was 44/45 throwing as a handler who snuck downfield often. Dennis Casio moved over to the offense this season and was vital in moving the disc downfield. He had -112 receiving yards (meaning he mostly received backwards resets) and 244 yards throwing. On the D-line, handlers Tony Venneri, Tommy Lin, and Shane Worthington smartly moved the disc quickly, before the San Jose double teams could set up. Seattle's defense was particularly impressive on the large AUDL field — San Jose's cutters had a difficult time finding quality separation. 
Despite the 10-7 halftime deficit, San Jose clawed its way back to tie the game at 17 with 5:29 left in the fourth quarter, but every time they came close to flipping momentum, Seattle had an answer. The Cascades then went on a 4-1 run spurred by San Jose communication errors in the backfield, and the Cascades rode their three goal margin to victory. After a rough start, Seattle did not trail after the first quarter. 
Justin Norden paced the Spiders with 6 assists and 2 goals. In his debut, highly touted rookie Jordan Kerr notched even playing time on offensive and defensive points and finished +5 with 3 assists and 3 goals, but just 12 completions (albeit with a 100% completion percentage). 
If you're eager to watch a rematch, these two teams meet again in San Jose in Week 2. 
Chicago presents a United Front
The Chicago Union wasted no time showing off their new look roster, dispatching the visiting Indianapolis Alleycats, who were somewhat sluggish after a win against Detroit the night before, 20-12. An aggressive double teaming defense gave Chicago the early edge. They jumped out to a 4-1 lead early in the first quarter and never looked back. The Union held the Alleycats to just a 40% offensive hold rate and forced 20 turnovers from the visitors. 
Captain Ross Barker led the offense, notching a team-leading 4 goals and 4 assists. 2019 All-Star Pawel Janas had 3 assists and a goal. 
For Indy, Levi Jacobs led the game with 385 receiving yards and 4 goals, but the Alleycats never looked comfortable against a swarming Chicago defense that combined the best parts of the club division's Chicago Machine (namely Nate Goff's length and Von Alanguilan's quickness and intelligence) with some of the Madison Radicals zone (double teams and Peter Graffy patrolling the deep space). 
Chicago will face a tougher test when Minnesota comes to town in Week 2 in a potential early season playoff preview. 
Detroit Resumes its Weekly Ritual of Getting Blown Out
While neither Madison nor Indianapolis will be satisfied with their results against teams not named Detroit, both have to feel good about smacking around the Central cellar dweller. 
For Indianapolis, Travis Carpenter showed up as expected with a dazzling performance. He racked up eight assists, a goal, and a block with just one turnover. Levi Jacobs joined him in stepping into a bigger role offensively with all of the AlleyCats' offseason losses. Jacobs posted five assists and three goals in an all-round impressive performance. Unsurprisingly, they were a big part of the reason Indianapolis comfortably won 30-21.
Defensively, Xavier Payne was flying around with four blocks, five assists, and a goal. He balanced some of that out with three turnovers, but he showed that he can be a key cog for Indy's defense going forward. 
Madison continues to rely incredibly heavily on Kevin Pettit-Scantling. After an impressive night against Minnesota, KPS went off on Detroit with a ridiculous statline. He finished with five assists, four goals, and six blocks, while completing 27-of-27 throws in the game. His +14 rating was double that of the next highest player. I know it was against the Mechanix, but Pettit-Scantling has to be in the way-too-early MVP conversation after this first weekend of action.
Meanwhile, Detroit looked absolutely hapless. Joe Cubitt and Andrew Sjogren carried the Mechanix to a somewhat respectable nine-point loss on Friday night, if there is such a thing. Both finished with +8 ratings and spent much of the game working hard to fire up their teammates. There were a handful of spikes that were in poor taste and probably unwarranted given the gulf in talent between the two sides. Despite their heroics, Detroit still seems to be a ways off the rest of the division. This roster lacks reliable depth and it really showed in the second game the back-to-back.
There is not much to analyze following a 24-point blowout. It was yet another embarrassing showing from the Mechanix and even their star players could not find an answer. Cubitt committed seven turnovers and had just two assists. Sjogren failed to register a positive stat to go with his three turnovers. No player on the team had better than a +1 rating. The Mechanix combined for a mind-boggling 43 turnovers in a 34-10 drubbing.
A long season awaits, but it seems clear that Detroit is headed for another horrific season. The longer this losing streak, which dates back to 2017, lasts, the more likely it is that questions will be raised about whether this team even belongs in the league. 
Tampa Drops Two to Philly and DC
Tampa Bay might not win too many games this season (they dropped the opener to Philadelphia 21-16), but they are certainly a fun team to watch. In their first game, the Cannons took advantage of Philly's unforced errors early to jump out to a 5-2 lead. Tampa Bay's offense doesn't mind swashbuckling its way up the field with audacious break throws or three-quarter field hucks up the sideline. While their offense might not look traditional–though maybe it looks familiar to Florida ultimate fans–it can be devastatingly effective. The Cannons played almost exclusively zone defense, probably wary of exerting too much energy during a two game road trip.  
Philadelphia slowly made its way back into the game, spurred on by highlight catches from Nate Little, who led the game with four goals. A contrast to Tampa's "huck it" attitude, Sean Mott was a steadying presence for the Phoenix, racking up 396 yards throwing, another 270 receiving, and throwing four assists, four hockey assists, and 41 completions on 44 attempts. 
🎥IT'S THE NATE LITTLE SHOW #AUDL2021 | #SCTop10 pic.twitter.com/tRacTtbHh4

— AUDL (@theAUDL) June 7, 2021
Philly scored three straight breaks out of halftime to take the lead for good. The Phoenix won the third quarter 8-3 after cleaning up some of the execution errors that plagued the team at the start of the game. The Phoenix also added a touch of help defense to deter or block Tampa's big hucking game; coming out of halftime, the Cannons offense did not score until there was 3:10 left in the third quarter. Philadelphia rode its momentum through the 4th quarter to close out the victory. 
The next day in Washington DC, the Breeze and Cannons faced off, each coming off a loss the previous night. With fresher legs from hometown reinforcements, the Breeze got the hot start in this game, finishing the first quarter up 6-2 and winning the game 24-10. The Cannons had an abysmal 26% offensive hold rate, as they continued their strategy to huck the disc downfield any chance they got. The Breeze offense did not give up a single break.
Rowan McDonnell was again quiet for the Breeze. After being shut out of the end zone against New York on Friday night, McDonnell notched just one assist and one goal against Tampa on Saturday with -4 throwing yards. On the DC D-line, David Bloodgood led the game with 4 assists and Duncan Fitzgerald led both teams with 4 goals. 
Austin Sol Shines, but the Sun Doesn't
The Austin Sol scored two breaks to start their game against Dallas and might have had an upset brewing, but the skies opened up and the game was called off due to thunderstorms. On each pull, Austin rolled the disc out of bounds before setting a double team trap on the sideline. Execution errors from Dallas led to the turnovers and the Austin D-line offense was efficient in their limited opportunities. The game has been postponed to an undetermined time and date. It is not yet clear if the game will restart or if they will play on from the time that Austin scored its second goal. 
DraftKings Deal

As the AUDL continues to expand its reach, the league landed a major partnership in the form of daily fantasy sports giant and online sportsbook Draft Kings. So far, DK has rolled out a free prop-bet pool with a total purse of $1,000 and a weekly game live streamed on DraftKings' YouTube and Twitch channels. Those games will be free to watch for all fans, unlike games on AUDL.TV. Fans received an incredible treat in the form of a stunning, bizarre, and altogether spectacular finish at Breese Stevens Field. 
This has already increased the visibility of the league to more fans outside the sport. Not all of the comments on the YouTube stream were positive, but there seemed to be a fair few that were genuinely interested in learning more about the sport and how to watch. 
US-Based Power Rankings
TL;DR

Don't worry, Pawel Janas has you covered:
Busy opening weekend for @theAUDL -here are the biggest stories you missed. @gochicagounion @indyalleycats @atlantahustle @raleigh_flyers @MadisonRadicals @mnwindchill pic.twitter.com/FNK2ygRJv7

— pawel janas (@secondarypotato) June 7, 2021
Stall Seven/Deep Look Picks contest
Stall Seven: 2/3 on the week, 2/3 for the season

Deep Look: 3/3 on the week, 3/3 for the season
Both podcasts correctly predicted Atlanta (+3.5) and Minnesota (-1.5) to cover the spread, but Deep Look correctly anticipated Seattle's (+1.5) success, while Stall Seven dropped points they had pinned on San Jose's promise. 
Subscriber Survivor Pool 
91% of entries are still alive after Week 1. Anyone who picked Austin or Dallas will advance as if either team won because of their unexpected rainout. Shoutout to the person who picked Detroit. I hope that one day we can all share in your sense of optimism.