Which players had the best weekend?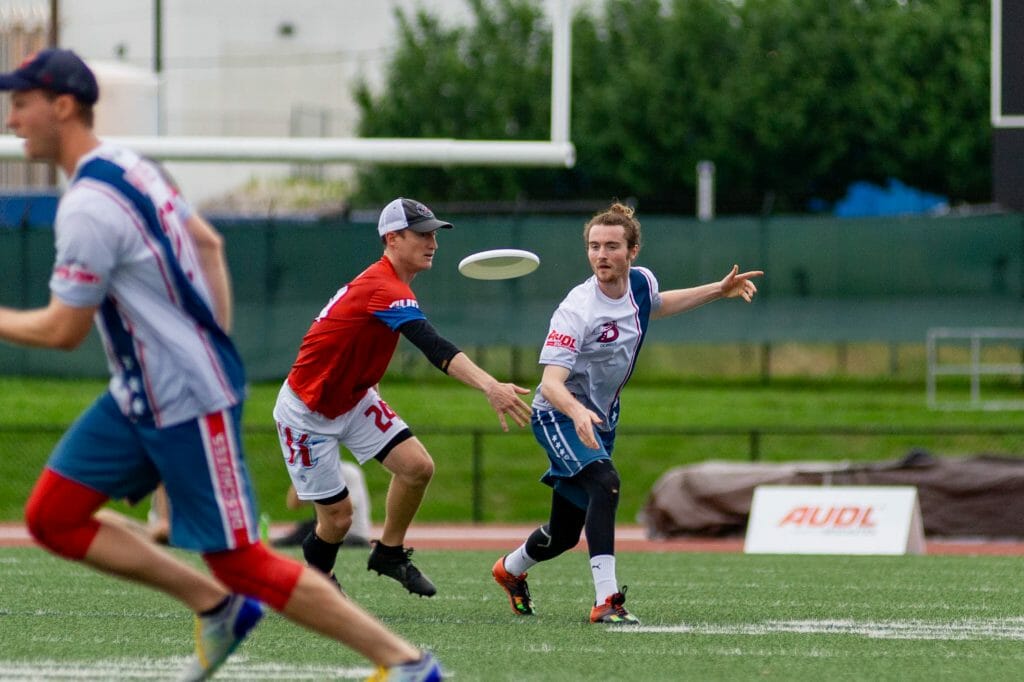 Well, I'm glad I'm not in the game prediction business. Week 2's games underscored just how many good and previously unheralded players can significantly impact a game. Compared to Week 1, Week 2's EDGE Top 20 features 19 new players. Only Xavier Payne of the AlleyCats returns to the top of the leaderboard.1 Full weekend EDGE scores are shown below in Table 1.
Leading the week was Jonny Malks of the DC Breeze, with a nifty 640 total yards, nine scores, and zero turnovers.
As with Week 1, I will focus on a couple of comparisons that highlight EDGE's characteristics. We can begin by looking at Payne's Indy teammate Corey Hardesty, who had the top +/- score of 11, but only the 7th best EDGE. It's not just that Hardesty had 271 fewer yards than Malks; it's also that yardage and goals for Indy were so plentiful against Detroit (2222 team yards, 28 goals) that each was worth marginally less than yards and goals in the other games of the weekend. For comparison, 100 yards for the Alley Cats was worth 0.55 goal equivalents, and for the DC Breeze, 0.65.
The other interesting result near the top is Andrew Roney's 4.85 EDGE score despite having seven turnovers; nobody else in the top 20 had more than two. His 636 total yards has a lot to do with his highly ranked score, but it's also a function of the very messy game in which he played. Tampa Bay and Pittsburgh combined for 58 turnovers and a scoring efficiency of just 0.36.
---
Yes, three teams did not play, but still. ↩
Better Box Score Metrics: EDGE Stats for AUDL Week 2 is only available to Ultiworld Subscribers
Already have a subscription? Log in
Whether you visit Ultiworld for our reporting, our podcasts, or our video coverage, you can help us continue to provide high quality content with a subscription. By becoming a subscriber, not only do you receive benefits like exclusive articles and full article RSS feeds, you also help fund all of Ultiworld's coverage in general. We appreciate your support!