All that and a $650 disc.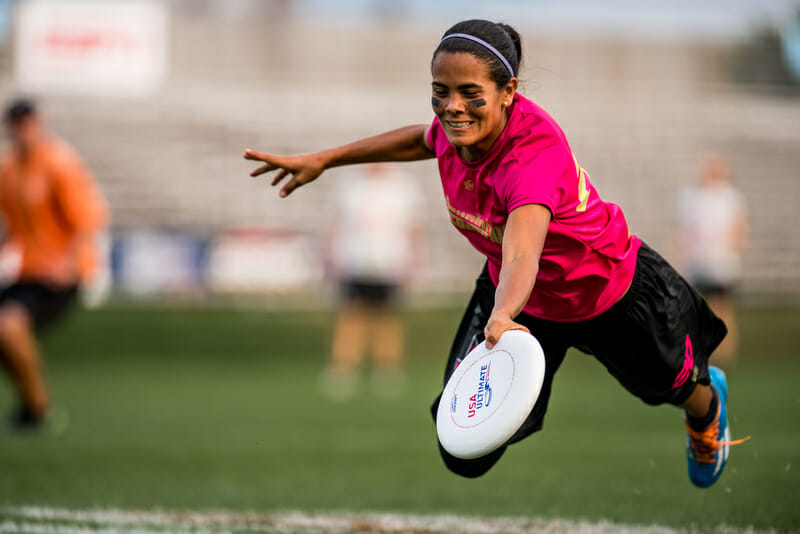 Welcome (back) to Opening Pull! Ultiworld's Monday wrap-up of the previous week in ultimate has returned, now available both in this space and as an email newsletter. As always, we've gathered the news you need to know and highlights you need to see. Check back weekly or subscribe now to receive Opening Pull in your inbox along with a rundown of the previous week's content on Ultiworld.
Yina Cartagena Gets BENT For USAU Club Season
Longtime Medellín Revolution and Colombian national team player Yina Cartagena confirmed via Instagram story that she will join New York BENT for the the 2021 USA Ultimate club season. An absolute rock for her club, national, and semi-pro teams through much of the last decade, her addition could be major for BENT, last seen in 2019 placing fifth in a four-bid Northeast Regionals where half the available nationals spots went to Canadian teams.
EUF Announces Full Calendar of 2022 Events, Including All-New Club Tournament
The European Ultimate Federation has sent an update to member federations on its scheduled events through 2022. The full calendar marks the formal announcement of a new EUF club event, the EUF Elite Invite, the first time the EUF has run a club event before the European series and a step towards a tiered season structure for European club competition; if held in April 2022 as planned, the tournament will host the top eight teams from each division at XEUCF 2021 at a location to be determined. (The EUF has not yet reached a final decision on plans for this year's XEUCF, but is expected to make an announcement in early July.)
The scheduled European and world-level events also include the 2022 World Masters Ultimate Club Championships, newly confirmed for June 25 through July 2 in Limerick, Ireland.
You Can't Spell "Detroit Mechanix" Without "Dream"
The losingest team in AUDL history — not only have they failed to win a single game in their last two seasons, those weren't even the only consecutive seasons they didn't win a game — has leaned into the narrative and announced a new "Break the Streak" promotion "with enthusiasm and gratitude" for the faithful. If and when the Mechanix finally notch that dub, the first 500 fans to provide contact info upon leaving the venue will receive a free (but really, priceless) "I was there when they broke the streak" T-shirt. Other "Detroit Mechanix" anagrams of note include "Cathode Intermix," "Matricide Hex Not," and "Chained Tot Mixer."
Disc Sports Grow In Ghana, Ghana Flying Disc Association Seeks WFDF Membership
A new Ghana Flying Disc Association aims to promote disc sports in Ghana through its support of new clubs, coaching and youth development, and an international sister team program to connect Ghanaian players with established programs around the world. WFDF has confirmed to Ultiworld that GFDA president Desmond Kwame Mantey is seeking WFDF membership for the organization, which has also been sharing ultimate and freestyle highlights online.
For The Player Who Has It All
Discraft, Innova, Aria, Prada. The luxury brand branched into something a little more lucrative with its debut in the disc sports accessories market, the $650 "Frisbee," which comes complete with a "versatile nylon carry case and side-release buckle." Wham-O has yet to comment on the use of its registered trademark.
---
Coming Up
The club season is on! Preview content for the men's, women's, and mixed divisions is coming soon. For now, see our club season tracker for a continuously-updated overview of top teams' plans for the year.