The US Open has been shortened to two days.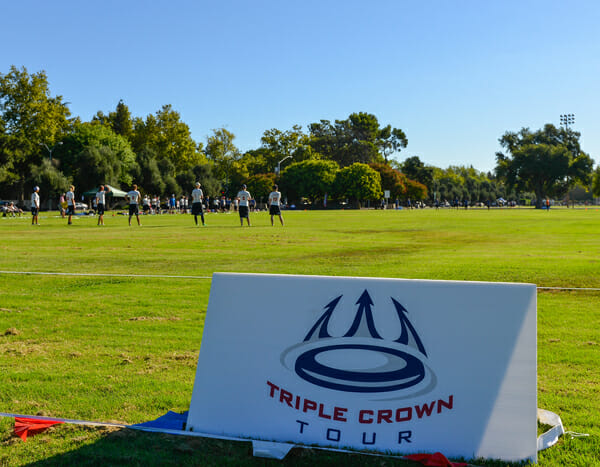 As club teams plan their return to the fields, some of the typically well-attended Triple Crown Tour events are struggling to attract teams in some divisions.
USA Ultimate has officially canceled the Pro-Elite Challenge women's division after just one team — Denver Small Batch — signed up to compete. As it stands today, the mixed division will play host to 13 teams, including four 2019 Nationals teams (Fort Collins shame, Columbus Cocktails, Montana Moondog, and Durham Toro). The men's division is set to feature 20 teams, including 2019 National champion Seattle Sockeye, semifinalist New York PoNY, and Nationals qualifiers Denver Johnny Bravo and SoCal Condors.
The US Open, normally a three day tournament, has been cut to two days this year. The men's division has been expanded to host 20 teams given the lack of demand in the mixed and women's divisions. There are currently only two teams signed up in the mixed division (No Touching and Minnesota Star Power, both local to Minneapolis) and one in the women's division (Washington DC Grit). USAU is still accepting bids from teams, but without additional commitment this week, the mixed and women's divisions are likely to be canceled.
The Pro Championships — the final TCT event set to be held in early September in Boulder — is on more stable footing in all three divisions. Each has at least five teams registered and includes top teams like Boston Brute Squad, San Francisco Revolver, and Seattle Mixtape that aren't signed up for earlier TCT events.
The Select Flight Invites — to be held in Ohio and southern California in late July and mid-August, respectively — are filling up as well, though registrations in the women's division remain lower than in mixed and men's.
Teams are not required to attend any specific tournaments this year, unlike in most seasons. There are also no rankings this year: the bid allocation from Regionals to Nationals is pre-determined based on a weighted average of results from 2017-2019.