A lot to take in from an exciting weekend in Columbus.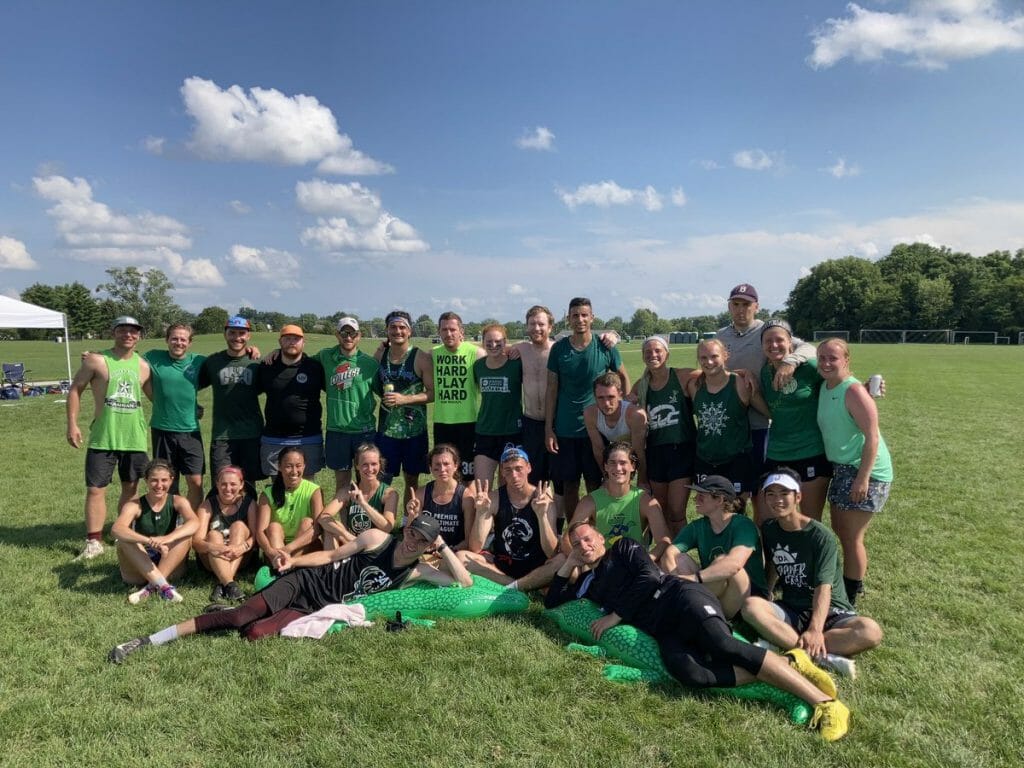 Tensions were high coming into Day Two of the Select Flight Invite East in Columbus, Ohio, as many teams seemed to display a more serious attitude when on the field than on Day One. The single-elimination bracket format meant teams had to be on point all day — every little mistake could prove costly.
Forecasts showed a chance for heavy rainstorms on Sunday but the weather seemed to clear up before teams arrived at the fields in the morning. For the first games of the day, wet grass and discs may have played a part in some early sloppiness, but the fields dried up as the sun came out and it was another beautiful day for ultimate. While the play was highly competitive, teams continued to show great spirit on and off the field. The tournament went smoothly with help from the local community as tournament director Rodger Oakes had over 50 volunteers come out to help out this weekend.
Day Two brought some more exciting close finishes and along with some big blowouts. It gave even more insight into who the top teams will be in the Great Lakes this year and showcased incredibly talented players across the entire field.
Mixed Division
Cleveland Crocs Prove Themselves with Early-Season Victory
Coming into the weekend, there was a lot of hype surrounding the new mixed team out of Cleveland — and they certainly lived up to it. On the first day, the unranked Cleveland Crocs won their first two pool play games in impressive fashion. After beating Grand Rapids Toast in the first round 15-7, the Crocs D-line — featuring several players from the old Cleveland men's team, Smokestack — were a force to be reckoned with, holding Chicago CHImera to just two points in a blowout 15-2 win. In round three, Cleveland held a lead for most of the game against #24 Nashville 'Shine but never got up by more than three points. After leading 14-12, the Crocs fell apart, giving up three scores in a row to 'Shine including a toe drag layout from Tori Taylor to tie it at 14-14 and a diving catch from Chris Peek to complete the Nashville comeback win.
After the pool play upset on day one, Cleveland had to take on #16 Columbus Cocktails bright and early Sunday morning. A highly anticipated matchup, the result of this game would cause an early elimination for one of the tournament's top two seeds. The Cleveland defense came out firing early, turning Cocktails mistakes into big hucks for breaks. Chris Graber proved to be a dangerous weapon for Cleveland, making big plays all over the place; his extraordinary athleticism made him a real challenge for anyone to guard. The Crocs took half 8-7 in a back-and-forth battle that saw some incredible plays from both sides. It remained close through the second frame, as a callahan from Columbus's Axel Agami tied the game at 10-10. Cocktails broke to take the lead as the soft cap went off, which was followed by a hold from the Cleveland offense. On an exciting universe point, the Crocs defense once again stepped up, breaking with Mike O'Brien catching the goal and sending his team to the semifinals.
There the Clevelanders faced off against another talented Ohio mixed team in Cincinnati Steamboat after a narrow win of their own, beating Pittsburgh Alloy in quarters, 13-12. Both teams made runs in this game, but the Cleveland squad was able to convert on a few more opportunities down the stretch, netting them the 15-10 win and a trip to the final.
There was a chance that the mixed final would host a rematch of the universe point thriller from day one, with #18 Ann Arbor Hybrid playing in the other semifinal against 'Shine, who upset the Crocs in pool play. But Hybrid came out looking much cleaner on offense, winning 14-10 and moving on to face Cleveland in the final.
The mixed final took place after all other games had completed, so there was a crowd spread across the sideline for this match as players from other teams came to watch. As expected, the Cleveland defense took no time to warm up, disrupting the Hybrid offense and mounting a few quick breaks to take an early lead. But Hybrid clawed their way back with their main handlers, Alexander Pan and Connor Lukas, displaying smart decisions and clean throws for a number of assists. It was a close battle with no team leading by more than two the whole game but the Cleveland defense — via big plays from Dutch Kirkman and Chris Graber — rattled the Hybrid offense and punched in some key breaks down the stretch. The Cleveland Crocs came out on top in the end, winning 12-10.
It was a remarkable performance from the Crocs on day two, getting impressive wins over Cocktails, Hybrid, and Steamboat, the three teams that made up the podium at the 2019 Great Lakes Regional Championships. This Cleveland team is still building chemistry and will likely only get better as the season goes on. It's difficult to make predictions this early in the season but after this weekend, we can say that the Cleveland Crocs have at least proved themselves to be among the top-level mixed teams in the Great Lakes and should be contending for the region's lone bid to Nationals this year.
Men's Division
Mad Men Earn W with Undefeated Weekend
For all the close games in mixed, there was less drama on the men's side of SFI East, as the no.1 seed Madison Mad Men finished 6-0 to win this weekend going away. Mad Men came into the tournament as the favorite and they showed why. In round one of pool play, after falling behind 8-7 at half to Raleigh-Durham United, the Madison D-line turned it on earning a few key breaks late in the game that would give them the win, 15-13. Mad Men went on to win their next two games, 15-5 over Bloomington Black Sheep and 15-9 over Iowa City Cryptic.
Bracket play started on Sunday morning with Mad Men facing the no.15 seed Golden Valley Knights of Ni in the quarterfinals. Madison won easily 15-6, as the Knights couldn't do much against the top seed's dominant defense, and streaks of breaks earned the Mad Men a trip to the semifinals. Garden State Ultimate kept the semi close at the beginning but started to fall apart in the second half, granting Mad Men a four-point victory and a trip to the final.
On the other side of the bracket, no.2 seed Tennessee Tanasi had a thrilling match in round one. Raleigh-Durham United almost pulled off the upset after a great performance from Caleb Louie who scored multiple goals down the stretch. But it was Tanasi's Bryan Sansbury that caught the game-winner on universe point to send Tennessee to the semifinals. The Ferndale Nain Rouge squad awaiting them there were bolstered on Sunday by the return of some key players including Andrew Sjogren and David Innis who were playing with the Detroit Mechanix on Saturday. Ferndale's offense favored the deep huck, resulting in a few two- and three-throw holds when it worked. But Nain Rouge couldn't always connect on the deep shot, especially with Bryan Sandidge on the prowl for Tennessee, causing turnovers and shutting down the deep space, forcing the Michigan offense to work for their goals. Cody Havens, who played a major role on Tennessee's O-line all weekend, had a standout performance that helped send his team to the final after beating Nain Rouge, 15-9.
The men's final saw the two top seeds going head-to-head. Tanasi's defense struggled early on as they couldn't find an answer for Madison's Radicals star Kevin Pettit-Scantling who was a matchup nightmare for opponents all weekend. Tennessee also could never seem to get going on offense; Mad Men's D-line ran a poachy zone look getting down on the pull before switching into matchup defense and it seemed to rattle the Tanasi offense. An athletic roster top to bottom and a few crucial blocks down the stretch helped Mad Men get some important breaks and win, 15-9.
Madison went 6-0 to get the win in their first tournament this season. If the defense continues to be as dominant as it showed this weekend, Mad Men is a team that could potentially make a run in the postseason. That said, in a one-bid North Central region, Mad Men would have to beat out longtime regional alphas Sub Zero to get to Nationals. A tall task but if they play like they did this weekend, there's a chance we could see them again in San Diego.
All-Tournament Lines
Compiled below is a line of seven top players from each division that stood out with their exceptional play this weekend.
Mixed
Jesse Shofner ('Shine): The incredible speed and quickness of the former Molly Brown star created a ton of mismatches this weekend.
Cara Sieber (Cocktails): A great all-around player able to cut and handle, the Ohio State product threw and caught many goals this weekend.
Sarah Nitz (Hybrid): Frequently got open deep, Nitz helped her team stretch the field and amassed plenty of goals.
Axel Agami (Cocktails): One the most explosive players at the tournament, the younger Agami brother got many layout blocks as well as at least one callahan.
Nathan Champoux (Hybrid): A preseason breakout player to watch, Skunk's speed and quickness made him dangerous on both offense and defense.
Chris Graber (Crocs): Almost impossible to guard deep, Graber skied just about anyone who tried to match him in the air en route to the tournament title.
Delrico Johnson (Fleet): The former Truck Stop star showed off his incredible athleticism, scoring a load of goals to help his new Baltimore team break seed to finish sixth.
Men's
Kevin Pettit-Scantling (Mad Men): A lockdown defender and a matchup nightmare on offense helped lead Mad Men to a win this weekend.
David Nester (Mad Men): A multi-talented player who had a number of assists and goals this weekend.
Cody Havens (Tanasi): Led the Tanasi O-line this weekend and played a major role in the semifinal win.
Bryan Sandidge (Tanasi): A defense menace shutting down whoever he covered in Columbus.
Caleb Louie (Raleigh-Durham United): Played a huge role on the RDU O-line scoring a ton of goals.
David Innis (Nain Rouge): A talented handler with excellent throws that can stretch the field.
Kyle Romard (Omen): A well-rounded player with a ton of skill in all areas of the game.