August ultimate is upon us!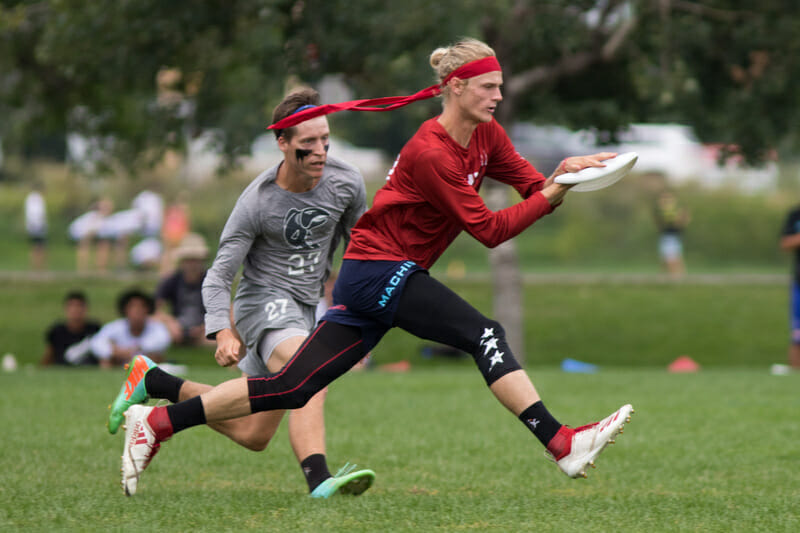 Three of the four men's national championship semifinalists will be in action this weekend at the US Open as a number of teams make their 2021 season debut. There are no mixed or women's adult club divisions in action this weekend due to eliminated attendance requirements and teams opting to build competition schedules closer to home (or start their seasons later).
The Youth Club Championships also get underway on Saturday, though the competition is quite a bit smaller this year with many local disc organizations opting not to send teams due to COVID-19 or cost concerns.
Still, for the teams that are in attendance, it's going to be a celebratory atmosphere as many players take the competitive field for the first time in two years.
Tournament Profile
Date: August 7-9, 2021
Location: Blaine, MN
Weather: Highs in the low to mid 80s, daily thunderstorms, light wind
2019 Nationals Teams: Seattle Sockeye, Chicago Machine, New York PoNY, Washington D.C. Truck Stop, Portland Rhino Slam!, Minneapolis Sub Zero, SoCal Condors, Boston Dig, Atlanta Chain Lightning
How to Watch & Filming Schedule
If you're looking to watch games from the 2021 US Open or YCC, stay tuned to Ultiworld.com/live and our video-on-demand package next week. Full and Plus subscribers (and Team Pack holders) will get access to all game footage from the tournament, while select games will be live streamed on YouTube for everyone to watch for free!
Here is the streaming schedule:
Saturday
8:30 AM: D.C. Truck Stop vs. Atlanta Chain Lightning
10:45 AM: New York PoNY vs. Portland Rhino Slam!
1:30 PM: SoCal Condors vs. Seattle Emerald City
3:45 PM: Men's Prequarter (2A vs. 3D)
Sunday
8:30 AM: Men's Quarterfinal
10:45 AM: Men's Semifinal
1:30 PM: Men's Final
Monday
8:30 AM: U-20 Mixed Semifinal
10:45 AM: U-20 Girl's Final
1:30 PM: U-20 Boy's Final
And below is the filming schedule (games will be available for Full and Plus subscribers):
Saturday
8:30 AM: Chicago Machine vs. Seattle Emerald City
10:45 AM: Seattle Sockeye vs. Boston Dig
1:30 PM: Final of Pool F
3:45 PM: Men's Prequarter
Sunday
8:30 AM: Men's Quarterfinal
10:45 AM: Men's Semifinal
Monday
8:30 AM: U-20 Girls Semifinal
10:45 AM: U-20 Boys Semifinal
1:30 PM: U-20 Mixed Final (will be available on YouTube!)
US Open Format (And Controversy)
Unlike in most years, there are no international teams competing at this year's US Open. The field has been expanded to include additional teams from the US. There are four power pools for the top 12 seeds, all of whom will make it to the prequarters; seeds 13-20 will play in pool mini-brackets. The winners of the four-team mini-brackets will advance to prequarters, and the second team to make prequarters from each pool will be determined by tiebreaker between the 2nd place finisher and the third place finisher in the bracket (tiebreaker order is head-to-head then point differential). In short, go 2-0 to make prequarters or 1-1 to have a shot.
The bracket continues as normal from that point forward.
This format was not the originally scheduled plan. Initially, USA Ultimate had three power pools of three teams each and then three lower pools (3/4/4 teams). Only the winners of each of the lower pools would advance into the four prequarter games. Zack Smith, the captain of Seattle's Emerald City Ultimate, was very unhappy about the format — which teams had not seen prior to its public release — and raised concerns both publicly on Twitter as well as with USA Ultimate staff and volunteers. ECU was one of a number of teams that were facing elimination from bracket contention with a loss in their opening game of a mini-bracket.
"I like to think it was objectively not a great format," said Smith. "The biggest issue that we raised through this was a lack of communication. Any hint of the fact that the format was going to be like this would have given us pause about accepting a bid and going to the event." ECU signed up for the tournament expecting opportunities to compete with Nationals-level teams.
Smith ended up on a phone call with USA Ultimate staff and a men's club player representative for 90 minutes, as the two sides discussed the format decision and why USAU was reluctant to make changes. Initially, USAU communicated to teams that the format would not be changed. But ECU and other lower seeded teams expressed dissatisfaction with it, and the format was eventually changed to include more teams in power pools and give more prequarter spots to lower pool teams.
USAU Manager of Competition Will Deaver said that there were competing factors in the format decision-making process with a wide spread of team quality and late drops. He said that he was glad to have the time to sit down with Smith and some other team leaders to discuss their concerns. "We were glad to make an adjustment that felt overall like an improvement," said Deaver. "And we're just excited to be playing frisbee again."
"The fact that they heard the feedback and applied it has to count for something," said Smith, "but it sucks that it had to take this much."
US Open Storylines
Defending National champion Seattle Sockeye is coming off of a Pro-Elite Challenge victory in mid-July, when they defeated New York PoNY and Denver Johnny Bravo to win the tournament. Perhaps most impressive is that they did so without 2019 Player of the Year Dylan Freechild, who will be back this weekend for the US Open. Sockeye's defense was in fine form to kick off the season, and their offensive backfield with Simon Montague and Mac Hecht was a handful for opponents. It's worth noting that they were not perfect in Colorado: they lost their opening game to Condors and were also defeated by PoNY before turning it on during Sunday's bracket play. Sockeye hasn't lost a Triple Crown Tour tournament since the 2018 National Championships.1
Chicago Machine reached the National final in 2019 and comes into the US Open as the #2 seed. Machine has yet to play this season, but with great continuity from 2019 and the addition of Dalton Smith to the roster, they look poised to again challenge for the championship. The notable departure from this year's team is Kurt Gibson, a 1st Team All-Club selection and one of the best players at the 2019 Championships. But the emergence of Joe White as a top-tier playmaker and Johnny Bansfield's two-way talent has Chicago well positioned heading into the 2021 season.
New York PoNY had mixed results at the Pro-Elite Challenge, beating Sockeye on day one and then losing soundly on day two. Jimmy Mickle missed nearly the entire second game with an injury, but there are still questions about the team: the defensive line has seen major turnover since 2019. They get a tantalizing rematch from the 2019 National quarterfinals with Portland Rhino Slam!, who nearly knocked them out of the tournament. Rhino Slam is bringing back their key contributors like Raphy Hayes and Leandro Marx as they hope to push towards a semifinals berth at Nationals this year. We'll get our first look at their 2021 team this weekend.
After PoNY, who's the best team on the east coast? Atlanta Chain Lightning? Boston DiG? Washington DC Truck Stop? Of course, there's also Raleigh Ring of Fire, but we may not see them until the Series. Chain is a trendy pick to level up this year, as John Stubbs continues his superb play, they pick up Antoine Davis, and Austin Taylor emerges as an elite handler. DiG opened up their season at the Boston Invite and dominated the competition, but they'll get much tougher tests in Minnesota. And Truck has a young and much different looking roster. Will the success of the DC Breeze in the AUDL translate into the club season?
Both Minneapolis Sub Zero and SoCal Condors made the Nationals bracket in 2019 but appear to be moving in different directions. Sub Zero loses some of their biggest contributors, including Ryan Osgar and Josh Klane. The Condors are enjoying the benefits of roster stability and some promising young talent.
There are some compelling teams in the bottom half of the field, including Seattle Emerald City Ultimate (formerly Voodoo) and Dallas Flash Flood. Both have designs on making a run to the National Championships and have some experienced players with Nationals experience on the roster. It's also worth perusing the roster of 19th seeded Minnesota Knights of Ni.
YCC Storylines
None of the teams that reached the 2019 YCC finals is back in the field this year, as many top cities opted months ago not to send teams to Blaine this August.
In the U20 Girls Division, 2019 semifinalist and top-seeded Washington DC Rogue will be the clear favorite to claim the title, but second seed Oregon Downpour is very strong this year.
In the U20 Boys Division, Washington DC Foggy Bottom Boys, a quarterfinalist two years ago, will be the favorite, but there are good teams from Chicago (Red Hots), Oregon (Trainwreck), Oakland (smOAK), Minnesota (Superior), and other hotbeds.
In the U20 Mixed Division, Lula Dutille and Kentucky Pi+ will be an interesting team to watch in a division that feels open to a wide number of teams. Could Atlanta FlATLine or Minnesota Superior break seed, or will Madison MUFAbots defend their #1 seed?
Only the Boys side will host a U17 Division this year: Utah Swarm gets the top seed with the home team Minnesota Superior heading up Pool B.
---
Sockeye did not attend the 2019 Pro Championships. ↩