An overview of a water-soaked day in Minneapolis.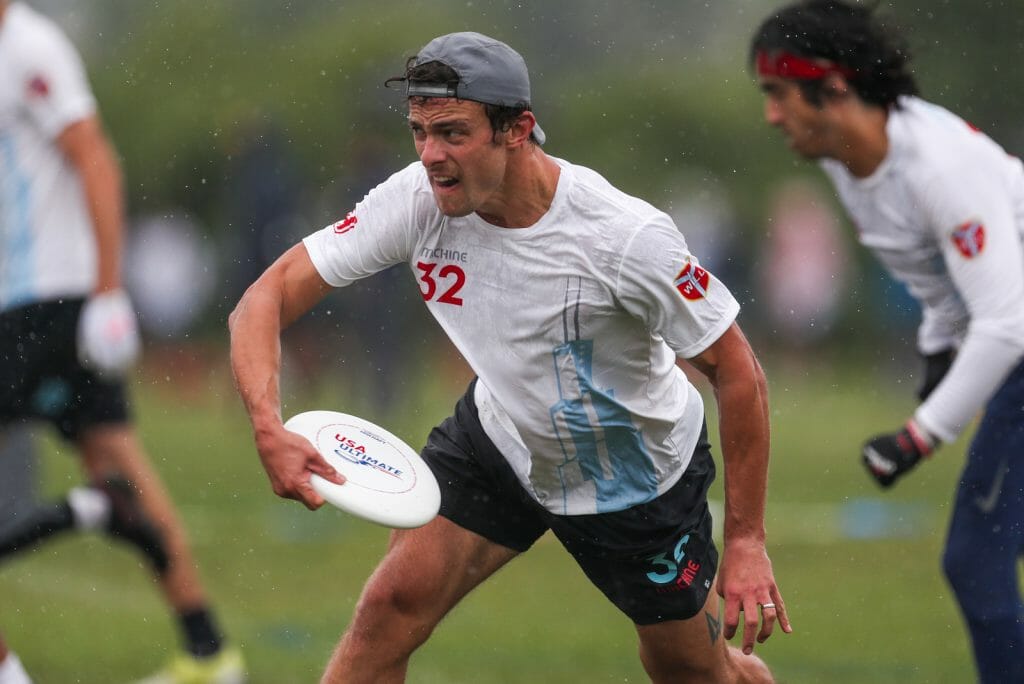 BLAINE, MINN. — Plastic flying, shouts filling the air, and teams in every direction with players ranging from 17-year-old girls to Masters' aged men: it's good to be back.
Teams came out in full force during the first day of the US Open on Saturday, as many took the field for the first time in 19 months. However, this year's International Club Championships (ICC) look a little different. Due to a shift in focus for teams in the mixed and women's division, as well as an absence of international club teams due to COVID-19, the Men's division is the only one present at the ICC. In total, 20 teams from the Men's division and 44 youth club teams, broken down into four divisions, made their way to Blaine, Minnesota, for the US Open this year.
POOL PLAY
Teams in Pool A finished to seed, with Seattle Sockeye comfortably coming out on top. They played Black Market, winning 15-3, and DiG, winning 15-12. For this tournament, Sockeye's main goal for the weekend was to develop team systems and get reps against other teams. As the reigning tournament winners, Sockeye is not necessarily looking to defend their title but rather go get what they want and win games.
Pool B also stuck to seed with very few surprises. Chicago Machine dominated the pool, but not without a fight from Emerald City and SoCal Condors. Both teams came out with strong defense, but their offense could not hold up to Machine's.
Pool C saw some internal movement during the day. Sixth seed Rhino Slam! brought down no. 3 PoNY on universe point. This win tasted extra sweet to Portland, who lost to PoNY on universe during the quarterfinal round at the USA Ultimate National Championships in 2019. Rhino then went on to beat Yogosbo 15-10. Gabe Nobish, who is new to the team, showed potential by making several great plays in his first two games of the day. One of Rhino's star players, Raphy Hayes, also had a good day, making spectacular plays to save lower-percentage throws, especially in the game against PoNY. "This is not the old Rhino," said new head coach (and former Revolver coach) Mike Payne. "We've got a lot of new blood and we're learning a lot of new tricks."
Pool D experienced the most shake-up of the weekend, as fourth seed Truck Stop lost 15-11 to no. 9 Chain Lightning and 15-13 to no. 5 Sub Zero. Despite their losses, Truck Stop was happy to be back out at a tournament and get reps against teams outside of their region, according to head coach Alex Crew. Minneapolis Sub Zero won the pool after beating Chain Lightning 15-13.
BRACKETED POOL PLAY
Teams seeded 13th to 20th, who were not part of the power pools, played in their own mini-brackets. Inception and Knights of Ni won their respective pools, granting them both a chance to fight in the Championship Bracket. Knights of Ni came in as one of multiple newly created teams and proved with their performance in pool play that they just might be worth a second glance. One player to watch: Jason Tschida, an offensive powerhouse.
Unfortunately, the worst case scenario played out for determining the final two teams to reach the bracket. Dallas Flash Flood and Minneapolis Mallard both went 1-1 in their mini-bracket, with each losing close games to Knights of Ni. However, they did not play against each other and both finished with the same point differential (+9) in their two games. So it went to deeper tiebreakers and only ended up being decided on the ninth tiebreaker. The format was criticized by some of the lower seeded teams before the event, which ultimately led to changes, though the possibility of the Flash Flood / Mallard situation playing out remained.
In the other mini-bracket, Iowa City Cryptic qualified for the final prequarters spot by going 1-1 and beating the other 1-1 team (Surly) head-to-head.
YCC
The Youth Club Championships roared to life Saturday with the start of pool play. So far, the division with the most notable changes from seeding is U20 Mixed. The first and second seeds, Madison MUFAbots and Minnesota Superior, both lost a game, while Pi+ and flATLine rose to the top of their respective pools. Meanwhile, in the U17 Boys' division, clear/cut is rising up the ranks, and in the U20 Boys' division, no. 2 Red Hots are sinking, losing two out of their three games.
KEY TAKEAWAYS
Although each team had a different experience, several common themes were apparent throughout the day. Here are a few:
Weather
As hackneyed as it sounds, teams had to adapt to the ever-changing Minnesota weather. The day started with a lightning delay that pushed all games back by an hour and a half. Throughout the first two rounds of gameplay, teams faced a steady rainfall that did not let up until the middle of the second round. The day also consisted of moderately strong wind conditions that caused discs to float and resulted in an increased amount of unforced turnovers. The conditions in Minnesota over the past few months, which included a substantial drought, also resulted in dry and gnarly fields, to which teams had to adjust. There were some injuries caused by ruts in the fields.
Grit
Saturday's games saw teams with high energy and intensity. Players proved that they had a fire in their bellies and a hunger for the win. Each team, especially those seeded lower, put up a strong fight against their opponents and made them put in the work on the field.
Preparation for the Postseason
For many teams, the US Open is their first and only chance to play against other teams from across the nation, meaning that it serves multiple purposes, depending on the team. For example, Sockeye is looking at this tournament as a "dress rehearsal" for Nationals. They played three weeks ago at the Pro-Elite Challenge. Meanwhile, Rhino Slam! sees the US Open as a way to continue to develop their players and figure out where exactly everyone fits in terms of lines and positions, as it is their first tournament of the season.
SUNDAY'S ACTION
The men's club division begins with quarterfinals. Follow live action all day long on ultiworld.com/live and on the Score Reporter page.
The quarters matchups:
PoNY v. Sub Zero
Rhino Slam! v. Chain Lightning
Machine v. Truck Stop
Sockeye v. Condors
YCC continues pool play in the morning and then some divisions (U20 Mixed, U20 Girls) will play the first round of bracket play in the afternoon.