One of the most exciting weeks of the season!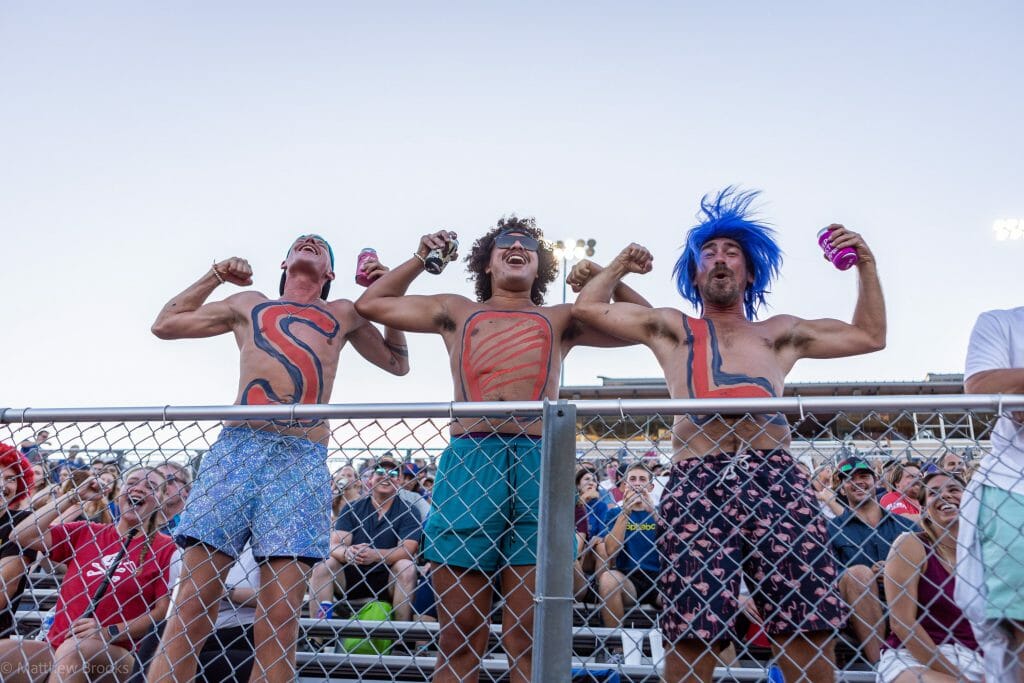 Our coverage of the 2021 AUDL season is presented by VII Apparel Co., who provides premium performance apparel for the active world, featuring their proprietary GreenLine fabric made from 100% recycled plastic bottles.
Dallas survived title bout IV against Austin to clinch a playoff spot minutes after San Diego rode its depth and the newly signed Jonathan Nethercutt did the same against regional rival Los Angeles. Out east, Raleigh coughed up a two-goal overtime lead to lose to New York in a game that is sure to have playoff seeding implications and brings back questions about the Flyers' mental toughness. Atlanta lost for just the second time all year with the bulk of its roster playing in the club division, dropping to second place in the division. Up in Canada, Montreal took down all challengers to tie Ottawa in first place.
It was an eventful Week 10 in the AUDL as the playoff picture coalesces.
Current League Standings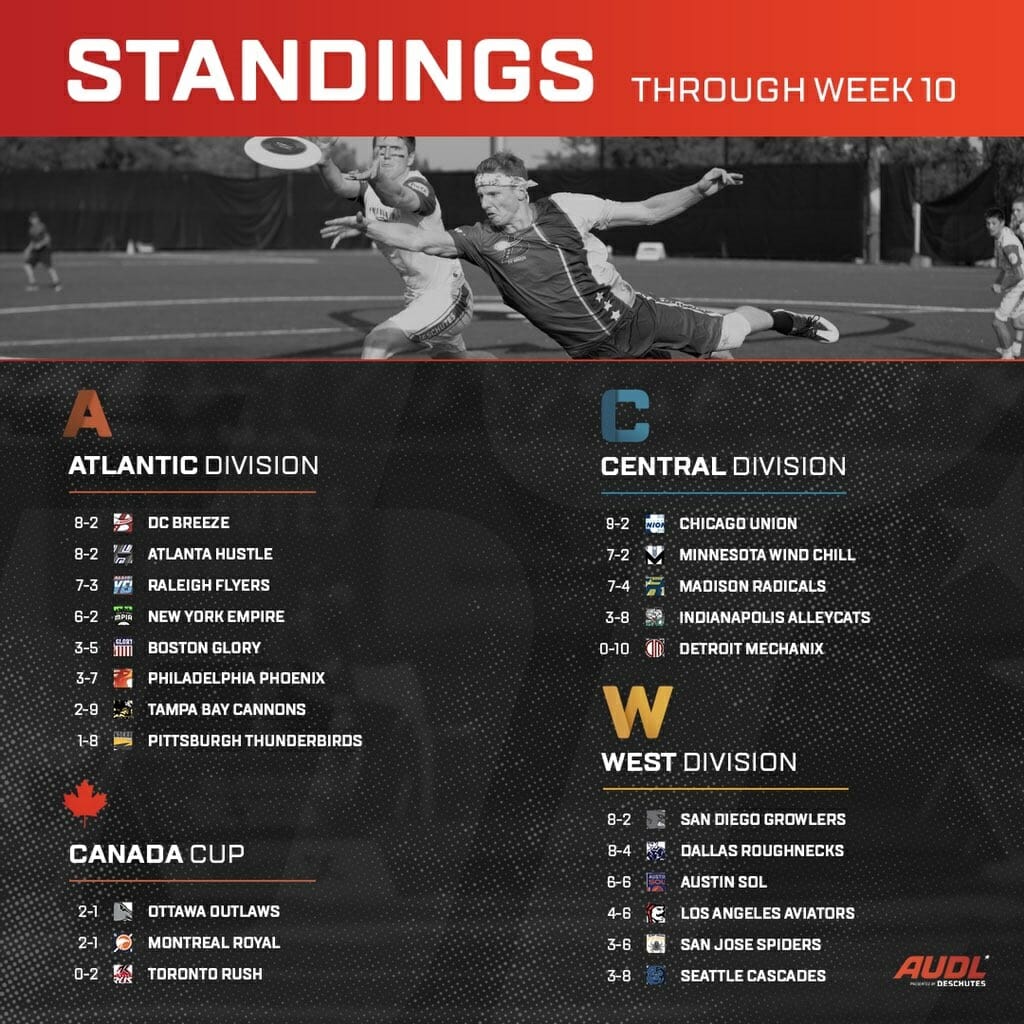 New York Delivers in Thriller and Raleigh Splits Weekend
More often than not, the sequel is never as good as the original. Thankfully, Raleigh Flyers vs. New York Empire Part II delivered on all the hype and then some. It was a game of massive momentum swings, incredible offensive displays and clutch performances. In the end, New York topped Raleigh 24-23 in double overtime for the second straight season.
The Empire got off to a strong start, building an early three-goal lead in the first quarter. Ryan Osgar settled in quickly. He put together a six-assist, three-goal evening on 25-of-25 throwing to lead all players with a +9 rating.
After trailing 7-5 through the first quarter, the Flyers pulled the game level with a quick hold followed by a break to open the second quarter. Eric Taylor looked a bit rusty in his return to action the night before, but he looked like the All-Star caliber player we saw before his injury against New York. The former Carleton standout recorded seven assists and a pair of goals to lead the Raleigh offense. A back-and-forth quarter ended with the Flyers punching in a late goal to trail by just one at halftime.
An uneventful third quarter in which both sides traded out to an 18-17 scoreline set the stage for all the chaos that was to come. Raleigh ground out a break about halfway through the quarter to take a 20-19 lead. However, New York punched in the ensuing offensive possession and then broke right back to retake the lead.
With just under a minute remaining, the Flyers' Sol Yanuck lofted a pass just over the head of Matt Gouchoe-Hanas in the end zone. It seemed like that might have been the fatal blow to Raleigh's comeback hopes, particularly after New York called a timeout with 50 seconds remaining to get its offense onto the field. As it turns out, it was merely a preview of the fireworks to come.
John Lithio missed a streaking Jeff Babbitt on a huck that would've iced the game, giving the Flyers a chance to tie again. The unlikely handler trio of Elijah Long, Noah Saul, and David Richardson got Raleigh into the red zone, where Long found Alex Davis for the score with just five seconds remaining. Joseph F. Fossina Field would have to keep the lights on a bit longer as the two teams headed to overtime.
The first four and a half minutes of overtime belonged to Raleigh. The Flyers patiently worked through New York's defense until Yanuck bladed a flick to Jacob Fairfax into the back of the end zone about 30 yards away, giving the Flyers a one-point lead. On the next point, Ryan Weaver tossed a swing to no one. After a few throws, Raleigh called timeout to get its offense on the field. Taylor hit Anders Juengst in the end zone as the Flyers took a two-point lead with just 52 seconds remaining. Ben Jagt threw the disc out of play looking for the end zone and now the Flyers had the disc with just 31 seconds left. There appeared to be no way back now for the Empire.
New York immediately threw a double team on the sideline to force up a desperate hammer from Long. Jagt made enough of a play to break it up and then tossed a quick assist to Osgar. The Empire still needed a miracle trailing by one with only 29 seconds to go. Marques Brownlee dropped the disc at his goal line as New York looked to trap Raleigh right off the pull. This time it was Taylor's crossfield hammer that hit the turf, as Ben Katz elevated to knock it down.
It was at this point that Jack Williams went into takeover mode. He went every other throw to reach midfield. Brownlee hit Jagt with a blading flick, who then launched it to a wide open Williams for the tying goal, as New York pulled off a miracle to reach double overtime, the AUDL's equivalent of universe point.
New York nearly put the game right away. Lithio reeled in a throw just outside the end zone and dished it back to Williams. After a quick timeout call, Elliott Chartock picked up the disc just a few feet away from the end zone. He lofted it to Williams, but Tim McAllister and Williams got tangled up and the disc hit the ground with no call from the officials. The Flyers called a timeout to sub in its offense again.
Pinned in the back of the end zone, Raleigh finally found some breathing room on a throw to Fairfax, but he ripped it into double coverage in search of Henry Fisher. It found Babbitt instead, who knocked the disc straight to Jagt. New York quickly flipped the switch to offense and Williams went to work once again. The offense ran through him once again as the Empire worked it down the field. Williams threw a difficult inside flick to Babbitt for the game-winning score to end another stunning matchup.
New York moved to 6-2 on the season and kept its hopes alive for a home game in the playoffs. Raleigh meanwhile gets little reprieve as it heads home for a showdown with Atlanta that could decide the fate of the Atlantic division.
—
Raleigh got its weekend started in Boston on Friday before their thriller with New York. It might have been quite as exciting, but it was still a nail-biter that required some heroics from Noah Saul to seal a 19-18 win over the Boston Glory.
For the Flyers, the trip got off to a rocky start. Coach Mike Denardis said the team had its fair share of travel issues. Alex Davis and Suraj Madiraju arrived less than an hour before the game started. Henry Fisher's flight was delayed and he ended up missing the game.
Boston was far from full strength as well, with a contingent of players traveling to Minnesota to compete at the US Open. However, they did finally get Tannor Johnson back from injury. The former UMass star played in his first game since Week 1 and it didn't take him long to get going.
The Glory jumped out to a 3-0 lead and eventually stretched it to 6-2. The Flyers seemed a bit flat, which Saul later attributed to looking ahead to the Empire the next day. Raleigh earned one break back, but still trailed 6-4 at the end of the first quarter.
As it turned out, the Flyers were unfazed by their slow start. Two more goals to open the second quarter completely erased the Glory's four goal lead. Terrance Mitchell was seemingly always open, as he led the team with six goals. The two sides traded to a 10-9 halftime score, with Boston holding the narrow lead.
The third quarter offered more of the same. Neither team recorded a break and Boston maintained it's one goal lead. Nick Thompson put on a performance to remember as he punched in five goals. He stepped up as Raleigh did its best to limit Boston's biggest offensive weapons. Tanner Halkyard had just one goal and one assist. Ben Sadok was much more involved with six assists and a goal, but he also finished with four turnovers.
Raleigh didn't wait long to strike. It scored the first three goals of the fourth to take a 17-15 lead. Boston answered quickly with two scores to knot things and the teams traded to 18-18. Saul had crossed over to the offense at this point with Sol Yanuck out and injuries bothering some of Raleigh's other handlers. He was more than ready for the added pressure, tossing a picture-perfect crossfield flick to a wide-open Jacob Fairfax for what proved to be the winning goal. The Flyers earned a turnover and then ran out the clock on the final point.
For Boston, it was an impressive showing, but once again, the Glory failed to close the game. Their playoff hopes are now on life support. They need to win out and they need the Empire to lose out as well. It's not impossible, but it seems very unlikely that happens, even with New York and Boston meeting twice in their final three games.
Dallas Repeats as Texas State Champs
Never has a professional ultimate game in the state of Texas meant so much. The upstart Austin Sol had already upset heavy preseason favorite Dallas Roughnecks twice this season, but it needed another win to make it to the postseason. Dallas has been grinding its way through the season watching key player after key player go down with injuries. Billed as the Texas State Championship, the winner of this game would continue to the playoffs while the loser would sit at home and watch. All eyes were on Austin as the opening pull went up in what was functionally the league's first playoff game of the season.
Austin put the pressure on immediately with a rolling pull that set up a double team trap on the sideline. Mick Walter got a block on a huck over the top, but the Sol turned over the disc after a few throws and Dallas punched in the hold. Matt Armour poached an easy run through block on Austin's first offensive point and Dalton Smith hit him on a huck going the other way to give Dallas an early 2-0 lead.
Austin's offense went for a high variance approach. When it worked out, the Sol punched in a score in less than five throws. When it didn't Dallas's defense had Smith and Kai Marshall connecting to work the disc downfield and score breaks. Coming out with more offensive consistency, the Roughnecks led 4-1 midway through the first quarter. Dallas opened up a 6-2 lead, but Austin scored with five seconds left in the first quarter to bring the game within three.
Keeping the pressure on, Dallas broke with three throws up the break sideline after a Vinay Valsaraj first throw drop. After another Austin turnover – a slight overthrow from Shane Heath – Griffin Miller skied Heath for an emphatic goal and an 8-3 lead, which would be the biggest of the game. Not to be outdone, Austin rattled off four scores in a row, taking advantage of a few Dallas throwaways and a few Mick Walter blocks to bring the game back on serve at 8-7.
Dallas put its D-line on offense and Smith led the small ball offense far enough down the field to hit Ben Lewis on a wide open away shot to stop the Sol run. A Hunter Taylor hammer gave Dallas another break, but receiving possession with just over twenty seconds remaining in the first half, Austin's Jeremy Keusch caught Eric Brodbeck's curling huck to enter halftime down just 10-8.
Each team managed just a single break in the third quarter as offenses settled in and the game's physicality ramped up significantly. Hunter Taylor went 3/3 on hammers with two assists (to add to his first half hammer assist) and Dallas scored last to take a 17-14 lead.
With its season on the line, Austin needed one final push. Each team held against tight, person defense through the first 13 points of the quarter, each under 90 seconds. With Dallas up 23-21 and just over three minutes on the clock, Matt Jackson overthrew Michael Mathis by inches, giving Austin a chance to work the disc the length of the field for a break. The Roughnecks forced Austin back into their own end zone, but Joey Wylie made an trailing-edge bail-out catch over his shoulder on a huck to midfield. Austin seemed to be moving forward with momentum, but a dropped swing pass gave the Roughnecks the disc and they called timeout, hoping to melt away the last two minutes of the game.
Smith picked up the disc and set up a handler dominator set, just looking to use clock. He was called for a few violations for stepping into his mark, as the Austin sideline became rowdy looking for the game-changing turnover. Walter eventually came through, coming up with a block on a floaty swing throw on his attacking goal line and immediately tossing in the score to bring Austin within one. The Sol elected to go with a normal, full-field pull and, with a lot of space to work with, Dallas was able to run off the final twenty seconds off of the clock without too much trouble to clinch the 23-22 win and earn a spot in the playoffs.
Austin will be disappointed not to clinch its spot in the playoffs after leading the season series entering this game, but after preseason prognostications left the team last in the West, the Sol have to be proud of their season and of even having a chance to control their playoff fate. Walter, a team captain, played one of his best games, coming down with an unreal seven blocks and two assists. Elliott Moore, another captain, notched three assists and three goals splitting his time between offense and defense. Brodbeck continued his offensive assault on the West division with three assists, five goals, and a game high 479 yards of total offense; not to look too far ahead, but he should be in the conversation for end of season awards.
Though it lost a sizable lead in this game, this was Dallas's most complete performance of the season. Gabe Hernandez, Matt Jackson, and Chris Mazur formed a formidable backfield. That trio combined for nine assists. Moving downfield, Kaplan Maurer reeled in five goals and Kai Marshall patrolled the deep space for the Roughnecks defense, snagging three blocks. Smith had three assists and a goal on 21/22 throwing piloting the D-line, and the aforementioned Taylor was 6/6 for three assists, all of them coming from hammers. Dallas will, in all likelihood, travel to San Diego for its playoff game in late August.
Breeze Retake Top Spot in Atlantic with 2-0 Road Trip
DC quietly had a huge weekend. The Breeze blew out Philly and Pittsburgh in back-to-back road games and retook the No. 1 seed in the Atlantic division.
The Breeze's defense led the way on Friday night in Philadelphia against the Phoenix. They went 8-for-16 on break chances and gave up just 13 goals in a 20-13 victory. Jeremy Hess, AJ Merriman, and Rhys Bergeron each recorded a pair of blocks to lead the way.
It didn't take long for DC to assert its dominance. A 4-0 run to open the game and a 7-2 first quarter set the tone for the rest of the contest. The Phoenix never pulled within fewer than four goals again.
With the defense doing such much of the heavy lifting, the Breeze could afford to coast on offense. Zack Norrbom led the way with two goals, two assists, and a block on 46-of-46 throwing. J&J Roofing Company turned in an identical performance to the week before: both Joe Merrill and Joe Richards scored four goals again.
—
While the Phoenix posed little resistance, the Breeze faced a tough test against the Thunderbirds on Sunday. It was less about the competition and more about DC's significant roster turnover. Eight different players who played against Philadelphia were not available versus Pittsburgh because they were heading to the US Open.
If you watched the Breeze play, you would never have guessed they were missing players. DC smoked Pittsburgh 25-16 in a snoozer.
Unlike Friday night, it took a little longer for the Breeze to put the game away. The Thunderbirds hung around through the first quarter and trailed 6-5 heading to the second. The second quarter was a different story though and, much like DC's first game of the weekend, the defense went to work.
Ben Green led the way with four blocks.. Merriman was fantastic again, recording two goals and three assists to lead the defense to 14 breaks in the game. They also held the Pittsburgh offense to just a 31% conversion rate on hold opportunities. It turned out to be an attack of the Bergerons, as Colum, Rhys, and Quinn each had two blocks.
Rowan McDonnell took his turn piloting the offense in the Steel City. He tossed five assists and went 32-for-32 throwing. DC cruised the rest of the way and punctuated their win with a 5-1 fourth quarter to complete the blowout.
San Diego Tops LA to Lock Up Playoff Berth
With both teams missing significant chunks of their roster to USAU's SoCal Condors playing at the US Open, this game was a test of depth, with the exception of one key signing: 2017 AUDL MVP Jonathan Nethercutt joined the San Diego Growlers for this week. Stepping into a centerpiece role on the offense, he showed off an array of throws, unlocking the Los Angeles Aviators' zone defense with ease.
Missing its top five defenders, the Aviators had their work cut out for them. After San Diego broke twice in the first quarter to take a 4-1 lead, the Aviators had little room for adjustments. The teams kept pace with each other in a high scoring second quarter. Each offense managed eight holds, and LA thought they had kept the game within one by scoring with eight seconds left. But, Nethercutt launched a flick to the goal line, and the Growlers punched in the hold that felt like a break with just a second remaining in the half to go into the intermission up 12-10.
San Diego turned it on in the second half, holding a nearly four minute point to stave off an LA break and scoring a break of their own against a tired LA offense to take a four goal lead and put the game out of reach. The Aviators never mounted a serious challenge after that as the Growlers incrementally increased their lead, ultimately winning 24-17.
The Aviators went 0/7 on break chances and were just 9/18 converting in the red zone, highlighting avoidable turnovers in the reset space that have plagued the team all season. Sean McDougall was a bright spot on offense, totaling five goals, an assist, and three blocks. Brandon Van Deusen had a breakout game for the LA offense, punching in four assists, though he also threw four turnovers.
The offensive backfield for San Diego of Nethercutt, Tim Okita, and Paul Lally each threw four assists and combined for just four turnovers on 97/101 throwing. Khalif El-Salaam led the team with three blocks and chipped in three assists as well. With offensive mainstays Goose Helton and Travis Dunn out for the game, Nate Pettyjohn dominated a shorthanded LA defense to the tune of seven goals, an assist, and a block. With the win, San Diego clinches its place in the playoffs and just needs to win one of its two remaining games (at LA, vs. San Jose) to host that playoff game.
After the game, Nethercutt said he had not had any concrete talks about it with the team, but would be open to playing with the Growlers again this season. He and Helton are good friends from their time together in Raleigh, and it is possible that we will see them take the field together, perhaps in the playoffs.
Tampa Bay Takes Down Shorthanded Atlanta
With six debutants, just three regular starters, and a ringer flown in from Massachusetts, the previously first place Atlanta Hustle fell to the previously last place Tampa Bay Cannons 21-20.
Each team was nervously feeling out the other to start the game as the Cannons worked their way around the famous Hustle zone. Bobby Ley, Eric Sjostrom, and Billy O'Bryan took risks hitting open handlers on long swings and hammers to stretch out the zone. Tampa Bay managed the clock to score the last goal of the first quarter, which ended tied 4-4, and received to start the second, flipping the score advantage in their favor. The Cannons also notched the game's first break to extend the lead to 10-8 and went into halftime up 10-9.
Atlanta held and broke to start the third quarter, burning an early timeout in the process in a game with few swings of momentum. With the lead, Atlanta comfortably held its offensive points, until Tampa Bay punched in a break of its own with just over one minute left in the third quarter spurred by a tough, pressured huck catch by Sean Plunkett.
Early in the fourth quarter, Plunkett blocked an Atlanta throw and Dustin Travaglini ran the D-line offense to convert another break and take the largest lead of the game at 18-16. The teams held out the rest of the way, with Atlanta only able to pressure the Cannons' offense enough to force a single additional turnover on their way to the loss.
Eli Jaime took over Atlanta's downfield sets, scoring eight goals and contributing two assists, meaning he was involved in half of Atlanta's scores. Dylan Tunnel had four assists and two goals, but could not come up with the late game magic he showed against Boston in his last game.
For Tampa Bay, Ley was 66/68 throwing for 628 total yards and five assists. In the backfield with him, Sjostrom scored four assists and two goals. Tannon Hedges had his breakout game with four goals and three assists as a constantly open presence downfield. In a game with few turnovers, Ryan Chard managed to force three blocks.
With the loss Atlanta drops to the number two seed in the Atlantic division ahead of their highly anticipated game at Raleigh in Week 11. Tampa Bay closes out their season with a home game against DC.
Union Come Back to Hold Off Mechanix
There might have been some extra hype in the air for the Detroit Mechanix' Saturday road game at Chicago. While the two teams sat on opposite ends of the Central division table, neither team's playoff hopes would be affected by the outcome, and the Chicago Union were playing without many core players, while Detroit was endeavoring to break the streak. Many wondered "Could this be Detroit's big chance?" Those hopes were dashed with a big third quarter as the Union continued the streak with a 20-16 win.
With no Pawel Janas, Keegan North, Paul Arters, Pat Shriwise, Nico Lake, or Eli Artemakis, Chicago was basically running an entirely new offensive unit out. Nate Goff, Drew Swanson, Peter Graffy, Jason Vallee, Jeff Robinson, Von Alanguilan, and Tim Schoch were also gone from the D-line.1 That meant Kevin Herrera and Kurt Gibson were given the offensive load, along with stalwart Ross Barker. Sam Kaminsky was handed the keys to the D-line offense, in what turned out to be a vital performance.
Those changes may have contributed to Chicago's sluggish start. Their offense moved a bit more slowly than usual, and despite getting break chances in the first quarter, the home team couldn't break through. After driving effectively on offensive points, the O-line struggled when coming on in an effort to land a break. All of that meant a 3-3 tie at the end of the first in a breakless beginning.
Detroit struck first with a pair of breaks in the second quarter. The Mechanix went up 7-5 with a slick pair of around breaks from Joe Cubbitt, who delivered a step-out lefty backhand, got the disc right back, and dropped a low-release righty forehand for the score.
The next break came after a missed Gibson huck, with the clock winding down. Detroit worked out of their own end zone and Jake Kenniv launched a forehand to a leaping Andrew Sjogren with only a few seconds remaining. They closed the first half up 9-6, putting a broken streak within reach.
The Union came out in the third quarter with aggressive sideline double teams that generated painful Detroit turnovers. The Mechanix watched as their lead evaporated in the face of swarming blue jerseys and subsequent fast breaks. By the end of the quarter, Chicago established a 13-11 lead that only expanded in the fourth.
Detroit's quest to get into the win column continues next week at home against the Wind Chill, and they'll have only one more shot after that. The Union half a bye week before pulling into Detroit for the closing game of the regular season.
Canada Cup: Montreal Goes Undefeated in Doubleheader Weekend
The Montreal Royal looked strong this weekend dispatching both the Toronto Rush and Ottawa Outlaws.
Montreal welcomed Toronto in for their first matchup of the season. Both teams were coming off a loss to the Outlaws and were looking to get their first win of the Canada Cup season. Key contributors were missing from both squads as All-Star Quentin Bonneaud was not in the lineup for Montreal while Toronto was missing veterans like Thomson McKnight, Geoff Powell, and Iain MacKenzie.
Both teams came out with efficient offense. A turnover didn't occur until 4-3 in the first quarter, when Montreal capitalized off of a JJ Edwards drop to get their first break of the contest. Risky 50-50 throws emerged as a theme in the first quarter that continued throughout this game. Montreal was able to get the better of this exchange leading Toronto 7-5 at the end of the first.
Montreal started the second quarter much like the first, generating a break on its first possession. Toronto was hunting for blocks early on as they tried to get some of the momentum back. The Rush showed their scrappiness by grinding out a key defensive point to reduce the lead to 10-9 off a Jacky Hau block and Jason Lam assist. Jacky Hau helped Toronto generate another break with his second block of the matchup. At half the teams were deadlocked at 11-11.
The skies opened up and heavy rain fell down upon the teams as the second half began. Toronto came out in a zone look hoping to capitalize on the adverse weather conditions. Two turnovers from each team caused Montreal to call a timeout which allowed them to secure a hold to tie it up at 12-12. Montreal generated some much needed momentum after two straight breaks. Sacha Poitte-Sokolsky got his fifth goal of the contest and the Royal used some miscues from the Rush to go ahead.
Starting the fourth quarter down 14-12, Toronto got a key hold to stop the Montreal run. As teams started to trade, Toronto had a golden opportunity to generate a break and tie the game with Montreal up 16-15. but they had some mistakes on offense. Cam Harris threw a disc to Nate Hirst that was scooped up by two Montreal defenders and Jacky Hau was point blocked by Andre Arsenault who then skied Hau before throwing the assist and the 17-15 lead.
Montreal went on to win 18-15 and get their first win of the season. Toronto was plagued with some bad turnovers in this game while Montreal was able to come down with most of the jump balls that went up. This game wasn't pretty ultimate by any means, with weather and contested throws being a big part of this matchup, but the Royal grinded out those points and displayed resilience in the process.
With the loss, Toronto drops to 0-2 which no one saw coming. In the loss, Toronto was led by Andrew Carroll who had two assists and three goals. 2019 AUDL All-Rookie Second Team member Sacha Poitte-Sokolsky led all scorers with six goals. Montreal was efficient in the red zone scoring at a 92% clip and led the way with 13 team blocks.
—
The Ottawa Outlaws were riding high into their home matchup with the Montreal Royal. In their first matchup, Ottawa dominated 26-19, not letting Montreal get a single break in that contest. This Week 10 matchup was a completely different story as Montreal's offense was humming and in contrast, Ottawa's defense failed to generate much pressure. Ottawa was missing a few key players from their first victory against Montreal, with Paul Renaud and Nick Boucher both out of the lineup.2 Montreal was coming off a big victory against Toronto the previous night and were hoping to keep pace with Ottawa in the standings.
The first point was indicative of the struggles Ottawa's offensive line would face all game long with many of their throws popping up over receiver's heads. They struggled to score in the first quarter with their first offensive point coming with 3:15 left in the frame. Montreal's offensive line was able to slice through the Ottawa defense in the first quarter without throwing a turnover, building a 5-3 lead.
Jakob Brissette crossed over to the defensive line and got his third assist of the contest, leading to a Montreal break and a commanding 8-4 lead. Ottawa was able to finally get a no turnover hold to make it 10-6 when David Colic threw a scoober to Alec Aresenault. That is how the quarter ended as Montreal was not able to get a final score as the half came to a close.
Coming out of half, Ottawa continued to struggle with turnovers. O-line handler Greg Ellis threw his third turnover of the game and Montreal broke early to make it 11-6. Ottawa's Kyle Cantal caused a key stall on Vincent Lemieux and Ottawa punched in a short field turnover to get their first break of the game, shortening the lead to 11-8. Montreal was unfazed from Ottawa's breaks throughout this game and their offensive line was never broken twice in a row. The Outlaws kept trying to crawl back with breaks in the third quarter, but the Royal would not let them back in the game, ending the quarter at 16-13.
A Geoff Bevan drop in the middle of the field was devastating for Ottawa as Montreal extended the lead to 17-13. Montreal was able to continue humming on offense and rode the offensive prowess of Sacha Poitte-Sokolsky for a second straight game. Finishing with eight points, Poitte-Sokolsky showed a knack for the end zone and has earned the spotlight with Quentin Bonnaud currently out for the Royal. The Royal went on to win 22-18 and put a bow on a great doubleheader weekend.
The Royal had 15 blocks in this contest and pressured a lot of the Ottawa throws throughout the game. Much like the game against Toronto, Montreal were able to take care of things in the air and snatch up any popped up throws. A bright spot for Ottawa was rookie Dan Benvenuti playing on the offensive line and giving them a strong deep look. The reliable Greg Ellis struggled in the absence of Nick Boucher with five throwaways and one drop. Montreal's Jakob Brissette showed the potential he has as a rising star for the squad as he had nine assists and one goal with 582 throwing yards on the day.
—
With Montreal's victory, the standings sit at Montreal and Ottawa at 2-1 while Toronto is 0-2. This upcoming week, Ottawa is visiting Montreal for a rare Thursday night matchup. Toronto has a chance to get their season back on track with Montreal visiting on Saturday night and Ottawa coming in on Sunday afternoon.
San Jose Battles Out of West Basement
Each team might have been out of playoff contention, but the San Jose Spiders and Seattle Cascades played an exciting game of ultimate at Seattle's Memorial Stadium. Missing Mark Burton, Adam Simon, Ben Snell, Garrett Martin, and Tony Venneri for club conflicts, Seattle shuffled its lines around. With nearly its full roster, San Jose was able to showcase its depth of talent and prevailed 23-15.
After a pair of holds to start against occasionally poachy defenses, San Jose began to pull away. Manny Eckert dropped a reset pass he seemingly was not expecting and San Jose punched in the first break of the game on an around shot to Max Williams. Jacob Miller rose up and blocked a huck to Jack Brown after the Seattle handlers swung the disc to evade the force middle defense. Miller found himself wide open on the break side going the other way and he caught a huck from Jake Thorne before dishing the assist to Evan Magsig. The Spiders took an early 4-2 lead and never looked back. They punched in a break with just eight seconds left in the first quarter.
They received to start the second, using the quarter like an extra break to spur a 7-1 run and put the game out of reach early with an 8-3 lead. Seattle did manage to close the gap with two breaks at the end of the first half. The Spiders were swinging the disc around midfield with a few seconds left in the half when Marc Munoz came flying between two Spiders for a layout block. He immediately picked up the disc and threw a forty yard flick to Aidan Lopez-Escarez through a lot of contact as the buzzer sounded. San Jose went into halftime up 11-9.
A Cascades miscue in the reset space gave the Spiders a break out of halftime, not letting the Seattle momentum carry over past the long break. The teams traded holds for most of the quarter, with the defensive pressure letting up just a bit, and Miller skied for the buzzer-beating goal to secure a break and a 17-13 lead for the Spiders entering the fourth quarter.
An opening hold from Seattle was fool's gold, as San Jose ran off four straight points to put away the game for good in the fourth. The Spiders won 23-15 and looked much more comfortable getting into their flow on offense than Seattle. Keenan Laurence led the way with five goals and Justin Norden had four assists. Chris Lung had three blocks for a swarming Spiders defense. These two teams meet again next week to close out Seattle's season. San Jose travels to SoCal in Week 12 too to end theirs.
AUDL Inclusion Initiative Releases Summer Newsletter
The Aii releases quarterly updates, and the summer edition just came out. In it you can find information about the RISE & Lead discussion program and which players stepped up to lead sessions for their peers. The league also announced information about an introductory clinic to be held at Championship Weekend that will include a facilitated conversation about diversity and inclusion. If that didn't entice you to read, click the link above for a great interview with Philadelphia's James Pollard and check out what the Aii did during the league's lost 2020 season.
Power Rankings
Survivor Pool Update
A rather uneventful week saw all seven remaining contestants move on to Week 10. There was some variety to the picks though, with four teams represented across the seven entries submitted. With many teams set to field incomplete or weakened rosters this week due to the US Open, it could be a tough task to reach Week 11.
Stall Seven/Deep Look Picks Contest
Stall Seven picked all three winners correctly, but New York and Dallas could not hold on to multi-goal advantages late in their games to cover the point spread. Deep Look managed to pick all three games against the spread correctly to move over .500 for the first time since Week 4. Stall Seven needs to pick up ground quickly; down by three picks with just six games remaining to be picked in the regular season, time is running out for a comeback.
Stall Seven: 1/3 on the week, 13/30 for the season
Deep Look: 3/3 on the week, 16/30 for the season
This week's lines:
Atlanta at Raleigh (PK)
Los Angeles at San Diego (-5)
Minnesota (-3.5) at Indianapolis
---
Lake, Vallee, and Alanguilan were not on the active or reserve roster, for some reason. Not sure how this omission helps anyone. ↩

Boucher was on the active roster but was a late scratch due to an injury. ↩