A look at each of the nine PUL Championship Series rosters.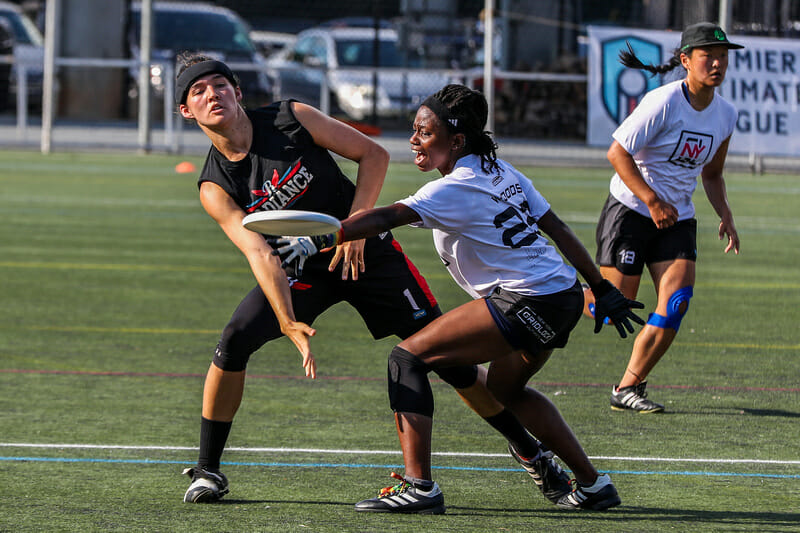 We have had to wait a long time for a sequel to the pilot season of the Premier Ultimate League. But the time has finally arrived: the 2021 Championship Series begins this weekend. While it isn't the full season fans might have wanted, we'll still get to see multiple matchups from most of the league's franchises, including the debut performances of three of the four 2020 expansion teams.
The rosters of the nine teams competing in the three events of the Championship Series are out, giving us a chance to look at what acquisitions they've made, contributors they lost, and just who will might be starring on the big stage.
Additions and Departures are compared to their 2020 announced rosters.
EAST

DC Shadow
Shadow is one of several PUL teams who were set to begin their experience in the league when the pandemic shut down the 2020 season. The build up for this team, along with the others in the same position, is palpable at this point. Interestingly, DC lost almost half their original roster between 2020 and 2021, so the squad feels brand new all over again.
Of course, some of the original Shadow members would have been fun to watch on the field, but the names added to the roster for 2021 along with the remaining veterans who have been there from the start, create an impressive roster to say the least. Jenny Fey and Carolyn Normile – who will undoubtedly be important pieces to the team – have now been joined by Erica Baken, Sandy Jorgensen, Sarah Meckstroth, and Claire Trop. It's hard to pinpoint who on this star-studded roster is most impressive, but it's certain that any team matching up against DC Shadow is going to have a lot of work ahead of them.
Roster
Becca Arbacher
Carolyn Clendenin
Erica Baken
Maddy Boyle
Ashleigh Buch
Lisa Dang
Jenny Fey
Theresa Hackett
Sandy Jorgensen
Michelle Landis
Adi Malave
Sarah Meckstroth
Carolyn Normile
Maria "CC" Pascale
Kelly Ross
Claire Smullen
Brittany Taylor
Nada Tramonte
Kate Trenerry
Claire Trop
Allie Wallace
Verena Woloson
Additions
Erica Baken
Maddy Boyle
Carolyn Clendenin
Sandy Jorgensen
Sarah Meckstroth
Kelly Ross
Claire Smullen
Claire Trop
Departures
Marlee Akerson
Lauren Allen
Hannah Boone
Katy Butters Craley
Jillian Bowzer Du
Kristin Franke
Emily Grimes
Eiza Pugh
Ashley Sylvester
Meg Tucker
Christine Valvo
Nicole Wilkinson
Amy Wickner
Gridlock has added some undeniable star power to their 2021 lineup. Boston Brute buddies, Kami Groom and Angela Zhu — both of whom were on the 2019 All-Club First Team — will be a formidable pair for anyone facing the New York contingent. As if that wasn't enough, they've also enlisted 2020 Donovan winner Abby Cheng and AMP living legend Raha Mozaffari to challenge opponents even more.
Losing Cassie Wong, who led the team in goals in 2019, is not ideal, but with the new additions to team and remaining veterans, including Tulsa Douglas, Kelly Hyland, Becca Tucker, Andrea DeSabato, and Stazi Tangherlini, New York is set to be an intimidating opponent in the East Championship Series. They handily topped Portland Rising in a preseason exhibition match and have added high-powered talent to what was already one of the league's top performing units. They showed a penchant for close games in 2019, but they often won them on their way to a 4-1 record and a spot in Championship Weekend. Those remaining vets might have eyes for a win over the Radiance in particular, who knocked New York out in the 2019 semifinals.
Roster
Natalie Bova
Karen Chalif
Abby Cheng
Margaret Cody
Amelia Cuarenta
Genny De Jesus
Andrea DeSabato
Tulsa Douglas
Kyla Dryer
Wei Gao
Casey Gorman
Martha Gregory
Kami Groom
Nicole Hair
Janine Hlavaty
Kelly Hyland
Brittany Kaplan
Veronica Kolegue-Spalaris
Lindsay McKenna
Linda Morse
Raha Mozaffari
Luisa Neves
Lauren Piontek
Tricia Smit
Abbey Stolowski
Nastasia Tangherlini
Becca Tucker
Caroline Turner
Amy Zhou
Angela Zhu
Additions
Amelia Cuarenta
Abby Cheng
Kami Groom
Nastasia Tangherlini
Angela Zhu
Departures
Sarah Johnson
Jessica Shatkin
Danielle Walsh
Cassie Wong
Lauren Woods
The Radiance were the runner-up for the 2019 season and, two years out from that run, the team is looking quite different. Losing Lisa Pitcaithley, Becky Widmayer, Jenny Wei, and Rebecca Fagan from the 2019 roster certainly hurts, and then on top of that, Anne Worth recently tore her ACL and underwent reconstructive surgery so she'll be out for the 2021 Championship weekend. The injury bug struck more of their roster, taking out 2019 assist leader Jessi Jones, as well as gritty teammates Lyra Olson and Mary Rippe. That's a lot of athleticism and skill to take off of their roster.
But since 2019 there have also been some exciting additions to the North Carolina team. Last year, Tyler Smith – a 2020 All-American Second Team selection – joined Radiance and will undoubtedly be a key piece to their backfield, where they will also add Audrey Lyman. 2021 addition Zoe Hecht, who put up seven goals in four games for the Columbus Pride in 2019, will join Claire Revere downfield.  Meanwhile, Radiance's top goal-scorer, Lindsay Soo, is poised for a big 2021 and former Carleton star Karen Ehrhardt and current UNC star Ella Juengst are both prime candidates to move into big roles with all of the team's absences.
Roster
Katie Backus
Alex Barnett
Christine Bookhout
Dawn Culton
Sara Dieter
Michaela Dube
Karen Ehrhardt
Caitlin Gross
Sydney Harris
Zoe Hecht
Jessi Jones
Ella Juengst
Audrey Lyman
Bridget Mizener
Amanda Murphy
Lyra Olson
Ashley Powell
Claire Revere
Jinny Riedel
Mary Rippe
Tyler Smith
Lindsay Soo
Lyla Stanland
Georgia Tse
Anne Worth
Heather Zimmerman
Additions
Sara Dieter (Returning)
Michaela Dube
Karen Ehrhardt
Caitlin Gross
Sydney Harris
Zoe Hecht
Audrey Lyman
Bridget Mizener
Departures
Savannah Erwin
Emma Peaslee
Kristen Reed
Carmen Tormey
Jenny Wei
Simone Whale
INTERNATIONAL
Austin Torch remains largely the same as it's 2020 roster that never saw the field with over 20 returning players. Stat sheet dominator Julia Schmaltz – who racked up the most goals (17), most blocks (12), and second most assists (12) for Austin in 2019 – is donning the Torch uniform again and will no doubt be impactful during their Championship Series weekend in Portland.  Alongside her will be veteran Elise Bjork, who represented over almost 13% of Torch's touches in 2019, and Sharon Tsao, who scored or assisted on nearly 25% of her touches that season.
Losing Cara Crouch from their 2019 roster will leave a hole and it's a shame we won't get to see Jamie Eriksson suit up – she's been dominant during the start of the club season – as she was only on the roster for 2020. Ronnie Eder's debut after being added last offseason should quell some of the concern those departures might generate. Torch finished with a 3-2 record in 2019, just barely missing the playoffs, but they didn't get a crack at Medellin and obviously Portland will be an unfamiliar opponent. Austin should be just as tough an out this time around.
Roster
Carly Atwell
Emma Berrigan
Elise Bjork
Amy Broome
Gaby Cuina
Ronnie Eder
Andrea Esparza
Jaime Estes
Bex Forth
Katey Forth
Laura Gerencser
Nikki Gilbert
Ivy Harrison
Meg Henderson
Marissa Land
Megan Mendieta
Caroline O'Connell
Annie Ortiz
Sydney Overman
Val Pinillos
Abby Thorpe
Sharon Tsao
Lilly White
Julia Schmaltz
Rachel Yeager
Brianna Stedman
Reserves
Meg Duffy
Mindy Radike
Meghan Rutledge
Additions
Carly Atwell
Emma Berrigan
Gaby Cuina
Nikki Gilbert
Brianna Stedman
Departures
Maddy Easton
Jamie Eriksson
Sara Levinn
Lauren McKenna
Tiffany Schumacher
The long-awaited Revo Pro roster has proved a surprising one, swapping some huge names for some unexpected ones. But you can't say they aren't consistent: they bring in top recruits from outside of Colombia to help bolster their sometimes thin ranks. While that was the likes of Claire Chastain and Jesse Shofner in 2019, they are gone this time. In their place are Lili Gu and Eurostar Levke Walczak, one of the remaining 2020 additions who should make an instant impact with her sticky hands.
But perhaps the most shocking omission was from within their ranks: Manuela Cardenas. The Cardenas twins have been the faces of the program since their youth, but RevoPro will arrive in Maine with just flamethrowing Valeria. Fortunately, they get to add Laura Ospina back to the lineup, along with 2020 addition Karen Rico. It's not an apples for apples exchange, but Revo Pro's coffers are far from empty. With a short schedule, this is a team that has a clear identity and style of play, which they fit pieces into. They know how to rely on a core group to drive playmaking, and Yina Cartagena, Elizabeth Mosquera, Alejandra Torres, and Ximena Montana are plenty capable of keeping the Colombian's loss column empty.
Roster
Carolina Angel
Emily Berman
Andrea Bustamante
Lissandra Maria Cabrera
Valeria Cardenas
Yina Paola Cartagena
Maria Forero
Laura Michelle Catano
Mafe Galindo
Valentina Gomez
Lili Gu
Laura Rosalia Guerrero
Gabriela Jimenez
Anali Maya
Elizabeth Mosquera
Ximena Andrea Montana
Laura Ospina
Lina Pereira
Karen Rico
Ana Maria Rojas
Luisa Fernanda Sanchez
Alejandra Maria Torres
Alejandra Uribe
Maria Camila Yepes
Akina Young
Levke Walczak
Additions
Lissandra Maria Cabrera
Laura Michelle Catano
Mafe Galindo
Lili Gu
Laura Rosalia Guerrero
Lina Pereira
Maria Camila Yepes
Departures
Manuela Cardenas
Claire Chastain
Inbal Haviva
Mish Phillips
Lisa Pitcaithley
Maria Paola Santos
Jesse Shofner
Portland Rising
Portland also fell victim to missing their inaugural season due to the pandemic. However. unlike most teams, the time off between 2020 and 2021 did not result in a huge roster turnover. All of the most exciting names are still poised to suit up with Rising: Hannah Baranes, Nicole Canning, Caitlin Fitzgerald, and Lisi Lohre. In fact, only two of the original Portland players will not be on the field this year and they have picked up six to round out the roster.
Of those six, the two most exciting additions have to be Sophie Knowles and Emily Pozzy. Knowles was a standout player prior to her knee injury mid-way through the 2019 Club season, and has been one of the most effective, well-rounded cutters in the game that will bring a lot to Portland downfield. And at just 18 years old, Emily Pozzy just became old enough to participate in the PUL, but don't be mistaken — Pozzy has been playing ultimate for nine years and is used to tearing up older opponents, even being crowned as making the 2019 Block of the Year by the voting public.
Roster
Emily Baecher
Lauren Baecher
Mohdis Baker
Hannah Baranes
Duschia Bodet
Nicole Canning
Evie Clement
Katherine Cole
Kelsey Devlin
Caitlin Fitzgerald
Josie Gillett
Olivia Hampton
Hannah Henkin
Sarah Judd
Kelley Kirwin
Sophie Knowles
Racher Kramer
Lisi Lohre
Lisa Liu
Caitlin O'Connell
Alex Ode
Emma Palacio
Adelle Pitsas
Kate Powers
Emily Pozzy
Alex Rowell
Erin Rea
Chloe Rowse
Rachael Westgate
Megan Wilson
Yuge Xiao
Additions
Emily Baecher
Duschia Bodet
Kelsey Devlin
Sophie Knowles
Emily Pozzy
Alex Rowell
Departures
Reba Havis
Emily Scheemaker
MIDWEST
Columbus Pride 2021 is similar to their 2020 cohort, but vastly different from the team we last saw on the field two years ago. Most notably, Sophie Knowles was the strongest presence on their side of the field in 2019, leading the team in points played, assists (23), and blocks (10). In 2020, the crew added Paige Soper to their roster, who would have been an excellent addition to their handler rotation, but she is no longer on the 2021 roster.
Sadie Jezierski will need to step up for Columbus and continue to be an assist machine (she had 19 in 3 games in 2019), along with help from 2019 goal-leader Emily Barrett and veteran handler Libby Lehman. Adding Kayla Emrick, a former Atlanta Soul D-line handler who rarely concedes possession, should add some backfield stability. If their explosive downfield players, like Iris Javersak, Cara Sieber, and Charlotte Koerner, have it going, they will be a scary team capable of game-turning runs.
Roster
Emily Barrett
Kaitlyn Dermen
Riley Dickson
Caitlin Duffner
Eileen Duffner
Kayla Emrick
Iris Javersak
Sadie Jezierski
Charlotte Koerner
Libby Lehman
Tiffany Lim
Erin McCann
Lilly Mendoza
Corinn Pruitt
Emmy Schroder
Cara Sieber
Domenica Sutherland
Mary Turner
Janine Walker
Lucia Wei
Penny Wu
Sharen Yee
Chelsea Zhu
Additions
Kaitlyn Dermen
Riley Dickson
Kayla Emrick
Erin McCann
Departures
Kristen Behrens
Lauren Boyle
Kristen Cherosky
Stevie Miller
Molly Moore
Sara Scott
Paige Soper
Of all of the founding teams planning to enter the 2020 season, the Red were undergoing the greatest transition. While they had brought back a few core returners from the inaugural PUL season, much of their premier Premier team was gone, including star Austin Prucha and team leaders Jackie Lai and Nichole Kwee. So while, on paper, they look pretty steady going from 2020 to 2021, the underlying shakeup means this will be a very new squad by the time they take the field.
Fortunately, the folks who have turned over in that time have left were not in huge roles in 2019, though Catherine Soto, one of the community's top young prospects, might have had a developmental trajectory the team will miss. Kate McInerney, Sydney Olund, and Kristin Dudley will be counted on to steer the offense, but they'll be in search of playmakers. Perhaps Bri Harrison and new addition Shani Rosenthal can bring that to the offense, while Claire Schwaba can be a turnover-generator for the defense. Discovering who their building blocks are will be a key part of building a program.
Roster
Brittney Ballard
Kristin Baxter
Emily Beasley
Julianne Crockett
Kristin Dudley
Ashley Farnkopf
Courteney Fentz
Anastasia Foster
Bri Harrison
Sarah Haynie
Rachel Heneveld
Mya Hernandez
Julia Hill
Eliza Hutchings
Kelly Kerker
Anna McClurkan
Kate McInerney
Marge Nelson
Sydney Olund
Julia Puntarelli
Shani Rosenthal
Emily Schloneger
Claire Schwaba
Tori Smith
Kelsie Sparks
Lizzie Stierwalt
Sarah Warren
Sammi Wong
Jen Wu
Emily Wyckoff
Additions
Sarah Haynie
Rachel Heneveld
Marge Nelson
Shani Rosenthal
Kelsie Sparks
Sarah Warren
Jen Wu
Departures
Phebe Kemmer
Catherine Soto
Allison Weedman
Milwaukee Monarchs
Like Portland, Milwaukee kept most of the pieces in place from their initial roster announcement. Almost every player we highlighted as a key signing in 2021 is on board highlighted by the inimitable Georgia Bosscher and ace defender Austin Prucha. Tying things together is the likes of Keila Strick, one of the hardest working glue players in the US. Sarah Davis is the only of those players who won't be with the 2021 team.
The rest of their core is filled out mostly by Chicagoans who compete with Nemesis. If deployed together, they might provide some of the instant chemistry that a new team might otherwise struggle to match against more seasoned teams. Jenni Corcoran, Emilie Willingham, and JJ Jarik1 have spent plenty of time together on O-lines. How Bosscher, Prucha, and other players from outside of that cohort integrate will be one of the deciding factors for their performance.
Roster
Georgia Bosscher
Ness Cannaday
Mackenzie Carpenter
Jenni Corcoran
Mila Flowerman
Hannah Frank
Melissa Gibbs
Sara Gnolek
Rose Glinka
Alex Hu
JJ Jarik
Sarah Lipscomb
Emily Molloy
Madison Moore
Austin Prucha
Kaitlynne Roling
Katy Stanton
Keila Strick
Sara Stuedemann
Gerene Taylor
Anna Thorn
Risa Umeno
Margaret Walker
Erika Watson
Jackie Welsch
Anna Williams
Lauren Williams
Emilie Willingham
Additions
Emily Molloy
Sara Stuedemann
Gerene Taylor
Erika Watson
Jackie Welsch
Lauren Williams
Departures
Sarah Davis
Rachel Enyeart
Rachel Foster
Linh Hoang
Heather Vilbrandt
---
Whose nickname name is a real "ATM Machine" situation. ↩