A 2019 semifinal rematch and a talented newcomer bring excitement to New Jersey this weekend.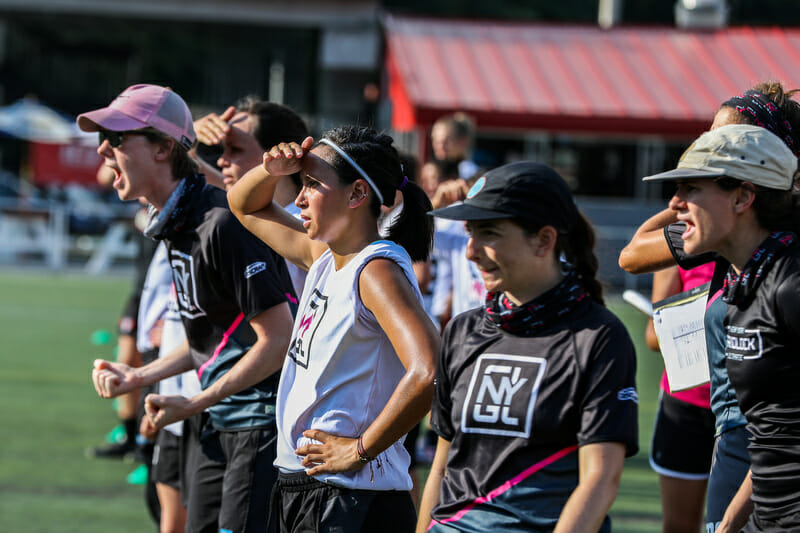 At long last, the PUL is back! It might not be a full regular season, but we will have live, meaningful women's semi-pro ultimate games for the first time in nearly two years. With three Championship Series tournaments scheduled across the country for the league over the next few weekends, we are due for an exciting showcase of high-level ultimate.
Bayonne, New Jersey will play host to potentially the most competitive tournament of the three PUL events. The East features two 2019 semifinalists and a loaded-up newcomer ready to make some noise.
Tournament Profile
Date: August 14-15, 2021
Location: Bayonne, New Jersey
Weather: Highs in the high 80s, 50 percent chance of rain on Saturday, not much wind forecasted
How to Watch & Filming Schedule
All of the Series games will be streamed on the Premier Ultimate League's YouTube channel, which we will also have on our Live page. All times listed are Eastern.
Saturday
11:00 AM: New York Gridlock v. DC Shadow
2:00 PM: DC Shadow v. Raleigh Radiance
5:00 PM: Raleigh Radiance v. New York Gridlock
Sunday
10:00 AM: East Championship Final
New York Gridlock
After losing to Raleigh in the 2019 semifinals by just a point, New York will have revenge on its mind. Gridlock did lose a few key contributors from their 2019 semifinal run, with Cassie Wong, who was tied for the team lead in goals, headlining the losses. But New York has more than made up for it. Kami Groom, Angela Zhu, Abby Cheng, and Raha Mozaffari bring tons of playmaking and defensive prowess to a team with an already strong core.
Groom is a former club Player of the Year and a fixture on the All-Club First Team — her addition alone makes a huge impact on Gridlock's top-end potential. Cheng won the Donovan Award in 2020 while Zhu won the Callahan in 2017. Mozaffari hasn't been in college for some time, but she is one of the best mixed club players we have ever seen during her run with Philadelphia AMP.
While the new players are exciting, New York still has plenty to work with from its returners. Nastasia Tangherlini and Andrea DeSabato are back to pilot the offense. They each dominated the disc when New York was in possession in 2019, but could have to cede a few touches to some newcomers. Tulsa Douglas is one of the best defenders in the league and gets to partner with two of her club teammates in Groom and Zhu. Douglas and Zhu in particular will form a formidable duo on offense after the Gridlock force a turnover.
We haven't even gotten to proven playmakers like Amy Zhou and Linda Morse. This team has the star power and depth to take down all challengers coming their way.
Raleigh Radiance
Perhaps the Radiance should be the favorites from this trio to win the East championship. They did beat the Gridlock head-to-head twice in 2019, including at Championship Weekend. Raleigh adds rising stars Zoe Hecht and Bridget Mizener to a talented core of players. Hecht was one of the best D-III college players in the past few years and Mizener ranked fifth among college players to build a team around in 2020 after a dominant college season.
Unfortunately, Raleigh has lost a lot of talent between departures and injuries. Jenny Wei will not be back after finishing tied for the second-most goals and third-most assists on the team in their inaugural season. She also led the team in blocks. In addition to that, reigning Callahan winner Anne Worth tore her ACL and will miss the 2021 series after undergoing reconstructive surgery. 2019 assist-leader Jessie Jones is also out injured. Those three combined for about 47 points played and 66 touches per game. On top of that, Lisa Picathley and Rebecca Fagan exit following big 2019 campaigns. Mary Rippe and Lyra Olson will also be out with injuries this weekend.
Despite the heavy attrition, Raleigh does still bring back a ton of proven performers. Ashley Powell and Christine Boukhout are more than capable of carrying the offense. Claire Revere is bound to dominate downfield again. Lindsay Soo and Georgia Tse are dynamic playmakers capable of taking over a game. Tyler Smith, Audrey Lyman, Karen Ehrhardt, and Ella Juengst are young stars on the verge of taking the next steps in their careers.
Bottom line, there is still plenty to like about what Raleigh has on its roster this year, but it might not be enough to keep up with New York's big-name additions.
DC Shadow
Not to be overlooked, the new kids on the block should prove capable of making some noise and knocking off the two returning teams they will face. DC brings a wealth of talent to this tournament, headlined by some of the most dominant athletes of this generation of ultimate players.
Where do you even start when looking at this roster? Probably with Carolyn Normile. The 2018 Women's D-I College Player of the Year is in the prime of her career and has tons of big-game experience from her time with Philadelphia AMP. She will have plenty of help two with Jenny Fey and Sandy Jorgensen poised to play big roles. Those two have dominated the women's and mixed divisions of ultimate for the better part of a decade.
There are also some very significant newcomers to the nation's capital. Claire Trop is a bonafide game-changer despite still being eligible to play in college. Sarah Meckstroth is the 2018 mixed club Player of the Year and her club teammate Erica Baken is no slouch either, finishing second for the same award the following season. There are playmakers across the roster with Ashleigh Buch, Maddy Boyle, and Kelly Ross signing on as well.
Maybe there will be some growing pains for this team as they have never competed in the PUL before. It takes some getting used to playing in timed games as opposed to USA Ultimate's point caps. Still, this is an absurd collection of talent and I might just favor them to win the tournament. I think New York deserves the nod at this point, but the Shadow are undoubtedly a contender.