Will Medellín dominate again in the PUL's second year?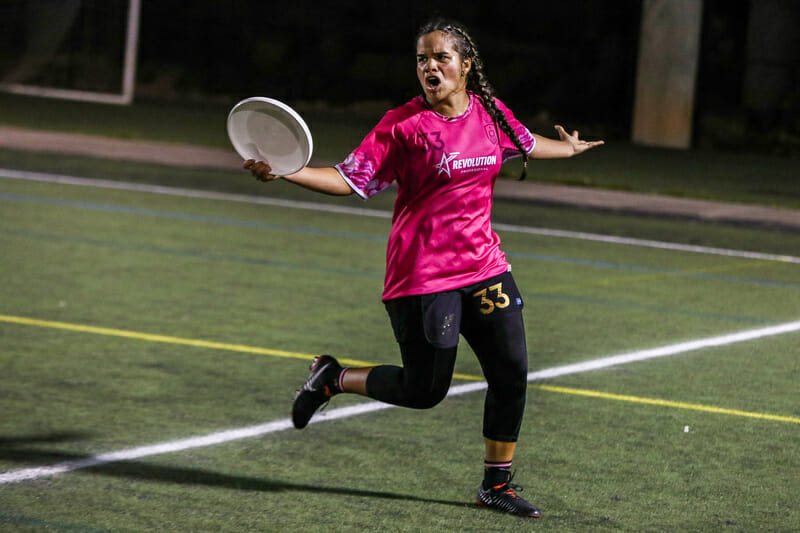 The long-awaited 2021 Premier Ultimate League season kicks off Friday night with the reigning champions Medellín Revo Pro1 looking to extend their undefeated streak during two days of round-robin play. Standing in their way are Austin Torch and league newcomers (and tournament hosts) Portland Rising.
The top two teams from the round robin will meet for a rematch in the championship game on Sunday afternoon.
Tournament Profile
Date: August 13-15, 2021
Location: Portland, ME
Weather: Highs in the low 80s, humid, moderate wind on Saturday, little chance of rain
How to Watch & Filming Schedule
All of the Series games will be streamed on the Premier Ultimate League's YouTube channel, which we will also have on our Live page. All times listed are Eastern.
Friday
7:00 PM: Portland Rising vs. Revolution Pro
Saturday
3:30 PM: Portland Rising vs. Austin Torch
6:30 PM: Austin Torch vs. Revolution Pro
Sunday
3:00 PM: Series Final
Medellín Revo Pro
Revo Pro are the favorites this weekend and for good reason. Despite traveling from another continent for almost every game in the inaugural PUL season, they did not take a single loss en route to their championship. It was a performance for the ages from a unit who have made a habit of winning big games on the international stage.
More winning may well be on tap even though Revo have a bit of a new look from the last time we saw them. While they return a high-chemistry offense led by Yina Cartagena, they lose her favorite target in Manuela Cardenas, inactive for the team this weekend. Still, Cartagena has piloted various iterations of Revolution and Colombian national teams through thousands of points at the highest levels of competition. She's still more than a handful all on her own. That is only the start of the conversation. Revo also boast Valeria Cardenas, who might be the best pure thrower on Earth, and Alejandra Torres, another highly effective handler. It remains to be seen how coach Mauricio Moore deploys the remainder of the immense store of talent available to him, but he would not be amiss slotting budding star Maria Angélica Forero or speedster Laura Ospina (who missed the 2019 season to injury) into primary cutting roles.
I almost forgot to mention Elizabeth Mosquera. The 2019 Premier Ultimate League MVP plays field-altering defense, rips humongous pulls, strides out deep shots that most players could only dream of tracking down, and has a forehand huck from motion that ranks among the league's best.
With much of the 2019 unit intact and nearly all of them still squarely in their athletic prime, another dominant run — albeit abbreviated — for the globetrotting Colombianas is in reach.
Portland Rising
Playing host to Revo Pro on Friday night are tournament hosts Portland Rising. New to the league for the 2021 campaign, Rising have their work cut out for them against the more-seasoned and highly-decorated visitors.
But the newness of the Rising organization belies a roster rich in experience. Well-known playmakers Yuge Xiao (who won a club championship with Boston Brute Squad in 2019), Lisi Lohre, and Sophie Knowles should be able to go toe-to-toe downfield with Medellín's best. Helping to stabilize any attacks will be long-time Boston-area veteran Emily Baecher, a first-team All-Club player in 2014 and recognized leader.
Rising took a sizable loss to New York Gridlock in a friendly preseason scrimmage last weekend. On the one hand, the 21-12 defeat to the improved 2019 semifinalists does not bode well for their prospects against the defending champs. On the other hand, their loss provided a necessary preview of what to expect from semi-pro play before they take the field in earnest this weekend. Hopefully, they will carry some useful lessons forward for Friday night. It might not be enough to register a win right away, but if they can learn on the fly and trust their talent, Rising may be able to position themselves for an upset in the final come Sunday.
Austin Torch
The outlook for Austin Torch cuts two ways. Torch have the enviable position of getting to scout out both of their opponents on Friday night before having to take the field; however, that means they will play back-to-back games on a Saturday afternoon that promises to be on the humid side. How well they turn the first circumstance to their advantage and mitigate the difficulty of the latter will be the key to earning a berth in the final.
Scheduling notes aside, Austin have a much better shot at winning one or both of their round-robin games than most fans realize. Somewhat lost in the Atlanta Soul's stirring performance in the 2019 semifinal was the fact that the Torch actually finished ahead of them in the regular season. The pre-arranged rule that Atlanta, as championship hosts, would be guaranteed a semifinal slot resulted in Austin missing out on the festivities.
Torch benefited enormously in 2019 from the explosive combination of Sharon Tsao and Julia Schmaltz. They each had 17 goals, tied for most in the league;2 Schmaltz also added 10 assists. It is easy to envision more fireworks from that pair of finishers. Torch also return Andrea Esparza and Laura Gerencser to the backfield. If Esparza and Gerencser can continue to facilitate the stars with efficiency, Torch have a potent attack on their hands.
Finally, while they lose uber-veteran and legend Cara Crouch for this year's campaign, Torch still have enough wisdom stored up in the ageless Forth sisters, Bex and Katey, to guide the team through the pressure-cooker of a 1,700 mile set of away games. And they bring in one more new powerful cutter in Ronnie Eder to help propel them to victory.
---
The team, still known as Revolution for club events, uses the new name when playing in professional competition. ↩

Indy Red's Austin Prucha also had 17 goals. ↩