The busiest club weekend of the summer so far leads into one to beat it.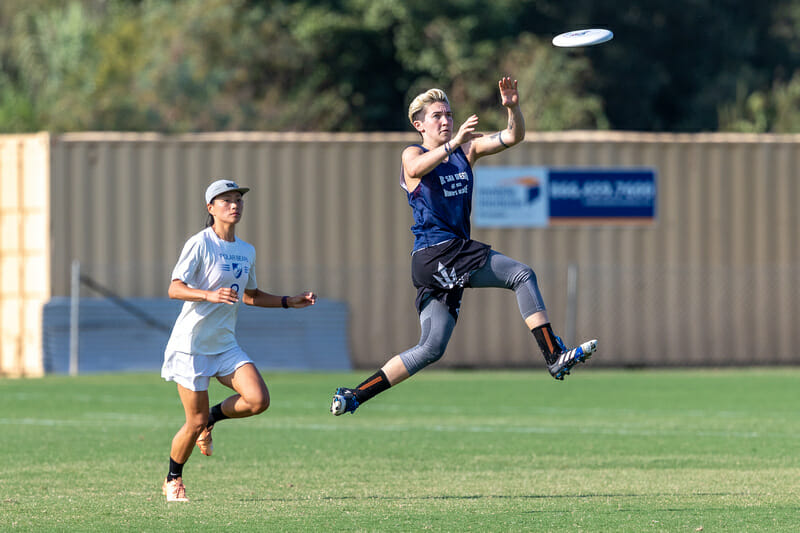 During the 2021 summer and fall season, we will publish a bite-sized weekly recap of the action across the Club Division. This will serve as a supplement to our standard tournament reporting and will offer a high-level look at the latest happenings and the biggest stories of the week. We go through the annals of score reporter so you don't have to!
Want your tournament listed here? Submit a recap of what happened right here. 
—
As the club season finally begins to pick up speed, competition reached a new high this weekend, with the fourth major TCT event, Select Flight Invite West, highlighting action across all three divisions. Positive COVID-19 test results shook the foundation of this tournament, shining a bright light on how the club season will be forced to adapt as situations like these are bound to come up again.
But despite COVID-19 concerns, with various large tournaments occurring this weekend, teams, both ranked and unranked alike, took on some cross-country opponents in preparation for the quickly approaching Series.
Here's a look at what went down across all three club divisions.
Mixed Division
On-Field Results Take Back Seat to COVID Response at SFI West
At Select Flight Invite West, competition for the top California teams in the mixed division truly heated up for the first time this summer. Headlining the tournament were #3 San Francisco Mischief, #11 Arizona Lawless, #23 Dallas Public Enemy, #24 Los Angeles Lotus, and the notable San Francisco Polar Bears, and all five teams swept through their respective pools 2-0. But, after a Public Enemy player tested positive for COVID-19 early Saturday morning, the rest of the tournament schedule fell apart amidst difficult decisions for teams and event organizers as they tried to work through the first known positive case at a USAU sanctioned event.
In a late Saturday crossover game, Mischief fell 11-10 against Public Enemy, but only after the Bay Area squad voiced concerns about playing and eventually agreed to a shortened, masked game only with players who felt comfortable competing. In the bracket, after Reno Cutthroat did the minimum required in a quarterfinal against Public Enemy not to be disqualified from the tournament, Lotus — who had emerged as universe point winners over Polar Bears in the most exciting game of the quarterfinal round — decided to forfeit the ensuing semi while Public Enemy also withdrew from the rest of the tournament. Therefore, the semifinal between Lawless and Mischief became the de facto tournament final, with Arizona edging out on top 13-12.
Still, it is clear that the on-field results from Norco were almost an afterthought at an event that will be most remembered for the positive COVID test — and the frustration teams felt with how that was handled.
Space Force Skyrocket while Superlame Plummet at HoDown ShowDown
Huntsville Space Force truly made a name for themselves at Hodown Showdown this past weekend. #10 Asheville Superlame were heavily favored to seize the title at their hometown tournament, but they were decisively bested by the no.11 seed Space Force in a 15-6 loss during semifinals. Superlame also lost to no.12 seed Roma Ultima 10-9 in pool play the previous day. Similarly, after two losses in pool play, no.2 seed Charlotte Storm were knocked off in quarterfinals by Roma Ultima in a 14-13 nailbiter. Refreshingly, the Hodown Showdown final consisted of two double-digit seeds in Space Force and Roma Ultima, as Huntsville came out on top 15-8.
After the disappointing 2021 debut, Superlame will definitely face increased competition from these smaller Southeastern hubs, while #8 Durham Toro starts to look like a safer bet to claim the region's lone bid to Nationals.
Elsewhere:
Another upset struck the mixed division as top-seeded Minneapolis No Touching fell to Omaha Woodwork 15-12 in the semifinals of Cooler Classic. No. 2 Madison NOISE took home the title, however, after a close 14-12 win against Woodwork. No. 10 Chicago Stripes had a great run at the event, beating both Woodwork and No Touching en route to finishing third. Their only loss on the weekend was against tournament winner NOISE.
Women's Division
St. Louis is Stellar in Cooler Classic Win
In the only women's action of the weekend, unranked St. Louis Stellar knocked off #20 Madison Heist to win the Cooler Classic in Hartland, WI. Heist swept through pool play, including a 10-7 win against Stellar, but St. Louis quickly avenged this loss with a definitive 15-10 win when the two teams met again in the final. After this win and their recent championship title at Heavyweights, Stellar could prove to be a real contender in the North Central division.
Men's Division
Utah Show Killer Instinct At SFI West
At Select Flight Invite West, despite originally occupying no.3 seed, #24 Orem The Killjoys solidified their national ranking with a definitive tournament win. After coasting through pool play by consistently finishing games with a massive point differential, The Killjoys improved with each round on Sunday. Livermore OAT came closest to giving The Killjoys a run for their money in quarterfinals, but ultimately came up short at 15-10. After this being their closest game of the weekend, The Killjoys soared through semis and conclusively took home the tournament title with a 15-2 win over Golden Fungi.
Mad Men Notch Yet Another Tournament Win
After cruising through the competition at Select Flight Invite East and Heavyweights, #20 Madison Mad Men once again protected the throne at Cooler Classic, knocking of Des Moines DeMo in the final for the second time on the weekend. No. 2 seed Minneapolis Knights of Ni fell short 15-9 against the Mad Men in semis, after breaking seed at the US Open the previous week.
As we near the Series, Mad Men have put together one of the most impressive regular seasons of any team in the country, but it will still be a tall order to unseat #5 Minneapolis Sub Zero for the North Central's lone bid come Regionals.
Looking Ahead
Are you ready for the biggest weekend of the 2021 club regular season? After last weekend's tournament-packed action, we'll see even more this weekend with a total of 31(!!!) ranked teams across the three gender divisions taking to the fields at tournaments all over the country in what could be some of the most intense competition we see ahead of Regionals Sunday.
The summer's fifth major TCT event, Elite Select Challenge, hosts ranked competitors in each division, but may not even be the headlining event of the weekend. The women's division is loaded with heavy hitters, as #9 Chicago Nemesis, #10 Pittsburgh Parcha, #11 New York BENT, #16 Washington DC Grit, #17 Columbus Rival, #19 Florida Tabby Rosa, #21 Houston Crush City, #22 Virginia Rebellion, and #24 Colorado Small Batch will all be on hand in Lebanon, OH to duke it out for the win and surely rearrange the Power Rankings next week. #17 Virginia Vault and #23 Tampa UpRoar are the top seeds in the men's division. The mixed division sees five Top 25 teams as well, including most of the contenders for the increasingly precious lone Great Lakes bid — #16 Cleveland Crocs, #17 Columbus Cocktails, #19 Ann Arbor Hybrid, and Cincinnati Steamboat are joined by out of region #13 Kansas City United and #21 Washington DC Rally, along with other potentially worthy challengers in Pittsburgh Alloy and Florida Weird.
In addition to the ranked squads in Lebanon, most of the mixed division's Top 10 will suit up at either the AMP Invite or Spokane Mixed Ultimate Tournament (S.M.U.T.). Mid-Atlantic powerhouses #1 Philadelphia AMP and #2 Washington DC Space Heater will square off with #5 Minneapolis Drag'n Thrust, #8 Durham Toro, #9 Boston Slow, #15 Boston Sprocket, #22 Nashville 'Shine, and Boston Wild Card in must-see action from Norristown, PA. On the other coast, #4 Seattle Mixtape, #7 Seattle BFG, #12 Boise Lochsa, and #18 Montana MOONDOG sit atop the two pools in Spokane and should set up some bracket matchups that preview potential games-to-go at Northwest Regionals.
We'll also get to see the first action of the year for #2 San Francisco Fury, #5 Portland Schwa, #7 Seattle Riot, and #25 Seattle Underground at the Eugene Re-Open. How will these West Coast titans measure up with each other at the start of the 2021 campaigns?
Ultiworld is aiming to have film crews on-site to cover the action from all of the above tournaments.
Elsewhere:
Baltimore Fleet will head SunRise Open in Fredericksburg, VA as the top seed among 10 mixed division competitors, hoping for an improved performance from what they managed the last time they competed in Virginia at Richmond Cup. Five Mid-Atlantic rivals slug it out in the men's division; Philadelphia Phantom may have recently fallen out of our Power Rankings but enter the weekend as the no.1 seed, though keep an eye on Newport News Fathom who sport no less than four Slade brothers on their roster.
Salt Lake City plays host to 16 mixed teams from around the Southwest and South Central for the Ski Town Classic. Denver Flight Club leads the line in what is already their fifth tournament of 2021, with two Bay Area clubs, Classy and Donuts, as well as Tucson Instant Karma the other pool top seeds.
As we've seen elsewhere during this unusual season, Battle for Burns and Grand Rapids Invite are both on the books for competition in all three gender divisions, but with no teams listed on Score Reporter, it's unclear if either tournament will actually move forward. They wouldn't be the first events to be canceled without much public notice this season.