Club teams are getting tuned up before the Series.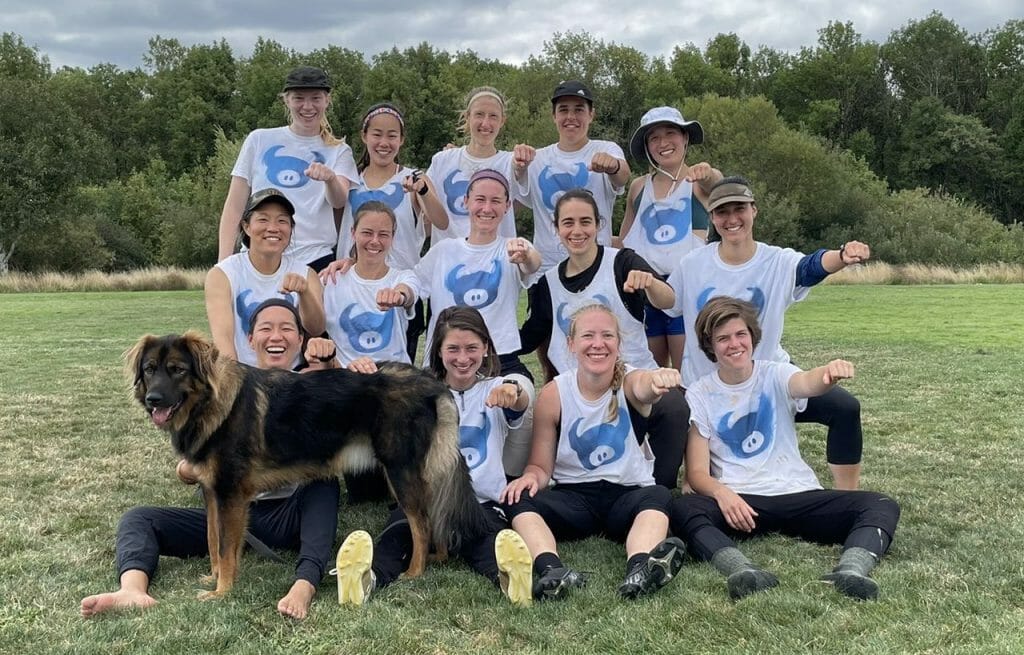 During the 2021 summer and fall season, we will publish a bite-sized weekly recap of the action across the Club Division. This will serve as a supplement to our standard tournament reporting and will offer a high-level look at the latest happenings and the biggest stories of the week. We go through the annals of score reporter so you don't have to!
Want your tournament listed here? Submit a recap of what happened right here. 
—
With just a few weeks until the end of the regular season, we finally got a weekend with loads of action across all three divisions. A host of ranked teams took the field, and several big-name programs finally got their season underway.
Here's a look at what went down across all three club divisions.
Men's Division
Vault and UpRoar Going in Different Directions
The men's division may have seen the least decorated field of teams at Elite-Select Challenge, but that doesn't mean the results were irrelevant. The top two seeds — and only two ranked teams in action for the division this week — had wildly different weekends.
Heading to Lebanon, OH, top seed #17 Virginia Vault were looking to build on some strong results from the Philly Open earlier this month. On the other hand, no. 2 seed #24 Tampa Bay UpRoar was just gearing up for their season debut. The difference could not have been clearer. After the Floridians got pasted by Louisville Colonels to start their weekend, the tournament's top two seeds found themselves matched up in the quarterfinals. Vault ran over UpRoar 15-6 before then taking down Dayton Enigma in the semis and Raleigh-Durham United in the final to complete a dominant undefeated weekend. In contrast to Vault's success, Tampa Bay proceeded to lose to Lexington Black Lung in the placement bracket and then forfeit the seventh-place game to Minneapolis Mallard. Hometown Cincinnati Omen claimed third.
Even if they didn't face the stiffest of competition at ESC, Vault outclassed their opposition in both pool play and in the championship bracket as they look ahead to a tough battle in the two-bid Mid-Atlantic.
Elsewhere:
Philadelphia Phantom went 6-0 on the weekend and crushed their competition at Sunrise Open 2021 in Fredericksburg, VA. It seems they are looking to prove they may still be the top team in the city of Brotherly Love.
Mixed Division
Space Heater Stake Claim as Best in the East
It was a massive weekend in mixed club ultimate this weekend, as seven of the top 10 teams were in action across the country. A who's who of powerhouse East Coast programs — with special guests Minneapolis Drag'n Thrust — competed at the unfortunately weather-shortened AMP Invite in Norristown, PA. #2 Washington DC Space Heater went 5-0 to be crowned de facto champions, despite the lack of a traditional bracket final. The Capitol City squad collected impressive wins over a trio of teams that have won all but one of the last seven national championships and, by all accounts, they looked like the strongest team in the bunch. The other three semifinalists seemed on par with each other, trading wins. On Sunday #1 Philadelphia AMP lost to #4 Minneapolis Drag'n Thrust, who then went on to lose to #7 Durham Toro, who lost to AMP on Saturday — absolute chaos. The other notable result from Saturday is #15 Boston Sprocket's 14-13 upset win against AMP; too bad the Beantown program couldn't stick around on Sunday to show what they could do as an encore. Thanks, Hurricane Henri.
For more coverage of the tournament, check out our full event recap.
While the AMP Invite provided evidence that Space Heater is indeed a serious title threat, the story from the rest of the jumbled results may just be that it's still too soon to predict many end-of-season results for the division.
Seattle Dominant in Northwest, with Mixtape Taking Top Spot
On the other coast, the best of the Pacific Northwest gathered in Spokane Valley for S.M.U.T. #3 Seattle Mixtape held seed by beating #6 Seattle BFG, the no. 2 seed, in the final. Mixtape dominated their pool with an overall 65-19 point differential on Saturday. #11 Boise Lochsa lost to unranked Seattle Birdfruit in pool play, but Boise put two more points on the board against Mixtape than Birdfruit did. In the other pool, the unranked Portland Administrators played a victorious game against #18 Montana MOONDOG; however, MOONDOG scored four more points against BFG than The Administrators did. Similar to the AMP Invite, the results from S.M.U.T. leave much to the imagination when it comes to which teams will be securing the bids to Nationals.
Hybrid Look Plugged In At Elite-Select Challenge
If you're looking to make sense of the tangled jumble of contenders in the Great Lakes, results from the Elite-Select Challenge may have helped clarify things or could have just further clouded the picture, depending on how you want to look at them. After entering the tournament as the no.3 seed, #19 Ann Arbor Hybrid emerged as a somewhat comfortable tournament winner, avenging their SFI East loss to #16 Cleveland Crocs in the final 12-6 while also dispatching in-region adversaries #17 Columbus Cocktails (going up 6-0 before holding on for a 12-10 win) and Cincinnati Steamboat in Lebanon. Cocktails finished third over #12 Kansas City United at ESC, shaking up the rankings quite a bit.
The Michigan squad boasts an impressively athletic roster that was playing stellar defense all weekend to carry them to the tournament title. If this weekend is an indication that their talent is coalescing, Hybrid could now be the regional favorites — if any such thing really exists in so deep a field of contenders for a single bid.
Elsewhere:
Two Bay Area rivals traveled all the way to Salt Lake City just to meet in the final of Ski Town Classic 2021. San Francisco Classy beat crosstown foes Donuts 11-9, after the pair largely mowed down the rest of the field.
In Fredericksburg, VA, buzzy top seed Baltimore Fleet looked dominant at the SunRise Open 2021 — at least until they ran into the Frederick 8 Bit Heroes, who defeated Fleet 13-8 in the final. After mixed results in their first two tournaments of the year, 8 Bit Heroes was impressive at SunRise, winning all six of their games by at least five goals.
Women's Division
Rival Earns Surprise Win Over Strong Field at Elite-Select Challenge
This weekend saw the most competitive women's club play of the summer so far. Nine ranked teams competed in the Elite Select Challenge. #17 Columbus Rival, the no. 3 seed, took down #9 Chicago Nemesis in a close semi-final game that finished 12-11. Rival proceeded to beat #16 Washington DC Grit, the no. 2 seed, in the final with a score of 14-8. Rival also came out on top against #21 Virginia Rebellion and #19 Florida Tabby Rosa.
Despite losing in the semifinals, Nemesis played very impressively in pool play — their opponents put up a combined five points to Nemesis's 30. #11 New York Bent also came in first in their thrilling pool on Saturday with close wins against #10 Pittsburgh Parcha, who took the field for the very first time as a team this weekend, and Tabby Rosa.
Bent went 6-1 with their only loss coming to Grit in the semifinals, 11-9. The team debuted Team Colombia star Yina Cartagena this weekend. Grit added a win over regional rival Parcha in quarterfinals and looks poised to take a step forward from their breakout 2019 season.
Fury Dominant at Eugene reOpen
A very shorthanded #2 San Francisco Fury team, playing with just 14 players, dominated the competition, finishing an undefeated weekend with a 15-6 win over #5 Portland Schwa in the final. The road towards a Boston Brute Squad v. Fury national championship game seems increasingly plausible.
#7 Seattle Riot gave Fury a tough game in pool play, losing 13-10, but also lost twice to Schwa. They finished 3-3. The Seattle juggernauts have been decimated by defections to the mixed division this season, with very few of the recognizable stars from rosters past dotting their team photo from Eugene. It's hard to doubt the pedigree of the program, but it appears they may have an uphill battle to retain their position amongst the elite tier of the division this fall.
Across the board, teams were playing with small rosters as most teams took the field for the first time in 2021. One notable storyline was the YCC U20 champion Oregon Downpour beating Seattle Underground 11-7 in quarterfinals. The future is bright in the Beaver State!
Check out footage from the event in the Ultiworld Video Archives.
Looking Ahead
It's a mostly quiet weekend ahead of next week's regular season finale at the Pro Championships in Boulder.
We'll get our first look of the year at #15 Oakland LOL, who are hosting the Wilson Invite, a round-robin with LA Rampage, San Francisco FAB, and a pickup team of Bay Area friends.
Also making their season debut — when it was unclear if they would even exist this year — are perpetual National qualifiers Atlanta Ozone, who will be competing at Monkey Bowl. We're excited to see what their roster and results tell us about their potential for this season. the Nashville tournament will also host Southeast competition in both Men's and Mixed divisions as well, respectively headlined by #24 Tennessee Tanasi and recently ranked Huntsville Space Force, along with Atlanta's new top mixed squad in m'kay.
Back in Brooklyn, Disc NY hosts The Incident with action in all three divisions made up mostly of in-state competitors. #14 New York XIST headlines the mixed division in their final regular-season tune-up before the battle royale of Northeast Mixed Regionals. Albany Rebel Rebel should be the class of the women's division as they too look poised to be in contention in Devens next month. In men's, we'll see an early skirmish in the larger war culminating in Regionals Sunday backdoor bracket games, as a series of Select Flight hopefuls like Brooklyn Blueprint, New Jersey Garden State Ultimate, and Philadelphia Citywide Special square off.
Elsewhere:
Long-time tentpole New England event Chowdafest sees a weaker field than it has in years past, with a half dozen local Classic Flight teams battling it out in Seekonk.
In what feels like the fourth time this summer, several of the mixed programs from the Old Dominion state will gather for a round robin event in the aptly named Central Virginia Mixed Round Robin. Lynchburg Legion looked strongest at the start of the year at the Richmond Cup, but Richmond Revival is coming off an undefeated run at Philly Open.
North of Los Angeles, the Angel City Shoot-Out will play host to six men's teams including the Santa Barbara Sundowners and San Diego Streetgang.