The postseason begins in USAU Club play, it ends with a Raleigh championship in the AUDL, and Black stars were on display in the Con10ent Tour.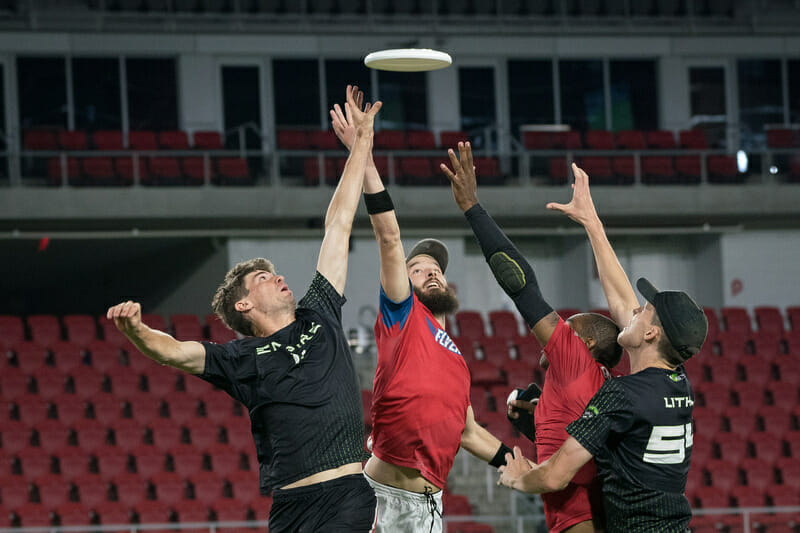 Opening Pull is Ultiworld's weekly wrap-up of the previous week in ultimate, available both on the site and here as an email newsletter. We've gathered the news you need to know and highlights you need to see. Check back weekly or subscribe now to receive Opening Pull in your inbox along with a rundown of the previous week's content on Ultiworld.
Raleigh Flyers Win 2021 AUDL Title
With a 19-16 win over the reigning champion New York Empire, the Raleigh Flyers claimed their first AUDL championship at Audi Field in Washington, DC. Raleigh has been one of the league's top performing programs, but had yet to experience great postseason success. But on Saturday evening, they played a beautiful game to get the win.
Both teams executed at a very high level, with offenses clicking in all four quarters. That cast a spotlight on the few errors, including a dropped pull by the Empire, and kept the match dramatic. In their most important game, the Flyers had their lowest turnover performance of the season. Jacob Fairfax and Sol Yanuck anchored their deep roster, while their defense tamped down New York's star trio of Ben Jagt, Jack Williams, and Ryan Osgar. [Full Story: AUDL Playoffs 2021: Raleigh Flyers Win First AUDL Title with Sparkling Offense]
Con10ent Tour Debuts in Philadelphia
The long-awaited Con10ent Tour made its first stop in Philadelphia, PA, one of three across the country this fall. The tour highlights Black players in the ultimate community, combining a hand-picked group of traveling stars with local players to compete in a showcase game. The tour, organized by Disc Diversity, also includes community outreach initiatives during each stop.
The game itself featured two dramatic endings. Lights Out trailed the until late in the game, where they completed a huge comeback from down 9-4 to take a 14-13 lead and win on universe point with a huck from Devon Asemota to Lauren Woods.
But the fans demanded more! After chants from the stands to "win by two", the players happily obliged with an encore. They agreed to play a game to 17, which Dark Matters won, sparked by a huge early-possession layout block by Khalif El-Salaam.
So who really won? Who knows! You decide; choose your own adventure.
The Tour's next stop is in San Francisco on October 9, followed by their final appearance on November 6 in Seattle.
Postseason Play Begins in US Club Circuit
The first of three rounds of the USA Ultimate Club Series play kicked off the club postseason. Sectionals, which precedes Regionals and then Nationals, pit local clubs against one another, and unlike in most seasons, even the best teams were not exempt.
Our full roundup will be updated as more results are reported.
There were perhaps an unusually high volume of late entrants to the club season debuting at Sectionals. That, combined with elite teams with varying roster compositions, let to a few odd results – although we see a few surprises every year.
Among those surprises:
#6 Minneapolis Sub Zero losing to #18 Madison MadMen in men's Northwest Plains final
Unranked Iowa CLX topping #20 Kansas City United in the West Plains mixed division
Albany Rebel Rebel, who joined the Metro New York women's event when the upstate event didn't field enough teams, won the Section's title over #12 New York BENT.
Unranked Austin Waterloo beating out #13 Dallas Public Enemy in the final of Texas Sectionals.
---
Coming Up
This weekend is something of a calm before the storm. While the USAU Club Series continues with a smattering of Sectionals, it isn't until next weekend that we get Regionals and even some college play.
AUDL wrap-up content is coming, too!