Three major club championships are happening within weeks of each other in North America and Europe — and USAU's 2021 college Series is right around the corner.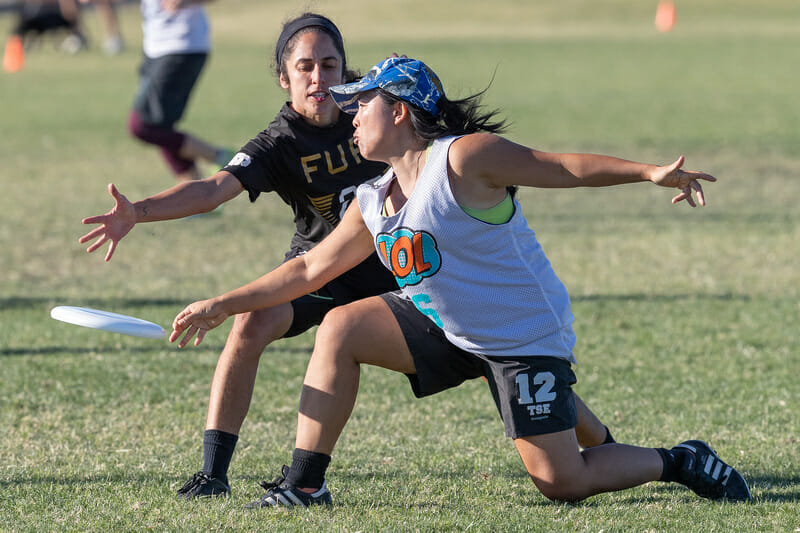 Opening Pull is Ultiworld's weekly wrap-up of the previous week in ultimate, available both on the site and here as an email newsletter. We've gathered the news you need to know and highlights you need to see. Check back weekly or subscribe now to receive Opening Pull in your inbox along with a rundown of the previous week's content on Ultiworld.
XEUCF Pools Drawn
The teams list is final and pools have been drawn for the Extended European Ultimate Championship Finals, the continent's premier club event taking place September 30 to October 3 in Bruges, Belgium. As the patchwork of pandemic-related travel restrictions among countries in and out of the European Union continues to evolve, most teams from Great Britain who qualified for XEUCF declined their bids, leaving open teams Clapham and Smash'D the country's sole representatives at the tournament; Russian teams will also not attend, making newly-crowned Russian women's champions Cosmic Girls the only 2019 finals team not returning for 2021. [Full Story: XEUCF 2021 Pools and Format]
Sectionals Conclude, Leaving Most — But Not All — Top Teams Unscathed
September 18-19 marked the second and final week of USA Ultimate's Sectionals events, the first leg of a 2021 postseason in which all teams are required to play the full Series to contend for a bid to Nationals. While there was little drama surrounding which teams would clear the bar to secure a spot at Regionals, game-by-game results from the weekend yielded some eyebrow-raising upsets.
San Francisco Polar Bears, who just released their roster last week, vaulted 2019 Nationals runner-up and Ultiworld Power Rankings #9 San Francisco Mischief 10-5 in semis to take the final 12-9 over fellow unranked team San Francisco Classy, while unranked Seattle Underground defeated #7 Seattle Riot 11-10 to come out 3-0 at their one-day event; elsewhere on the West Coast, buzzy Arizona squad #8 Lawless had to settle for third behind second-place unranked San Diego California Burrito and first-place unranked Los Angeles Lotus.
How much do any of these results mean when top teams were all but assured to make it through to the next round of the Series? If you're a team that won — or lost — as much as you need them to mean. Either way, the stage is set for some exciting Regionals matchups (and Ultiworld's Power Rankings due for major end-of-season recalibration). [Full Story: Club Sectionals 2021 Roundup]
A Burgeoning Ultimate Scene In Rural India
A feature on Al Jazeera this week highlighted the thriving ultimate scene in Chirang district in the northeast Indian state of Assam. Since the game was introduced to the area in 2015, a community of over 4000 youth and young adult players has sprung up in villages across the district, fostering well-attended local competition as well as sending teams to regional and national competition in India. The area was also set to send two female players, Pungbili Basumatary and Sonali Ray, to WJUC 2020 with India's national U20 team had the event not been canceled.
Players and organizers quoted throughout the article, including former Ultimate Players Association of India president Manickam Narayanan, were impressed with the enthusiasm and level of play in Chirang, particularly for a heavily rural area where travel between villages is often difficult, and in a state with recent history of violent unrest between ethnic and religious groups. "Teams … in Chirang have two genders, three religions, three villages, three castes and four languages," said local national-level player Kwmdwh Basumatary. "There was a lot of hatred and suspicion among different communities. Frisbee is breaking those walls, one game at a time."
College Teams, Do Not Forget The Roster Deadline Is September 24
At a point in the calendar when college teams are typically still sending X and Y squads to casual tournaments and teaching their freshmen the basics of holding a force, the college Series leading up to late December's 2021 D-I and D-III College Championships is practically upon us — Conferences start October 9! If you're party to a college team planning to participate in this semester's Series, don't let the roster deadline sneak up on you. [Full Story: Set Up Your College Team with USA Ultimate]
---
Coming Up
Preview content for XEUCF and USAU Regionals is on the way! In a year where competition ahead of the big championship events has been limited or asterisked in one way or another, we're rounding up the storylines and teams to watch this year.
As if the calendar couldn't get any busier, the Ultimate Canada Invitational is coming, with Masters play this upcoming weekend September 25-26 and open, women's, and mixed club on October 2-3.