Can Shout get three in a row?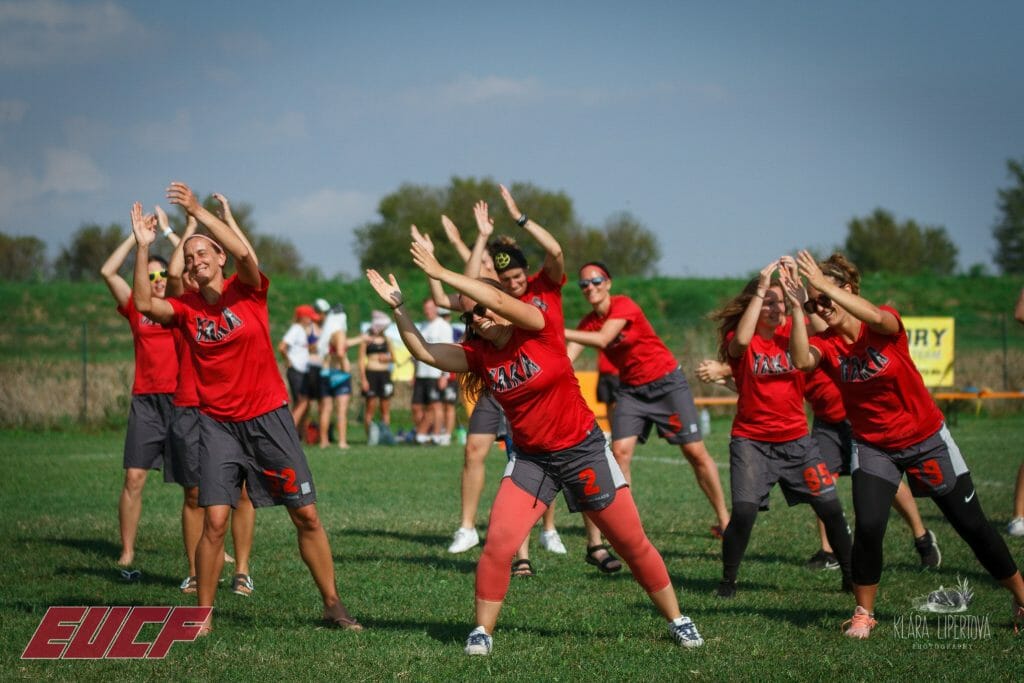 After two years off, 17 women's teams will travel to Bruges this week to fight it out for the European title. The format of the division is a little bit strange given the odd number of teams and we're missing teams from the UK1, Russia2, and Finland3 but beyond those minor hiccups there's some potentially fascinating games in prospect.
Tournament profile
Dates: September 30 – October 3, 2021
Location: Bruges, Belgium
Weather: Mostly wet, with rain forecast every day. Temperatures between 10-18 °C, breezy with winds around 25 kph
Team breakdown:

Two teams: Austria, Czech Republic, Germany, Italy, Poland and Switzerland
One team: Belgium, Denmark, France, Ireland and Sweden

Streamed on: Ulti.TV YouTube channel


Pool WA
Two-time reigning champions CUSB Shout (Bologna) look set to be as strong as ever. Stalwarts Laura Farolfi, Anna Ceschi and 2021 captain Irene Scazzieri have been written about plenty before and will play crucial roles as ever, but there are experienced winners throughout the roster, which is the largest in the division. Three new additions will add quality too: explosive Denmark mixed cutter Helle Rørvang, Swiss women's star defender Linnea Seibert, and up-and-coming Slovenian Aurora Lešnik.4 Lešnik in particular is exciting having flashed the ability to make huge plays in all facets of the game, with expansive throws, layout blocks and big skies all in her bag. The Italian team will be aiming to complete a hat-trick of European titles, a feat that has only ever been accomplished once before5, but their pool is a tough one to start off the campaign.
2016 EUCF winners FABulous (Bern) are likely to pose the Italians their stiffest test in the pool. There are a number of players who played a part in the silver medallist Swiss team from EUC 2019, including Laura Niederhauser, Olivia Hauser, Sarina Schenk and Azra Avdukic, so there's plenty of experience here and they should have a good shot at second in the pool and a possible spot in the power pools.
The pool is rounded out by Terrible Monkeys (Prague), the Czech nationals runners up, and SUFC Valkyria (Stockholm). Monkeys have several Czech national team players and plenty of legs with a squad of 23. Valkyria feature former EuroStars Sarah Eklund and Barbora Kundelytė as well as Saskia Beeck who has made the shortlist for Germany's World Games team. There's plenty of other players with international experience for a variety of teams, so the Swedes will feel good about their chances to break seed given their position at the bottom of this pool.
Pool WB
YAKA (Noisy-le-Sec, France) is a team with expectations. They return captain and EuroStar Aline Mondiot, as well as stalwarts like Jeanne Della Valle, Aude Richon and Alexia Chassigneux. They also return Dutch EuroStar Paula Baas, and have added another EuroStar in 2019 defensive player of the year runner-up Inês Bringel from Portugal. Bringel last played at EUCF for Cosmic Girls (St. Petersburg) and took silver, one spot ahead of the Parisians who finished in 2019 with bronze. Their path to third saw them meet Shout in the semi-final, where they held a 12-11 lead in a game to 13 before seeing that lead slip through their fingers. American star Robyn Fennig is joining the French in Bruges as well, so YAKA seem well set up to go one step further than they have ever gone6 and make a European final.
The French team will be favorites in this group but it's a tough one. Heidelbärchen (Karlsruhe and Heidelberg) are second seeds. The German squad is led by captain Anja Folberth and a clutch of players with some international experience, but have seen some turnover since 2019 and seem to have a few younger players getting their first taste of elite European competition. The other teams in the pool look good, though. Box (Vienna) are led by Austrian women's players like Cilla Rottensteiner and Hemma Gritsch, and feature several other players who have played for their country alongside EuroStar Betty Schnedl. They recently won the Austrian national championship and will be coming to Bruges with confidence. FLOWERS (Wroclaw) are coming in having beaten Troubles for the Polish championship on universe point. They are a young team that have been building for this stage for a few years with talented young players like Zosia Knapik and Sara Doroba as well as EuroStar Paulina Dul. Even if YAKA is as good as expected and come through without being upset, the 2-4 spots in this pool seem very open and there's very likely to be some movement from the initial seedings by the end of Thursday.
Pool WC
Gravity (Dublin) are the top seed here after their excellent showing in 2019, where they took fourth but were an ill-timed Fiona Mernagh injury away from really testing the top teams after Ireland's EUC 2019 win. This season they are without Mernagh or fellow standout and two-time EuroStar Sarah Melvin. The team still dominated Irish nationals, though, and have plenty of players with experience at this level and European gold medals in their collections. Led by handler Àine Gilheany, there are players on this roster that will still cause teams problems like Jessica Chambers, Jennifer Kwan, Jane Linehan and Emily O'Brien. Expect to see a familiar, tight zone from the Dubliners, something that could work well given the conditions we're expecting in Belgium.
They will be pitted against 3SB (České Budějovice), recently crowned as Czech champions for the third time in a row. They finished ninth in each of the last three EUCF tournaments so will be looking to push for the top eight for the first time this year. They will be led by EuroStar Sarah Tošnerová and fellow national team player Anna Dvořáková.7 There are several other national team players on the roster and their coach will have some familiarity with Gravity which could help in that potentially pivotal game: John Doherty8 is an Ireland mixed player and longtime player and coach for Rebel Ultimate in Cork. The team loves the deep shot so there's always a good chance of fireworks in their games.
LUV (Leuven) are the Belgian champions and feature a number of players from the Belgian national team that finished seventh at EUC in 2019 including Janne Ver Eecke, one of the captains of that Belgian team, Charlotte Peeters, Naomi Noels and Floor Van Damme. They're another tough matchup, as are the final team in the pool Mantis (Vienna). Mantis finished third at their national championships but they still have an experienced team with Austrian internationals like mixed player Leena Rapottnig and women's player Anna Hoflacher. Pool WC will be a battle throughout.
Pool WD
The final pool is the pool of five teams, and features an interesting top three. Top seed is jinX (Berlin), a team that has returned to the European stage after a long time with their eighth-place finish in 2014 the last time they were at EUCF. The team features a number of players with a history of success: Nici Prien has won EUCF with Iceni and has played for a number of German teams, captain Anna Gerner won EUCF with Shout in 2018 and has also played for Germany, and fellow captain Simona Lieberth won EUCF with FABulous in 2016 and has, you guessed it, played for Germany. This is a good, deep team with a lot of legs and they will be aiming to make the power pools.
Second seed is Polish team Troubles (Warsaw). They made quarter finals three times from 2016-18, making semi-finals twice in that run with a third-place finish in 2018. In 2019 a new-look team didn't qualify for EUCF, but they return now to try and get back to the top eight. That generation shift has continued, with many players who were part of the 2017-18 cycle moving away from the sport after playing World Games, WUCC and then the bronze medal campaign at EUCF. There'll be a lot of new faces but players like EuroStar Grażyna Chlebicka and her fellow captain Kasia Podpora are joined by veterans such as Monika Zaczkowska and Ewa Bańbuła-Dyda to show there's plenty of quality still on this roster.
Freespeed (Basel) are third seed in this pool but will be aiming to finish in the top two. They feature 2019 breakout player of the year Laura Kunzelmann and EuroStar and PUL star Levke Walczak who make a pairing as good as any at this tournament.9 Their roster is fairly small compared to many of their competitors but if Kunzelmann and Walczak can link up enough times they'll score on anyone. DUC (Copenhagen) and DiscoBolo (Bologna) finish the field in this pool and are unfortunate to be drawn into a relatively deep pool with no backdoor to get higher in the bracket. DUC feature a number of Danish national team players and Ellen Jakobsen, who played for the German team that finished fifth at EUC 2019, and so will likely be good enough to pose some problems for the top three, but DiscoBolo have the obvious handicap of being in the same city as Shout and so may struggle to make an impact without the top level of talent at their disposal.
Prediction
CUSB Shout and YAKA look to be a step ahead of the rest of the teams at this tournament, with jinX at the head of a number of teams in the next group down. Valkyria are a team to look out for as a spoiler considering how low they're seeded and the kind of players they have on their roster. If we do get the final that many expect, a rematch of the 2019 semifinal between YAKA and Shout, it'll be a fascinating battle between one team trying to solidify its place as one of the best women's teams in European history and another looking to get to the promised land for the first time. Bring on the games.
---