At a Regionals where no team had previous Nationals experience, first-year program Pittsburgh Parcha emerged victorious.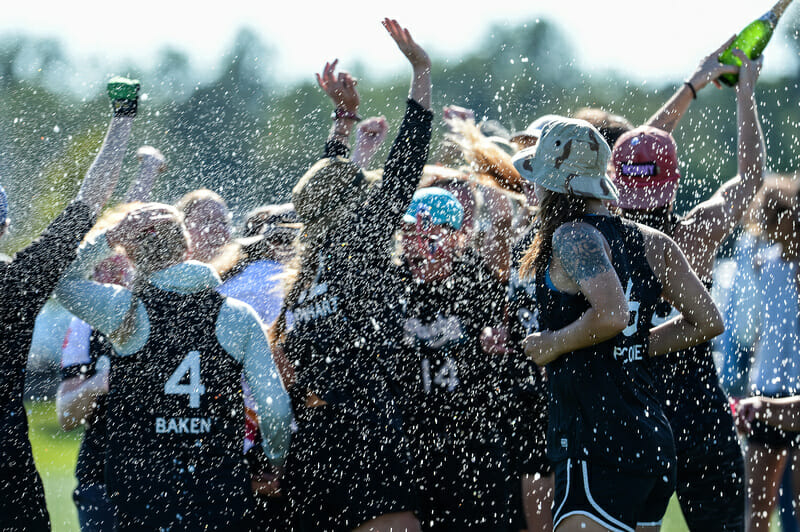 Ultiworld's 2021 coverage of the club women's division is presented by Spin Ultimate; all opinions are those of the author(s). Find out how Spin can get you, and your team, looking your best this season.
FREDERICA, DE— On a gusty weekend in Delaware, Sunday's wind did anything but blow out #12 Pittsburgh Parcha's fire. In fact, it pushed them into the Mid-Atlantic final against #10 Washington DC Grit — one of the most anticipated Regionals matchups anywhere in the country. In a fight for just a single bid to San Diego, the region's top two seeds battled all the way to universe point where Parcha finished in front, 11-10. This first-year program is going to Nationals, no previous experience needed.
Parcha Claims (Parking) Spot at Nationals
When perennial Mid-Atlantic champs Washington DC Scandal announced at the beginning of the season they were sitting 2021 out, the speculation started swirling about which other team would be the first to claim that title since 2009. Very quickly, the conversation centered on two programs with very different pedigrees. Grit had played second fiddle to Scandal in the nation's capital for the last half-decade but had slowly worked their way up to the cusp of the division's elite tier. Parcha is in their first season, attempting to usher in a new era in the Steel City's women's scene by finally pulling together the area's top talent.
With a performance in Frederica that utilized a number of different playing styles and defensive strategies, it was Parcha that looked like the more seasoned program, with extensive history and experience together. They prevailed in a close final that could've gone either way, taking the win over the more established Grit, who had been the slight favorites going in thanks to a next-team-up mentality after three straight Regionals finishing second to Scandal.
The wind on Sunday was a major factor, leading Grit to make the decision to start on defense after winning the flip.
"Our D-line set the tone for the whole tournament," said Washington head coach Samantha Broaddus, with the whole team knowing they would eventually need a break to come out on top. That D-line delivered early, getting the first upwind break of the game to put them up 3-2.
The next point included a timeout from each team. The first was by Grit, a few yards from Parcha's endzone, seemingly poised to punch in the downwind break to consolidate their lead. But Pittsburgh's O-line defense held and eventually got it back before calling their own timeout shortly after to finish an upwinder. Kristin Dudley's full-send throw reached captain Carolyn Normile, and she finished the point with a high-release toss to Kelsey Cowles in the end zone to tie the game at 3-3.
This sent Parcha's sideline into delirium. The team's name is a portmanteau of "parking chair," a tool used throughout Pittsburgh to claim parking spots in snowy winters. Folding chairs served as the unofficial team mascot for the new program all weekend, thrown onto the field after nearly every point, and if not thrown, then stomped on or banged like pots and pans.
Parcha found themselves back on serve again with a downwind break thanks to an outrageous layout grab from Erica Baken followed by a little dishy to Elizabeth Manturuk.
"There is such depth to this team," said Normile. "We had even subbing all weekend." Pittsburgh used that depth to their advantage in the final, matching up with Grit's roster of well-rounded players who were already used to the stiff competition of Regionals.
As the wind kept gusting, both teams continued to trade downwind points. Grit called their second timeout just before half to secure the break they needed to head into half with the advantage. Receiving going downwind on the other side of the break, DC put up a huck from Sarah Lord, with Abigail Antolick timing her run perfectly to meet it in the end zone giving Grit the 8-6 lead for a surging Washington wave.
Looking to tighten the screws and build their lead, Grit threw their zone but Parcha's handlers moved swiftly past it, finding Annelise Peters in the end zone — not for the last time. After their score, Pittsburgh responded with an upwind break courtesy of Emily Kivers. Kivers, who is used to playing O-line like she did in her Penn State days, found herself new to club and to a new position on D-line, yet made it look like business as usual, racking up a number of blocks throughout the weekend.
Parcha's energy peaked after they scored once more making it 9-8. The next few points were a beautiful sequence of throws and downwind holds that tied the teams up at 9-9 then 10-10.
With other games around the complex completed for the round, never has a sideline been as packed for a Mid-Atlantic women's final as it was for double game point, and the result did not disappoint. Ending the game on a lengthy universe point, Grit found themselves turning the disc after dropping a swing pass. Parcha then jumped at the opportunity to put the game away so close to their targeted end zone. The disc was tapped back in, and again Peters found herself in just the right spot, beating her mark to the near-side cone and snagging the last point. There was the slightest hesitation from both teams as they waited for official confirmation from the observers that the goal was good and Parcha had actually just won the game. As the observers silently pointed "in," chairs were sent airborne and raining down in celebration of Pittsburgh's victory.
Parcha and their neighbors Pittsburgh Temper – who had just claimed their bid with a game-to-go win over Virginia VAult – joined together in one big huddle to cheer "Natties on three," as it marked the first time Pittsburgh would send two club teams to Nationals in the same season, indeed a year of firsts.
On the other sideline, heartbreak. Climbing the ladder year after year since 2015, Grit had truly been grinding and consistently rising through the ranks. Coming up short in the final three years in a row against a powerhouse like Scandal is one thing, but Grit felt confident in a season where that particular bugbear was nowhere to be found and they were ready to claim the region for their own. Instead, Grit found themselves in the same exact position again this year. Still, they have a lot to be proud of.
"We played with heart," said coach Broaddus, tearing up as she processed the end to their season. "There wasn't just one player's performance that stood out to me today because our team isn't just about one player. Read any article about us and you'll see it's always a group effort, every time."
This time, that effort didn't quite secure the top spot, as the big-name stars on Parcha shined just a little brighter. Pittsburgh conquered the wind with their strong throws and even stronger handling, earning the city's first club women's berth to Nationals since 2012.
Rebellion Roll to Third Place
While no other team at the tournament put up more than seven points against either finalist, there was still an exciting battle for third between a pair of up-and-coming teams. No. 3 seed #18 Virginia Rebellion and no. 4 seed Philadelphia Flight engaged in an entertaining third-place battle – against both each other and their shared opponent, the wind.
Both teams lost lopsided semifinal matchups to Parcha and Grit respectively, but still came into their final game of the weekend feeling upbeat and looking to build some momentum as they look toward next season.
The game was close in the beginning, with teams trading holds every other point. As energy dwindled late on Sunday, Virginia picked up a break to head into half up 7-5. When the second half got underway, Rebellion was ready to make their final run.
"Coming into the tournament, we didn't know much about Flight," Virginia's Lia Schwartz said from the sidelines. "We learned a little about what their junk looked like while playing other teams, but that was about it."
After Rebellion's D-line got a break to make it 10-7, Flight looked broken and defeated, and captain Allison Milligan was playing on a wobbly ankle she had injured in the semifinal against Grit. Milligan's team continued to fight but couldn't get a hold of the game. Philly had opportunities in the end zone, but chances kept flying just over their heads, amounting to a couple of turns.
Virginia kept applying pressure, ultimately assuring the win for a 12-8 victory over Philadelphia. After a round of cheers, both teams joined the already-crowded sidelines as spectators for the final.
Agency Best of the Rest
Washington DC Agency proved to be the best of the bottom half of the region, breaking seed to finish the weekend in fifth ahead of Baltimore Wave and Princeton Pine Baroness and redeem an uncharacteristically rough run at Capitol Sectionals. Blaire Thomson was a standout as Agency also put up a good fight against Virginia Rebellion – maybe with the help of some wind – in the event's closest quarterfinal matchup, which Rebellion won 13-11 after a wild finish.
Coming in eighth was Flight's sister team Philadelphia Flock, who got their very first taste of Regionals this year and will continue to grow with the new women's club initiative established in Philadelphia this year.
All-Tournament Team
Carolyn Normile (Pittsburgh Parcha)
Annelise Peters (Pittsburgh Parcha)
Shirlee Wohl (Washington DC Grit)
Sarah Lord (Washington DC Grit)
Kira Flores (Virginia Rebellion)
Guinevere Rauch (Philadelphia Flight)
Blaire Thomson (Washington Agency)