Pool play is underway in Bruges!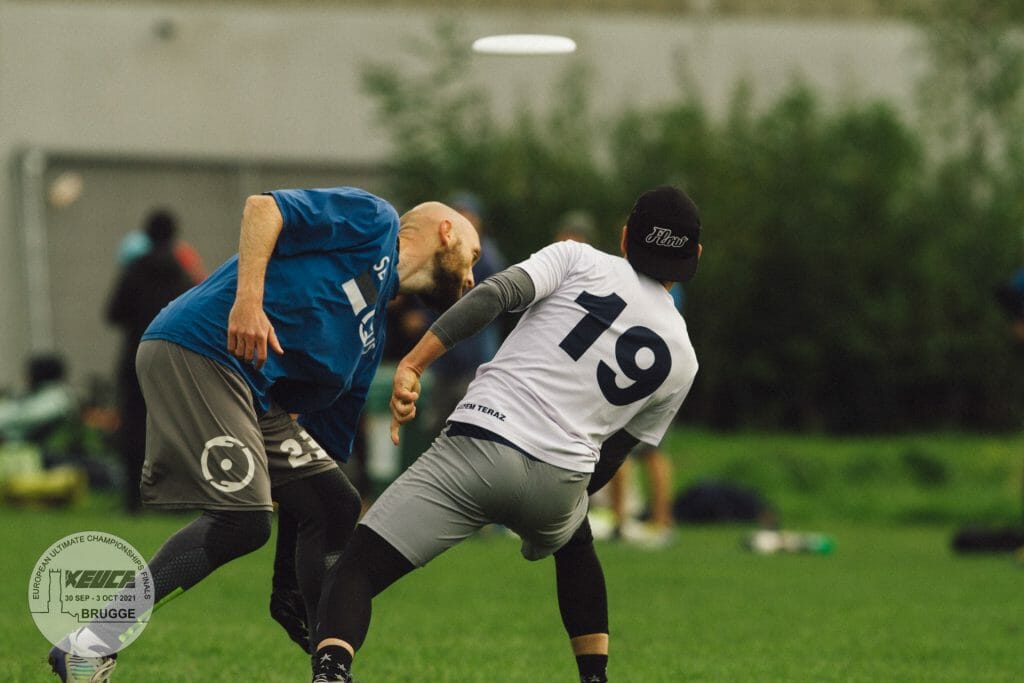 The pool phase got started in Bruges today. As the placements begin to take shape, top teams are looking to secure a first place finish, which will send them straight to the quarterfinals. Middle of the pack teams are fighting to hold on to the third place spots on their teams in order to advance to the prequarter round in the bracket.
POOL XA

As expected, GRUT (Amsterdam) has not given anyone a chance to shake their high reputation, winning both of their games. The first one against Guayota (Tenerife) finished 15-9 while the second one was even clearer with 15-5 against FlyHigh (Lausanne).
Colorado (Karlsruhe, Germany) won their both games but might also have a chance on winning spirit at the tournament if they keep up their positive energy. In their first game against Glory Owls (Brussels), they won at 15-3 with both teams receiving a 12 for spirit. Even more impressive, Colorado received a 15 in spirit in their 15-13 game against FlyHigh who received a similarly high score of 14.
Guayota went 1-1, winning 15-5 against the Glory Owls.
GRUT are in a strong position to win this pool and go through to quarterfinals. Glory Owls's point differential puts them in a very difficult position to advance out of the pool. Guayota's matches against FlyHigh and Colorado will determine which of the three teams will miss out on the prequarter round. Colorado have a slight advantage right now with their 15-13 win over FlyHigh but anything is still possible.
POOL XB

Monkey (Grenoble, France) had a slot of challenging games against CUSB Red Shot (Bologna) (14-5) and PELT (Limerick) (15-13).
The expectations on CUSB have been quite divergent, as their single-gender teams are known for their strength and athleticism. However, the mixed team has been loaded with unknown names. As their coach put it, CUSB is using mixed division to weed out the youngsters in order to find those who could join CUSB as prospects in next years' single-gender divisions. Red Shot's average age is just 19.
In their second game, Red Shot lost 15-7 against Hässliche Erdferkel (Marburg) but managed to reach their goal of finding their prospects. Giovanni Saracco and Matilde Mascellani were named their strongest male and female players by coach Andrea Gerosa.
Erdferkel, who just won the German restart tournament, certainly needed that win to regain some of their pride after getting heartbreakingly crushed by Salaspils (Latvia) in the opening game (15-1).
Salaspils are proving why they are reigning champions not only in their strong game against Erdferkel but also in their game versus PELT (15-6). They kept their offensive points short and effective throughout the match. PELT seemed to struggle not only with their opponents but also with playing mixed, as they usually play open and women's. They kept up high spirits during their losses but they and are starting to gel as a mixed team.
Salaspils have a commanding lead in the pool right now and are poised to take the quarterfinal spot. CUSB Red Shot look like they will come in last place. Just as with Pool XA Monkey have the slight edge among the three teams looking to get out of the pool with a 15-13 win over PELT. However, Monkey's and PELT's games against Erdferkel will finalize who make it to prequarters.
POOL XC

In the very first game of XEUCF 2021, PuTi (Helsinki) showed why they are considered a top seed. They started off strongly against their Swedish neighbors KFUM (Örebro) (15-8). Using up all their time outs (two per half time per team), KFUM didn't let their spirits go down, upped their game but couldn't withstand the great athleticism of PuTi's Inka Wessman. She showed her mental strength and game experience, getting free against her defenders on every single cut. For further matches she will certainly be one of the most important PuTi players to watch. Both sides had numerous drops and fumbles in this game but showed later on that both of them had not played their best game.
PuTi later played Catchup (Graz, Austria), winning 15-10. Catchup got dragged through the first half but managed to gain some of their honor as reigning Austrian champions back later on in the game. Still, the contest was decided quite clearly and Catchup did not seem to recover their self-confidence later on as they lost against PUC (Paris) 15-12.
KFUM was able to recover from their loss and won their game against LeftOvers (Brno, Czech Republic), 15-12. LeftOvers have a rather young team with their youngest player being Dominika Hadová at only 15 years old. However, she turned out to be a promising prospect as she showed great speed and positioning on the fields. Another thing assisting KFUM to their win was the weather conditions as they had a better time adjusting to rain and wind, keeping a safe and organized handler game. Both teams seemed to have a hard time keeping the spirits high, which showed in on-field communication and in both receiving 9s for spirit.
LeftOvers won their second game of the day against PUC at 15-13, making use of their youth and the expertise of their more experienced players, Daniel Gladiš and Ondřej Batůšek, who led the team offensively through many of the points.
Just as with Pools XA and XB, PuTi are a very clear frontrunner right now. The race for second and third is still wide open where all four teams can still contend for a spot in prequarters.
POOL XD

Pool D's strongest teams have been Mainzelrenner (Mainz, Germany) and Flow (Wroclaw, Poland). Mainzelrenner won 15-5 against Flying Rabbits (Brussels) and 15-7 against UFO (Utrecht, Netherlands). Flow had the exact same score against UFO and earlier had a closer game against Sesquidistus (Strasbourg) which ended at 12-10, making it one of only two games not ending at 15.
Nevertheless, Sesquidistus didn't expect to win against the pool's favorite Flow anyway, so they were proud of their defense and took their not-horrible loss as a sign of their potential strength. As Sesquidistus's John Kofi put it enthusiastically, "I think this game was a proof that we can play hard and can take hard games full-time and it's simply a good way to show ourselves."
He was proven right as they were able to show off their skills in their second game, winning 15-3 against Flying Rabbits.
On Friday, Mainzelrenner versus Flow at 15:40 will be a game worth watching for all attending XEUCF and to read up on in tomorrow's daily recap, as well as watch on the livestream on YouTube for all those at home.
Mainzelrenner and Flow are still in a promising position to finish top of the pool but Sesquidistus still have a chance to win out in a three-way triangle if they beat Mainz and Mainz beat Flow. While mathematically possible, it is very unlikely that UFO or the Flying Rabbits make it out of the pool phase into the bracket.