How would you respond to a last minute format change in the biggest tournament of the year?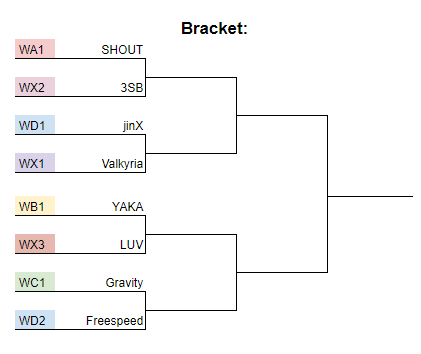 The quarterfinals were a surprise addition to the women's division at the XEUCF in Bruges. Originally teams were grouped into two power pools of four where the top two from each power pool would qualify for the semifinals. The schedule was changed Saturday morning, due to concerns about the weather coming in later on in the day. The power pool rounds were removed and those top eight teams advanced directly to a quarterfinal bracket. The teams were told just before their first power pool games, with several teams saying that they were made aware of the adjustment as they were preparing or warming up.
The first round matchups of power pools stayed the same, so teams were still playing against the team they had prepared for first thing on Saturday. There was a degree of sense in the matchups, as the rounds were the top seed of each power pool against the bottom seed, etc. Although if quarters were drawn strictly by seeding the teams may have been matched slightly differently. We interviewed the EUF competition director as well as all the teams involved in the schedule change to get their reactions to the last minute change of format.
XEUCF 2021: Reactions to the Changes in the Women's Schedule is only available to Ultiworld Subscribers
Already have a subscription? Log in
Whether you visit Ultiworld for our reporting, our podcasts, or our video coverage, you can help us continue to provide high quality content with a subscription. By becoming a subscriber, not only do you receive benefits like exclusive articles and full article RSS feeds, you also help fund all of Ultiworld's coverage in general. We appreciate your support!