Will we see the first women's French champion in Europe?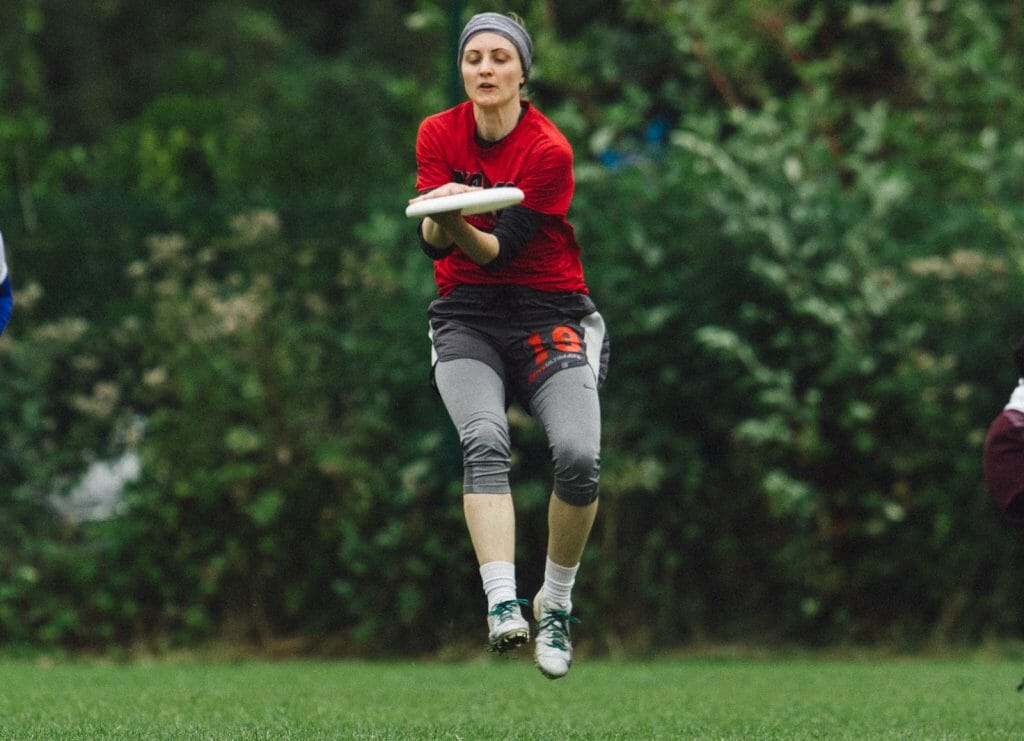 YAKA (Noisy-le-Sec) continued their march towards destiny this afternoon, defeating Gravity (Dublin) 15-9 to seal their first European final attendance. The French team have been in dominant form so far here in Bruges and have still not conceded more than nine points in a game. They look to be peaking perfectly for the big game tomorrow where they will face reigning champions CUSB Shout (Bologna), their conquerors in 20191 and a team they know extremely well.
This game was the second of the two semifinals on the streamed grass field after Shout overcame Valkyria in the previous game slot. The relentless downpour meant that the field had been chewed up  badly all day and added another variable for the teams to wrestle with in the biggest game of their seasons so far.
YAKA started out on offense and converted with no problems. Centre handler and captain Aline 'Rasta' Mondiot worked the middle of the field with fellow EuroStar Inês Bringel, running through the center of Gravity's zone with ease. Mondiot and Bringel stayed on the field for the ensuing D point, linking up for a spectacular score as Bringel sent a flick huck that Mondiot went full extension horizontal for in the end zone for a 2-0 lead.
Gravity got on the board with a huck from captain Àine Gilheany to Elissa Sutherland, but YAKA responded with a hold and another break to start pulling away from their opponents, YAKA sent up a big huck to go 4-1 up.
The teams traded a few points until Gravity started eating back into the lead. A low throw across the field wasn't pulled in by YAKA despite a layout bid and Gravity worked down the open side with player-coach Leanne O'Neill burning up the line and tossing it to Sinéad Dunne for a break for 6-4.
YAKA responded the way that (would-be) champions respond. A routine hold was followed in short order by another break to take half. Jeanne Della Valle knocking a break throw out of the air and Robyn Fennig throwing a looping cross field flick to the far front corner for the goal, 8-5.
Gravity did well from there, continuing to trade with YAKA and really testing the French team's defense with their long game. Jess Chambers scored five goals in the game. Her height and ability to read the disc was as integral to Gravity's offense as the ability of the handlers to find her consistently. The teams traded to 11-8 until Gilheany was forced into a high-stall scoober by intense YAKA pressure and Anne Le Borgne knocked it away. A huck to Le Borgne later and YAKA were 12-8 up with the final firmly in their sights.
Gravity held the next point at the second time of asking, turning over despite a phenomenal layout grab from Chambers under intense pressure from the bidding Fennig. From there, though, YAKA put their foot down and scored three in a row to win the game. When Katharina Meissl caught the game-winning score the entire YAKA sideline streamed onto the field, the emotion built up over years of trying to get to the European final released in one joyous moment.
After winning the game, Mondiot was typically focused on the coming game, "We were waiting for this game since the beginning. We have been super tight with CUSB for years. They won many times but we met them in Bern three weeks ago and beat them on universe so it was a good taste of the final, and here we are now. We are waiting for this game not in the semi, not in the bronze medal game, but in the final."
YAKA have every reason to feel confident with how dominant they have been so far in Bruges. "We have the most powerful YAKA team on defense ever," said Mondiot. "We have great intensity and physical condition so I can say that we have the best YAKA team ever. We wanted to go to the final. When I saw us win the Flowers game2 15-9, the quarter 15-93 and the semi 15-9 I thought we are at the level we wanted to be at for the final."
For their part, Gilheany said that she is proud of her team and what they have been able to do at this tournament. Gravity run open trainings and regularly have beginners and less experienced players at sessions, so reaching the semifinals of a major European tournament is a huge achievement. "We tried five or six different zones but YAKA handled them," she said before stating the obvious, "They're very good!"
Gravity will regroup now and renew their focus for WUCC in Cincinnati next year. With the experience their players have picked up here, it would be a fool's errand to bet against them performing well at that tournament. For now, though, the focus is rightly on YAKA. They have been the most impressive team at this tournament so far. Now they have a chance to cap it with a title.
---
Shout came back from 12-13 behind to secure a 14-13 win against YAKA in the semifinals of EUCF 2019. ↩

Their final pool game. ↩

Against Belgians LUV this morning. ↩