Fury looks crisp on their way to the title, but the rest of the region's contenders battled it out for the final bids.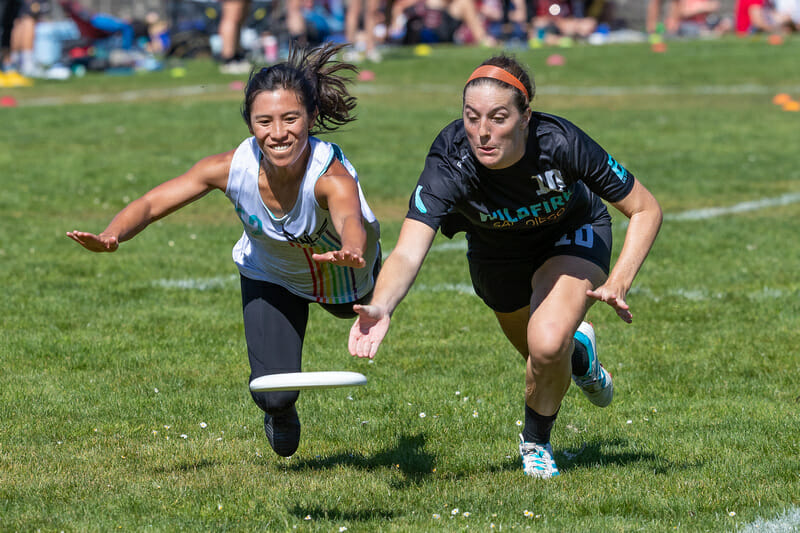 Ultiworld's 2021 coverage of the club women's division is presented by Spin Ultimate; all opinions are those of the author(s). Find out how Spin can get you, and your team, looking your best this season.
SAN FRANCISCO, CA—A sun-bathed San Francisco Bay Area welcomed the Southwest women's division on short notice, and hometown hosts #1 San Francisco Fury put on a dominant display as they cruised to the top spot. San Diego Wildfire and San Francisco Nightlock took the second and third bids, with Wildfire earning the second bid for the first time ever as they welcome Nationals back to their home in San Diego.
A Well-Rested Fury Wins With Dominant Defense
On the heels of giving up a mere three points over three games as they eased to the top spot in the Women's NorCal Sectionals in nearby Tracy, CA, Fury thought their next trip would be six hours south to Norco, CA for Southwest Regionals. While Norco was a familiar enough location, having hosted the 2019 Southwest Regionals, having to travel, especially in the time of COVID, is rarely the most conducive for outstanding play. However, a snafu with the Norco field reservations led to the relocation of Regionals north to the more local confines of Golden Gate Park and Fury took full advantage.
The first game of the weekend in San Francisco saw Fury blank LA Rampage in Pool A, and Fury then duplicated that scoreline against Pool B winners Oakland LOL in the cross-over round. In their only other game on Saturday against Nightlock, Fury limited their closest rivals to a mere four points and no breaks, starting fast with five straight scores and closing with two final breaks. Fury's production and defensive dominance came from up and down the roster, with Sharon Lin, Julia Butterfield, and Opi Payne particular standouts in their Saturday game against Nightlock.
Sunday brought what ended up being Fury's last game of the weekend in the first place final, once again against Nightlock. While Fury's offense was not quite as clinical as on Saturday, giving up their one and only break in the first half, their defense routinely came up with big plays to return the disc to the offense and they led 8-4 at the half. In the second half, Fury took their play up another gear and closed out Nightlock with a 7-1 finish, easing to a 15-5 win and a return trip to San Diego as comprehensive Regional champions.
Looking forward to Nationals, Fury veteran Maggie Ruden highlighted the step-up in play they are eager to see. "It's going to be the most competitive tournament that we've had this season," she said. "So it's going to be really important for us to step out on the field and really relish the moment and not let it go by without trying our best. Excited to do that and show what we can do."
Wildfire's Revamped Roster Reclaims Runner-Up
Coming into the 2021 season, it was unclear if #16 San Diego Wildfire was even going to play as their roster turned over, and they stayed out of competition until a two-game Sectionals. In particular, they lost several of their best players, including Dena Elimelech, Kristin Pojunis, and Jasmine Childress, to Fury, San Francisco Polar Bears, and a Fulbright Scholarship in Switzerland, respectively. Still, they came north to San Francisco as the no. 2 seed looking to at least hold onto the third bid that they had earned via their Nationals qualifying runs in 2018 and 2019.
Day one was uneven for Wildfire, as they went 2-2 with wins against Sacramento Sac Lunch and LA Rampage and losses against Nightlock and LOL. Wildfire's game against LOL did go to double game point, but their defeat to Nightlock was more comprehensive and left them looking up at the other three contending teams going into Sunday, with a grudge match against LOL first on the docket.
Similar to their game on Saturday, Wildfire and LOL played a tight game in the early round on Sunday, with San Diego earning a break as the teams went to half to lead 8-6. The second half was similarly balanced, but Wildfire was able to grind out a few more breaks as they slowed LOL with their zone defense on the way to a 13-9 win. That brought them into the second place final and a rematch against Nightlock, who, prior to this year, had consistently taken the region's second bid.
The game started evenly before Wildfire took two straight breaks to go up 4-2 on Nightlock, largely on the back of their zone defense that was a marked switch from the match defense Wildfire primarily played on Saturday. "I think we made some adjustments after yesterday," San Diego leader Hannah Walter said. "They're strong and they're athletic, so we tried to make an adjustment today and just tried to make them move the disc with that zone, and it worked." The teams traded holds as the game neared halftime before their zone did its job and got Wildfire a crucial break going into halftime up 8-5.
Out of halftime, Wildfire managed their lead, with Nightlock never bringing the deficit closer than two as their offense largely stayed steady in the face of Nightlock's sustained pressure. Notably, after Nightlock had brought the score to 9-7, San Diego rookie but experienced campaigner Dena Slattery came on as an injury sub and promptly got a block, and then scored for the Wildfire hold and a 10-7 lead. The final score ended at 13-10 as Deanna Abrams, another accomplished Wildfire rookie, got the last goal with a fingertip catch and Wildfire had taken the second Southwest women's bid and will play hosts to Nationals once again.
Nightlock Narrowly Preserves Place At Nationals
At NorCal Women's Sectionals, #16 San Francisco Nightlock took an unexpected double game point loss to LOL, which put them in Fury's pool as the no. 4 seed at Regionals, an unfamiliar spot for the perennial Nationals contenders. Despite the unusual seeding, Nightlock showed on Saturday why they had earned and kept a bid each year since their inception. They beat LOL and Wildfire by six- and seven-point margins respectively, and only lost to Fury en route to the first place final on Sunday and their first game-to-go of the weekend.
With three bites of the cherry there to keep their Nationals streak alive, Nightlock knew that even after back-to-back losses against Fury and Wildfire they still had the capacity to overcome #14 Oakland LOL for that final bid. "We knew we had done the work yesterday to give ourselves three opportunities to make Nationals," offered Nightlock captain Katie Swinnerton. "We had the first two games to figure out what we needed to clean up, and then we were able to bring that energy for the last game."
It took the bulk of a tense first half for Nightlock to really find that energy against LOL, as the teams traded breaks and holds in the first four points and remained even through 5-5. Nightlock was able to get the break through as halftime approached, though, and led 8-7 at the game's midpoint. In the closing stages of the half, veteran Eliza Chang, who was not available for the Fury game earlier in the day, came up with a big block to preserve a Nightlock offensive hold.
Coming out on offense after half allowed Nightlock to extend their lead, and from there they maintained their distance on LOL in spite of several clear break opportunities for their experienced opposition. Nightlock's outstanding not-so-rookie rookie handlers, including Ella Hansen and Rio Chuck, played a major part in their success throughout the weekend, including Hansen's one-throw assist for a Nightlock break that put them up 12-9. It was Chang, though, that truly closed out LOL, picking up a block on the next Oakland offensive point as well as the closing assist to finally earn Nightlock their bid to San Diego.
Best Of The Rest
With their upset of Nightlock at Sectionals and their double game point win over Wildfire at Regionals, LOL consistently showed this season that they can legitimately compete for a place at Nationals. The veteran team from Oakland never looked threatened by any other team in the division and ensured that Nightlock and Wildfire had to work hard to keep their bids. At the end of the weekend, though, LOL simply couldn't convert their break chances consistently and when they fell behind in those crucial games against Nightlock and Wildfire they were unable to make up the deficits.
The other three teams that attended regionals finished in order of longevity, with Rampage, organized in 2018, twice comfortably beating Ultraviolet, who started in 2019 and won all three of their games against the newly formed Sac Lunch. Rampage did lose to LOL by a relatively close margin of 12-8, but LOL were in control of the game throughout and were never in serious danger.