The kids are more than just alright.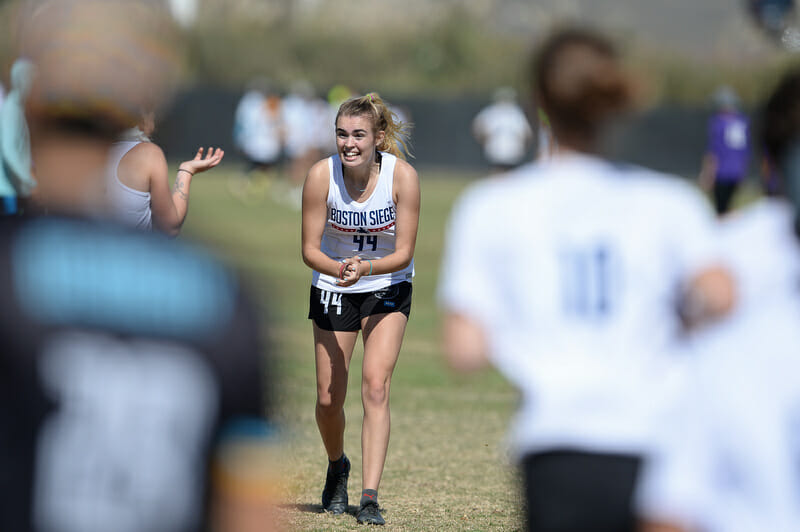 Ultiworld's 2021 coverage of the club women's postseason is presented by Spin Ultimate; all opinions are those of the author(s). Find out how Spin can get you, and your team, looking your best this season.
It's been a full decade now since the premier of the NexGen Tour, a venture designed to highlight the best young talent that our sport had to offer with a barnstorming team of college-aged players in showcase games against top men's clubs. A half-decade later, the All-Star Ultimate Tour took on a similar project in the women's division. In recent years, however, there hasn't been the same type of showcase for up-and-coming talent to prove themselves against the sport's established powers. That is, until Thursday of 2021 Club Nationals. Even after only one day of competition, it's clear that the youths aren't just the future of our sport, they might be the present, too.
At a first glance, the teams that have dominated at Nationals so far are filled with familiar faces, veteran talents that have been at the apex of the sport for years. San Francisco Fury, Boston Brute Squad, and even Denver Molly Brown still feature players that have been household names for at least a half-dozen or so years. But to look at Nationals so far solely through the lens of the top three would be doing an incredible disservice to the tournament so far.
Look just outside of the top 3, and you'll see some of the youngest rosters in the tournament have quietly made their way into the top end of the bracket. At Nationals, the youngest three teams based on average age are Boston Siege, Raleigh Phoenix, and Vancouver Traffic. Following behind them are Minneapolis Pop and Chicago Nemesis. Notice the pattern yet? Not only have all of these teams qualified for the bracket, they've done so while running their games through some of the division's brightest rising stars.
For Raleigh Phoenix, Dawn Culton is close to leading the tournament in blocks, and Ella Juengst is one of the team's top goal-scorers. Neither are over 22. For Vancouver Traffic, Madison Ong and Katherine Ortega are among the team's most impactful players according to the eye test and Score Reporter stats alike, and both are similarly young. Boston Siege has perhaps the most obvious example in Kennedy McCarthy, one of the division's most ascendant players, but has seen incredible performances from Grace Alston and Claire Babbott-Bryan, too. All of these players have posted remarkable statlines and have an impact that goes beyond numbers on a page.
In many of these cases, not only are the young players performing at the highest level, they're also the focal points of their respective teams. For most of Siege's receiving points, Kennedy McCarthy is the engine of the O-line, and that's all while attracting her opponent's best defenders. Riot's placed major handling responsibility in the hands of Steph Phillips and Ikran Elmi, two 21-year-old players that will be major pieces in the team's offense going forward. According to her teammates, Ikran Elmi didn't throw a turn in any of the three games she played on day one despite her high usage rate. Traffic has put Madison Ong in a similar position as a central handler for the offensive unit, despite being the youngest player on her entire team. Even Minneapolis Pop, who have a wealth of strong throwers, has handed the reins of their offense to a 21-year-old in Mei Hecht. These players aren't just helping in the kitchen, they're being given the chef's hat and asked to make the entire meal.
Not even five years ago, players like Claire Trop and Jack Verzuh were seen as outliers or once-in-a-generation talents that could compete with the best teams in the world while still in college. And yet, if day one of Nationals is any indication, these young stars are going to become the standard, not the exception.
It might still be a while before we see Fury taken down by a team straight out of college, and the women's division has yet to see an equivalent of this year's Denver Lotus. But the young stars of today aren't taking a back seat any time soon. With bracket play looming, 2021 Nationals may just be the tournament we point back to when crowning future MVPs.