A classic ninth-seed vs. twelfth-seed matchup in the second mixed semi.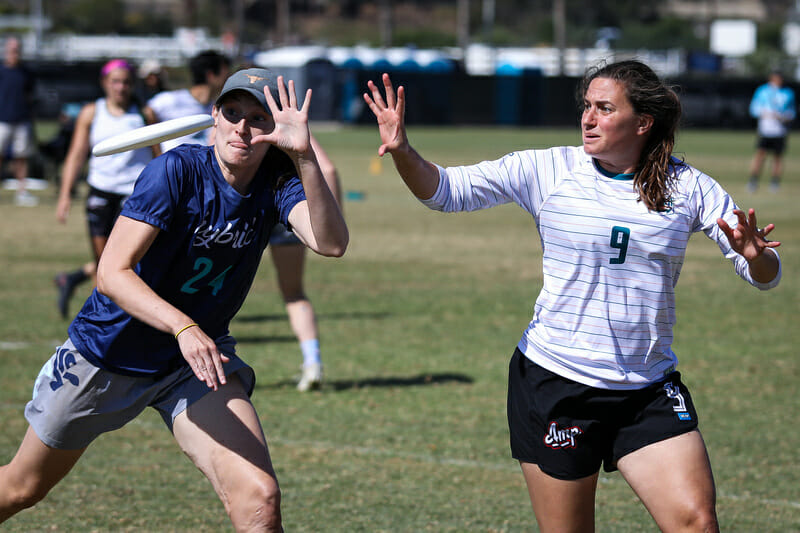 Ultiworld's 2021 coverage of the club mixed postseason is presented by Universe Point cleats; all opinions are those of the author(s). Check out Universe Point if you are looking for a comfortable, ultimate-specific cleat with a patented stud pattern that can give you an edge every time you're on the field.
The mixed division always has some element of chaos. Here's how we started one of these previews in 2019 when then-nine-seed Fort Collins shame. made the semifinal: "Hands up if you called this as one of our semifinal matchups. Anybody? That's what we thought." Well, this time, shame. was the top seed who got eliminated early and not one, but two third pool seeds have cleared their quarters matchups to contest for a shot at the national title. Now, in the last game of the bracket before Sunday's finals, two first-time semifinalists will enter, and one first-time finalist will leave.
---
WATCH LIVE: ESPN3, 2:30 PM PDT (full broadcast schedule)
---
Madison NOISE
Record: 21-2
Record vs Hybrid: 0-0
Statistical Leaders: Robyn Fennig (7G, 12A), Clea Pokembla (3G, 9A, 7D)
Path to Semis: 3-0 in Pool A (defeated Slow, shame., Lochsa) → bye to quarters → 15-11 over Sprocket in quarters
Ann Arbor Hybrid

Record: 27-2
Record vs NOISE: 0-0
Statistical Leaders: Dan Donovan (10G, 3A), Connor Lukas (3G, 15A, 3D)
Path to Semis: 2-1 in Pool D (defeated Drag'n Thrust and XIST; loss to AMP; won pool on point differential) → bye to quarters → 10-9 over Lawless in quarters
Madison NOISE hasn't lost a game yet, and looked better in their quarterfinal than they did while escaping pool play with two universe point squeakers. On the other side, Ann Arbor Hybrid ended up on top of the toughest pool on point differential, and they fought from behind to win a universe point thriller against Lawless in quarters.
How NOISE Got Here
Entering the tournament as the no. 12 seed, Madison NOISE announced themselves with a first-round upset of overall first seed Fort Collins shame., courtesy of a late-game run of breaks spurred by patient disc movement and possession-based offense. Tight come-from-behind wins against #8 Boston Slow and #17 Boise Lochsa rounded out pool play, and NOISE played their best game of the tournament so far against #9 Boston Sprocket in quarters, closing out the game on a 4-0 run.
Casual observers will be familiar with do-it-all offensive centerpiece Robyn Fennig, but this team has played complete games and hasn't relied on her to carry to the team. Clea Poklemba has been a revelation, leading the team in blocks and rising to second on the team in assists — as a D-line player. Kelsen Alexander has stepped up to take tough matchups and managed to earn a pair of deep blocks on Tannor Johnson to close out NOISE's quarterfinal with Slow. Dylan DeClerck and Jimmy Sykora are some of the most imposing men-matching defenders in the division. Margaret Walker and Rami Paust are playing nearly flawless offense quarterbacking the O- and D-lines respectively. 
"We're riding the high," NOISE's quarterfinal star Alexander said. "We came into the tournament without a ton of expectation. We lost to Drag'n at Sectionals and Regionals, so we didn't really know where we were going to stack up." NOISE have outlasted #6 Minneapolis Drag'n Thrust, who lost their quarterfinal to #2 Seattle Mixtape, and are on a trajectory that could lead them to the national final. 
How Hybrid Got Here
Coming into the tournament, Hybrid were relative unknowns. They won the Elite-Select Challenge and topped several ranked teams at Great Lakes Regionals to win perhaps the most contested-for Nationals bid in the division, but hadn't been tried by teams outside their area. Like NOISE, Hybrid started the tournament with an upset win over the pool top seed, taking down Drag'n Thrust in a convincing 14-11 win. After losing a pool play game against #4 Philadelphia AMP, Hybrid survived a universe point scare against #20 New York XIST, which, combined with Drag'n Thrust's win over AMP, propelled Ann Arbor to first place in the pool — narrowly avoiding being eliminated from the bracket entirely with a loss that would have upended that math.
Facing off against #10 Arizona Lawless in a closely contested quarterfinal, Hybrid led wire to wire, but Lawless was never more than three goals behind, and went on a run to close the game late. The game was defined by the kind of grittiness and chaos that Lawless thrived on in their prequarter upset of Space Heater, but Hybrid held steady and advanced to their first-ever semifinal.
"Right now, as a team, we're wanting to enjoy the moment together," Hybrid captain Bailey Besser said after her team's quarterfinal win. "And then game hats back on, refocus, and take it home the next day."
Nathan Champoux is Hybrid's go-to player. His well-rounded stat line shows how critical he has been to the success of Hybrid's defense and offense to convert breaks after the turn. Michigan MagnUM standouts Jake Steslicki and Adam Stautberg have made big plays on defense all tournament and seem to never be lacking in energy. Connor Lukas is tied for third in the division in assists, and Dan Donovan is tied for fifth in goals to lead the offense. Sara Nitz might not be lighting up the stat sheet, but her well-timed cutting keeps the Hybrid offense flowing and she's good for at least one highlight layout catch per game. Mya Hernandez has been drawing tough defensive assignments and handling them with aplomb.
What to Expect in the Semifinal
The story of this game will be how well Hybrid's women-matching defenders can handle NOISE's women-matching stars like Walker, Ness Cannaday (who leads the team in goals), and Fennig. While Hybrid won their first game against Drag'n Thrust, who also characteristically run games through their women-matching players, most of the top Hybrid defenders are men-matching players, and testing them too many times can lead to turnovers. We haven't seen Fennig completely take over a game like we know she's capable of, but there might not be a bigger moment than the national semifinal for her to leave her mark on this tournament.
Hybrid, on the other hand, has been building for this moment all season. They've already survived high-pressure situations to get to this point, including universe points finishes in two elimination games. After surviving a one-bid Regionals, a narrow escape from the Pool of Death, and a one-point quarterfinal with Lawless, surviving semis may not seem so impossible after all.