Rhino are on their deepest bracket run in a generation, but for a shot at the ring, they'll have to go through Ring.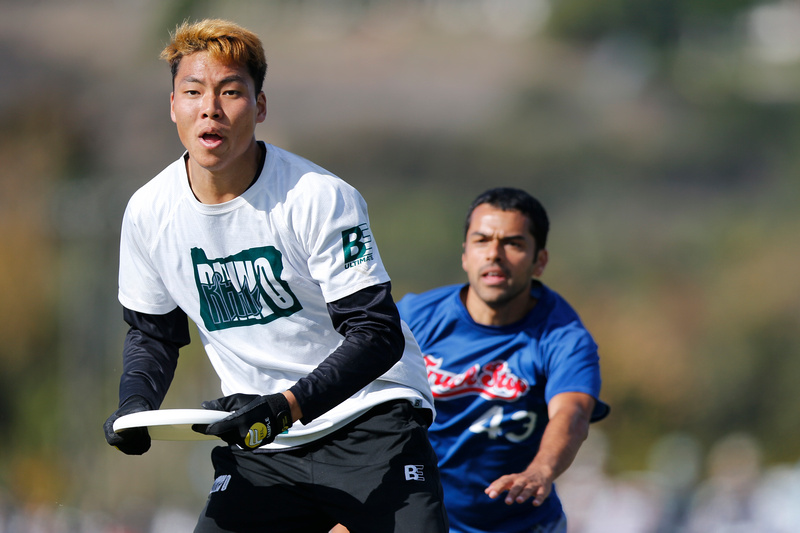 Ultiworld's 2021 coverage of the club men's division is presented by Spin Ultimate; all opinions are those of the author(s). Find out how Spin can get you, and your team, looking your best this season.
Two of the oldest men's clubs in the country face off in the first semifinal of the day. #3 Raleigh Ring of Fire, founded in 1989, have a 25-year streak of Nationals appearances. They have been on a run of elite success in recent years: six semifinals appearances out of the last eight seasons. They have not, however, advanced to the final in that time frame. #6 Portland Rhino Slam! came into existence a year later, in 1990, but the program have not made quite as big a splash as their opponent in recent years; their two semifinal appearances came all the way back in 1992-1993.
---
WATCH LIVE: Ultiworld, 10:00 AM PDT (full broadcast schedule)
---

Ring of Fire
Record: 14-0
Record vs. Rhino Slam!: 0-0
Statistical Leaders: Sol Yanuck (3G, 10A, 1D), Jonathan Nethercutt (3G, 9A), Anders Juengst (10 G)
Path to Semis: 3-0 in Pool C (defeated Revolver, Johnny Bravo, Sprout) → bye to quarters → 14-11 over Chain Lightning in quarters

Rhino Slam!
Record: 20-8
Record vs. Ring of Fire: 0-0
Statistical Leaders: Raphy Hayes (10G, 5A, 5D), Owen Murphy (2G, 11A, 2Ds), Daniel Lee (8G, 4A, 6D)
Path to Semis: 2-1 in Pool A (defeated Lotus and Temper; loss to Sockeye) → 14-12 over The Killjoys in prequarters → 14-13 over Truck Stop in quarters
Through four games at the tournament, Ring have not lost. A thrilling universe point victory against San Francisco Revolver in pool play gave them a scare. Otherwise, they have taken care of business: 15-7 over Johnny Bravo, 15-5 over Sprout, 14-11 over Chain Lightning in a Southeast Regionals rematch of a quarterfinal that was not as close as the score would suggest.
Ring's secret sauce is top-of-the-division depth on both offense and defense. Both units like to dictate the terms of play, and both have the capability to strike quickly. The offense relies on a bevy of playmakers who complement each other's skills. "None of us feel like we're doing too much. None of us feel like we're doing anything hard," says handler Matt Gouchoe-Hanas of his O-line. It's a whole line of big names, but the keys this year have been Jack Williams and Sol Yanuck. It's fair to say that if both those players have good games, Ring's chances of winning increase dramatically. "We're all living in Sol's world," noted Gouchoe-Hanas after their quarterfinal victory.
Efficiency with the disc after turns on defense has been another important point for Raleigh. Noah Saul, Jon Nethercutt, Connor Russell, Elijah Long, and Ethan Bloodworth can all steer the counter when it falls to them. It has a dampening effect on the other team's offense to find themselves unable to get it back; the Raleigh D-line is just too steady.
Against such a domineering opponent, then, how can Portland take the advantage? A sound 15-9 loss to Sockeye in pool play shows what can happen to when Rhino encounters a staunch defense. But when Rhino are clicking, they strike fast. That was how they operated in wins over Lotus (15-10) and Temper (13-11) in pool play, as well as in a tight contest against the Killjoys in prequarters — albeit less consistently, with the Killjoys playing a close game throughout and Rhino seemingly in real danger of becoming the second top-half team ousted by the no. 16 seed before they managed to pull away 14-12.
However, it wasn't until their universe point quarterfinal victory over Truck Stop that the full scope of Rhino's personality came into focus. It's a matter of personnel. Ted Sither, Felix Moren, and Sam Franer are all very good O-line players, capable of athletic catches and quickfire scoring throws. But they aren't Raphy Hayes, either. Rhino are at their best when they are using Hayes' unique blend of speed, boldness, and unconventional field vision as often as possible.
According to Rhino Slam! coach Mike Payne, they are prepared to use Hayes — as well as his athletic counterpart from the D-line, Leandro Marx — as often as necessary. Payne crossed him over to the other line often during quarters. "We have basically spent the first part of the tournament trying to use our depth so that Raphy had legs," said Payne. He went on to say that, during the quarterfinal, "We actually underperformed on using our stars." If anyone can consistently puncture the weak points in the Raleigh defense, it's Hayes. Expect Portland to put him on at least two of every three points in a close game with the highest stakes a generation of Rhino players have ever faced on this stage.
All in all, it should be a great match between two teams who, between them, don't have a timid chromosome in their DNA chains.