Bid picture coming together for WUCC!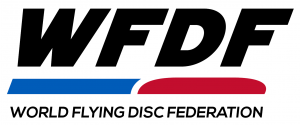 Earlier this month, WFDF released their initial bid allocation for WUCC 2022. Since that date, some countries have declined bids, while others have not responded to WFDF before the deadline. Accordingly, WFDF have advanced through the bid allocation rules outlined in the Rules Appendix. They have now given all bids through rule E5.4 and are currently in the process of giving out bids with E5.5.
E5.5 has been slightly adapted, and now gives bids to any nation who held a national championship in a particular division in 2019, 2020, or 2021, as well as those who plan to have national championships in 2022. The changes were made for this tournament as many nations were unable to hold national championships in 2020 and 2021 due to COVID restrictions, and it would have been unfair to punish them for that.
Because many more nations get a bid through E5.5 than the number of bids left in the open division, these bids are allocated in order of world ranking. There is currently a waiting list, and bids will be given to countries as WFDF gets more information from the national federations. (For example, #16 The Netherlands currently has two bids in open, whereas #17 Ireland only has one, so it would be safe to say that the next bid in open will go to Ireland if countries decline bids given to them in this round.)
Women's and mixed divisions have now gone through E5.5 and will progress to E5.6 and E5.7 to fill in the remaining bids. There are currently only 33/40 bids given in women's and 45/48 bids given in mixed.
Here is the bid distribution of bids to WUCC 2022 as of October 25:
| Country | Open | Women's | Mixed |
| --- | --- | --- | --- |
| Argentina (ARG) | | | 1 |
| Australia (AUS) | 3 | 1 | 2 |
| Austria (AUT) | 1 | 2 | 2 |
| Belgium (BEL) | 1 | 1 | 1 |
| Canada (CAN) | 3 | 3 | 3 |
| Czech Republic (CZE) | | | 1 |
| Colombia (COL) | 2 | 3 | 2 |
| Denmark (DEN) | 1 | | 1 |
| Dominican Republic (DOM) | | | 1 |
| Finland (FIN) | 1 | 1 | 1 |
| France (FRA) | 2 | 2 | 2 |
| Germany (GER) | 2 | 2 | 3 |
| Ghana (GHA) | 1 | | |
| Great Britain (GBR) | 2 | 2 | 2 |
| Haiti (HAI) | 1 | | |
| Hong Kong (HKG) | 1 | | 1 |
| India (IND) | | | 1 |
| Ireland (IRL) | 1 | 2 | 2 |
| Italy (ITA) | 2 | 2 | 2 |
| Japan (JPN) | 2 | 2 | 2 |
| Netherlands (NED) | 2 | | 2 |
| New Zealand (NZL) | 2 | 2 | |
| Panama (PAN) | | | 1 |
| Poland (POL) | | | 1 |
| Singapore (SGP) | 1 | 1 | 1 |
| South Africa (RSA) | 1 | 1 | 1 |
| Spain (ESP) | 2 | | 2 |
| Sweden (SWE) | | | 1 |
| Switzerland (SUI) | 2 | 2 | 2 |
| United States of America (USA) | 3 | 3 | 3 |
| Uruguay (URU) | | | 1 |
| Venezuela (VEN) | 1 | 1 | |