Most of the college Nationals is field, plus news from pro leagues in North and South America.
November 15, 2021 by in News with

0

comments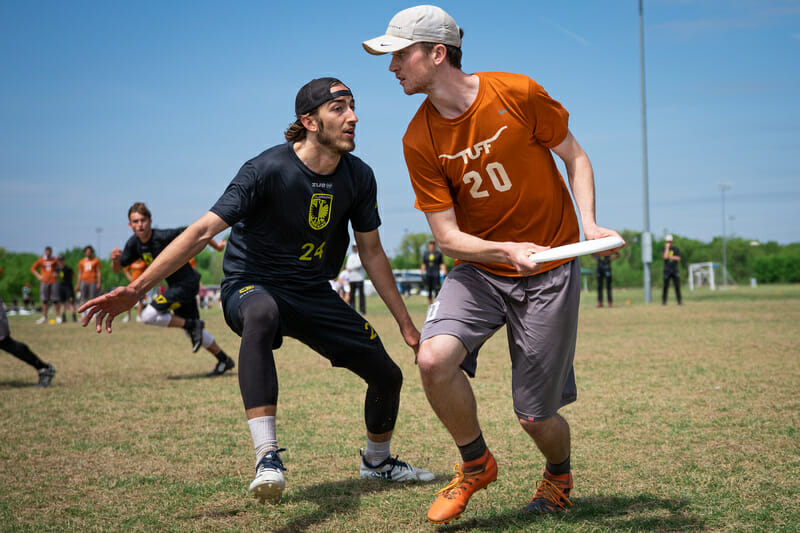 Opening Pull is Ultiworld's weekly wrap-up of the previous week in ultimate, available both here on the site and as an email newsletter. We've gathered the news you need to know and highlights you need to see. Check back weekly or subscribe now to receive Opening Pull in your inbox along with a rundown of the previous week's content on Ultiworld.
Big College Regionals Weekend Nearly Fills Nationals Fields
The 2021 fall Series is nearly completely after the largest of three Regional Championship weekends. 19 events made for a full slate, with all of the joy and heartbreak that comes with the annual battles that either end or extend seasons. We have the full list of qualifiers and decisive results.
Of course, there were plenty of surprises. In the Southwest, Stanford (ranked #8 in women's and #16 in men's) failed to qualify in either division, and #6 UCLA also could not outperform #15 UC Davis, the latter of which qualified. In D-III men's, #4 Missouri S&T and #8 Oberlin were both knocked out. In D-III women's, #25 Brandeis stormed from the last seed to qualify in a six-team tournament where every team was in our top 25. Boston University and UPenn both were surprise qualifiers in D-I women's competition.
All that remains is D-I Men's and Women's competition in the Southeast!
Colombia's CUP Launches Over Weekend
The Copa de Ultimate Profesional (CUP) went live from Bogotá over the weekend, pitting four Colombian mixed gender semi-pro teams against one another for the league's first title. The four clubs — Armadillos, Nómadas, Cóndores, and Voladores — were each drafted from a pool of players that included Revolution & RevoPro stars such as Manuela & Valeria Cardenas and Yina Cartagena. The three-day event used the WFDF ruleset.
Nómadas and Voladores reached Monday's final. The former outscored Cóndores 15-12 in the semifinal round, while the latter defeated Armadillos 15-13. That set Voladores and Valeria, the #2 overall pick, against Nómadas and their top pick, Cartagena. Led by Valeria and Andres Felipe Ramirez, Voladores captured a first half lead at 8-6 and closed out, 15-11.
US Semi-Pro News Roundup
The three U.S.-based leagues have each had some recent news, as well.
The Western Ultimate League is in the midst of their #ClaimYourSpace fundraising campaign. You can purchase gear to support the league's efforts. Their Winter Cup event is scheduled for December 11-12 in San Diego and would be the first official competition for the league.
The Premier Ultimate League's Nashville Nightshade also announced their return to the league for the 2022 season. Three teams declined to participate in the league's 2021 competition, including the Nightshade. The team went 0-5 during the inaugural season.
The AUDL has been teasing their video game, which is in development, but they launched a Kickstarter for the game, releasing a lot more info. The league is seeking $350,000, a sizable ask, for "AUDL 22", which will include create-a-team and create-a-player options, multiplayer competition, a franchise mode, and more.
---
Coming Up
This week marks our Club Awards week, where we will recognize the best performances of the club season.
More College Regionals coverage, including video from games across the country and divisions.