Club division awards are in full swing and all 72 teams heading to Norco for the College Championships have claimed their spots.

Opening Pull is Ultiworld's weekly wrap-up of the previous week in ultimate, available both here on the site and as an email newsletter. We've gathered the news you need to know and highlights you need to see. Check back weekly or subscribe now to receive Opening Pull in your inbox along with a rundown of the previous week's content on Ultiworld.
Lindsay Soo, Chris Kocher, Mario O'Brien Win Player of the Year Awards
Raleigh Phoenix's Lindsay Soo, New York PoNY's Chris Kocher, and Seattle BFG's Mario O'Brien took home Player of the Year awards in the women's, men's, and mixed divisions, respectively, as our 2021 club player awards started rolling out last week.
Awards were also announced for Offensive POTY, Defensive POTY, and Breakout POTY. You can see all of the award announcements here: more announcements are coming this week!
Southeast Regionals Results Finalize College Nationals Field
The 2021 College Nationals field is now set! 72 teams are headed to Norco in 25 days for the first college championship ultimate in two-and-a-half years.
D-I Southeast Regionals concluded yesterday in Tallahassee, FL, where the final four teams earned their spots at the tournament. Both Georgia programs dominated: the women's team crushed Florida in the regional final 13-2, and the men's team blew past Tulane 13-5. In the women's game-to-go, Florida State played Florida for the fourth time during the Series. After losing to Florida early Sunday in the semifinals, they pulled out a hard-fought 13-12 win to earn their bid. In the men's game-to-go, Tulane overcame an early deficit with great defensive intensity in the second half to defeat Florida 13-10.
Notably, the Georgia programs went undefeated while playing without any recent alumni, as the university did not allow the teams to roster them.
Stay tuned for more information about College Nationals, including the seeding, streaming and filming schedule, and more!
IOC Announces New Gender Policy Guidelines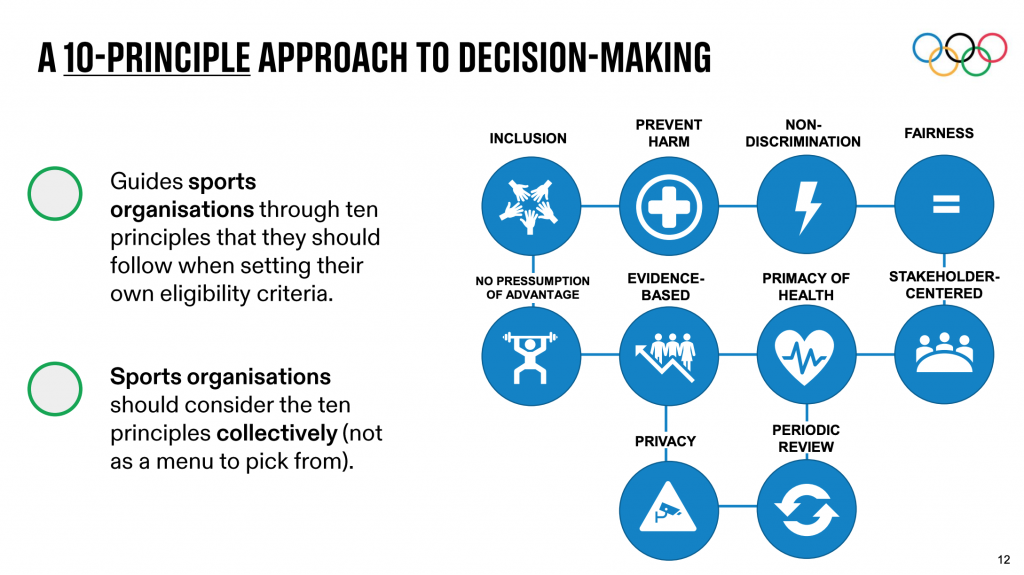 The International Olympic Committee just announced highly anticipated updates to the organization's rules around transgender and intersex participation in international sports.
The guidance sets a framework for sports federations to develop their own individual policies around transgender eligibility, rather than having a universal rule that applies to all sports, as had been in place previously.
The current World Flying Disc Federation policy aligns with the previous IOC guidelines and is more restrictive than recent policies enacted by other ultimate organizations, including USA Ultimate. The new IOC guidelines open the door for WFDF to update their policy.
USAU Club Division Rep Elections Happening Now
Elections for USA Ultimate club division representatives for 2022-2024 are currently under way. Club player reps help set guidelines and policy for the division. Club players should have received an email with information about the election in their division.
To vote, log in to your USA Ultimate account and click on the 'Voting' icon on the dashboard.
Video Corner
Don't miss these highlights from the Select Flight Invite – East:
And check out coverage from the Madrid Ultimate International Cup, streamed by ulti.tv. Here are the finals:
Goaltimate Nationals Opens Registration
The USA Goaltimate National Championship is returning in 2022 and registration is open now. The tournament is March 26-27 in Austin, TX, and plays host to teams of 7-10 players in women's and men's divisions.
Ultiworld College Team Pack Available Now
College teams can now purchase the 2021-2022 College Team Pack, which provides video access and subscriptions for the entire team and coaching staff! Perks also include a guaranteed filmed game (if attending an Ultiworld-covered event), access to footage for highlights and Callahan/Donovan reels, a discount on a Breakside Strength & Conditioning team package, and more.
Early bird pricing is available now and this year's package includes all of the 2021 fall footage completely free!
---
Coming Up
All-Club Teams will be announced this week, along with Coach of the Year awards.
American Thanksgiving is Thursday. Have a wonderful holiday!