And the Men's Player of the Year is...
Ultiworld's 2021 Men's Club Awards are presented by Five Ultimate; all opinions are those of the authors. Please support the brands that make Ultiworld possible and shop at Five Ultimate!
Ultiworld is pleased to announce our annual Men's Club Player of the Year award. While we consider both regular season and postseason performance, because of the nature of the Club Division, we weight success in the Series and at Nationals above all else — this year even more so than most. The Club Awards are selected based on input from Ultiworld reporters, contributors, and editors.
Our Player of the Year winner and runners up are the three best performers of the 2021 Club season and the POTY podium represents our highest individual award. The winner is not eligible for consideration in any of our other individual awards.
Player of the Year Award
Offensive Player of the Year Award
Defensive Player of the Year Award
Breakout Player of the Year Award
Coach of the Year Award
All-Club First Team
All-Club Second Team
Club Awards Voting Breakdown
2021 Men's Club Player Of The Year
Chris Kocher (New York PoNY)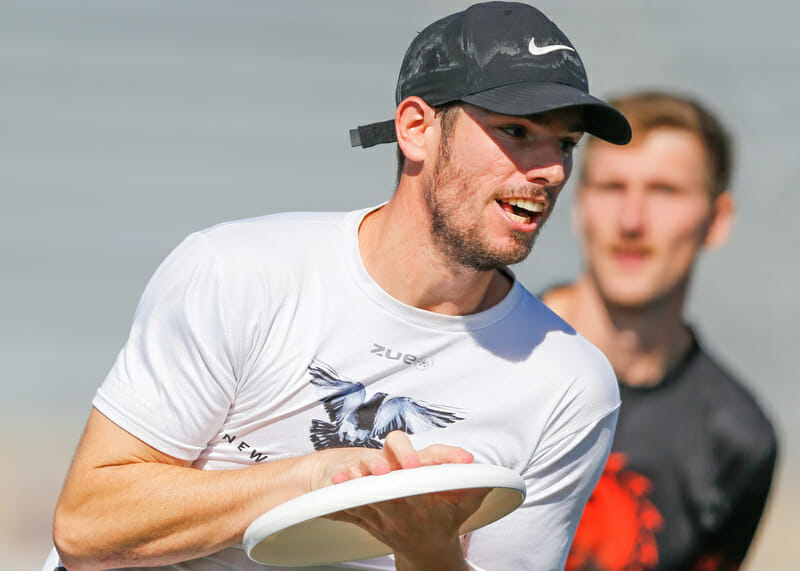 For some time now, the ultimate community has recognized that Chris Kocher is good at ultimate. Following a World Games roster spot in 2017 and piling up wins while globetrotting with Sydney Colony and New York PoNY in 2018, Kocher finally started collecting the plaudits someone with multiple international medals and a club championship deserves.
But despite the recognition of his quality, Kocher still seemed overshadowed by the circumstances of his ascension, as well as the way his game manifests on the field. You would hear things like "elite role player" to describe his skill set, as he seemed stuck as the Robin to Jimmy Mickle's Batman in the popular imagination of those Colony and PoNY teams. Given Kocher's most valuable on-field attributes are initiation cutting, defense, and consistency, it made sense that even as a clearly elite talent, Kocher was not always in the spotlight the same way some of his bomb-throwing or goal-finishing teammates have been.
In 2021 however, the spotlight was thrust upon him and his quality shone brighter than ever before. With roster holes and injuries plaguing PoNY's regular season, a vast responsibility was placed on Kocher's shoulders, as he was tasked with plugging those holes with his wide array of talents in order to keep New York's season afloat. He was at times an initiating cutter, defensive stopper, deep threat, small-ball handler, and just about everything in between. Kocher's ability to shoulder that burden helped prevent a true implosion from PoNY during a very challenging regular season.
Survival begat success for New York, as once PoNY's roster came together in the postseason, they looked more like the championship contender we've come to expect. Even as the rest of the roster leveled up, Kocher stood out as PoNY's best two-way player en route to making the final. Tied for second on the team in assists, third in goals, and first in blocks at Nationals, the George Washington product retained his role as a do-it-all playmaker even amongst the full complement of New York's stars.
The numbers don't paint the whole picture of Kocher's value; counting stats never have captured his particular brand of greatness, but a couple of specific spectacular highlights might help. He made two of the biggest plays of the season on the biggest stage: a chest-high layout block against Sockeye in semis, and a back-shoulder chase-down block over Ring's Eric Taylor in the final that all but saved the game for PoNY.
It's not wild hyperbole that the first thing that comes to mind watching that block in the final is this. One play doesn't make a POTY of course, no matter the stage, but you can see in it everything that made Chris Kocher the best player in the country this season. The wheels to chase Taylor down, the vision to take the optimal route (the only route that would get him there in time), the preternatural sense of timing to attack the disc at the exact moment it was exposed, and the explosive athleticism to make a stunningly clean block.
How many other players are capable of putting all of that together? Maybe three or four? It's just one play, but it exemplifies the speed, skill, and freak athletic awareness that have made Chris Kocher a game-changing defender, an offensive cornerstone, and the Player Of The Year in 2021.
–Patrick Stegemoeller
1st Runner-Up
Raphy Hayes (Portland Rhino Slam!)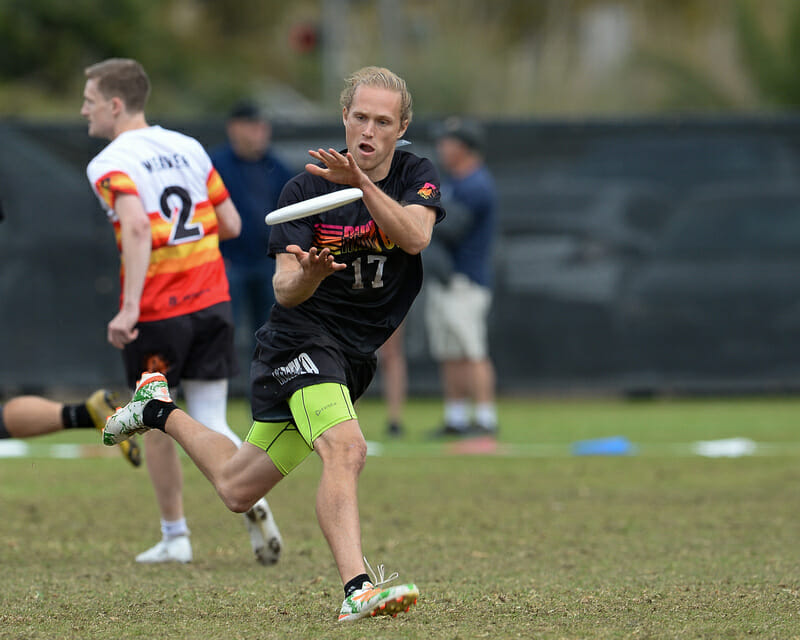 Yes, our above Player of the Year fully deserves the award and the accolades — but it was a close race this time around. Frankly, it's a good thing for Chris Kocher that the award isn't called Most Astonishing Player. That would have gone to Raphy Hayes in a landslide.
Hayes piled up the counting stats at Nationals. Drawing every team's top defender all season as the embodiment of Portland Rhino Slam!'s exclamation point was not enough to stop Hayes from finishing with a tournament-leading 18 goals.1 He added on nine assists — shy of a double-double, but only because the pesky rules don't allow you to throw to yourself — and five blocks for one of the most crowded lines of the weekend.
The most telling statistic for Hayes, however, was the unofficial running tally of jaws dropped whenever he was on the field. Bold does not begin to describe his playing style; fearless hardly does any better. It's as if he breaks new ground two or three times a game. Whether with his legs or his throws, he strikes spaces that would be off-limits for any other player. Yes, he will sprint forty-five yards full-tilt through two endzone poaches to the back corner to rescue a hold. Yes, he will put up a nearly horizontal backhand blade to a face-guarded teammate who, in truth, had set up across the field in a position to be the reset's reset's reset. Yes, he will disregard every last norm, best practice, and cardinal rule on his way to beating you. No one else in the division distorts the pitch or our understanding of how it can be used quite like Hayes.
The seeds of all of this were apparent in 2019, when his top-of-the-class athleticism and determination were the key ingredients in Portland's magical run to the cusp of semifinals. In the interval since, however, he seems to have found a way to view and modify the sport's source code, channeling its very restrictions into opportunities. If that sounds familiar, it isn't because you've seen another player like the 2021 version of Raphy Hayes — it's because you've seen The Matrix.
–Edward Stephens
2nd Runner-Up
John Stubbs (Atlanta Chain Lightning)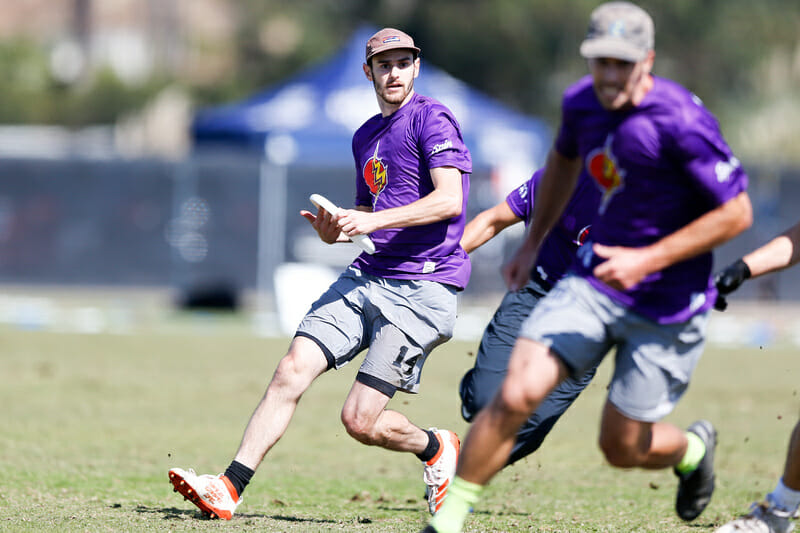 John Stubbs' sterling reputation is well-earned. Known for his well-rounded play — and one indelible night in Raleigh — the Chain Lightning do-it-all is in his prime as one of the gems of the club scene. It's hard to believe he's still only 26, given how long we've heard his name venerated in the ultimate community; he was an All-Club First Team pick all the way back in 2016. Now he's received his highest club honor yet in Atlanta Chain Lightning's strongest overall season since they won a title in 2009.
Atlanta's premier men's program has been rebuilding toward its past heights for the better part of a decade. While they've made marked improvements since missing Nationals for three straight years in the middle of last decade, it wasn't until the arrival of Stubbs in 2019 that they could realistically set their sights much higher than merely qualifying for the Big Show. He isn't just a player good enough to be Plan A on a Top 25 team, he's the type of all-world talent you can truly build a contender around.
In helping Chain Lightning reach quarterfinals this season, Stubbs put up one of the division's two stat lines exceeding 15 goals and 15 assists, flashing his midfield playmaking ability. Late season personnel shifts moved the flexible downfield weapon around, but it wasn't uncommon for him to be one of the team's best throwing threats in one game and one of the most active sets of legs in the lanes in the next. When called upon, he was one of the first players to cross over, counted on to use his exceptional game IQ to incorporate himself into a chemistry-driven defensive unit.
And that's part of what gives Stubbs such a high value in the division: he fits in nearly every gap a team could need filled. He can grease the wheels of an offense or act as its engine. He can be a stabilizing force around the rock or the shot-taker that expands the field. When your star is that malleable, it just makes everything easier around him.
At this point his career, this type of season may simply be the median outcome for a player of his talent. We can't wait to see him push it higher.
–Keith Raynor
---
Tied with Temper's Thomas Edmonds ↩