And the Mixed Player of the Year is...
Ultiworld's 2021 Women's Club Awards are presented by Five Ultimate; all opinions are those of the authors. Please support the brands that make Ultiworld possible and shop at Five Ultimate!
Ultiworld is pleased to announce our annual Mixed Club Player of the Year award. While we consider both regular season and postseason performance, because of the nature of the Club Division, we weight success in the Series and at Nationals above all else — this year even more so than most. The Club Awards are selected based on input from Ultiworld reporters, contributors, and editors.
Our Player of the Year winner and runners-up are the three best performers of the 2021 Club season and the POTY podium represents our highest individual award. The winner is not eligible for consideration in any of our other individual awards.
Player of the Year Award
Offensive Player of the Year Award
Defensive Player of the Year Award
Breakout Player of the Year Award
Coach of the Year Award
All-Club First Team
All-Club Second Team
Club Awards Voting Breakdown
2021 Mixed Club Player Of The Year
Mario O'Brien (Seattle BFG)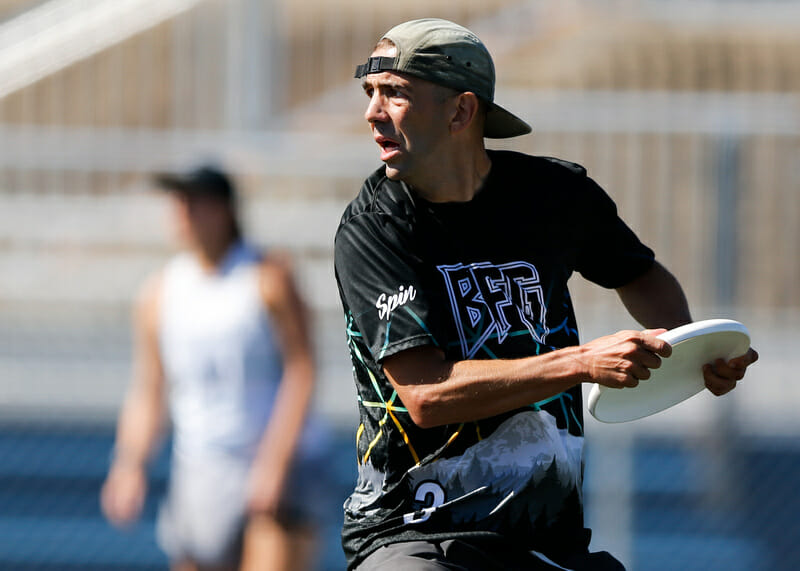 A veteran mainstay of the Northwest ultimate scene, Mario O'Brien has had a storied career as a player, coach, and self-described "ambassador of excellence in ultimate leadership and education." Adding yet another chapter of excellence to his long list of domestic and international accolades, O'Brien was a pivotal leader on and off the field for Seattle BFG throughout the team's title-winning season. His dominant play as an anchor of their offense, as well as his lead role in stewarding the team's strategy, were particularly noticeable in San Diego, making him a clear choice for Mixed Player of the Year in this unconventional but exciting season.
As someone who prefers to turn the spotlight on his other teammates, O'Brien would not likely identify himself as the glue that held his team together, but the stats and film paint a pretty clear picture. His combined three goals and 19 assists throughout the season — with two goals and 10 assists at Nationals alone — were just the tip of the iceberg. As a center handler, O'Brien consistently led his team in touches and accuracy in San Diego despite always being matched up with the opponent's top handler defender. His exceptional ability to squirm open on resets and reel in even the wonkiest or floatiest of throws to save possession helped BFG maintain holds in critical games.
O'Brien's deep repertoire of throws also helped make space on the field and gave BFG the opportunity to take advantage of a wider range of cuts and narrow windows under ruthless defensive pressure. His steadfast and unshakeable handling made a particularly strong impact in the semifinal game. Seattle Mixtape threw several looks on defense that clogged up downfield cutting lanes and forced a high volume of handler resets, but O'Brien rose to the challenge and played a key role in successfully shepherding the disc down the field with a 96% completion rate despite the wind, helping BFG clinch a razor-thin win over their crosstown rivals.
BFG finished in the top spot at Nationals for the first time by grinding out wins through a well-crafted system of play that they honed throughout the season — and O'Brien was a standout leader in developing and executing the team's system. He brought his perspective as a seasoned coach and ultimate educator to the table as a core member of the Strategy Committee that, in place of a team coach, created and adjusted the game plan and spearheaded decision making. The teachings he has shared throughout the years as a public and vocal member of the community regarding tactics and team culture shone through in BFG's meticulously designed, full-team style of play. Even as he and the Strategy Committee designed their system around plugging rookies and veterans alike into new leading roles, O'Brien remained in a star position as the rock of their lethally effective offense. In my book, he deserves the POTY award as much for his stellar performance this season as his role in unlocking new heights for his team and nurturing the next generation of ultimate stars in the Seattle scene.
O'Brien was a prime example of how veteran players shone at Nationals in 2021, leveraging experience and seasoned fortitude to get results returning to play after the pandemic throughout a turbulent season and tournament (especially in the mixed division). BFG secured a spot in the World Ultimate Club Championships, where they will have the opportunity to defend their 2018 title. Expect O'Brien to play a key role in their preparation and performance as his team seeks a repeat of their successful 2021 season.
–Isabel Cruz
1st Runner-Up
Caleb Denecour (Minneapolis Drag'n Thrust)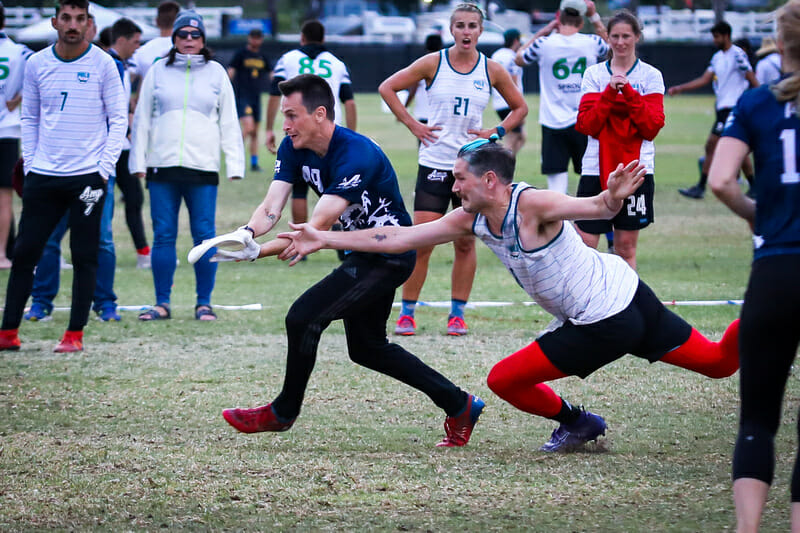 In just a few seasons, Caleb Denecour has made himself an integral part of one of the most reputable clubs in ultimate. He was not a member of Minneapolis Drag'n Thrust's threepeat champions in the middle of last decade, but such is the team's trust in him that it feels like he has been with the program forever. As Drag'n reworked their roles to account for the loss of two All-Club talents from their 2019 roster, they hardly missed a beat in once again looking like a genuine bracket threat.
Much of Denecour's impact comes from the energy he applies to his every action on the field. There's no effort gradient for Denecour; if he's on the field, he's giving it his all. For that matter, even on the sideline or in the huddle, he's dialed in. He'll make an under cut, slide into the handler set, vacate the position for a sky, and then walk off the field, get an iPad, and add his leadership to the team (while waving to the fans at home). Even in the stack, you can see the wheels turning, the focus tuned as he analyzes what's next and what's necessary.
That steadfast, wholehearted application to ultimate is the talent that shines the most for Denecour, but it is not the only one. He probably isn't his team's best deep thrower, nor break thrower, reset cutter, deep defender, handler defender, initiating cutter, or deep receiver, but he might be the second-best at all of it. He's apt to make a highlight play on either side of the disc, including the only play that's both — his run-through Callahan in the midst of Drag'N's prequarter comeback against shame. stands out as an example. But that was the whole tournament, as his 11 goals, eight assists, and eight blocks at Nationals can attest. That means he tied for leading the mixed in recorded blocks while also hitting double-digit goals and approaching that mark as a thrower.
When it's all lasered through the lens of Denecour's intense drive and focus, it produces the type of slicing effect to rend apart opposition. There were some sizable changes for Minneapolis this season, but Denecour helped his side integrate the talent and remain in the elite tier. He has a reasonable case for the top spot on this podium, and if a couple of points go a different way, he might be in that slot instead.
–Keith Raynor
2nd Runner-Up
Sarah Meckstroth (Minneapolis Drag'n Thrust)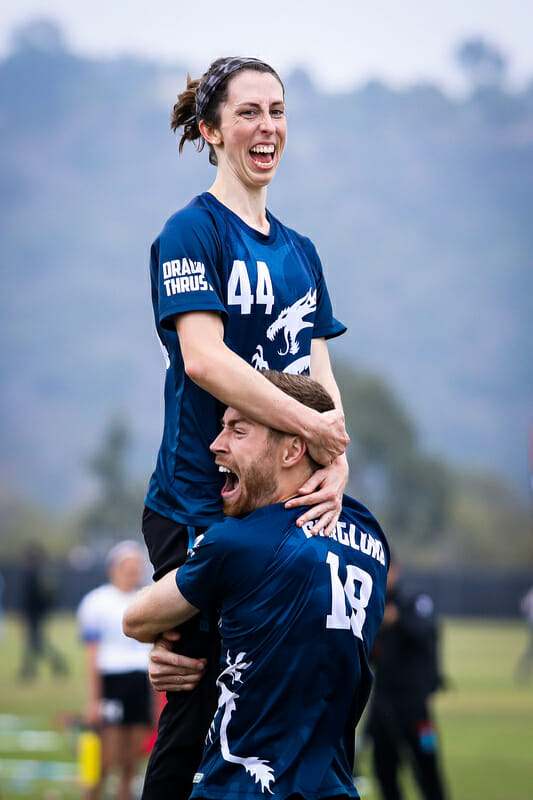 Sarah Meckstroth returns to the Mixed POTY podium thanks to a season full of all-around excellence and a large dose of clutch play in some of Minneapolis Drag'n Thrust's biggest games. The long-time captain led the Minneapolis defensive line, with her field awareness and size often effectively erasing at least one of the opposition's best women-matching threats.
When the Minneapolis defense was able to generate a block, it was a near lock that they would look to find Meckstroth dominating downfield for either a skying grab or a smart under that the 2018 POTY could turn into a goal. Meckstroth wasn't limited to the defensive line though, and did cross over when Drag'n Thrust needed their best players on the field. Time and again Meckstroth came through for Minneapolis in a return to her outstanding form, and she once more takes the top spot among women-matching players in the division.
The recorded stats from San Diego don't necessarily pop out at you when it comes to Meckstroth, with eight goals, five assists, and four blocks, but they hardly encapsulate the impact that Meckstroth had for Drag'n Thrust. Within her own team, she tied for the second-most goals (behind only fellow POTY runner-up Caleb Denecour) and her assists and blocks frequently came when Minneapolis needed them most.
Most notably, in Drag'n Thrust's incredible prequarter comeback from down 12-6 against top-seeded Fort Collins shame., Meckstroth recorded three goals and an assist as Minneapolis roared back for the 14-13 win. Her assist came on the penultimate point as she crossed over with Drag'n Thrust's offense needing to hold, and then it was Meckstroth again, unsurprisingly really, who caught the final goal to seal the incredible Minneapolis win.
It's her play in those big moments that really sets Meckstroth apart, along with her consistent leadership for the Minneapolis squad and her preternatural calm under pressure as one of the standout women-matching players in the mixed division. There is a reason why Meckstroth continues to be highlighted as one of the best, if not the best, women-matching players, and even in a shortened, uncertain season, she stepped up once again for Drag'n Thrust and earned a spot on the POTY podium.
–Jenna Weiner