Ways to grow and develop your program, even if it was hurt by the pandemic break.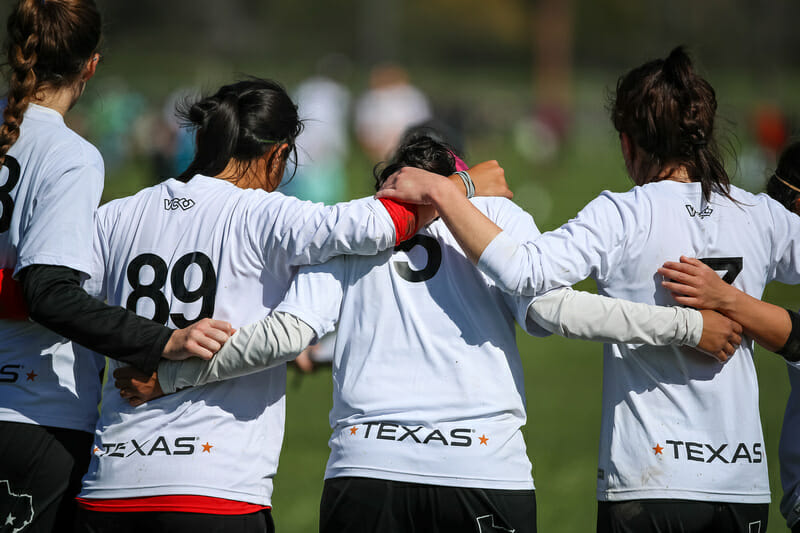 Tuesday Tips are presented by Spin Ultimate; all opinions are those of the author. Please support the brands that make Ultiworld possible and shop at Spin Ultimate!
This Tuesday Tips was submitted by David Kucherlapati. He is a Boston-area player with experience as a captain, coach, referee, and organizer over the years.
2020 was a tough year for everyone and college ultimate teams are no exception. For most programs, the next few years will be rebuilding years; for smaller programs the threat of extinction looms all too real. As a college player right now, you have a real challenge ahead of you. But with that challenge also comes an opportunity to redefine your team and set your program up for success in the long run. If you want to succeed, you need to recruit, build up the team, and to practice. It's time to go back to basics.
Recruiting and Retention
We've all been cooped up for so long and we just want to get outside among people; your fellow students feel the same way. But most of them probably don't know that your team exists or that ultimate is even a fun option, so your first job is to advertise. Here are some tried and true ways to get the word out about your team without breaking the bank. You can also find more advice on recruiting and other tips for team leaders in Ultiworld's Captain's Resources.
Get a table at your school's club fair.
Help new students move into their dorms.
Give tours to new and prospective students as part of the university.
Print out flyers and put them in well trafficked areas like the cafeteria, library, or gym.
Do a dorm-storming fundraiser, take out trash for $1 per bag, or sell discs, baked goods, or something simple.
Throw in a very public place on campus; if someone asks to throw, include them, and tell them about practice!
Wear your jerseys to class or carry a frisbee around campus, do the things you normally do but with some ultimate flair.
All of this is with the goal of enticing people to attend their first practice. After that, your entire team needs to make these new players feel welcome and want to stay. It's your job to make the first practice a positive experience for people. Most new players will know whether or not ultimate is for them after their first tournament. If they don't like practices, they won't stay until the first tournament. And if you wait too long to get out to that first tournament, you'll find people dropping off quickly having found other things to do.
Culture
Once you've gotten new players out to practice, now you need to keep them there. Some teams, wanting to be competitive, decide to focus on competition rather than culture hoping to attract people with a similar, serious mindset. But if you do so, it will be a detriment to your team. Let's face it: most of us aren't going to school on an ultimate scholarship. We play not because we have to, but because we want to. If you want to keep your new players, then they have to want to be there; so be welcoming! Go out of your way to be helpful, throw with a rookie before practice, and invite them to join you and your friends for dinner after practice. None of these activities interfere with your ability to create a goal-oriented competitive environment. Your success is all about your team culture!
Here are some questions for you to consider when it comes to team culture:
How do you talk to people on the field?
How much tolerance does the team have for mistakes?
How much patience do your veterans have for the rookies?
Do many veterans on your team throw with rookies during the week?
What do you do as a team, outside of playing?
How welcoming are you to people who don't fully commit?
How much fun do you have?
Many of you have probably heard about memorable parties and social gatherings as touchpoints. Don't get me wrong, I love the game, but my teammates on every team I've been a part of were always the main reason why I stayed and played. So, here's really the best advice I can give you: have fun with your friends, first and foremost. Have a good time both on the field and off. If your team is having fun, you will also have better results over time.
People will be in a better mood and headspace practice-to-practice and tournament-to-tournament, and therefore will be better able to compete. When your team competes, they will work harder and smarter, for longer; and if need be, they will put their bodies on the line. And they'll do all this, not for another notch in your win column, but for their teammates and the team. People work hard for other people.
And when you do work hard, it's also important to play hard; and I ain't talking about the game. That being said, don't be dumb. Don't get you or your team in trouble. It's perfectly acceptable to make mistakes that you might regret the next morning, it's not acceptable to make a mistake you will regret ten years from now. Be excellent to your team and to your competition.
Practice
The last piece of the puzzle around rebuilding your team is the structure at practice. It's both an important organizational tool and a comforting routine. Decide on your team's active warmups and do them as a group. This usually ends up being your starting ritual for tournaments, as well. Keep the attitude during warmups light and breezy; chatting and joking around are great. You want people to be in a good headspace going into practice.
After a good warmup, I generally like to get into a couple of drills and then into scrimmaging. Drills are fantastic, but playing is where people have the most fun. Find a healthy balance. When you do run some drills, here is some high-level advice to run any drill well.
Explain briefly how it works, what to do, where to move, and why you are doing it.
Give constant feedback, especially positive feedback.
If someone makes a mistake, make a quick but neutral correction if you need to.
Don't dwell on mistakes. In some cases where your teammate already knows what happened, don't even mention it.
If you miss an opportunity to praise someone for doing it right, you are doing it wrong.
Make sure all of the players are focused on the drill. No texting, no side conversations.
Don't run a drill longer than 10 minutes in most cases, because people get bored very quickly.
Try your best at practice to keep things organized and moving forward. Ask your teammates to help you setup drills and the field to limit the amount of down-time between different items at practice. Try setting a short timer on your phone for water breaks. Importantly, lead by example. Be the first one back onto the field before that timer is up. Now that you're back on the field and into scrimmaging, I'd recommend that you try to keep things simple. Save the Ten Pull for later in the season. Most people just want to play, so let them.
When you get into the game with new players, try to keep your explanations brief. You don't want to overwhelm them with a 20 minute lecture. But also, ultimate is a complex game. Don't shy away from that complexity with new players; your rookies may be new to the sport, but they aren't dumb. Newer players will learn better if you can help them to see the field through your more experienced eyes. But if you can't explain something well, then you simply don't know it well enough. So, take the time outside of practice to educate yourself when you can, so that you can educate your team when you need to.
I will leave you with some of my advice that I give to most new players, it's pretty simple when it comes to playing in those first few practices: don't be afraid to make mistakes, and if you're going to make a mistake, make it a loud one. Being quiet or timid is the fastest way to get overlooked and fall through the cracks. Listen to the older players around you and ask direct questions about the game when you can. If you want to improve quickly, always pick the hardest matchup that you can, never the easiest.
Most importantly, have fun.
Submit your own Tuesday Tips to our Tip Jar to win a free subscription and even become an Ultiworld writer.