The tournament schedule just came out... now what?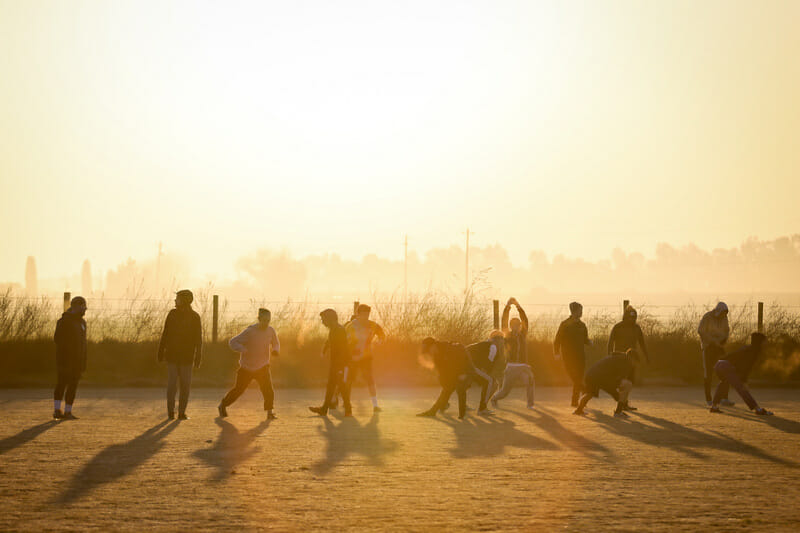 Tuesday Tips are presented by Spin Ultimate; all opinions are those of the author. Please support the brands that make Ultiworld possible and shop at Spin Ultimate. 
Picture this: It's Wednesday morning and you are in the middle of your Accounting 201 class or maybe it's been a few years since school and you're doing some work in the office. You are going through the motions of the work at hand, but really you have a tab open with the USAU tournament page and you keep refreshing until the schedule for this weekend's tournament drops. Finally! What should your takeaways be? What lessons can you glean? How should you prepare? Below are the answers to those questions!
When is your first game?
Backtrack from there to figure out your morning routine. Let's say the first game starts at 9am. Your team has a 1 hour warmup and the hotel is a 15 minute drive away from the fields. Add 15 minutes for breakfast and 20 minutes to get ready and to deal with the inevitable line for the bathroom (maybe 25 minutes if you have a few extra people in your hotel room). That means to arrive at the fields on time you need to wake up at 7:10am, AT THE LATEST. Set your alarm about 1 hour and 50 minutes before your first game. Be sure to talk with the people in your car to make sure you are all on the same page about when you need to leave the hotel! When in doubt, cushion the time.
Do you have a bye? When is it?
Mentally prepare for the bye and come up with a plan. Depending on when your bye is will depend on how you should use the time. If your bye is at the beginning or end of the day, you can use that time to relax and socialize to keep your mind fresh. If you have friends on other teams at the tournament, use your bye to say hi and catch up with them! On the other hand, if your bye is in the middle of the day, grab a snack from the tournament table/team food bag to eat and recharge for the remaining games. If it's windy get some extra throwing time in. Find a partner and some space to keep your throws sharp. Make sure to switch sides with your throwing partner, so you can experience both sides of the wind.
What is the weather going to be?
Match up the forecast for the weekend to your team's schedule so you can pack accordingly. If the first game is going to be freezing and then it will warm up for the later games, wear an extra layer that you can easily remove after the first game. If there is rain forecasted for the last round bring a rain jacket no matter how beautiful the morning looks. If the forecast is sunny make sure to bring sunscreen and maybe pack your gloves to deal with sweat and grip issues.
Who are you playing?
Let leadership worry about who you are playing. Don't assume any team is going to be an easy victory, and if there's a tough matchup, don't start stressing about it. Your job as a player is to go into each game ready to perform your best no matter who the opponent is.
If YOU are a part of leadership, then you should take a peak at who you are playing. Knowing your opponent is a big advantage on gameday. For example, if an opponent runs through a star player, you can determine your matchups before the game starts. Planning ahead could win you a point or two versus going into a game blind. If you are playing a new opponent, try to scout them on YouTube, social media, or Ultiworld's preview articles. Perhaps you watch a game or read an article and discover they love to run zone as their base defense. You can have your last practice or use a film session to go over your zone offense so that your team is ready. There's also the possibility that you are familiar with all the teams at the tournament. Maybe one is a heated rival! Using a drill at practice to go over keeping a level head when responding to calls could be the best use of time.
Of course, don't forget your team goals when looking at the schedule and individual games. If self improvement and developing team chemistry are your main goals, don't obsess over the individual matchups. Decide on your line calling strategy and stick with it. However, if your team goal is to win a strength bid to increase your odds at going to Nationals, then you will need to focus on the individual game results. Come up with target game scores for each game based on your opponent's algorithm ranking. With your target score in mind, you may need to push earlier in the game with tighter lines if you need to build up breaks. Then if you happen to have a big run early, it will give you the cushion to open up lines in the second half. With how tight bids can be, one point can make a difference.
—
Looking at the schedule can sometimes be overwhelming or confusing. Figuring out your first game, when your byes are, and what the weather will be like for the tournament is a great place to start unpacking the schedule. After that it's time to mentally prepare, get excited, get in the zone, and get ready to have a great weekend with your team.